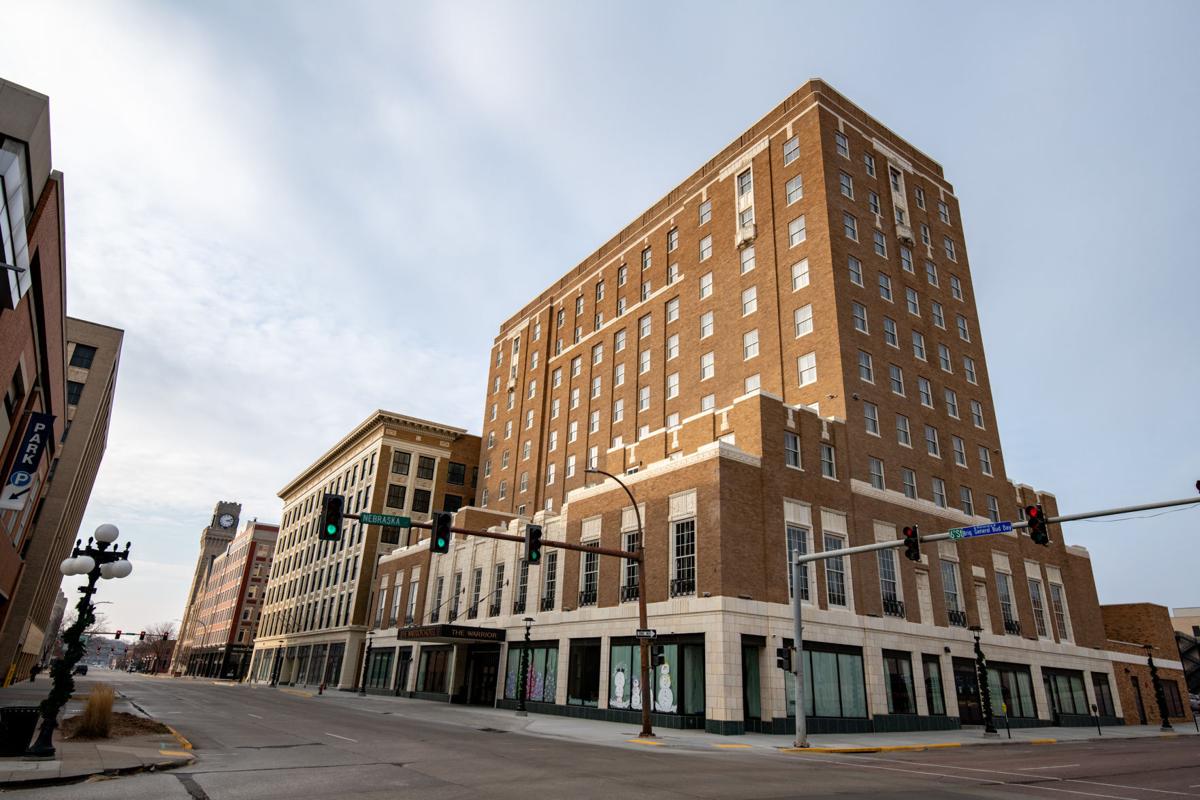 SIOUX CITY -- The developer of the newly renovated Warrior Hotel and Davidson Building is seeking to divert $1 million in funds set aside for a skywalk extension to cover higher than expected costs for the construction project.
The City Council will be asked Monday to approve a resolution authorizing execution of a third amendment to the development agreement, a first amendment to the minimum assessment agreement, as well as a substituted promissory note with Warrior Hotel Limited Partnership.
According to documents filed with the city, the proposed resolution and amendments are being requested because "the impact of COVID-19 and increased costs of construction have resulted in a financial deficit for the project."
The renovation project, which began in February 2019, started out with an estimated cost of $56 million based on preliminary drawings, but that figure rose to $73 million, largely due to construction cost inflation. The Iowa Economic Development Authority awarded the project more than $11.3 million in historic preservation tax credits; and the council agreed to guarantee $16.5 million for it. 
Under the terms of the new proposal, the city would release $1 million in escrow funding, which was to have been set aside for the construction of a skywalk extension connecting the MLK Ground Transportation Center to the Warrior, according to the documents. The payment to the developer would be split, with $500,000 being paid upon approval of the resolution and $500,000 on May 3, 2021.
The documents state that the release of funds would be used by the developer for hard costs and expenses associated with cost overruns on the renovation project. In exchange for the release of the escrow funding, the developer would agree to fund the design and construction of the skywalk extension. The developer would need to complete the construction of the skywalk extension by the end of 2027, according to the documents. 
Built in 1930, The Warrior later fell on hard times and closed in 1976. Since the late 1990s, the boarded-up structure had been red-tagged by the city for building code violations.
Working in association with BSI Constructors, Inc., FEH Architects, and Checkmate Design, Restoration St. Louis restored the original terra cotta ornamentation and brick exterior of the buildings, including the infamous Warrior icons and ornate buffalo heads. The sweeping grandeur of the two-story marble staircase, along with its unique plaster detail work and ornamental railings, were also authentically restored.
Woodbury's American Steakhouse changes colors. It's one of a number of high-tech updates. In the ballroom, projectors and screens drop down with the push of a button. The hotel features a restaurant -- Woodbury's American Steakhouse -- ballroom, six-lane bowling alley -- War Eagle Lanes -- a pool/ sauna, Two Finches Spa, and The Crown, a rooftop bar, which will open in the spring.