HOLSTEIN, Iowa -- A pair of friends from Holstein, Iowa, will appear on the ABC program "Shark Tank" on Friday pitching Muff Waders, a work-and-leisure garment they've brought to market. 
Muff Waders are bib overalls (they can be used like waders to some extent, but they are not waterproof) that have a built-in beer cooler on the chest, large pockets on the legs to hold liquor bottles and an attached bottle-opener. A beer koozie can be attached to the front of the overalls. There's also a hidden pocket on the inside to hold odds and ends, like chewing tobacco.
The garment was developed by Taylor "Earl" Nees of Holstein, who co-owns the firm with his longtime friend Garret "Buddy" Lamp. They have three patents on the design. 
"Basically designed for the regular guy, just to go to work and at the end of the day go tailgating in them, or you can do what you want with them. You can have a lot of fun with them," said Nees, 29, an electrician who lives on a farm a half-mile south of Holstein, in a phone call with the Journal last week. 
"Our customers were sending us pictures and videos, and they were using them for work. Like construction workers and electricians, and farmers wearing them outside, because they can take a beating," Lamp said. "So, it really fit our brand, the blue-collar drinking man, working outdoors and having a social life, too." 
Lamp, 23, a native of Holstein who now lives in Des Moines and works in video production, is effectively the Muff Wader promotions man (among many other roles), having been recruited because of his skill with videos. "Buddy wears a lot of hats -- his technical role is Top Brass Dignitary," Nees said. 
Nees and Lamp have undertaken other ventures in the past -- they flipped houses for a while, they did drone-photography and they fixed cellphones, which Nees described as "the most successful thing, besides Muff Waders." 
Going on Shark Tank was Lamp's idea; he also got them on Barstool Sports' "Big Brain," an online program similar to Shark Tank. Muff Waders got $5,000 from Big Brain.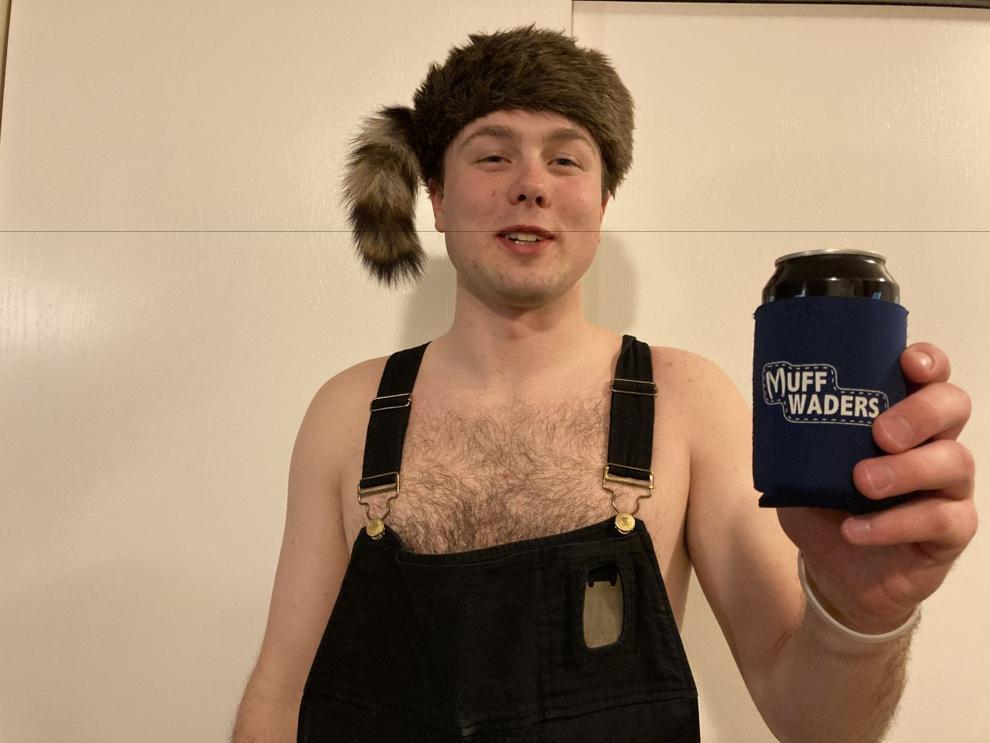 The venture is based in Holstein, headquartered inside a 30-year-old van. "Our corporate office is basically the van, that's where we do all of our business," Nees said. "Whenever we do inventory and stuff, it's in the van. We like to call our corporate office the van. Which is parked in Holstein." 
The product name was inspired by the muff -- the fur garment once commonly used by women to keep their hands warm. The six-pack beer cooler, Nees said, is the "muff" of the garment. The word has taken on a life of its own, with Lamp and Nees using it in various, seemingly unrelated contexts: "If we're fishing, we're getting knee-deep in muff," as Nees put it. 
"It's also a combo of, manly plus tough, equals muff," Lamp said. 
Nees said he came up with the idea at a high school football game in the fall of 2016. "I really wanted to carry my drinks with me," he said.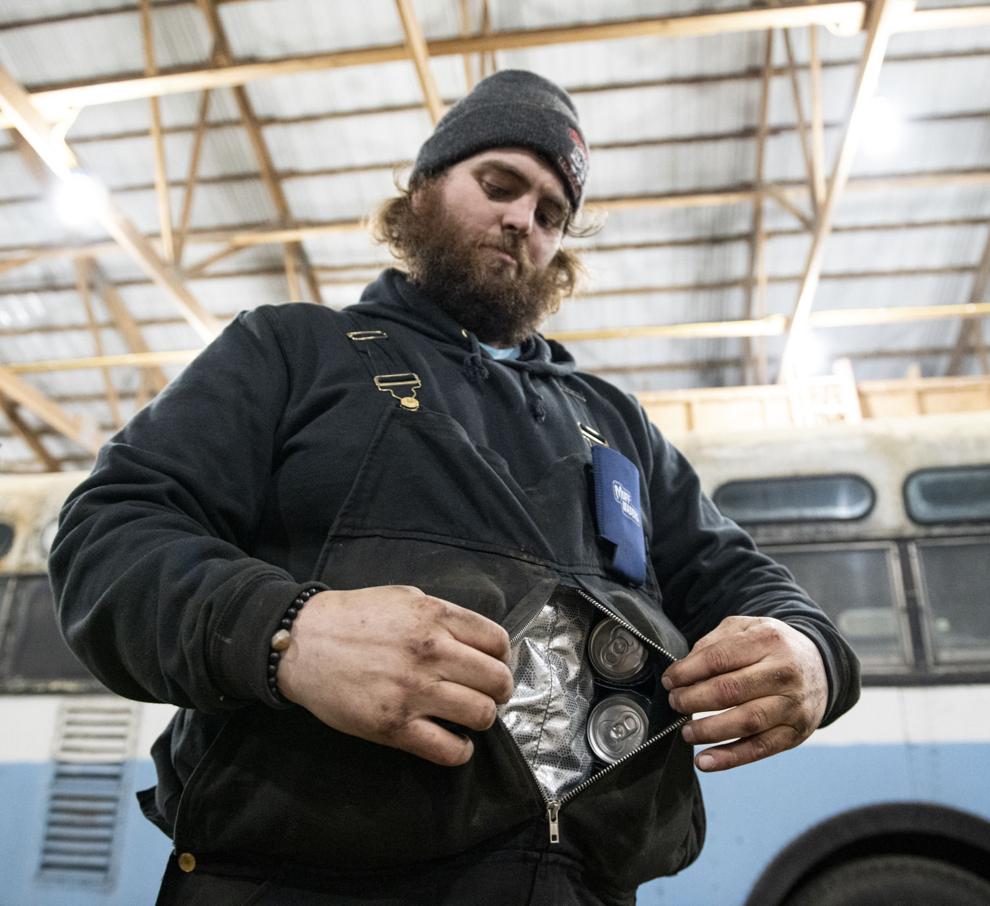 "We were joking around, wishing we had overalls with a six-pack in them. And then I woke up in the morning, and I had a drawing on a napkin from Backdraft (Bar & Grill) with a six-pack cooler on them," Nees added. Neither he nor Lamp had any background in clothing design or marketing. 
It took eight or nine months, Nees said, "to get any designer or manufacturer to take me seriously." Eventually he found a firm in Minneapolis that was willing to work with him, and they finished the first prototype in September 2018. Around this time, Lamp, then a college student, joined the venture. 
The first prototype proved unsatisfactory, so they went through several design changes. A final prototype was delivered around the beginning of 2020. 
The product showed promise early on -- in 2018, they posted an early Muff Waders video to Facebook, and got over 100,000 views in seven days.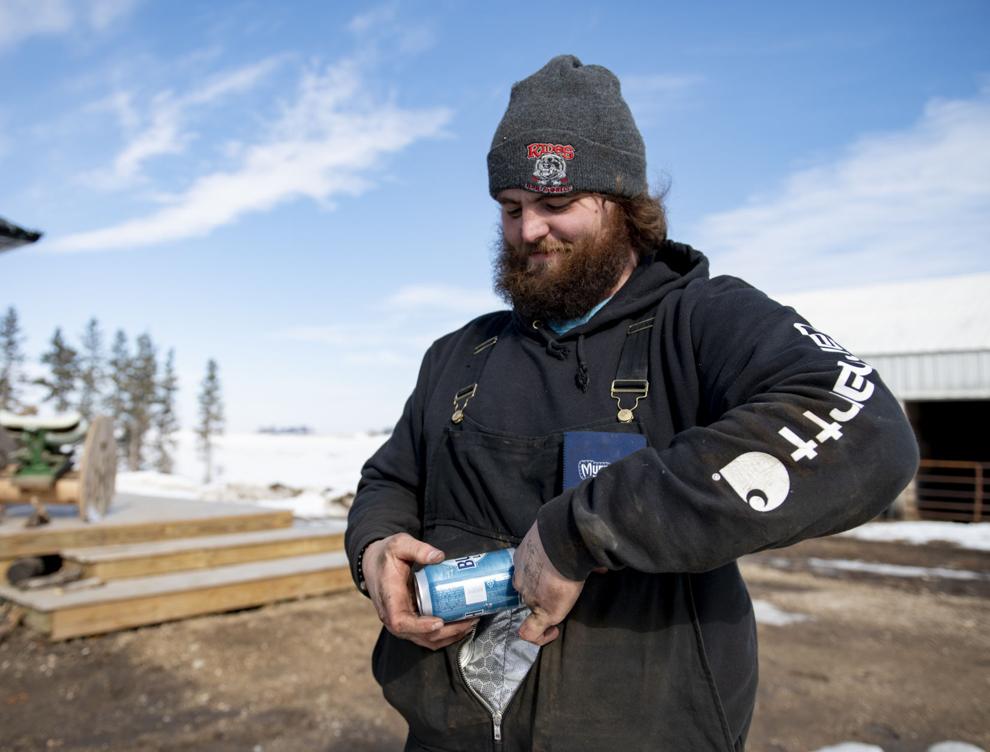 To date, they've sold around 900 pairs of Muff Waders. The product is sold online and through travelling sales in the van-headquarters, which they take to tailgating events, fairs, parties and the like. 
"All our profits that we make on sales go right back into the company, buying more inventory, coming up with new product designs, all the costs that go with shipping and inventory, running an online store," Lamp said.
They're about to release a new product, a type of suspenders called "Muff-spenders," which have a couple of insulated beer-pockets, a bottle-opener and a magnetic beer koozie. The suspenders are sold at a lower price point than the flagship product. 
"We are already taking sales for those on our website," Lamp said.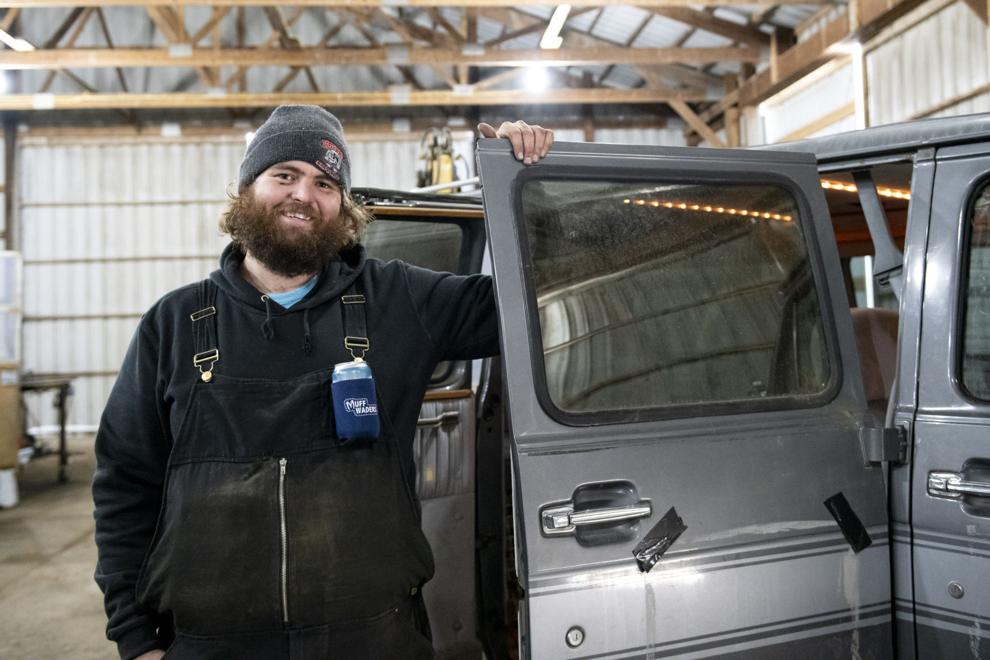 Filming of their Shark Tank appearance actually took place last summer; Lamp and Nees were holed up in a hotel room for 10 days in a precautionary quarantine before they took the stage. While they were stuck in their room, they finessed their pitch and "watched every Shark Tank episode we could to prepare," Lamp said. 
Due to contractual obligations, they were not able to divulge the outcome of their appearance before the show airs at 7 p.m. Friday on ABC. Lamp said he was surprised by how much of each Shark Tank pitch ends up on the cutting room floor -- a two-hour pitch can become 10 minutes in post-production. 
He estimated they stood before the "sharks," a panel of investors who decide whether to invest as entrepreneurs make business presentations on their company or product -- for perhaps a half an hour or maybe 45 minutes, though it's hard to say because of all the adrenaline. 
"It seems like it's just the blink of an eye, you're in and you're out," Lamp said.