LE MARS, Iowa -- As she waited at the Iowa Army National Guard armory in Le Mars Wednesday, Emily Fenske held a sign that said, "I'd wait for you forever, but 10 months was long enough, welcome home soldier."
Fenske was reunited later in the afternoon with her husband, Staff Sgt. Nick Fenske, who returned home with his unit from a deployment to the Horn of Africa.
Nick and Emily have known each other for four years. Before he left, they had a small, backyard wedding. Now that he's back they're planning "the real thing." 
As she waited with other members of her family -- Dale and Candy Fenske, Noah Schultz and Mary Schultz -- Emily said she was very excited and very anxious to see Nick again.
About 90 members of Troop C, 1st Squadron "Red Horse," 113th Cavalry Regiment based in Le Mars were welcomed home Wednesday by family and friends, as well as the community.
They landed at the Sioux Gateway Airport at around 12:30 p.m. and were honored with a ceremony. As the convoy arrived in Le Mars, they traveled along a parade route lined with well-wishers.
Scores of family and loved ones lined up outside the Readiness Center in Le Mars in anticipation of their arrival, donning signs, American flags and smiles.
"They are 14 minutes away," people shouted out. "They're in Merrill." 
Sirens alerted the families that their loved ones were close.
The buses pulled in, being led by police cars and the Freedom Riders. The soldiers unloaded on one side of the bus, with their families eagerly waiting on the other side. 
"Move that bus. Move that bus," people chanted.
After buses were moved and the soldiers were released, a moment of stillness occurred before families ran to see each other again. Children and wives were scoped up into hugs, many cried, other laughed with relief.
Sgt. Noah Anderson was greeted by his grandparents Kathy and Michael Anderson, mom Kristin Fansega, sister Kaydee and brother Hayden.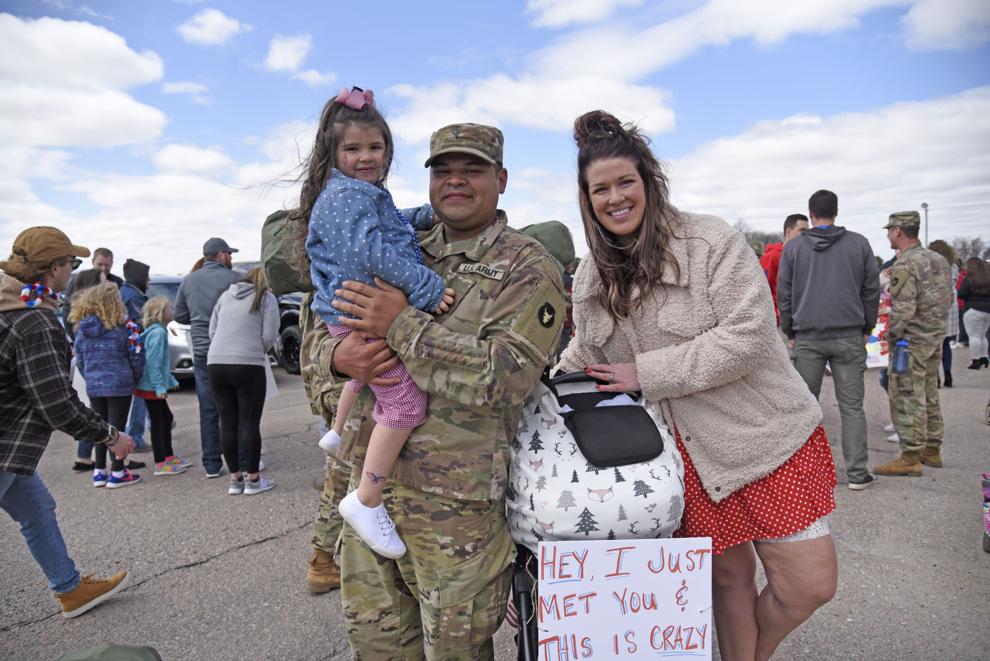 "It's colder than Africa," Noah joked. "But, it's great to be home."
Emily Cosio, with her two daughters, Dani and Naya, welcomed home her husband, Spec. Augustin Cosio. At that moment, Augustin met his newborn daughter, Naya for the first time. Emily was four months pregnant when he left. 
The pair have been together almost 10 years and this was the longest he has been away. Now that he is home, Emily said they're going to spend time learning how to be a family again.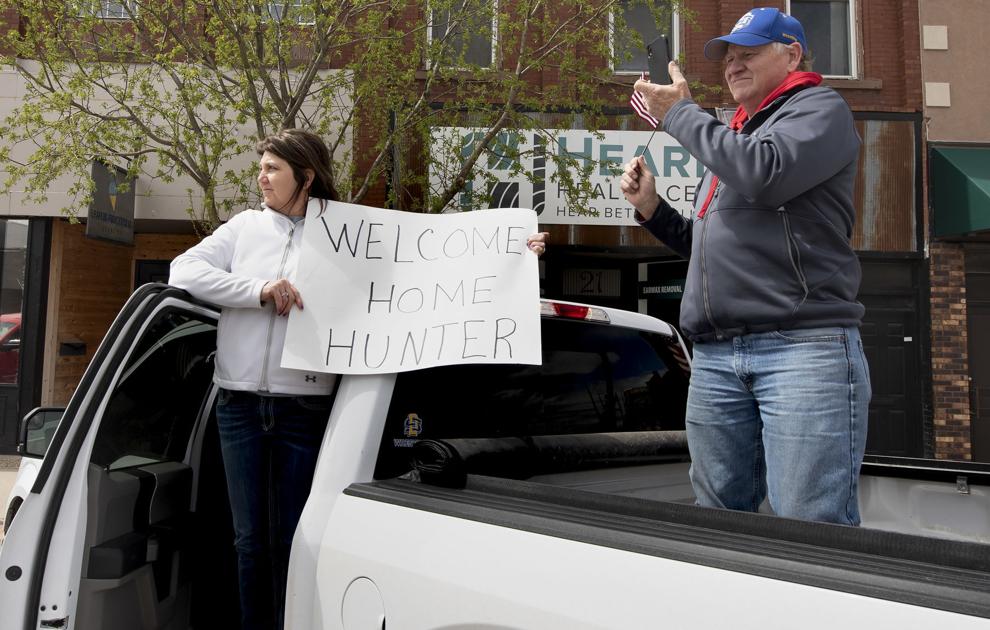 Many other soldiers were also unable to see their children born.
Corp. Joni Cano said at first it was very hard being away for so long. His wife, Maria, was 7 months pregnant when he left on the deployment. 
As the months dragged on, Joni said it got easier because other soldiers missed births and they had each other's backs. 
Once families were reunited and bags were retrieved, the soldiers headed home with family after 317 days apart.
The unit left Le Mars on June 1, 2020, for Mission Operation Enduring Freedom in the U.S. Africa Command Area of Responsibility. The U.S. AFRICOM is responsible for U.S. military operations, exercises and security cooperation activities on the African continent, its island nations and surrounding waters.