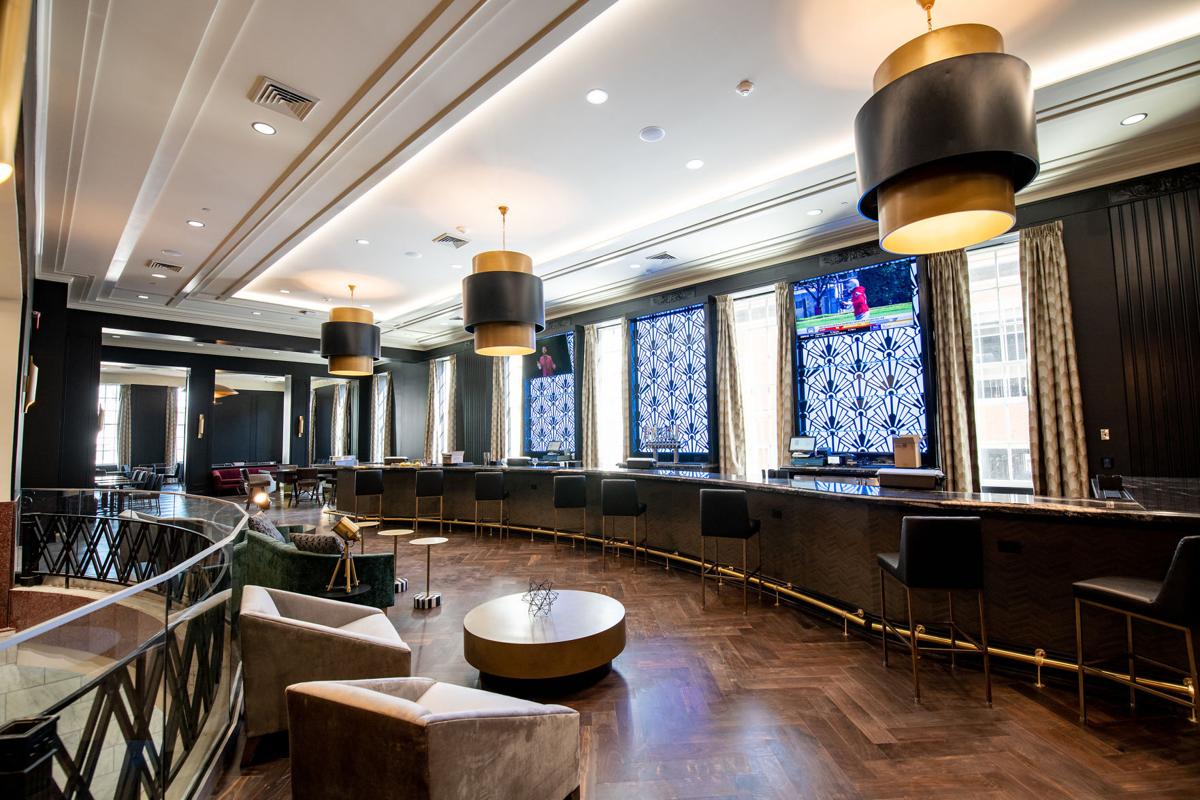 SIOUX CITY -- Amy and Amrit Gill, founders of Restoration St. Louis, had a vision to give Sioux City a premiere historic downtown hotel that would be the "heartbeat" of the community.
They say that vision has been realized with the renovation of The Warrior Hotel into the city's first Marriott Autograph Collection hotel. The Warrior sat vacant for more than three decades, before Lew Weinberg partnered with Restoration St. Louis to redevelop the 200,000 square feet of combined space in The Warrior and the Davidson building into a 148-room hotel and 22 luxury apartments.
"It's for the people of Sioux City. Have a drink and enjoy being here. Have a staycation," Amy Gill said, as she sat next to her husband on an upholstered sofa bench in the second-floor lobby, which features "miles" of the hotel's original granite and Tennessee Pink stone floors. Imperial Red Granite from India was acquired to cover lower portions of the lobby's walls and its columns, which were rebuilt. 
"It matches almost perfectly the stone that used to be there," Amrit Gill said, noting that the rain forest green marble, which encases the doorways and also came from India, is a match to the original. 
During a media tour Friday afternoon, construction workers were putting the finishing touches on the 10-story Art Deco-style hotel, which will host two weddings Saturday. Amrit Gill said memories will be made once again in the spacious ballroom, which has chandeliers that remind Gill of "upside-down wedding cakes" and Greek key, a decorative border that was carried over from the lobby. 
"Ultimately, these buildings are repositories of the community. There will be new stories that will be written," he said.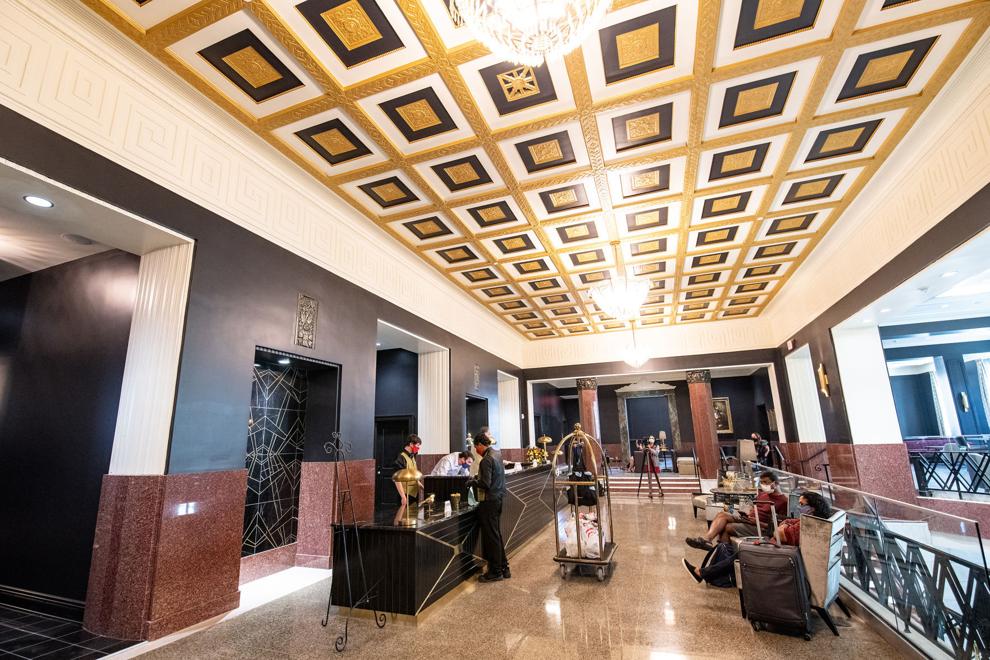 The Gills say a grand-opening celebration likely won't happen until early next year due to the COVID-19 pandemic. They said they put their focus into completing The Warrior before the adjacent Davidson Building, which has 56 hotel rooms and 22 upscale apartments.
"We weren't really supposed to open anyway until the end of the year, but we decided to prioritize," Amy Gill said.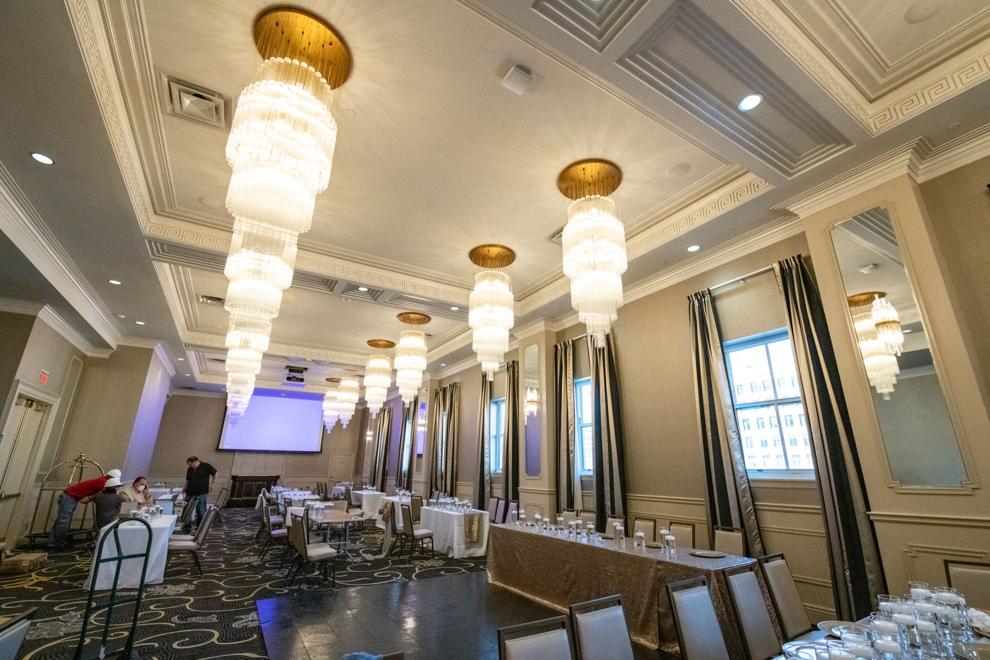 Built in 1930, The Warrior later fell on hard times and closed in 1976. Since the late 1990s, the boarded-up structure had been red-tagged by the city for building code violations.
Amy Gill said knowing what made the structures so significant to Sioux City residents helps "bring the building back to life in an even more authentic way."
Restoration St. Louis tries to stay as true as possible to the original designs during renovation, re-purposing what it can. Working in association with BSI Constructors, Inc., FEH Architects, and Checkmate Design, Restoration St. Louis has restored the original terra cotta ornamentation and brick exterior of the buildings, including the infamous Warrior icons and ornate buffalo heads. The sweeping grandeur of the two-story marble staircase, along with its unique plaster detail work and ornamental railings, have also been authentically restored.
"When they wrote about it, they talked about how it was moody," Amy Gill said of The Warrior. "It was dark. It was lots of red and dark colors, so we wanted to take off of that and do a modern interpretation of what that would look like."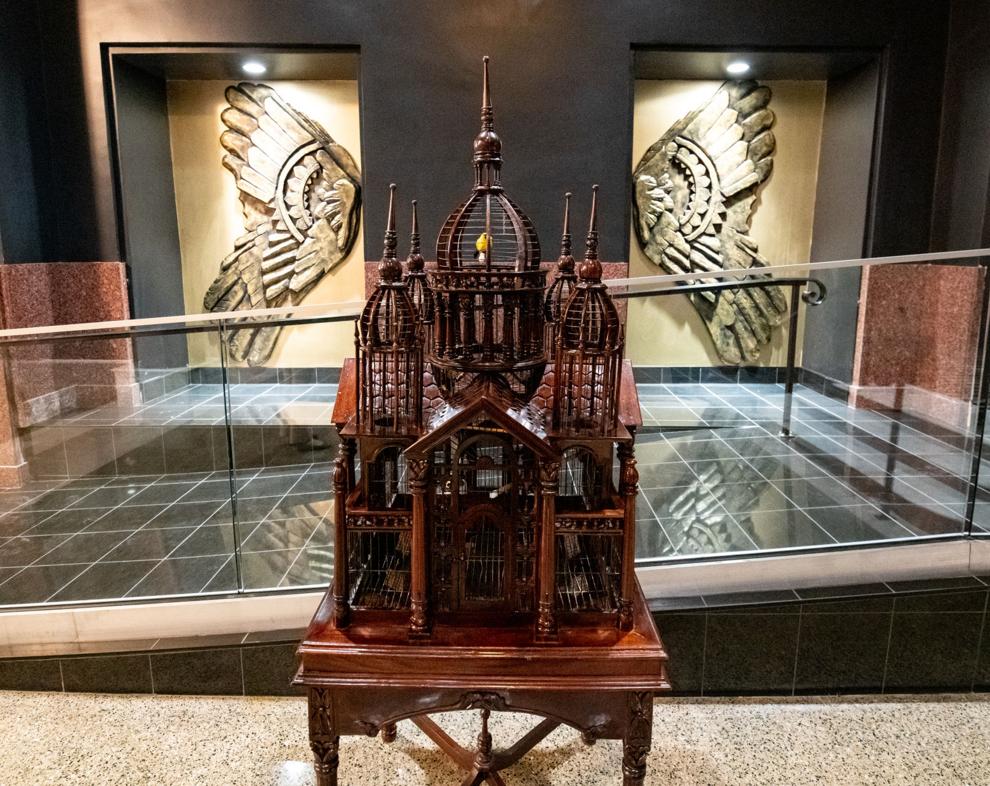 Black, gray, gold and hues of red and green can be found throughout the hotel, as well as items that pay homage to Iowa's birds, including bird-themed art, a decorative wooden birdcage and bird books that guests can read. 
"When you're a part of the Marriott Autograph Collection, you have a theme. Our mark is birds, because we want to be all about Iowa and all about the Goldfinch," explained Lila Plambeck, The Warrior's director of sales and marketing. "We've done a lot of birding throughout the hotel so to speak." 
Lighting behind the bar in Woodbury's American Steakhouse changes colors. It's one of a number of high-tech updates. In the ballroom, projectors and screens drop down with the push of a button. The entire building is equipped with state-of-the-art lighting, which is controlled remotely. Both the hotel's heating and cooling are powered by geothermal energy and rooms offer mirror TVs.
During a soft opening on Sept. 12, guests will get to experience the hotel accommodations and facilities ahead of The Warrior's official opening date. Woodbury's American Steakhouse will be open for dinner only to overnight guests and Siouxlanders with reservations. Woodbury's will showcase three and four-course meal options from appetizers to dessert. Later this fall, Executive Chef Rich Grothaus and his team will unveil the full menu, offering breakfast, lunch and dinner.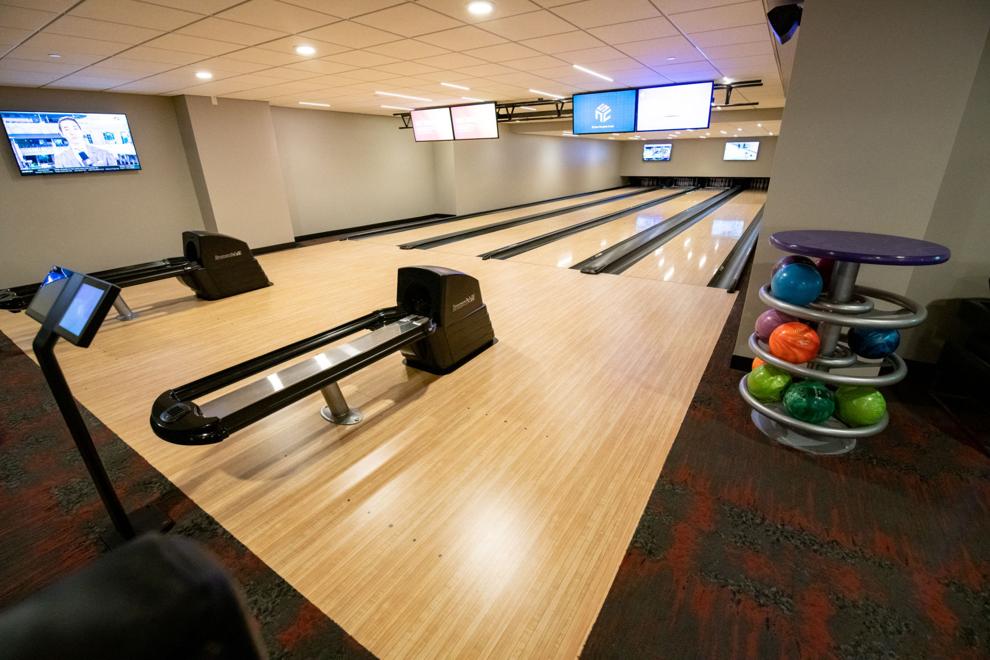 Also opening on Sept. 12 is the hotel's six-lane bowling alley -- War Eagle Lanes, which has vintage lanterns above the bar and LED lighting throughout.
"We named it War Eagle Lanes because there was a War Eagle Lanes in downtown Sioux City back in the 70s," Plambeck said. "Now, there is one again." 
Two Finches Spa, as well as the hotel's pool/sauna will open later in the fall, while The Crown, a rooftop bar, will open next spring.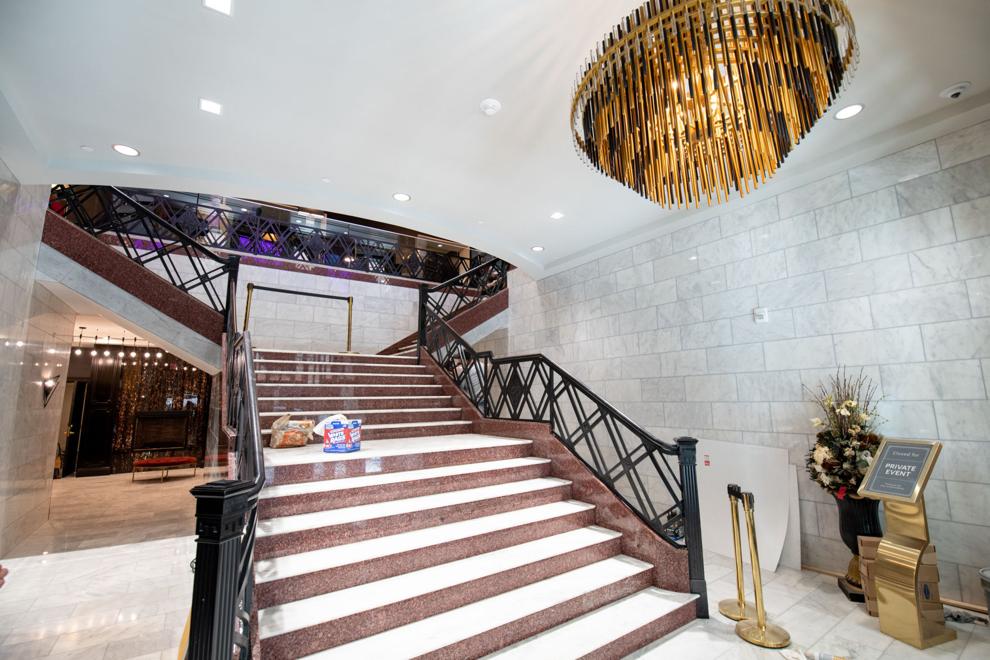 The hotel also has a pre-function space, business and exercise centers and commercial space on the first floor. 
The renovation project, which began in Feb. 2019, started out with an estimated cost of $56 million based on preliminary drawings, but that figure rose to $73 million, largely due to construction cost inflation. The Iowa Economic Development Authority awarded the project more than $11.3 million in historic preservation tax credits; and the Sioux City Council agreed to guarantee $16.5 million for it.