SIOUX CITY -- On a white exterior brick wall at Work & Church Booze Parlor, Rev. George Haddock clutches a Bible and mob boss Al Capone smokes a cigar at a gaming table, while Deep Purple's Tommy Bolin plays the guitar. 
This bold, vibrant mural of notable people from Sioux City's past was designed and painted by local artist Jessica Hammond. It's the latest large-scale artwork to grace Downtown Sioux City. 
"I love public artwork. I think it really brings some culture to downtown," said Hammond, who finished the mural in October after working on it for roughly a month. 
Ragen Cote, executive director of Downtown Partners, said 51 building murals have been painted since 2017 and more are in the works.
Cote said funding is being sought for five projects:
Alley Art Festival -- Cote said more walls are being added to the festival, which is usually held the third week in September. The event, a collaboration between Downtown Partners and Vangarde Arts, gives local artists a platform to demonstrate their skills by creating murals in alleyways.
Downtown Street Art Project -- Downtown Partners plans to work with Bishop Heelan High School art students again to paint pipes, poles and other everyday objects. "The students did seven of those areas. We're going to touch them up and do new ones," Cote said.
Storm drain project -- Cote said Downtown Partners and the City of Sioux City's Environmental Advisory Board are also teaming up on a painting project. "It's an educational piece that kind of reminds people what goes into our drains and what happens to the water," she said.
Snowplow blades -- Downtown Partners has proposed inviting students in the Sioux City Community School District to paint snowplow blades. Cote said the blades could be displayed in the Downtown Holiday Lighted Parade. 
Leadership Siouxland mural project -- "It's a map of Iowa and it has Sioux City on it and the different monuments and things about Sioux City. They were going to expand and continue that project and do more there," Cote said of the mural located at Third Street and Wesley Way. 
Cote said a grant from the Gilchrist Foundation in 2017 allowed larger murals to be painted downtown. Since then, she said mural painting has just "taken off."
"We have a lot of different things that happen with paint downtown," she said.
Downtown Partners was recently awarded a grant from the 2021 Paint Iowa Beautiful program, which provides free paint to a wide variety of public service projects throughout the state. Cote said seven gallons of paint received from the program, a partnership between Diamond Vogel and Keep Iowa Beautiful, will be used for some of the proposed projects.
"This grant through Diamond Vogel is a great impact," Cote said. "There are other grant opportunities that we're going to pursue, especially through the schools. As with each of these projects, some of them are centered around events, so a lot of sponsorships happen for those events, especially like Alley Art Festival."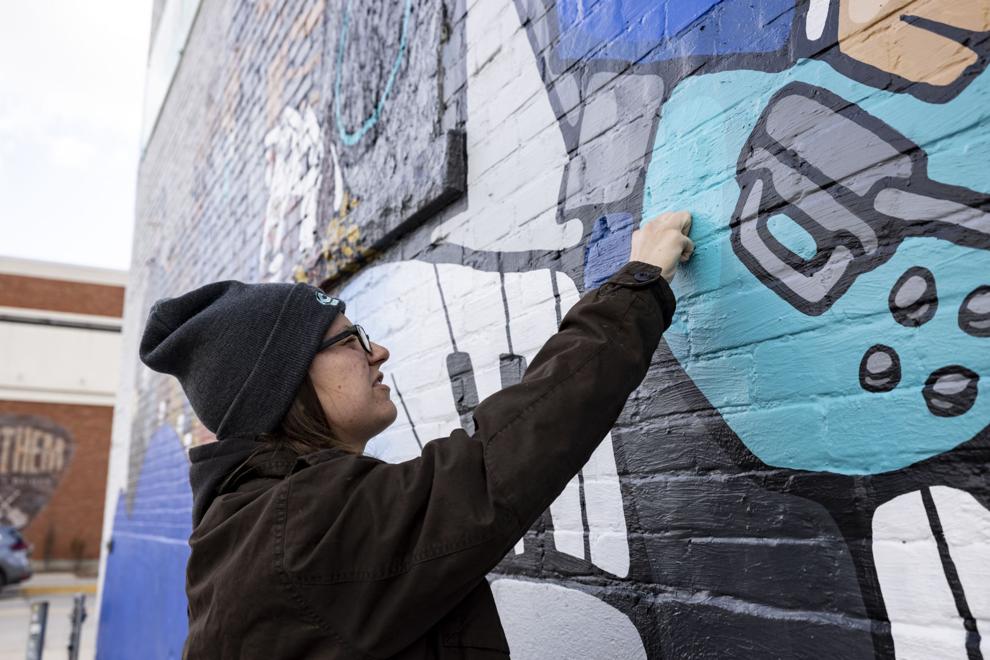 Hammond, who said she has been drawing her whole life, did some acrylic and watercolor painting prior to her first mural. That mural, which she painted with her friend, Anna Hart, during the 2019 Alley Art Festival, featured a geometric pattern, a skeleton lady with a laser and some animals in space. 
"It was cool making something larger than life. It was a lot of hard work," Hammond said of the mural. 
Last summer, Hammond was approached by the Sioux City Growth Organization about designing and painting a mural for Work & Church Booze Parlor, 215 Fourth St. 
"Mac (Dolan) from Work & Church wanted something prohibition-themed. The Sioux City Go board wanted historical aspects. I put the Rev. Haddock, Tommy Bolin and Al Capone up there, because they're three notable people from Sioux City's past. I just kind of created the design around that," she said. 
Hammond immediately went to work on the mural after the 2020 Alley Art Festival. After she finished it in late October, she said she shared photos of her work online and received a "great reaction." With spring weather having arrived, Hammond hopes more people are able to see her mural in person. 
"(The murals) kind of make it a place you can go to take pictures and wander around," she said of downtown. "I just think it's really cool."