SIOUX CITY -- What's one of the first things visitors to the Warrior Hotel's new rooftop bar notice when they step outside?
"You have no idea you're eye-level with the clock tower," Lila Plambeck, the Warrior's director of marketing and sales, said of the signature City Hall tower. "That's the craziest thing ever."
The Crown Rooftop Bar, located atop the 10-story historic hotel, offers stunning panoramic views of downtown. Much of the seating in the L-shaped outdoor patio looks toward the south, providing unique glimpses of such landmarks as the Missouri River, the Siouxland Veterans Memorial Bridge and two structures that also rival the Warrior in height -- the Badgerow Building and the Ho-Chunk Centre. 
"It's something Sioux City has never seen before," Plambeck said of The Crown, which opened to the public Thursday.
Plambeck spoke as she showed the new space to local media. Work was finished earlier this year. A "soft opening" started July 2, with access limited to hotel guests and dignitaries.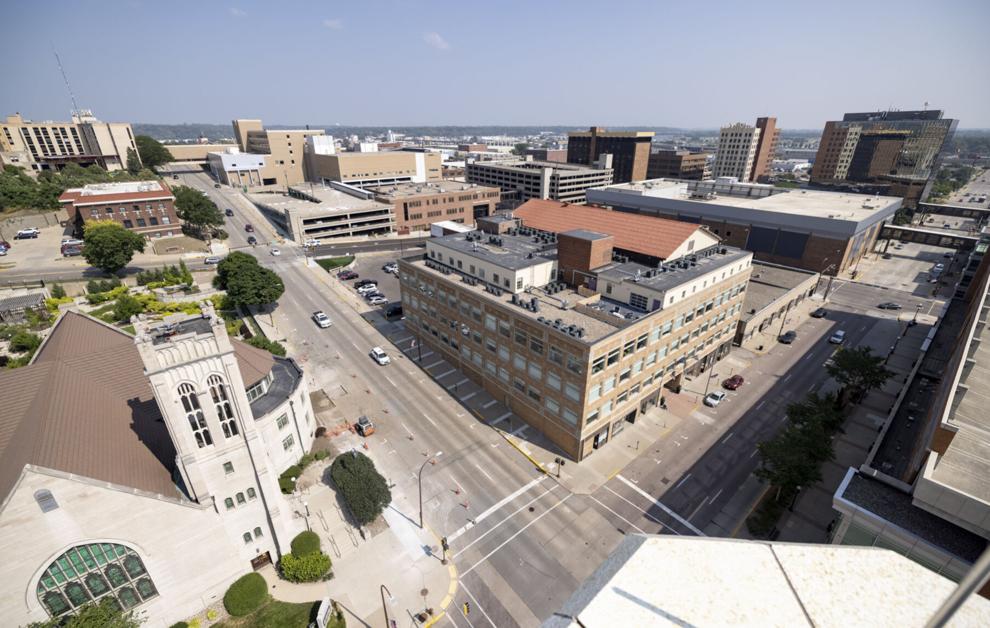 "We wanted to make sure we had everything was done right," Plambeck said. "We wanted to make sure our service was top notch."
The Crown, which is now open beginning at 4 p.m. on Thursdays, Fridays and Saturdays, serves drinks and appetizers, which the bar refers to as "small bites." Plambeck noted an expert was brought in from Kansas City to help the staff learn how to make The Crown's unique mixed drinks, which have names such as tufted puffin' and kinky parrot. The former is made with Bacardi Silver rum, coconut water, house-made simple syrup and lime juice, while the latter is made with passion fruit-mango vodka and orange and pineapple juice.
The Crown also serves beer from three local breweries -- Brioux City, Jackson Street and Marto -- and a selection of wines.
Among the rooftop bar's choice of small bites are bacon lollipops, chilled jumbo shrimp cocktail and smoked salmon deviled eggs.
After taking the elevator to the 11th floor, guests walk into an enclosed area with a full bar and seating for about 50. When the weather is nice, guests can step outside onto the observation deck, which has seating for about 100 people.  
St. Louis-based developer Restoration St. Louis renovated the historic Warrior, which reopened last year as a 148-room Autograph Collection hotel. The work was part of a $73 million project that also included the renovation of the adjacent Davidson Building, where 30 of the hotel rooms are now ready for guests, Plambeck said.
Built in 1930, the Warrior is listed on the National Register of Historic Places.