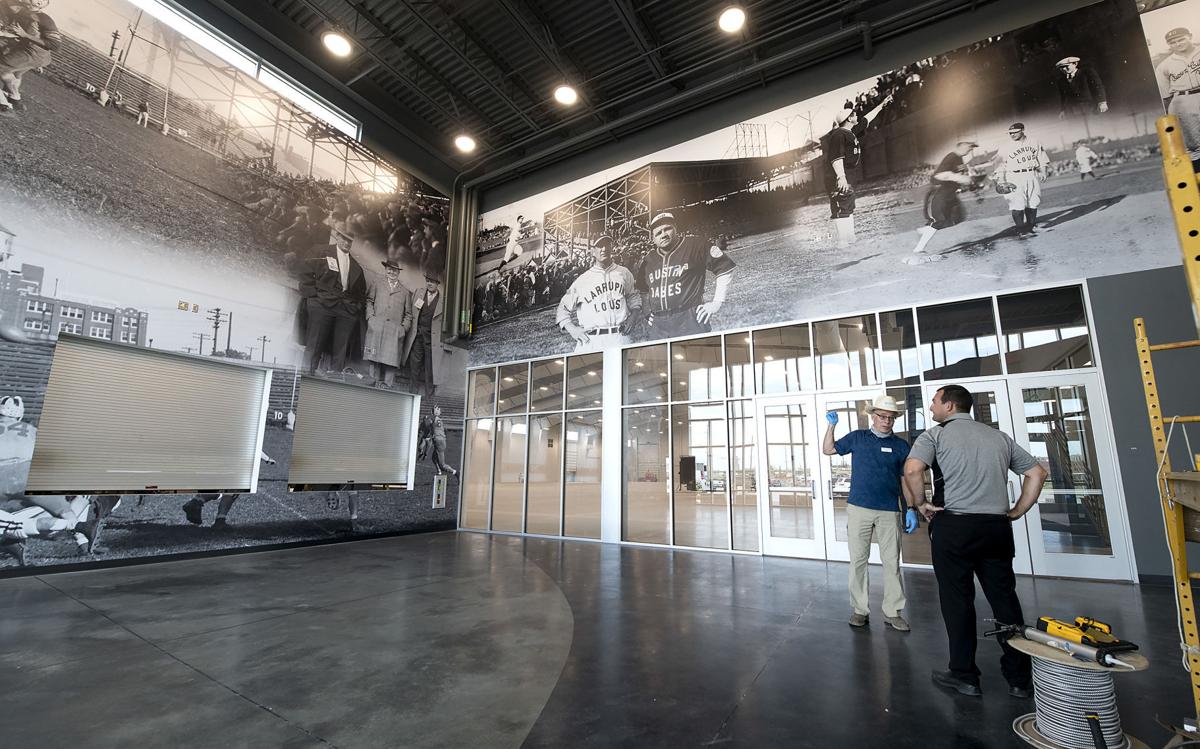 SIOUX CITY -- Dirk Lohry is "pumped" to see the finishing touches being put on the Siouxland Expo Center.
The nearly $15 million multi-purpose venue, located in the former Sioux City stockyards on a parcel bounded by Interstate 29 and the Floyd River channel, soon will open to the public for the first time. 
The venue will host a wide range of activities, from large trade shows to youth sports tournaments. Lohry, the center's board president, said the end result has exceeded that expectations of those shepherding the project to completion. 
"It's not as exciting as having my first child, but it's close to that. It's very exciting to see this all come together," Lohry said as he stood in the center's lobby in front of glass doors, which open to the 80,000 square-foot arena.
A black and white photo mural featuring Babe Ruth and Lou Gehrig covered a lobby wall above Lohry's head. Ruth's "Bustin' Babes" and Gehrig's "Larrupin' Lous" played a game at Stockyards Park in 1927. The mural also pays homage to football, a sport that was played on a field in the district.
Sioux City Parks and Recreation Director Matt Salvatore said the United Way of Siouxland will host its campaign kickoff event Thursday at the Expo Center, but he said additional events won't be scheduled until more "loose ends" are "tied up with the building." A grand-opening celebration is expected to be held next month. 
"It's going to be the greatest expo center ever," said Lohry, whose voice echoed in the expansive space as drills hummed in the background. "We've never had a facility that was this large that could house a major event. I'm talking a major convention, home show, equipment show or farm show."
Roll out the turf, and Lohry said a major college-level soccer match can be hosted or a dozen small soccer games can be played simultaneously in the arena. Two softball games can be going on at the same time, too. 
"They're going to begin sealing the arena today and tomorrow. Turf will start being installed next week," Salvatore said.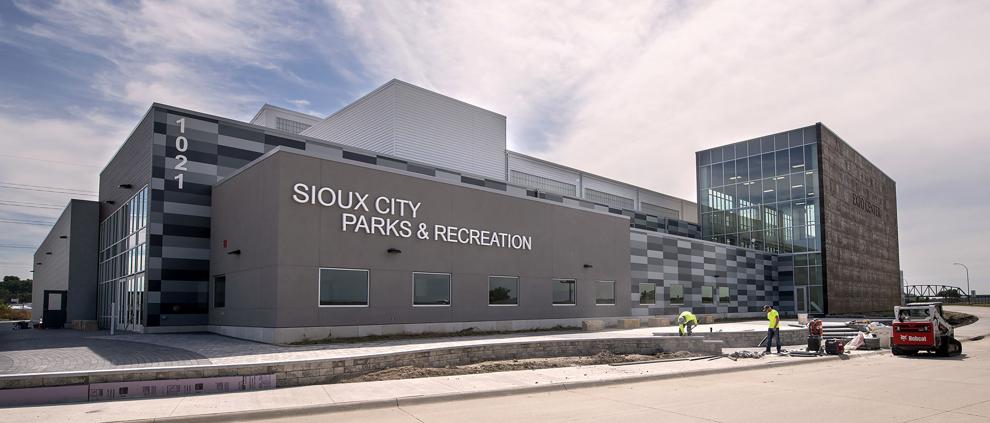 Lohry said the goal is for the Expo Center to host 14 major events annually. However, the global COVID-19 pandemic has thrown a wrench in that plan, at least during the Expo Center's first year of operation. 
"An expo center like this is about bringing people together and the COVID crisis is about keeping people apart, so we have conflicting priorities there," said Lohry, who noted the arena floor could hold 2,500 people spaced six feet apart. 
The road to building an expo center has been a "long and complex process that started years ago," according to Lohry. 
Local leaders have been working for more than a decade to bring an ag-focused expo center to Woodbury County. But after costs rose to around $17 million -- $5 million above earlier estimates -- organizers were forced to downsize the project and change its emphasis. The word "Ag" was dropped from the building name, reflecting not only the reduced emphasis on equestrian shows, but also the broader events envisioned for the center. A number of changes were made to reduce expenses, including cutting the overall square footage. 
The Expo Center is one of several of the big-ticket items that are part of Sioux City's Reinvestment District, which is diverting nearly $14 million in future hotel/motel and sales tax money into unique projects designed to increase tourism and quality of life.
The Sioux City Council awarded a $14.94 million contract to L&L Builders for the Expo Center last May. The Expo Center is expected to use $6.5 million of that amount, along with $2 million from the city and $1.5 million from Woodbury County.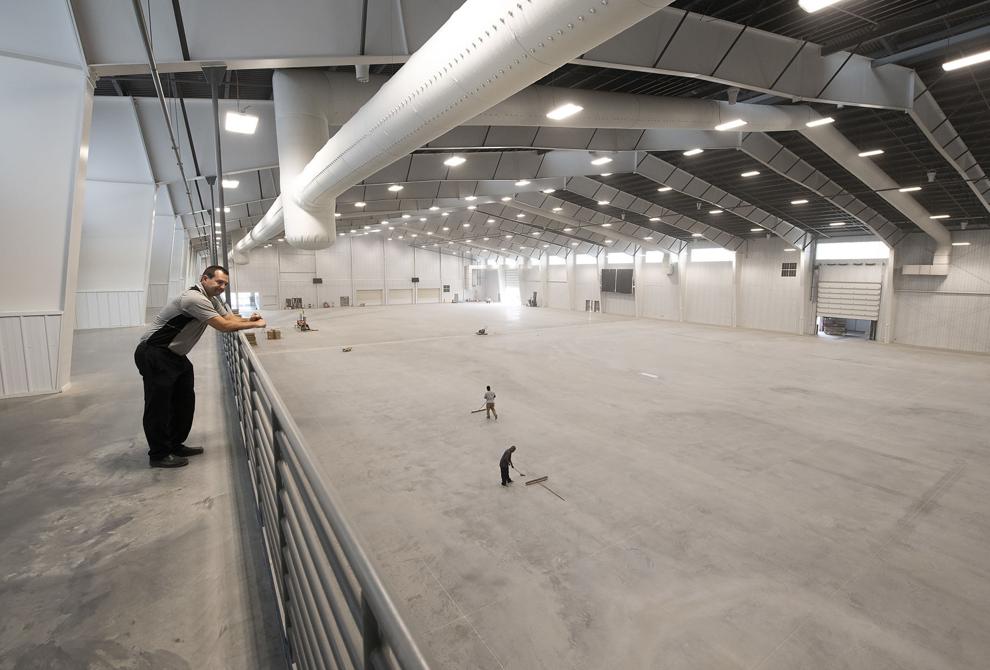 On Tuesday, the Sioux City Parks and Recreation Department was moving from Long Lines Family Rec Center, where its offices were previously located, into to the Expo Center. A glass door just off the lobby leads to the Parks and Rec offices and an adjoining rentable conference room, which can accommodate roughly 40 people and be divided by a partition. The facility, which Salvatore described as "very green," has LED automatic lighting and is climate-controlled. Dale McKinney, of Stone Group, was the primary architect on the project. 
Exit the conference room through a door and walk down a long hallway which flanks the arena. Off the hallway are restrooms, locker rooms, janitor's closets and a unique space that was built to house the Rec Center's climbing wall. The front face of this portion of the building's exterior is rusted steel, while the sides are predominately glass. 
"It's probably cheaper to build a new one and start over rather than move one. We don't have that in the budget right now," Salvatore said of the climbing wall. "In the meantime, this is going to work as a very functional meeting space. It may even get to the point where we like it so much as a meeting space that we don't even end up doing the climbing wall."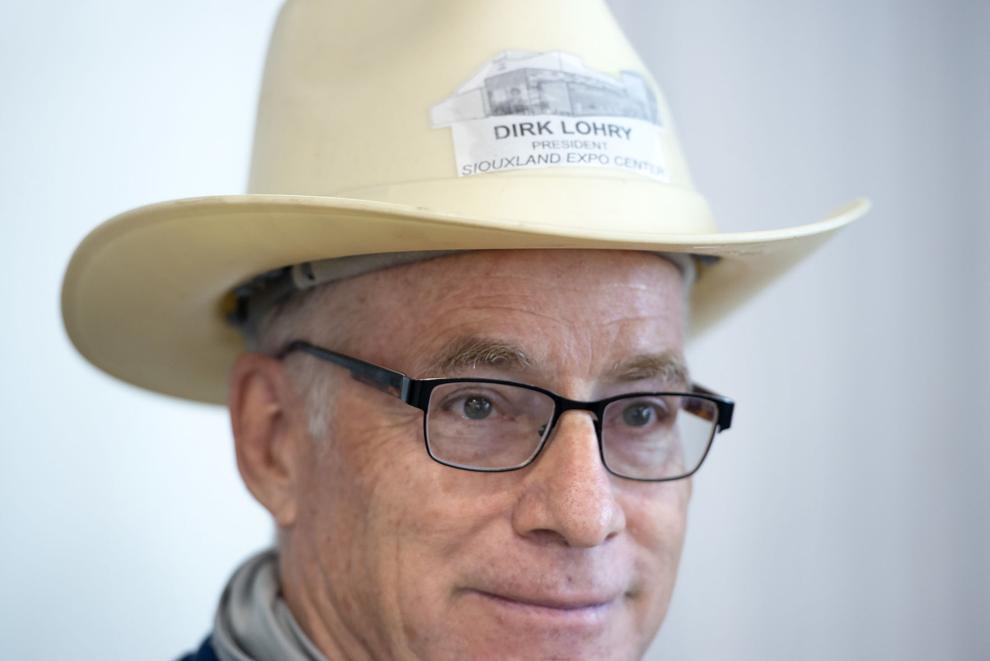 The second floor mezzanine, which overlooks the arena, is another area that Lohry said can be used to host events and parties. It can be accessed via elevator or staircases. 
"We can also have stand-a-lone events up here," Salvatore said. "In the event of a sporting event, people can either just lean up against the railing, bring in their own chairs or we could do temporary bleachers up here if needed."
Salvatore said the project has experienced some COVID-19-related delays, including the installation of retractable bleachers that will seat nearly 1,400 on the arena's ground floor. 
"Another thing that is a little bit delayed is the retractable dividers and nets that come down from the ceiling that divide the turf into anywhere from one to 12 sections," he said. 
Lohry said the project was a "group effort" that included literally thousands of people.  
Great Southern Bank contributed $250,000 to become the naming sponsor for the athletic field. Other organizations that have made financial commitments for naming rights include Missouri River Historical Development, MidAmerican Energy and the Hard Rock Hotel & Casino Sioux City. Lohry said the Expo Center is still working on a major naming sponsor.
"We can do amazing things in this building. It's so flexible because of its size and its location," he said.