CLEGHORN, Iowa -- Google's search for more renewable energy has led to construction of a $246 million wind farm in eastern Cherokee County.
Eighty-two wind turbines sprawled out over 30,500 acres began rising from farm fields near the small towns of Cleghorn and Marcus in April. The Glaciers Edge Wind Project has created 150 new construction jobs and scores of other economic benefits for the rural community. The wind farm also will generate $1.5 million in annual property taxes for local government entities. 
The turbines, which will generate 200 MW of electricity, enough to power about 60,000 average-size homes, should be up and running toward the end of this year. 
EDF Renewables North America, a subsidiary of the French-based renewable energy company EDF Renouvelables, is building Glaciers Edge for search engine titan Google, which will purchase all the power.
Google announced in 2017 that it generates 100 percent of its power from renewable sources. The Mountain View, California-based company, a subsidiary of Alphabet, has been purchasing wind power from Iowa farms since 2010 and has done business with EDF since 2012. 
"Renewables from projects like Glaciers Edge bring value to our business as we scale and accelerate investment in the communities where we operate," Gary Demasi, Google's director of global infrastructure, said in a 2017 press release. "With solar and wind declining dramatically in cost and propelling significant employment growth, the transition to clean energy is driving unprecedented economic opportunity and doing so faster than we ever anticipated," 
EDF operates, or is in the process of building, nine wind farms throughout Iowa with combined nameplate capacities of roughly 1.25 GW. The company operates wind and solar installations throughout the U.S., along with a couple of biogas plants and a battery storage project in Illinois. 
The Glaciers Edge name is borrowed from history. The area where the wind project is situated is roughly the site of the western edge of the Des Moines lobe, part of the so-called Wisconsinan Glacier of roughly 12,000 to 14,000 years ago. 
Once Glaciers Edge is complete, about 25 employees will stay in the community to maintain the turbines, Sandi Briner, a vice president of corporate communications with EDF, wrote in an email.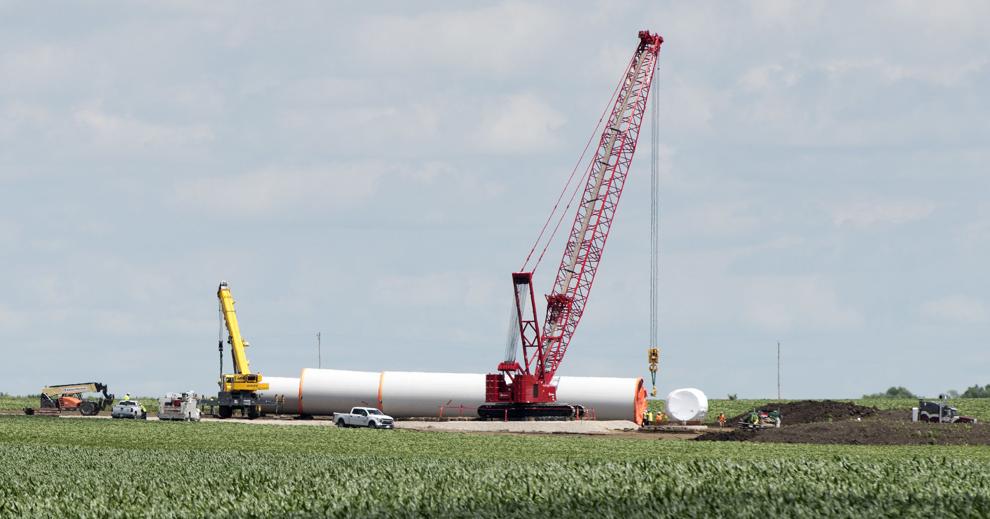 A Speer Financial Inc. report commissioned by Cherokee County estimated the project's net acquisition costs at about $246 million. Based on that total, Cherokee County Auditor Kris Glienke calculated the total taxable valuation of the property at about $73 million. 
After seven years of operation, the wind farm would begin paying roughly $1.5 million in property taxes to the county and local school districts, said Rick Mongan, the chairman of the Cherokee County Board of Supervisors.
"Out of that $1.5 million, the county's portion would be about 40 percent, which would be about $600,000 a year," Mongan said. "$330,000 going to the general fund, and then $270,000 going to the rural fund." 
Once complete, Glaciers Edge would become the largest taxpayer in the county. 
Kris Glienke cautioned not to make any hard assumptions about future tax revenues on a project that isn't yet complete. 
"IF (all the) towers are built and IF they are assessed at $3 million of taxable value and IF school, county, township levy rates stay stable and aren't lowered; then they should produce approximately $1.5 million of property tax revenues in year 7, when they reach maximum allowable assessment," Glienke said in an email to the Journal. "As you can see, there are far too many IF's to make solid financial predictions." 
WAKEFIELD, Neb. -- A massive wind project is taking shape in Dixon County, Nebraska, and plans are underway for another large wind project in …
EDF is pumping money into the county in other ways -- paying landowners to put the turbines on the land, plus the general stimulus of having all those workers in the area spending money. 
"They all have to get their gas here, they shop here, they rent houses, motels," Mongan said. "It's a pretty good boon to the economy." 
Darrell Downs, the head of the Marcus Area Economic Development Corporation, said EDF has been a good corporate citizen in Cherokee County. He noted they've paid to help repair and maintain county roads their crews use. 
"At the end of this program, if everything works out right for them, in most cases we'll have really good roads in the county," Downs said. "So far so good -- the wheels can always fall off, but to this point they haven't." 
In the early days of planning the project several summers ago, Downs said area farmers -- on whose land the turbines are being installed -- were among the project's biggest boosters. The landowners are being reimbursed for EDF's use of part of their land, and they will be able to continue farming around the turbines.
"I'm glad that happened the way it did, because it was actually the farmers that put that together," he said.
Which isn't to say every person in the county likes wind turbines. That's seldom the case. 
"I'm not going to say that everybody in the area is for it, that would be -- it wouldn't be true," Downs said. "But more were for it than against it." 
Cherokee County isn't alone in getting in on the wind action. According to the American Wind Energy Association, an industry group, Iowa is second in the nation (Texas being number one) in terms of installed wind energy capacity, with roughly 8.9 GW. 
Somewhere between 9,000 and 10,000 people in Iowa are employed in the wind industry, and all told, the industry pays $58 million per year in state and local taxes, along with $20 to $30 million in land leases.