SIOUX CITY — From her father's arms, 1-year-old Daisy Griffin cracked a slight smile as she pointed to a photo of her mother, Molli Griffin, that was on display at the Betty Strong Encounter Center in Sioux City.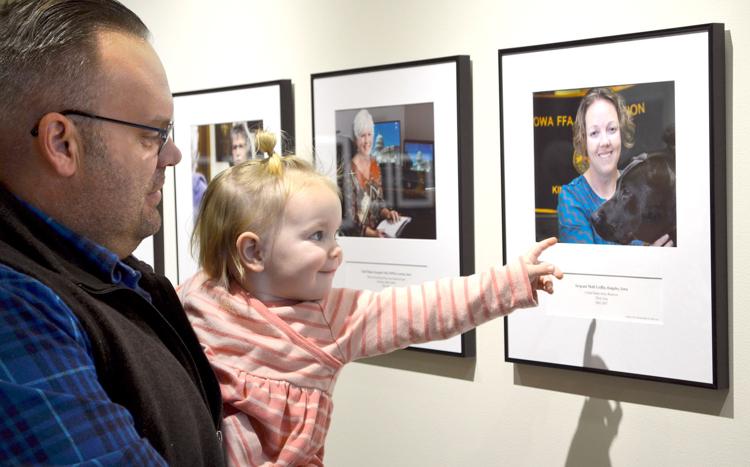 The elder Griffin was one of the female veterans featured in the Journal's three-week "Serving Her Country: Women in the Military" series, which showcased the service careers of 21 Siouxland women and U.S. Sen. Joni Ernst, the first female combat veteran elected to the Senate.
Molli Griffin, a teacher at Kingsley-Pierson High School, spent 15 years in the U.S. Army Reserves and was deployed to Iraq for a year and was stationed at Forward Operating Base Speicher near Tikrit.
To cap off the series, the Journal partnered with the Betty Strong Encounter Center to host an exhibit featuring all of the women's stories and portraits.
A kick-off event was held at the facility Sunday and more than 100 people were in attendance.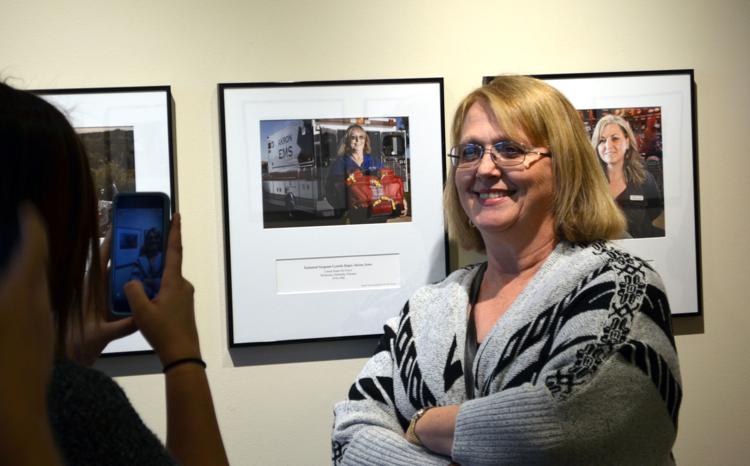 The "Serving Her Country" exhibit will be on display until Memorial Day and is composed of portraits by Journal photographers Tim Hynds, Jim Lee and Justin Wan. Exhibit text is drawn from stories by Journal staff writers Alex Boisjolie, Dolly Butz, Mason Dockter, Tim Gallagher, Bret Hayworth, Earl Horlyk, Nick Hytrek, Ian Richardson and Ty Rushing.
You have free articles remaining.
During the ceremony, Gallagher led an hour-plus program that featured excerpts from each story in the series while the women's photos were projected onto a screen.
In his opening speech, Gallagher explained that the Journal's veteran series originated in 2008 when Marcia Poole, a former Journal staff writer and the executive director of the Encounter Center and adjoining Lewis & Clark Interpretive Center, asked if he could find and share some stories about Siouxland World War II veterans.
Gallagher accepted the challenge and wound up profiling 14 area WWII veterans, including Claire O'Brien of Sioux City, who was also featured in the "Serving Her Country" series.
After a seven-year hiatus, the series returned and the Journal profiled 50 Vietnam War veterans in 2015 and followed that up with profiles of 20 Korean War veterans in 2016.
"As that exhibit closed, (Journal) editor Bruce Miller, working with Marcia, suggested the prospect of featuring the lives of women in the military for a Journal series and photo exhibit here in 2017, which culminates today," Gallagher told the crowd.
Just about every one of the women profiled were present Sunday and treated to a round of applause from the nearly standing-room-only crowd as Gallagher shared tidbits from their stories and their service.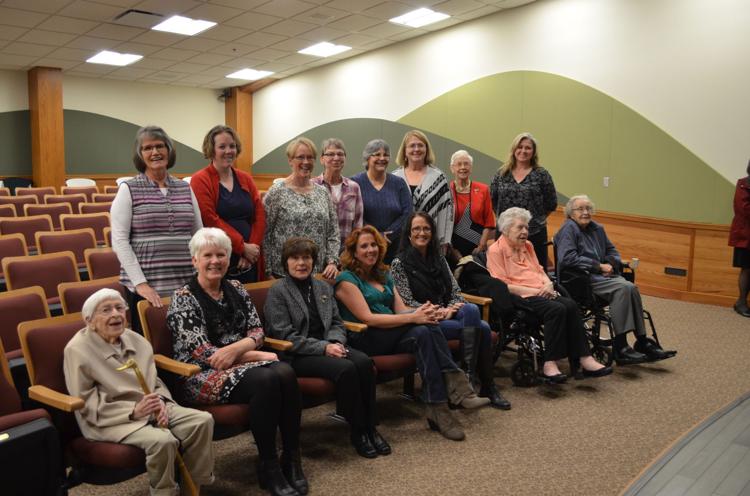 As the ceremony closed, many of the other veterans and other spectators made their way to the front row to thank O'Brien for her service and shake her hand.
The 95-year-old took it all in stride and raved about the program during a brief reprieve from the onslaught of well-wishers. 
"It was very stimulating, it was very well planned, well executed and it certainly was an honor to be part of," she said.