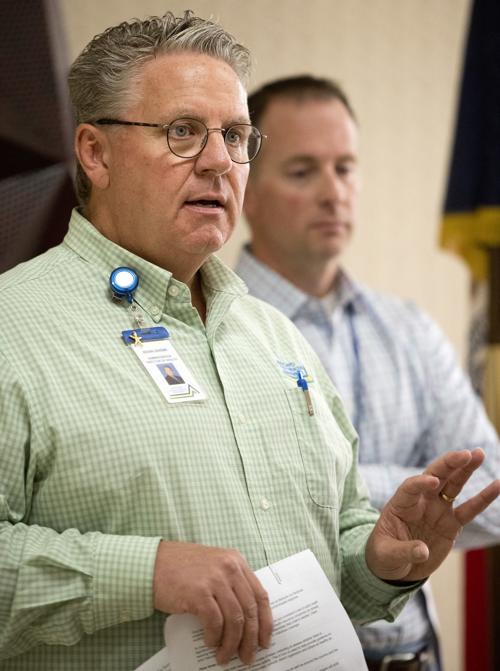 SIOUX CITY -- For weeks now, Siouxlanders have hunkered down, isolating themselves and limiting their contact with others as much as possible in order to reduce their exposure to the novel coronavirus.
Siouxland District Health Department Director Kevin Grieme on Friday said Woodbury County health officials are seeing that those efforts are showing signs of paying off.
He said two indicators -- the number of weekly confirmed new cases and the percentage of tests that result with a positive reading -- are moving in a positive direction.
During the week ending May 3, Woodbury County had 730 new cases and 45 percent of people who were tested were positive for COVID-19.
For the week ending May 17, the county had 319 new cases, with 16 percent of tests showing a positive result.
"It doesn't mean we're out of the woods yet, but it means we are moving in the right direction. These are items that show we are making progress. We are having an impact," Grieme said during a news conference at Woodbury County Emergency Management.
Overall, Woodbury County has had 2,468 cases and 26 deaths, after one more death was reported Friday. The health department reported a man between ages 61 and 80 had died.
The department also confirmed an additional positive 43 cases out of 221 new tests reported.
There have been 1,194 recovered cases in Woodbury County, 67 people currently hospitalized and 115 people who were hospitalized and later released. According to a joint Tuesday statement, MercyOne Siouxland Medical Center and UnityPoint Health – St. Luke's are providing care for a combined 90 COVID-19 patients.
Those numbers all were compiled before Iowa Gov. Kim Reynolds ordered that Woodbury County restaurants, hair salons and other businesses could reopen, with restrictions, on May 15. This week, Reynolds ordered that indoor movie theaters, zoos, museums, aquariums and wedding reception venues could reopen on Friday. Bars will be allowed to reopen next week.
Grieme said he's curious to see which direction Woodbury County's numbers move as stores, restaurants and other businesses reopen. He urged everyone to continue social distancing, staying home, especially if they feel sick, and limiting gatherings to 10 people or fewer.
If numbers begin to climb again, people will need to reassess their actions and perhaps ramp up their precautionary measures.
Friday also marked the last day of the operations at the Test Iowa drive-thru testing site in Sioux City. Grieme said health officials don't have the ability to sort Test Iowa results from other testing done in the county, so he did not know how many positive cases resulted from the site, which opened on May 4 at the Western Iowa Tech Community College campus.
There has been some concern from the public that the test site is closing, given Woodbury County's high number of COVID-19 cases. Grieme said the Siouxland Community Health Center can handle more than 1,000 tests per week, so there will not be a lack of testing in Woodbury County. One in 10 Woodbury County residents has now been tested for COVID-19, he said.
"We're not anticipating a large local impact in the number of tests completed," Grieme said. "We are comfortable with the community testing going on."
State Rep. Chris Hall, D-Sioux City, criticized the closing of the test site.
"Positive cases are being confirmed each day, and our community has not yet recovered from one of the nation's most concentrated outbreaks ... After ignoring the seriousness of the outbreak in our community, the site in Woodbury was open for a mere three weeks and, to date, the Governor's office has refused to show what value it added to our local public health efforts," Hall said.
Grieme advised anyone not feeling well can always call his or her personal physician or the Community Heath Center to see if they should be tested.
Across the river in Dakota County, Nebraska, six additional COVID-19 infections were confirmed Friday. That brings the county's tally of positive test cases for the novel coronavirus to 1,585, and 17 people have died, according to the Dakota County Health Department.
The Journal's Bret Hayworth contributed to this article.
Concerned about COVID-19?
Sign up now to get the most recent coronavirus headlines and other important local and national news sent to your email inbox daily.