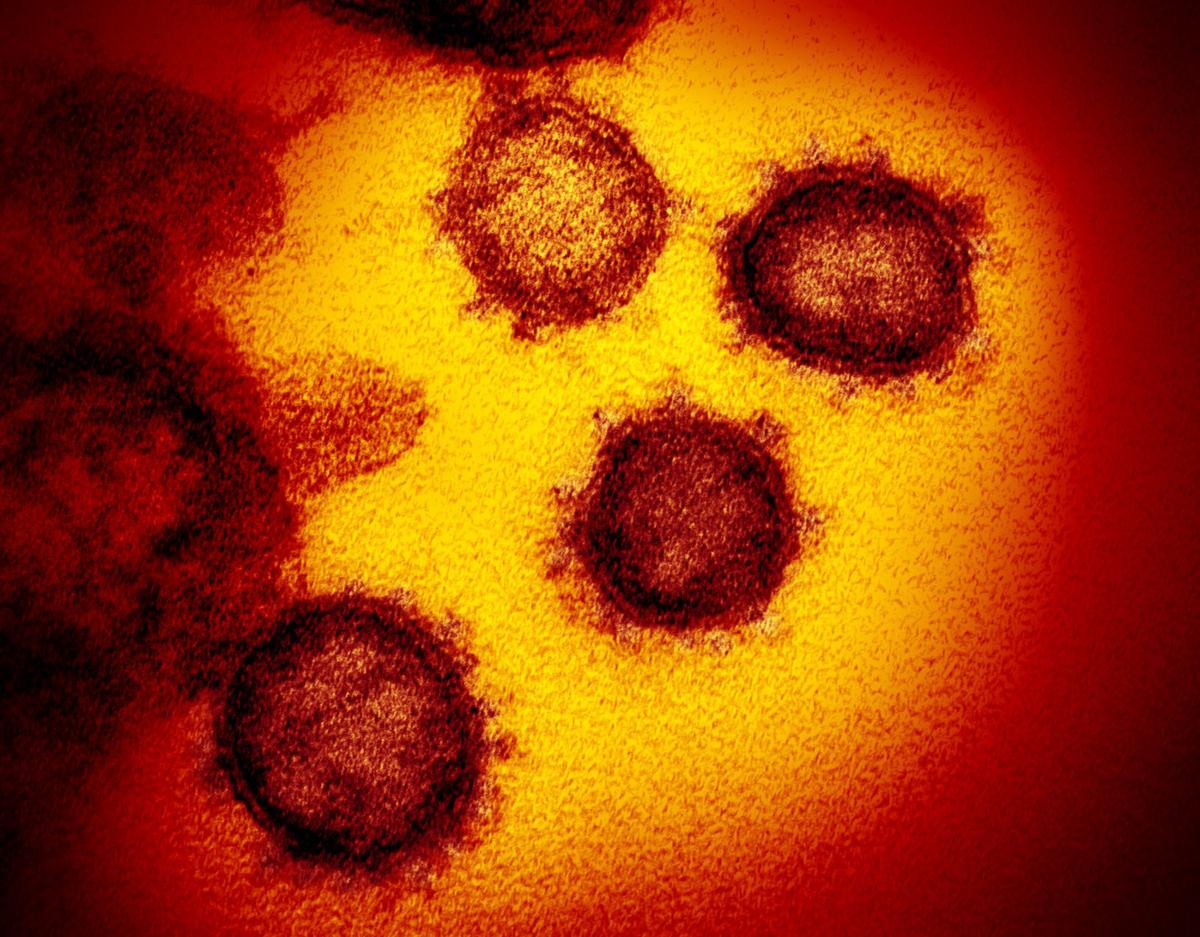 SIOUX CITY -- After reporting no new cases of the novel coronavirus a day earlier, Dakota County recorded four new cases on Tuesday.
The Northeast Nebraska county now has a total of 1,757 COVID-19 cases and 34 deaths.
Across the Missouri River, five new COVID-19 cases were added to Woodbury County's total Tuesday out of 121 new tests. The Northwest Iowa county had 3,076 total cases as of 6 p.m., according to statistics from the Iowa Department of Public Health.
Siouxland District Health Department said in a news release that 2,596 Woodbury County residents have recovered from the virus. Forty-two COVID-19-related deaths have been recorded.
In their daily joint release, MercyOne Siouxland Medical Center and UnityPoint Health -- St. Luke's said they are caring for a combined 32 patients for COVID-19-related illnesses.
State statistics, which were last updated Tuesday, showed that in Regional Medical Coordination Center 3, which includes many Northwest Iowa counties, 36 people were hospitalized with COVID-19, and five had been admitted within the past 24 hours. The region had 110 intensive care unit beds and 104 ventilators available. Seven patients in the region were on ventilators, the statistics showed.
100 Sioux City Journal front pages during the pandemic
100 Sioux City Journal front pages during the coronavirus pandemic
MARCH 2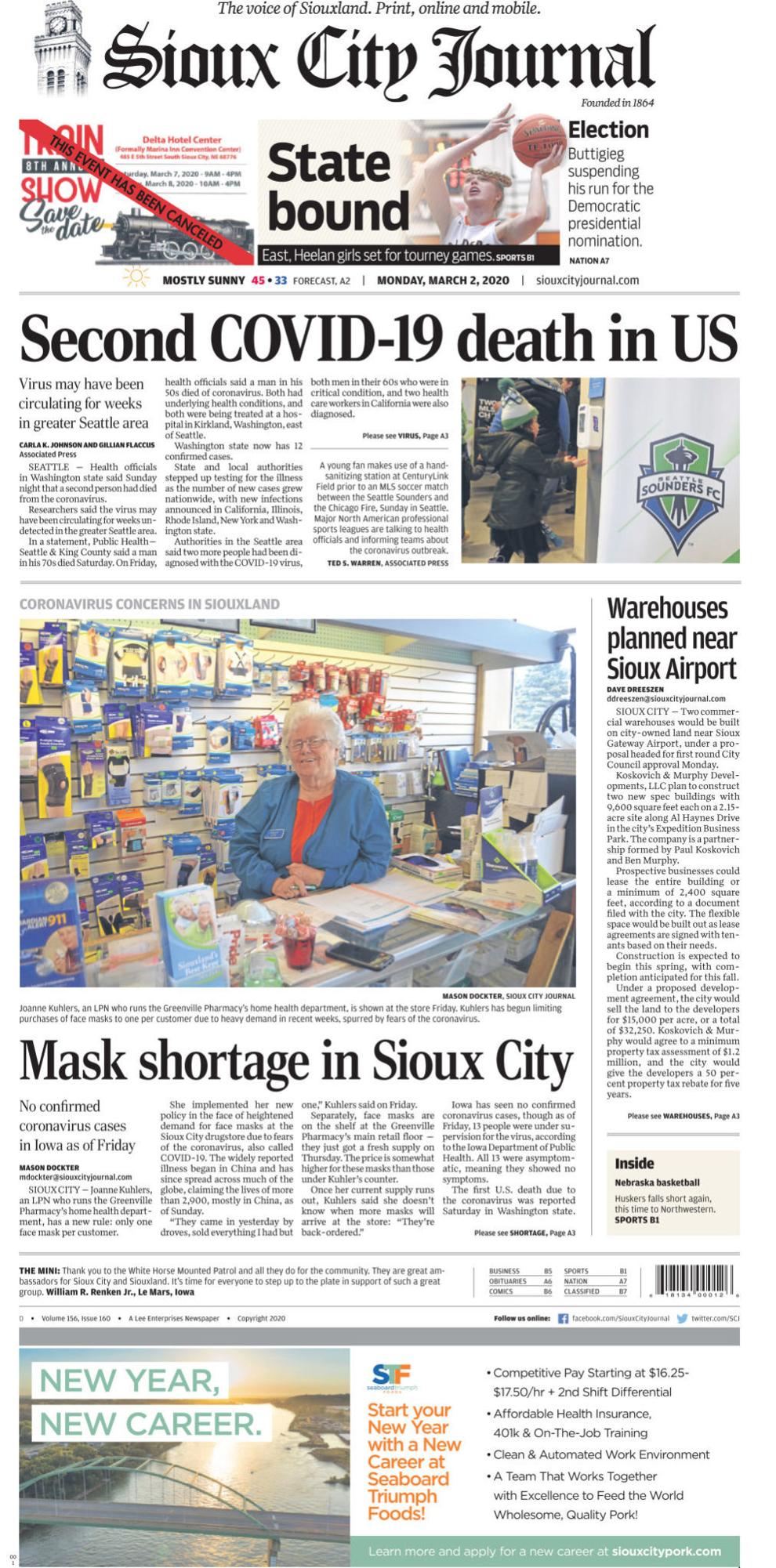 MARCH 6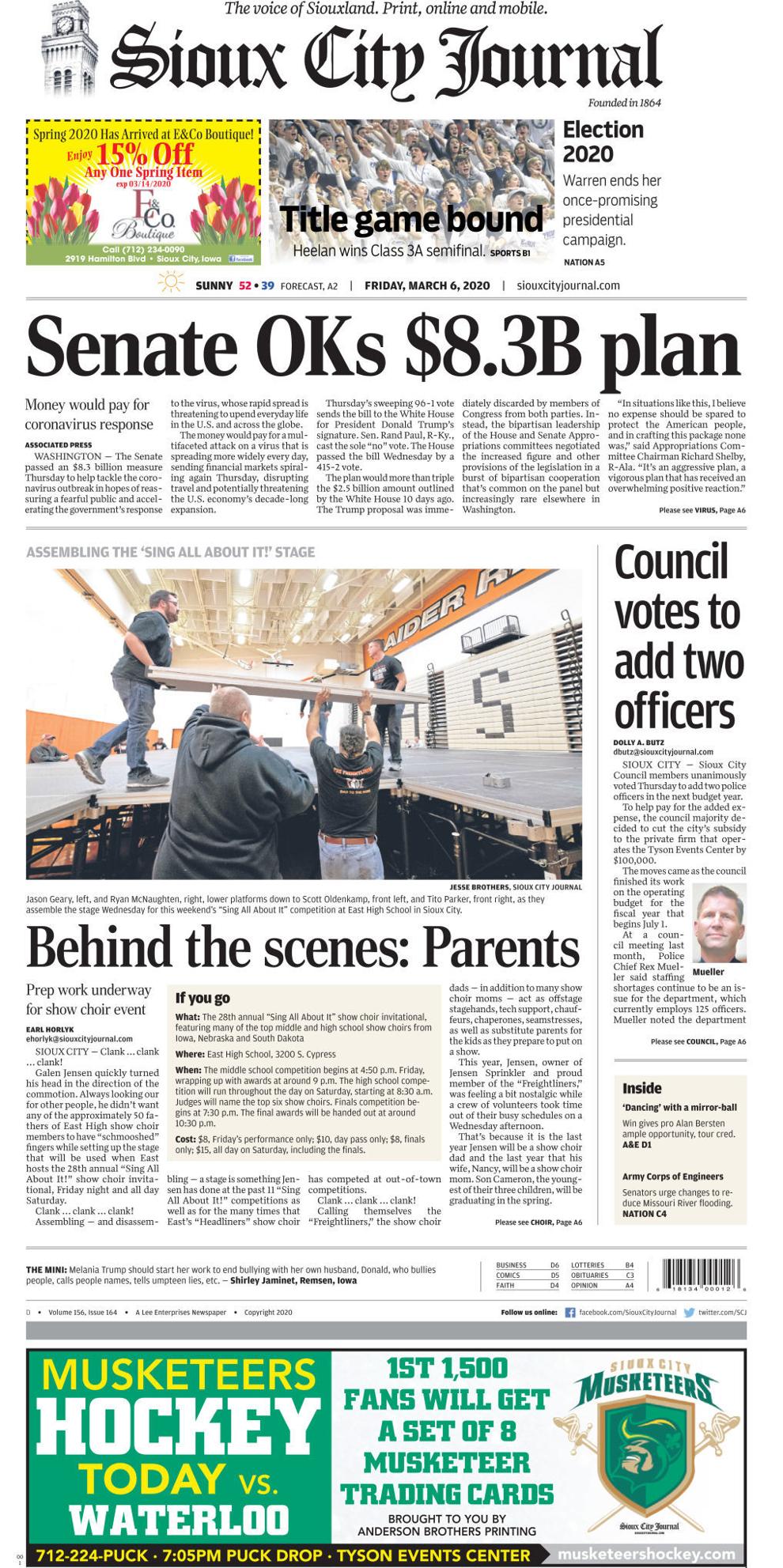 MARCH 7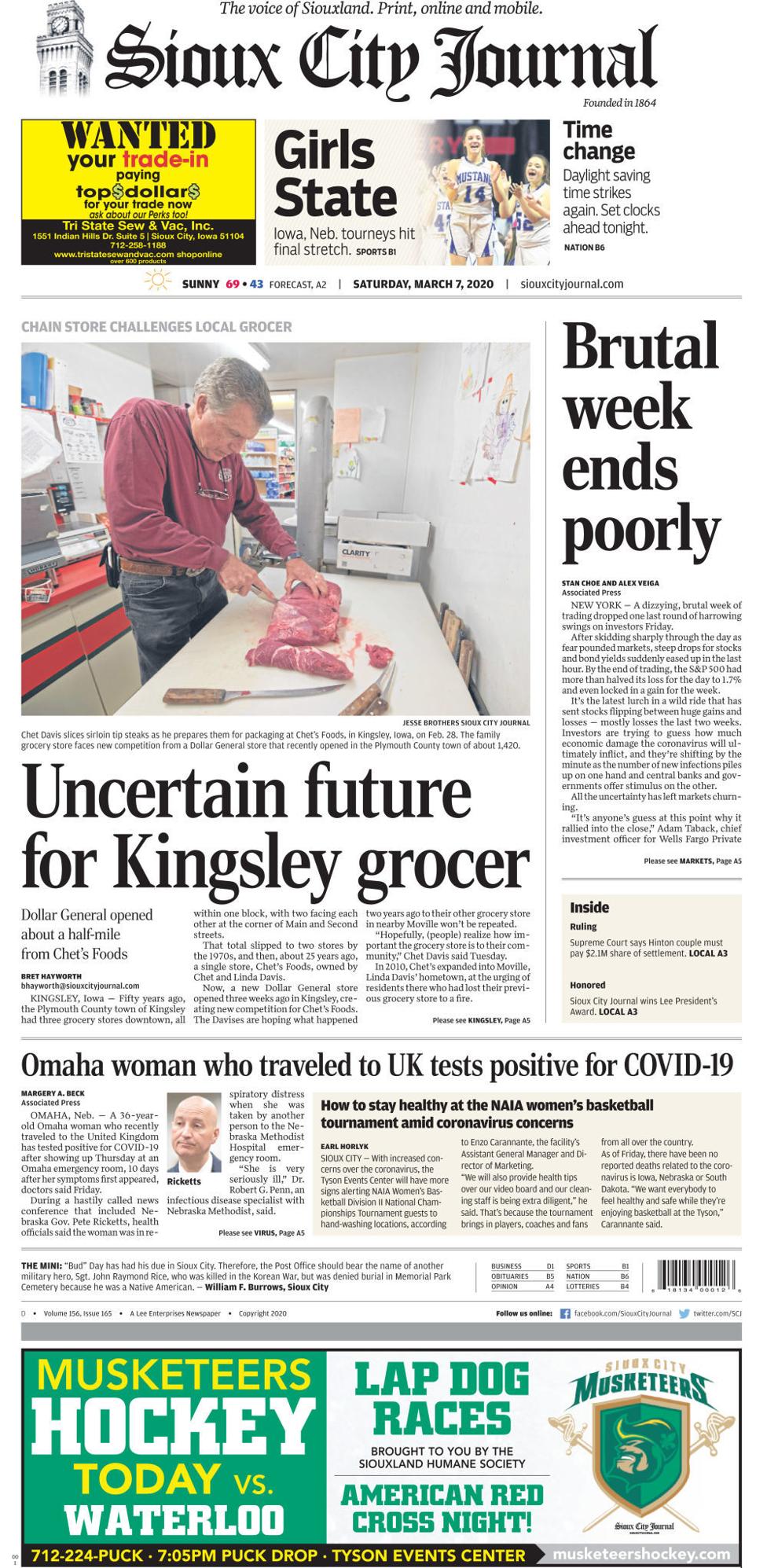 MARCH 9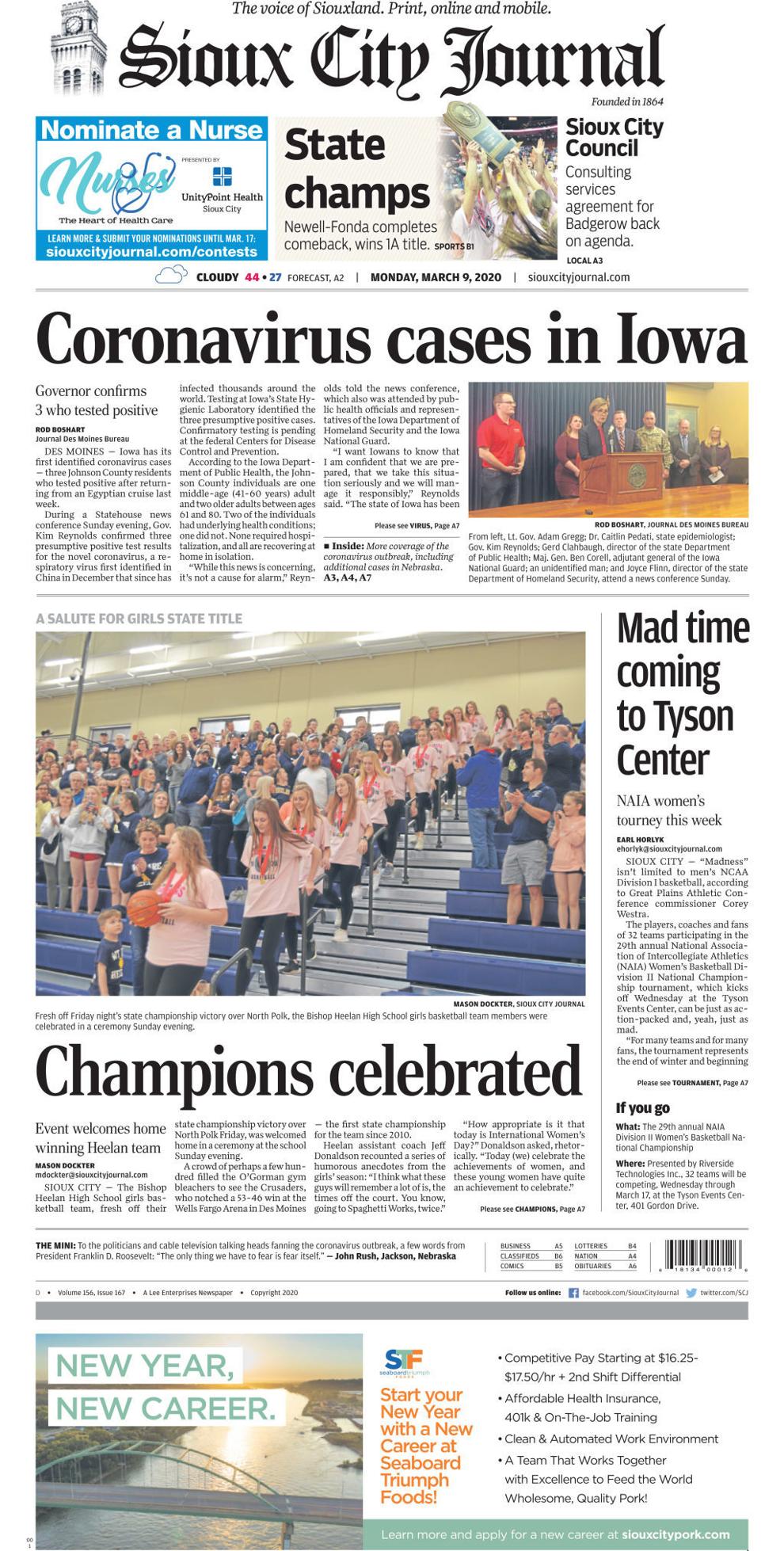 MARCH 10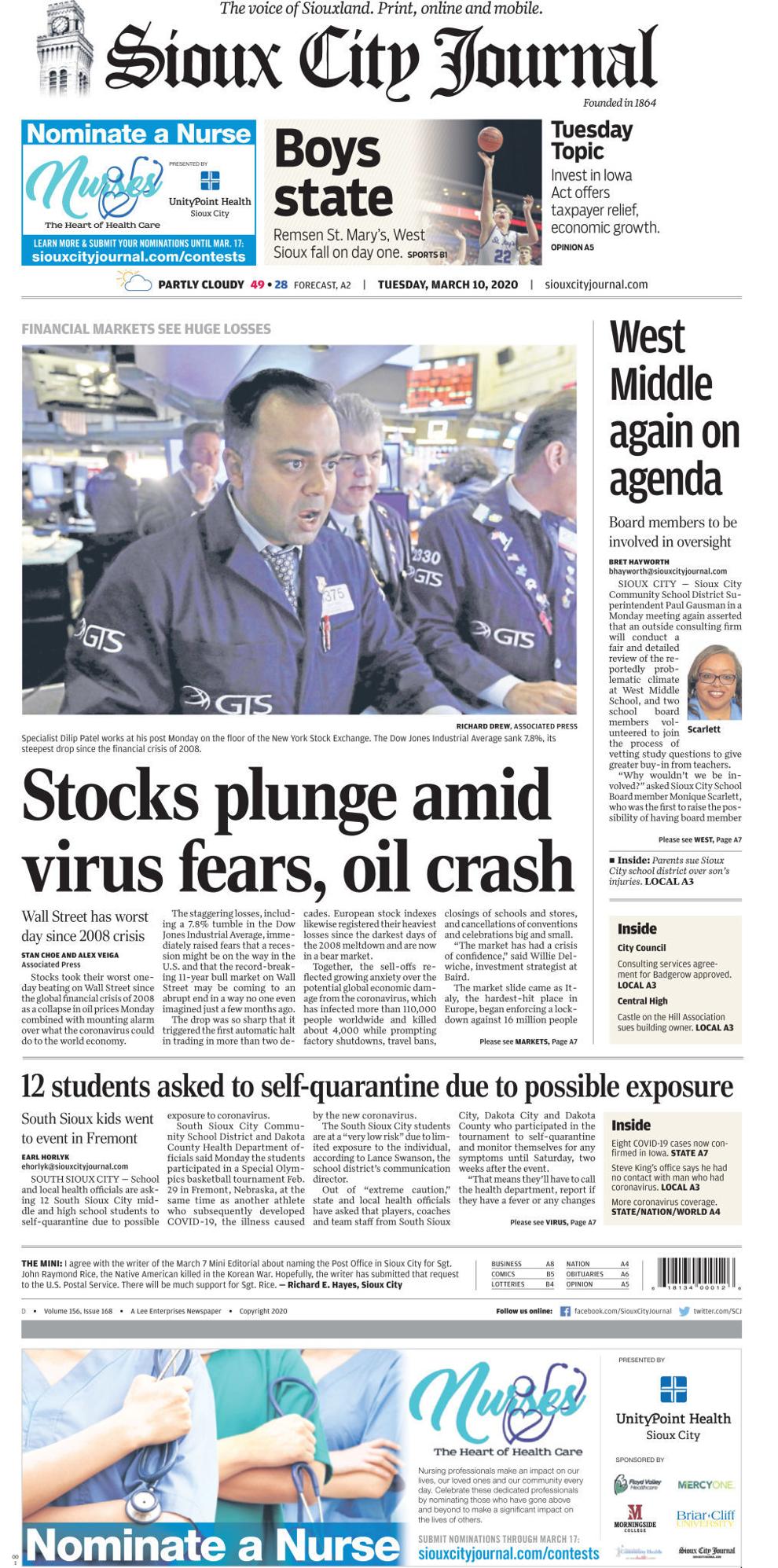 MARCH 12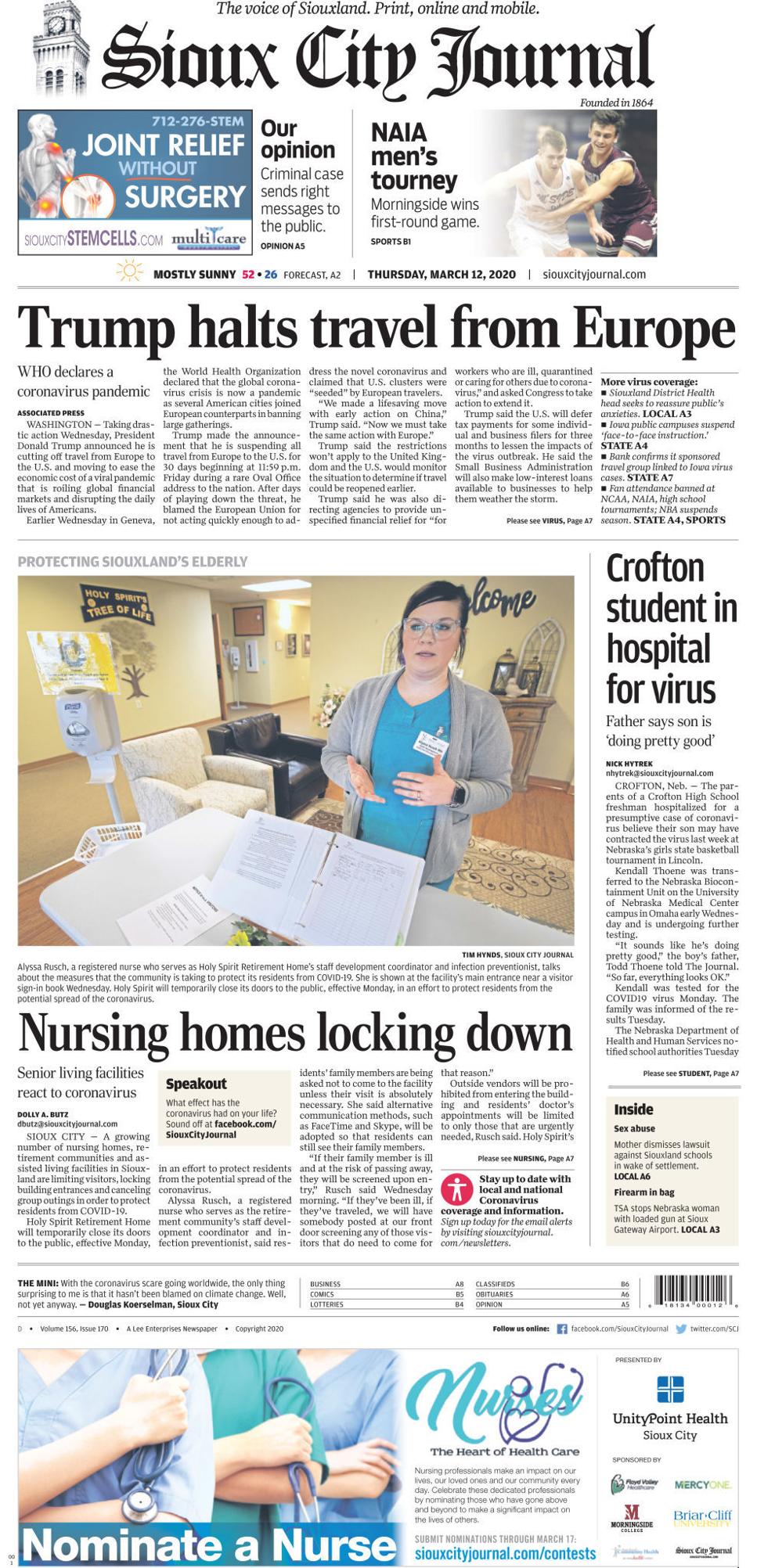 MARCH 13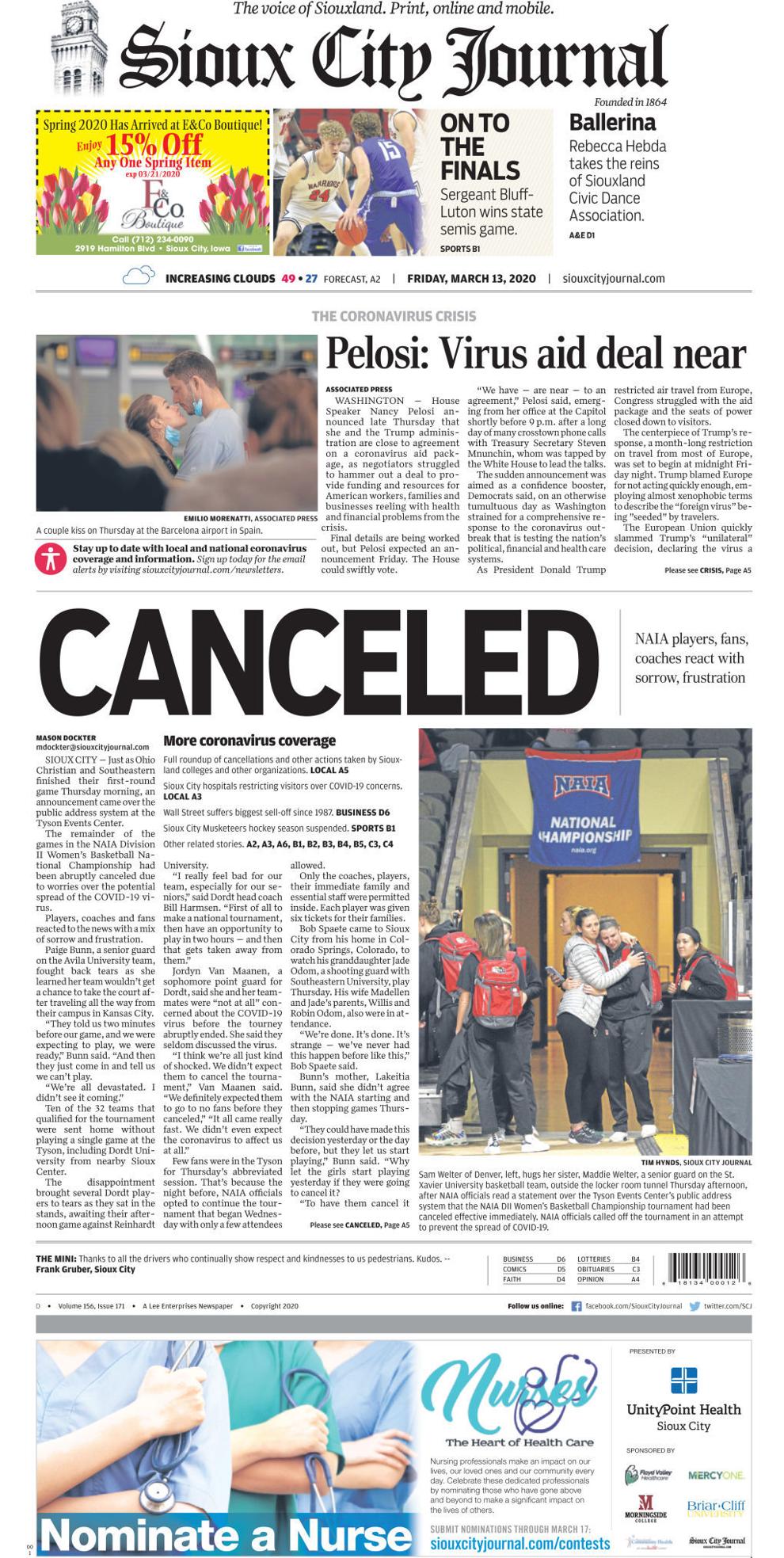 MARCH 14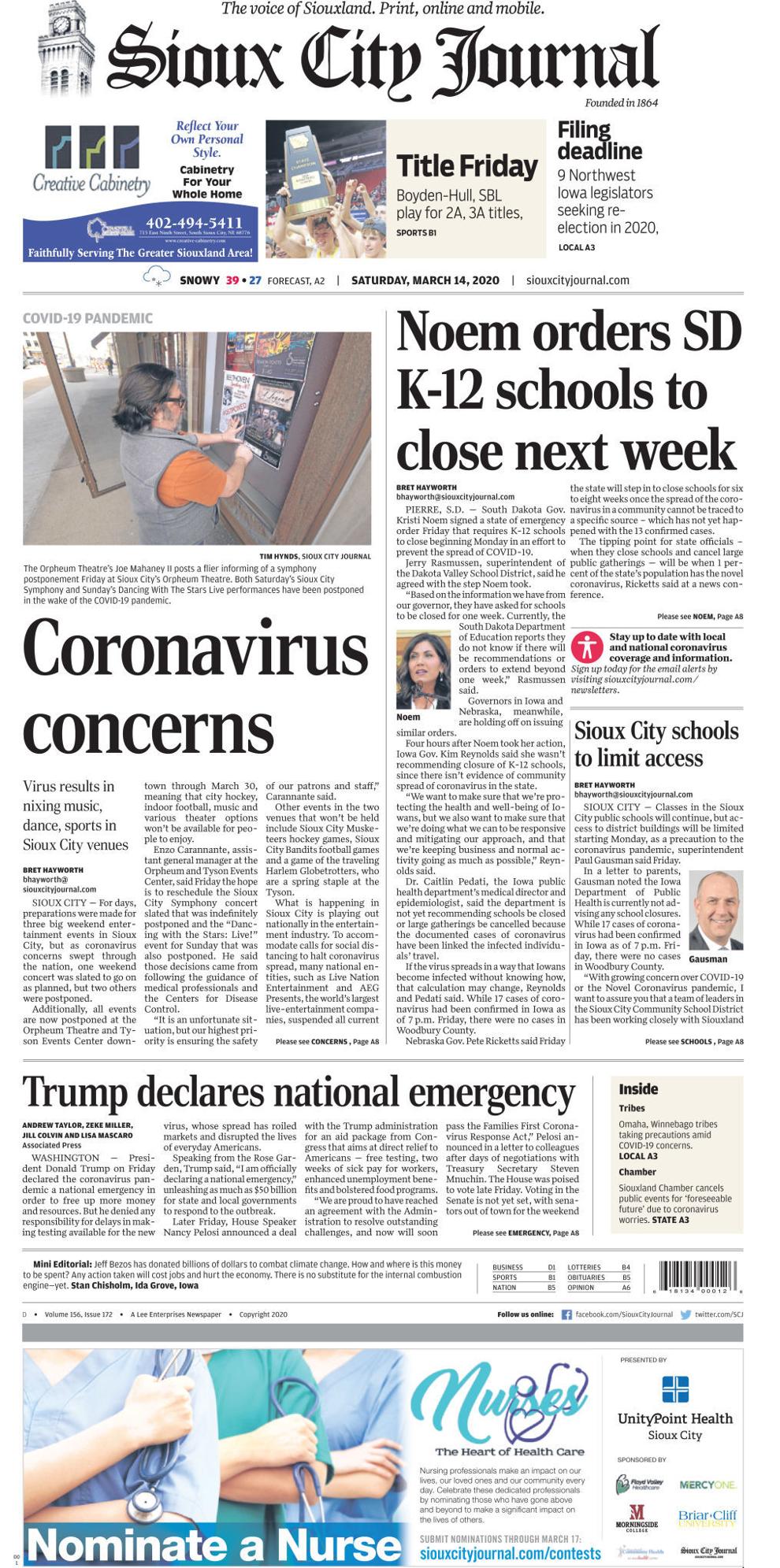 MARCH 15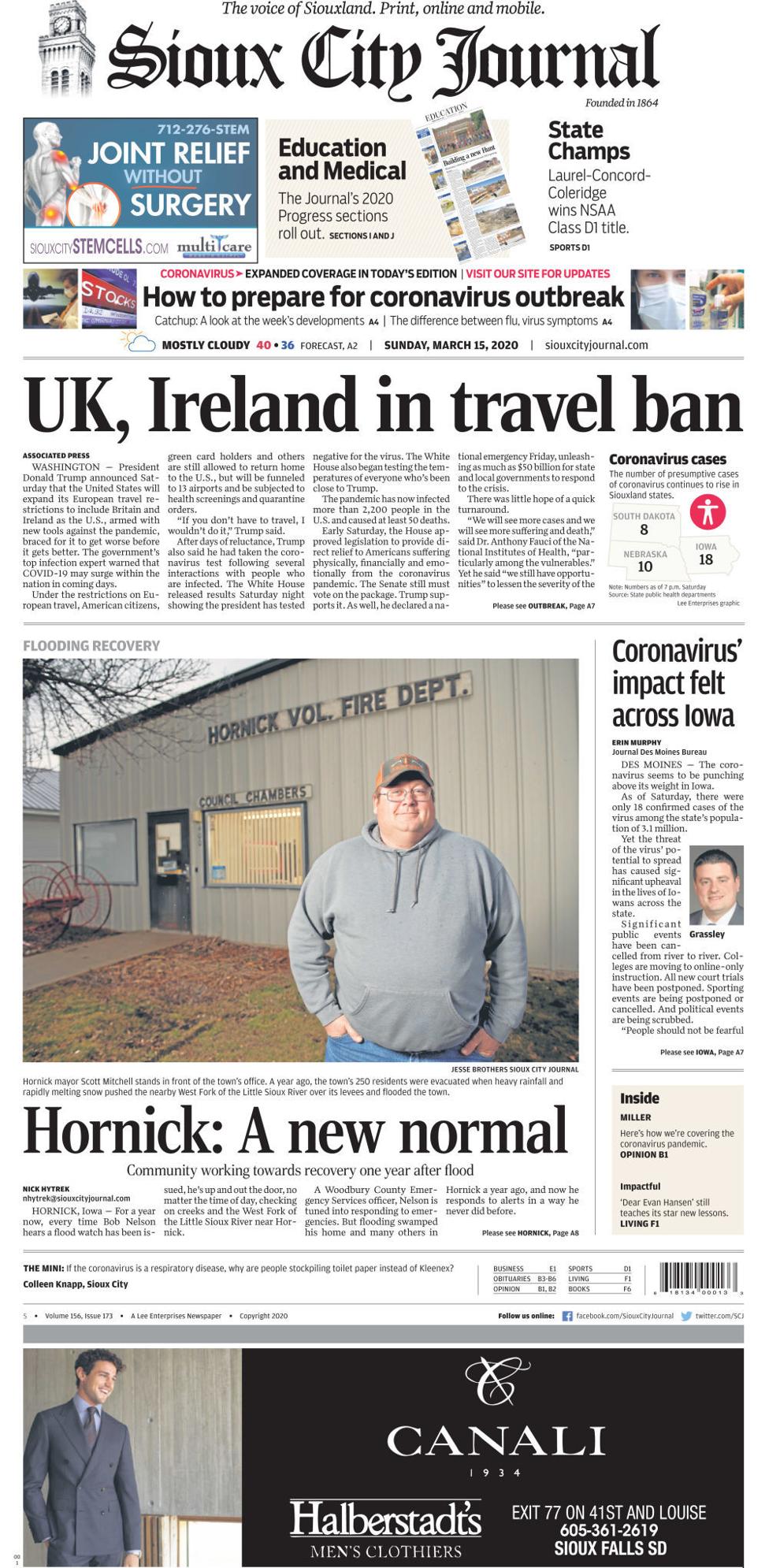 MARCH 16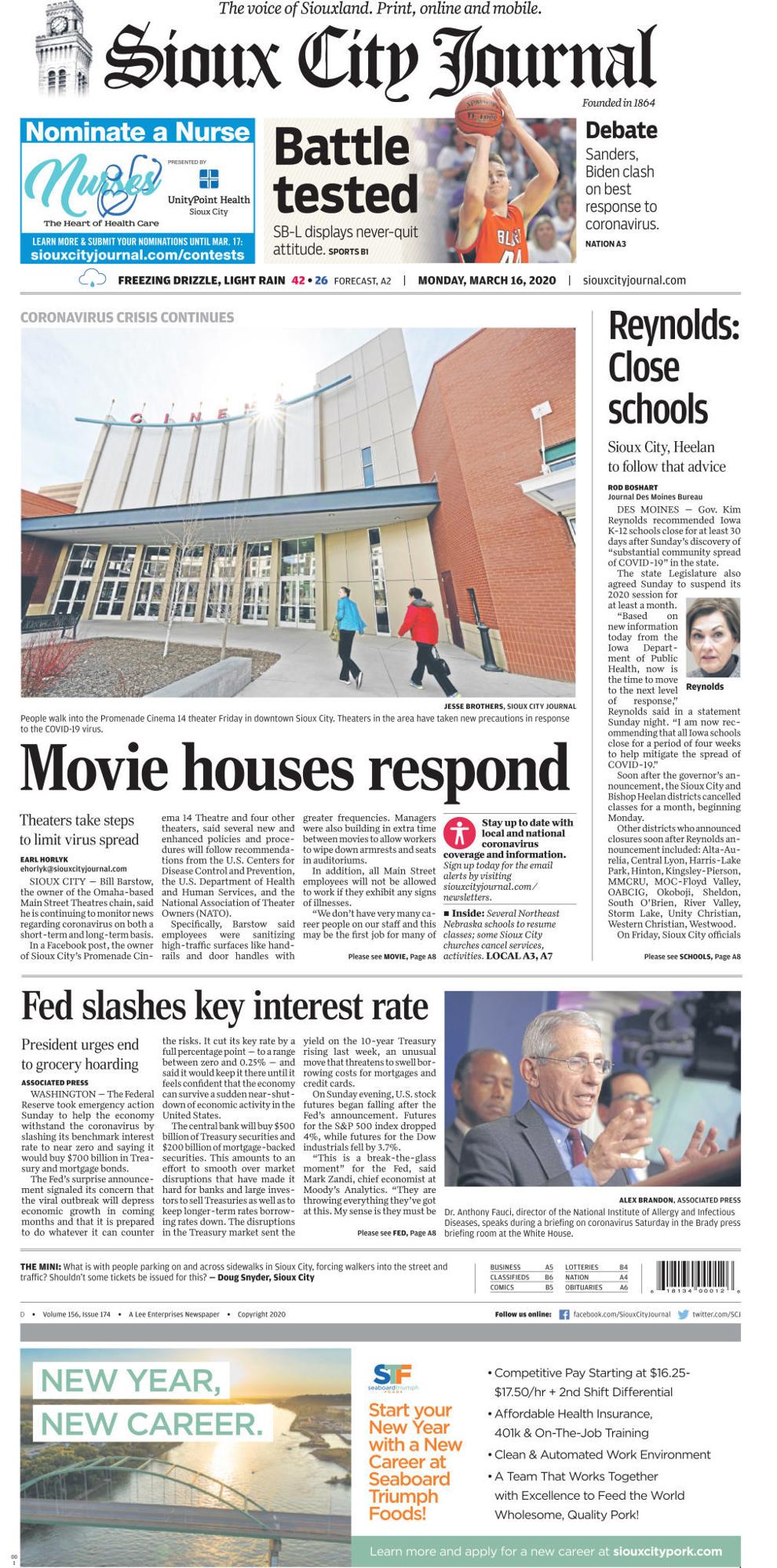 MARCH 17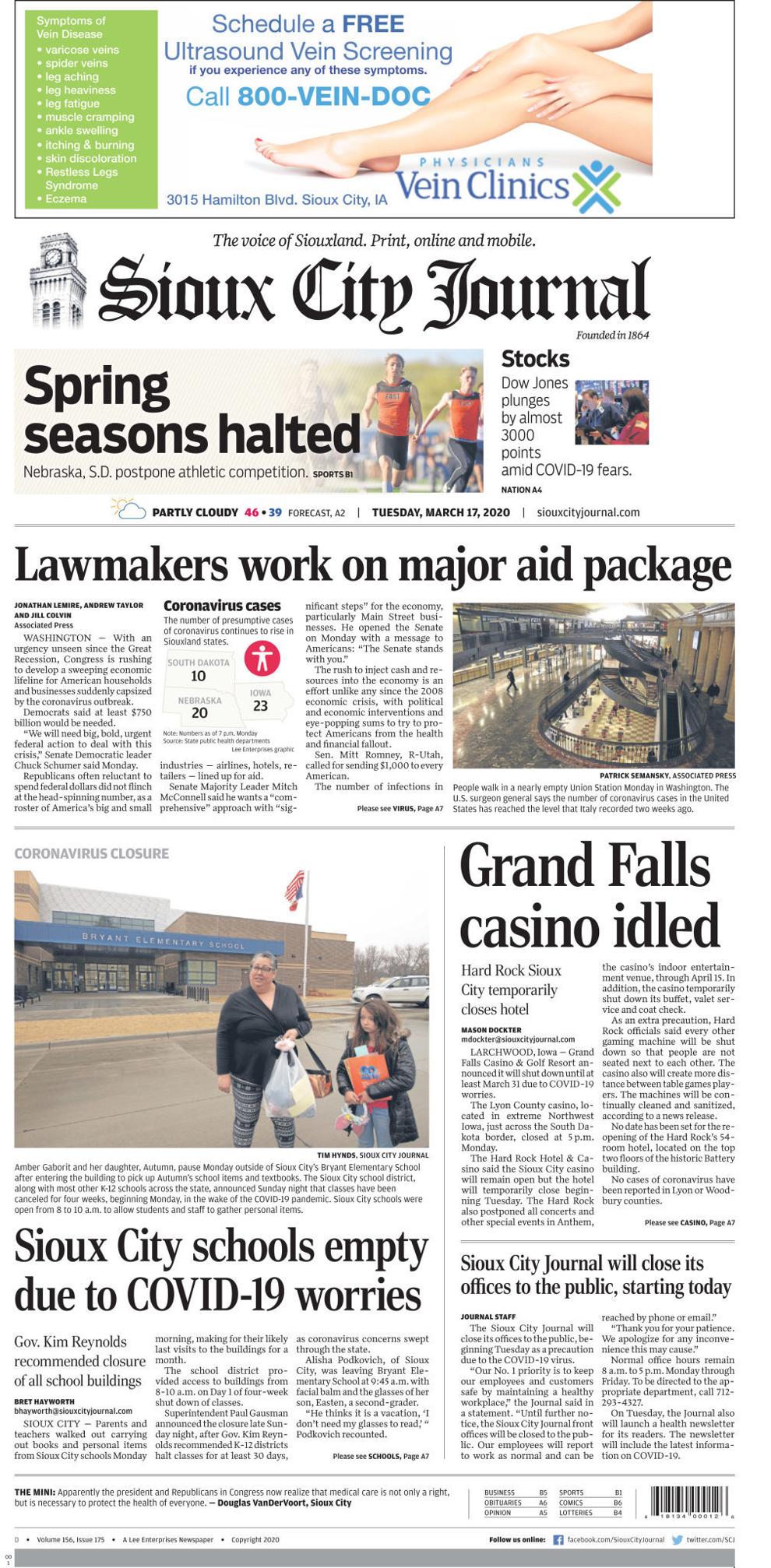 MARCH 18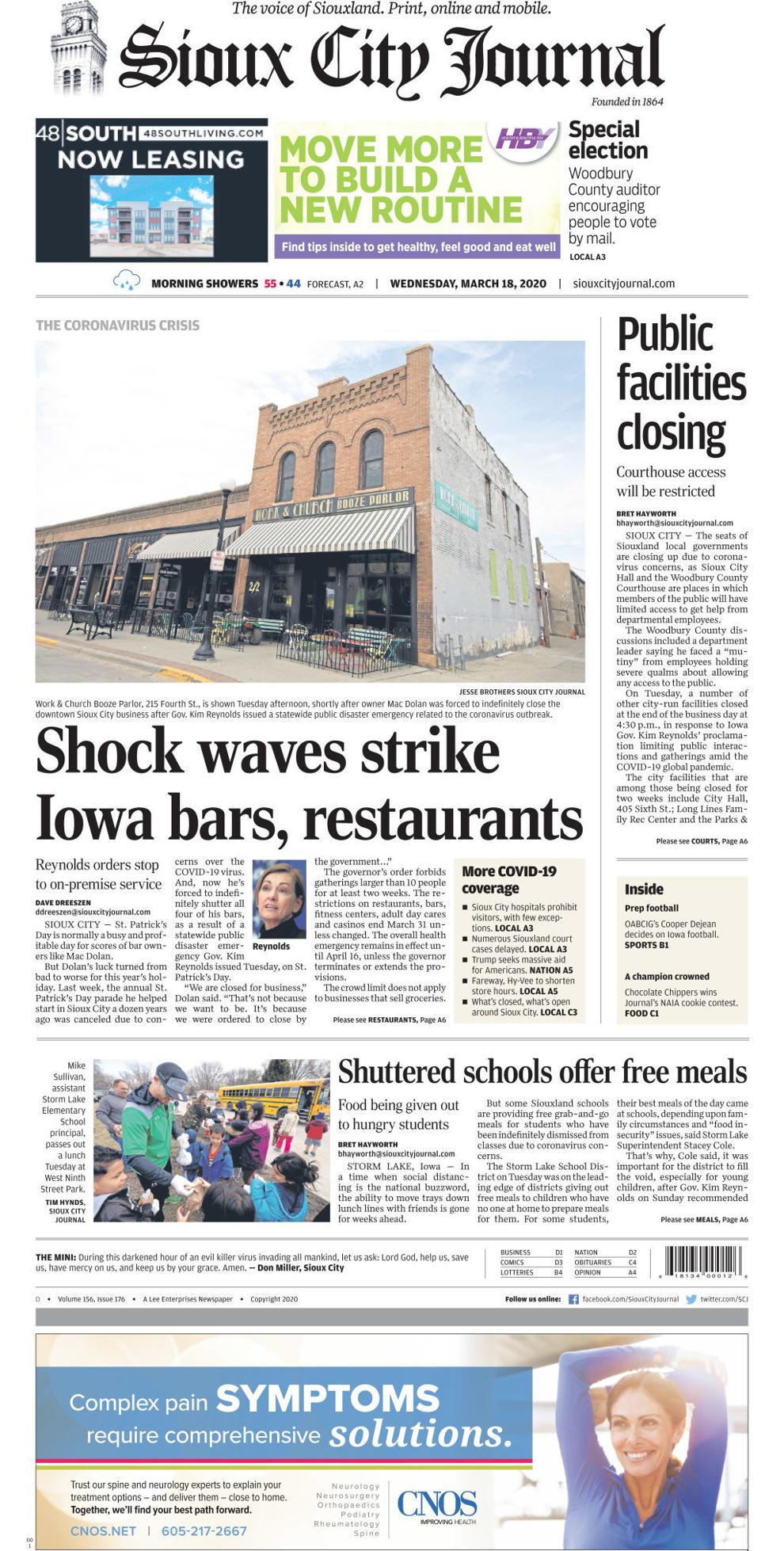 MARCH 19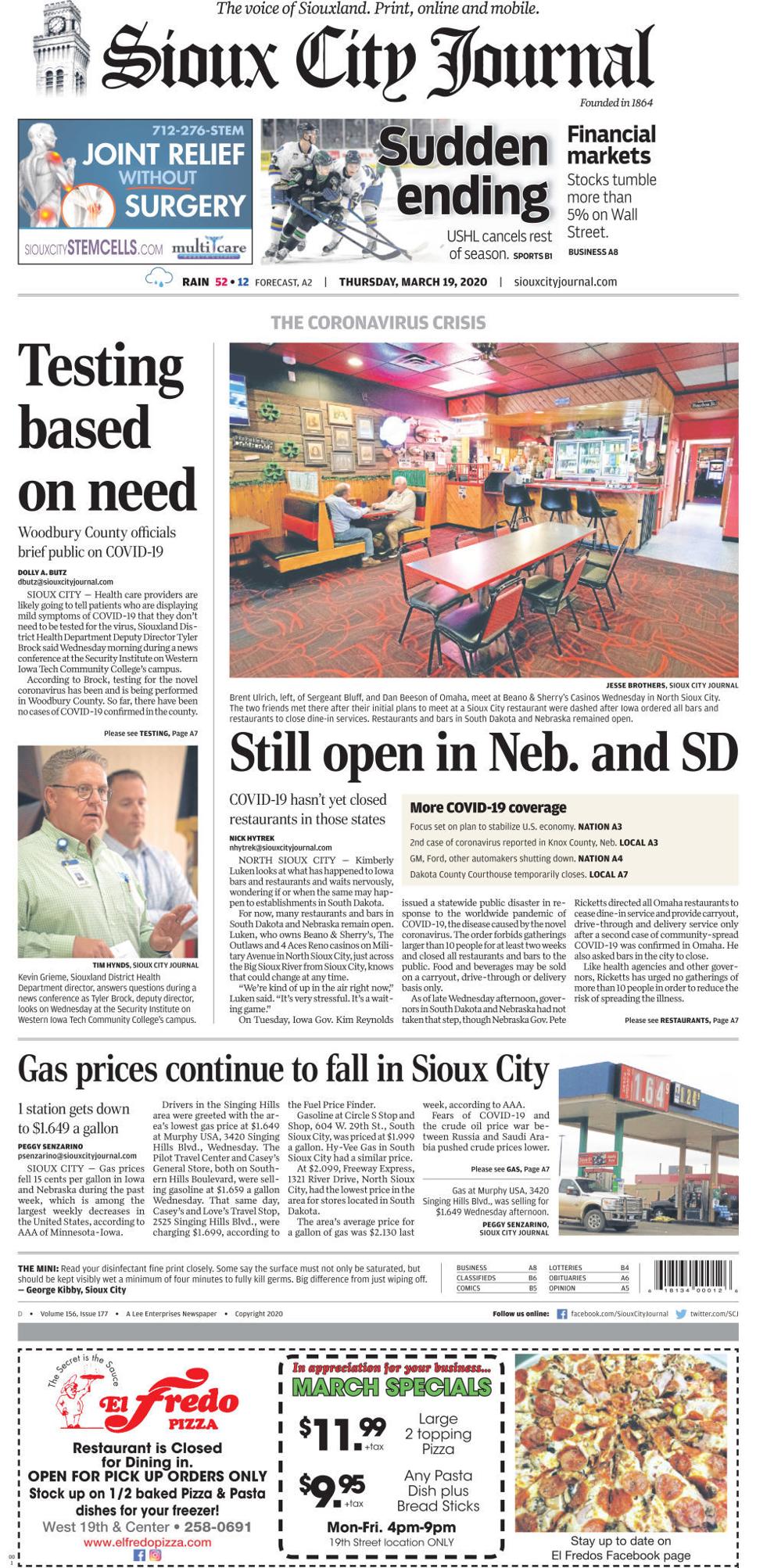 MARCH 20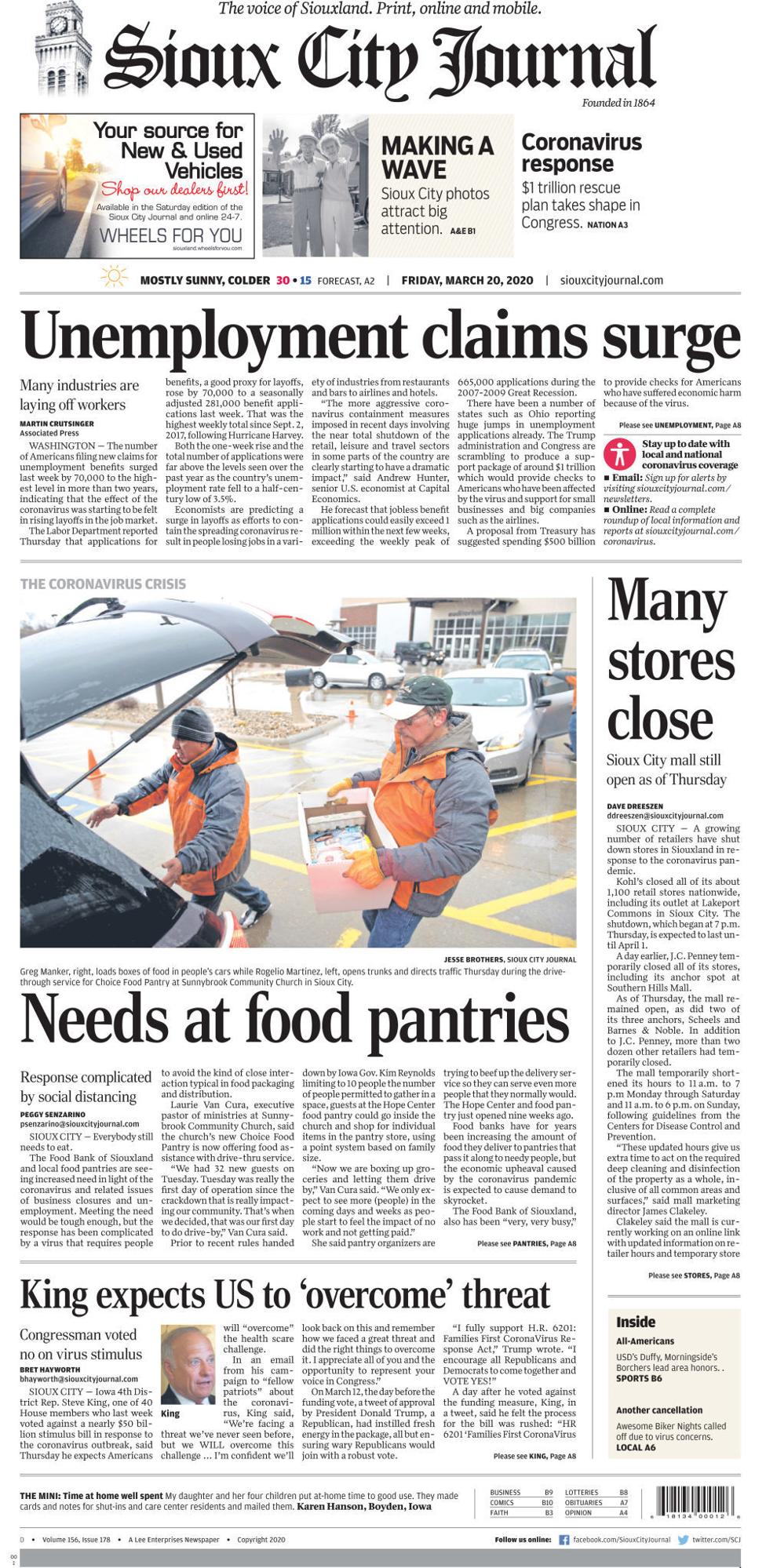 MARCH 21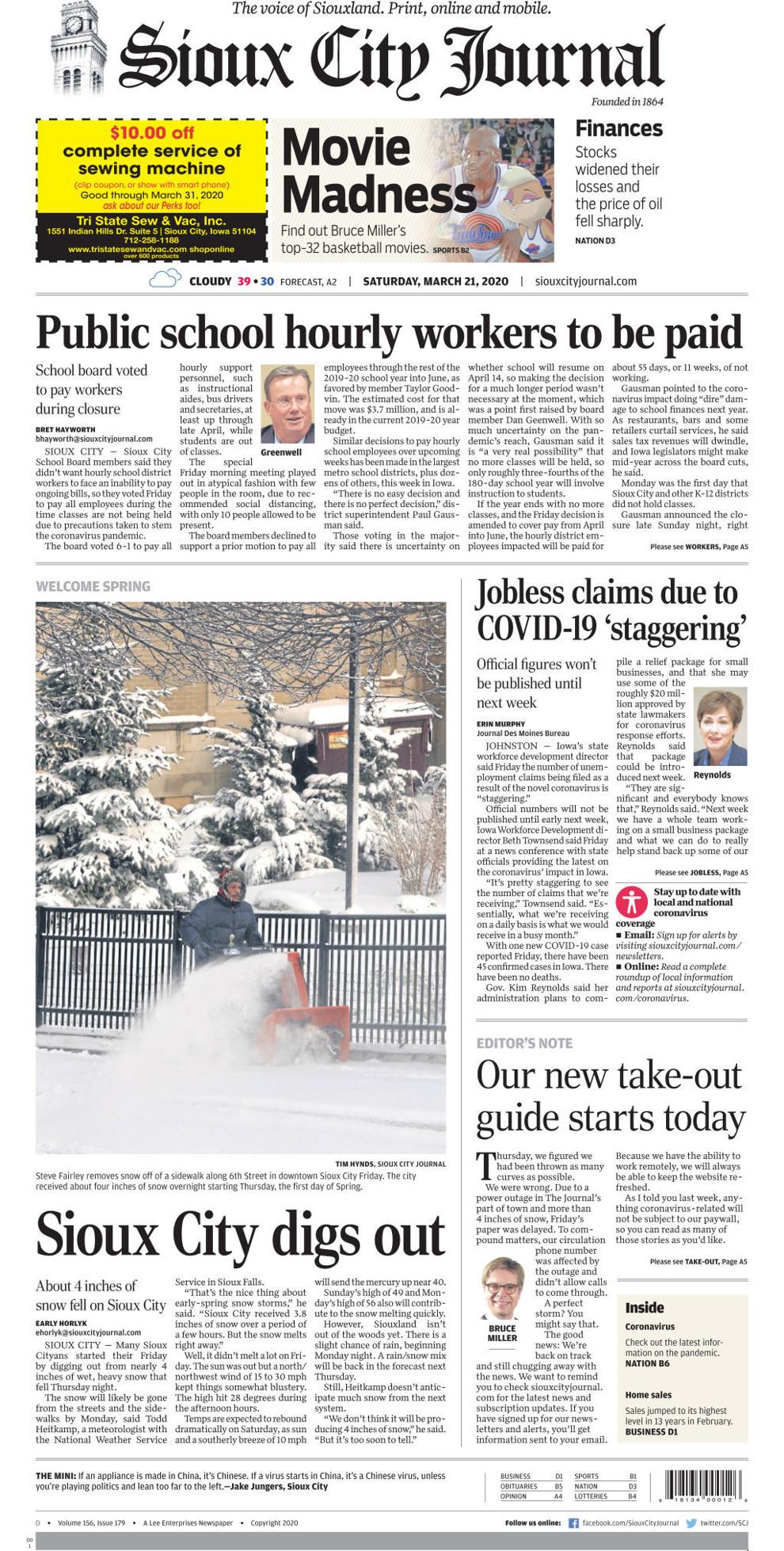 MARCH 22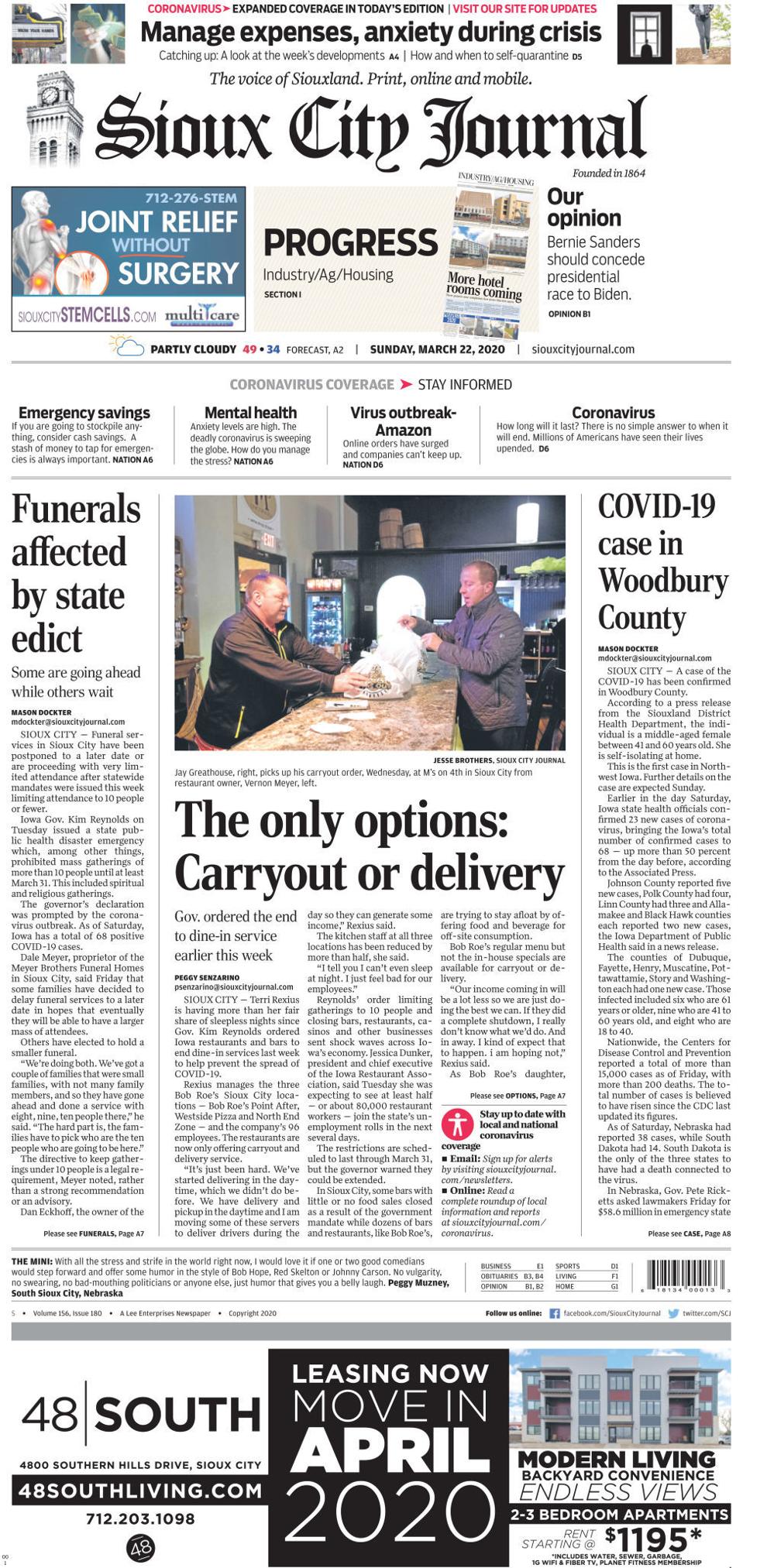 MARCH 23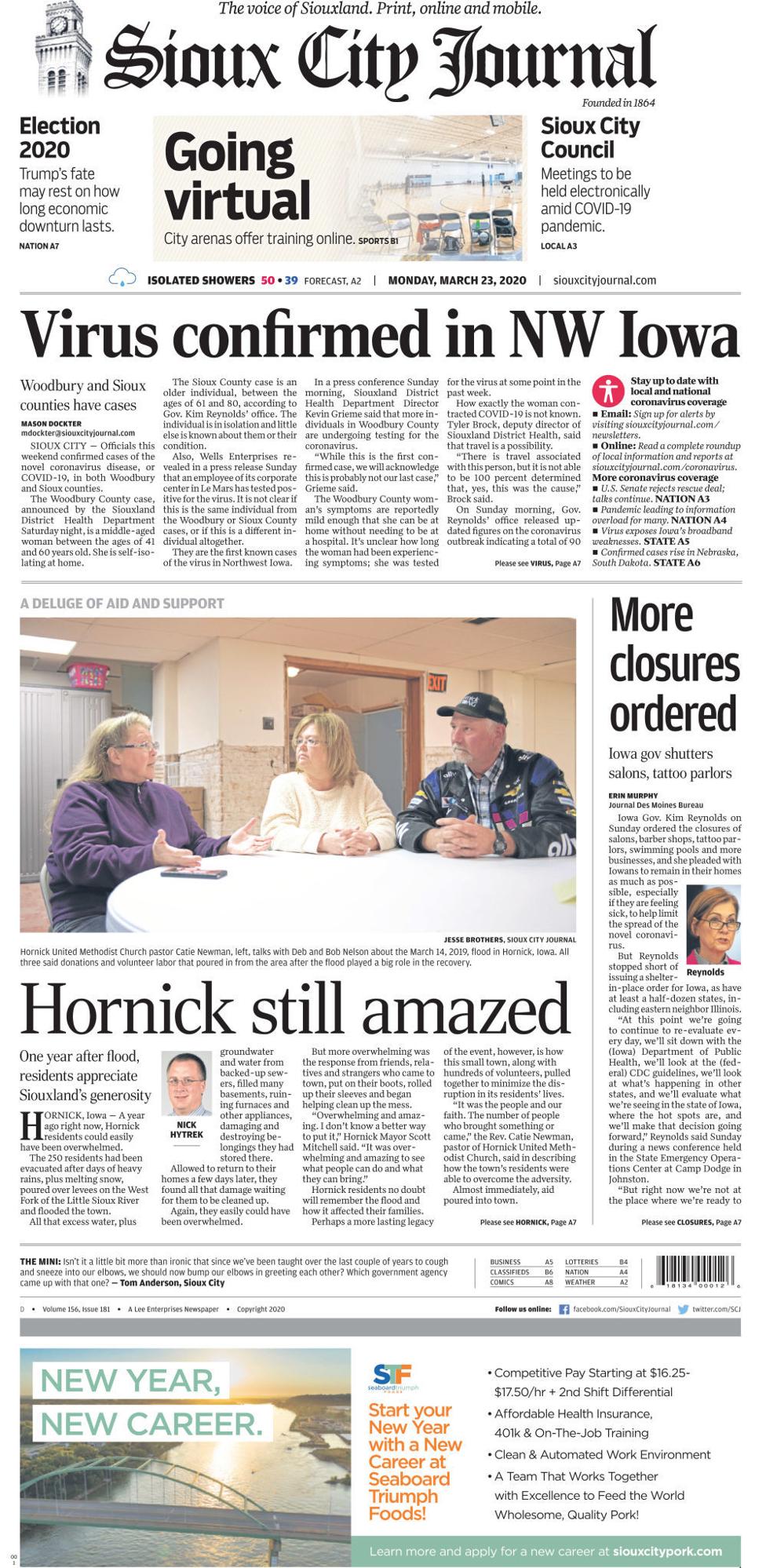 MARCH 24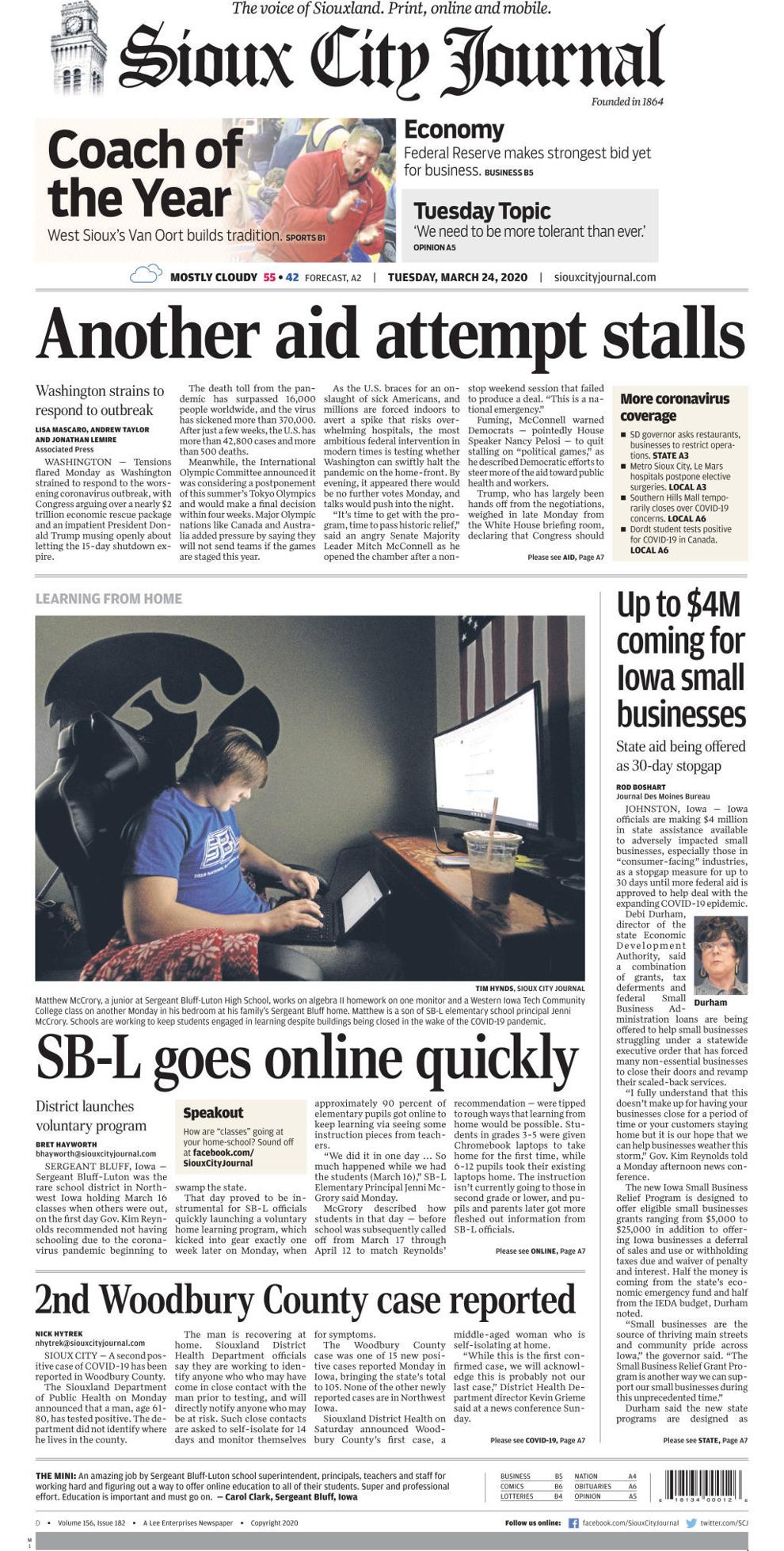 MARCH 25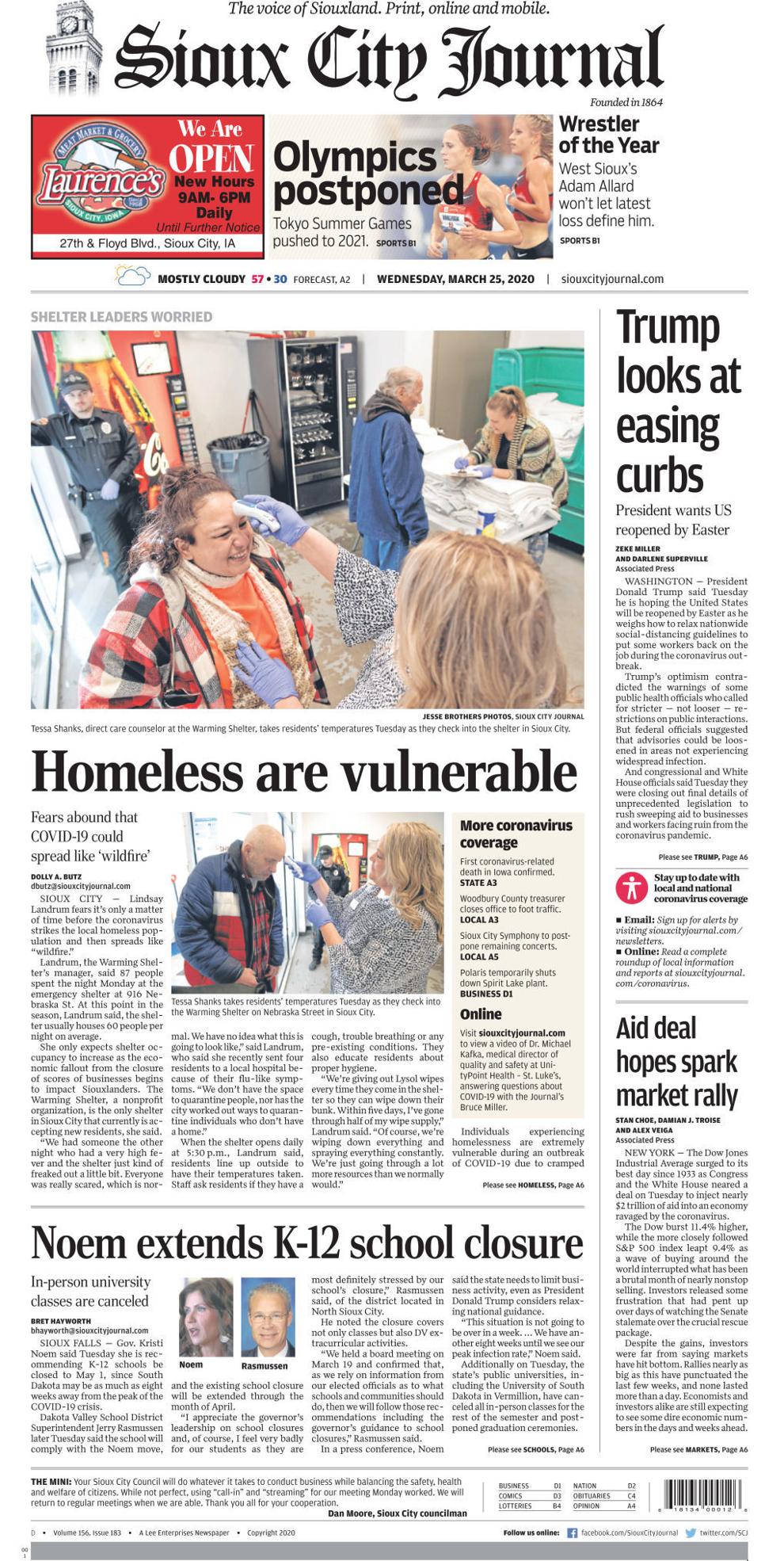 MARCH 26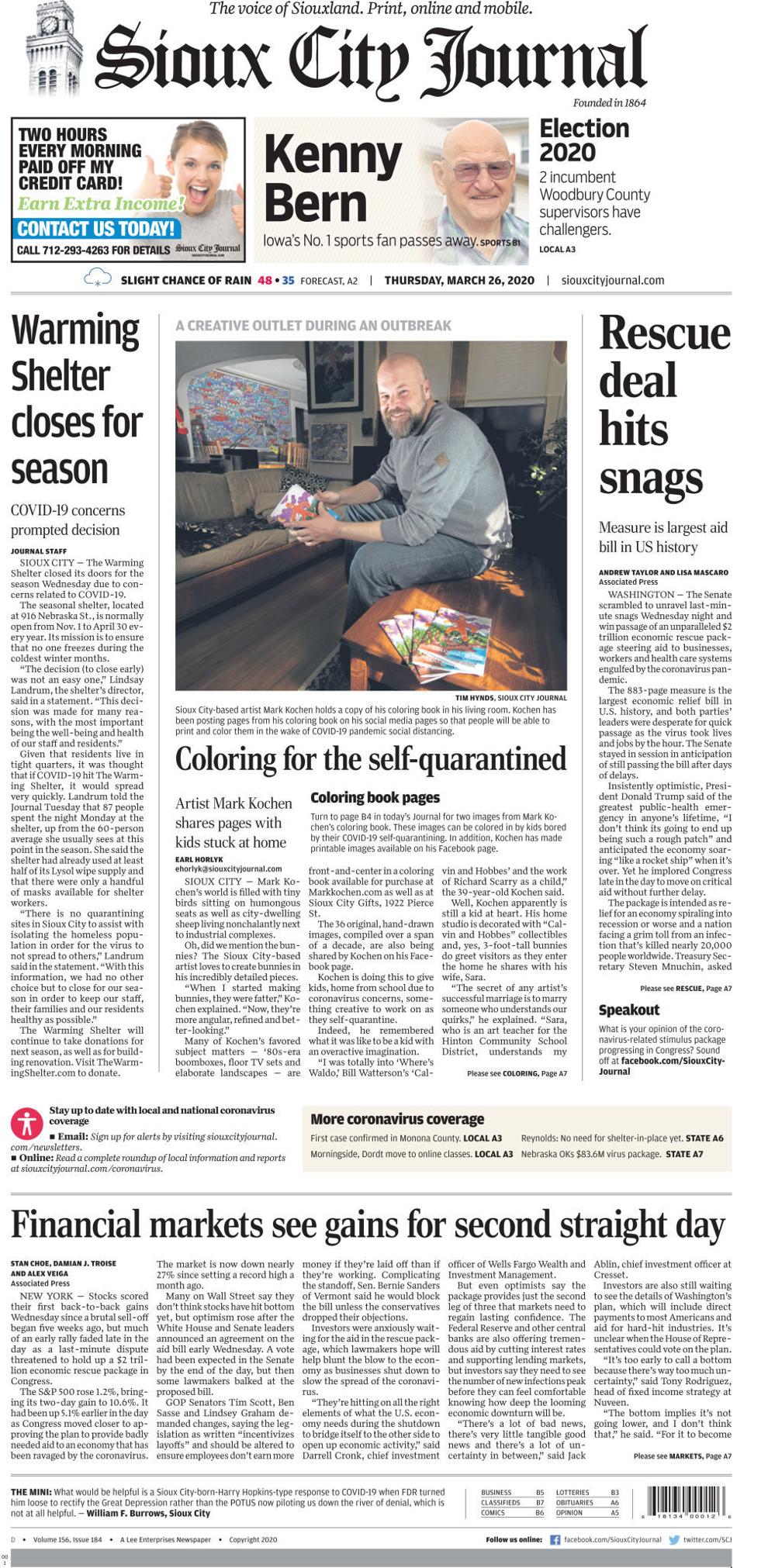 MARCH 27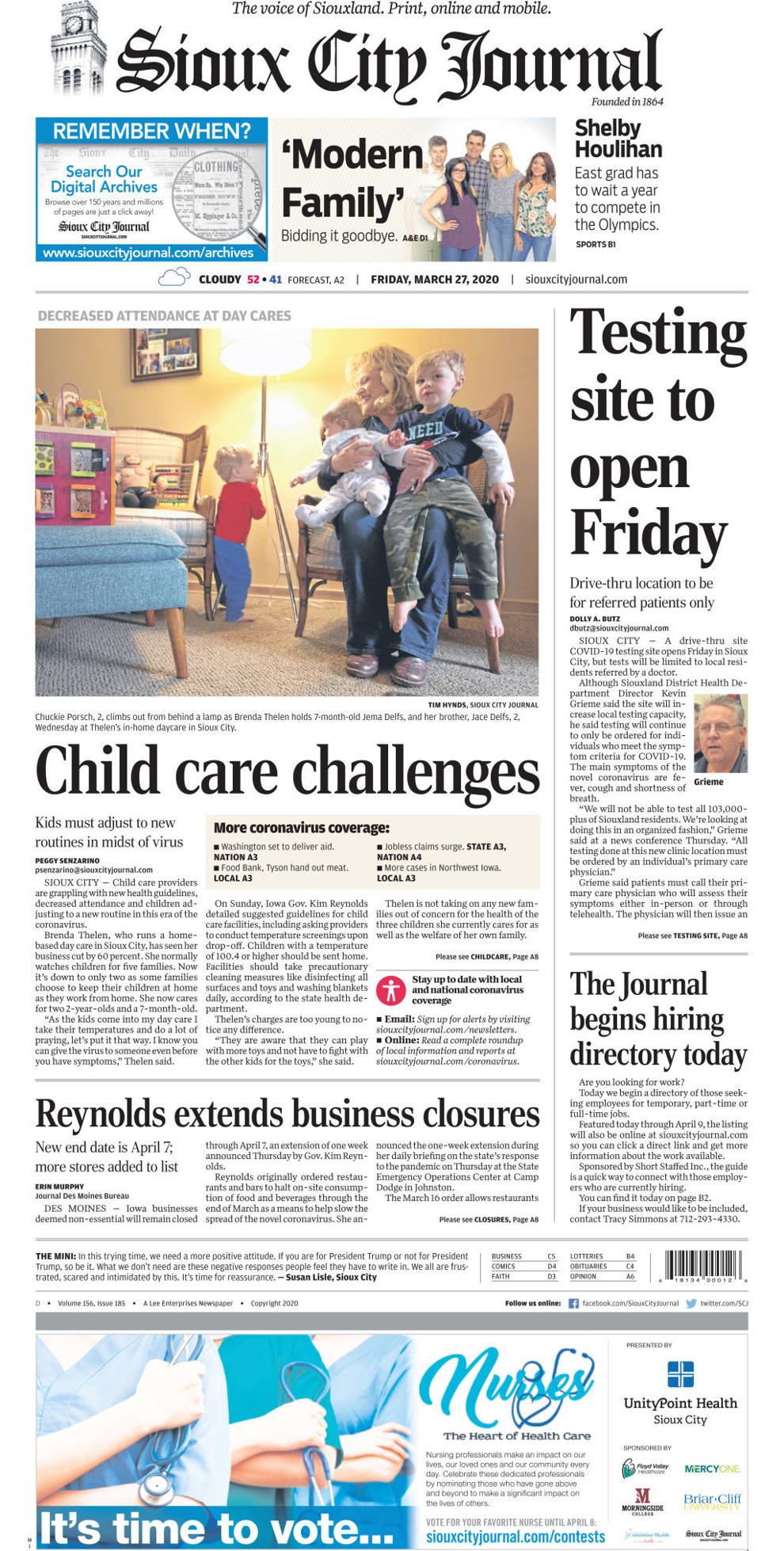 MARCH 28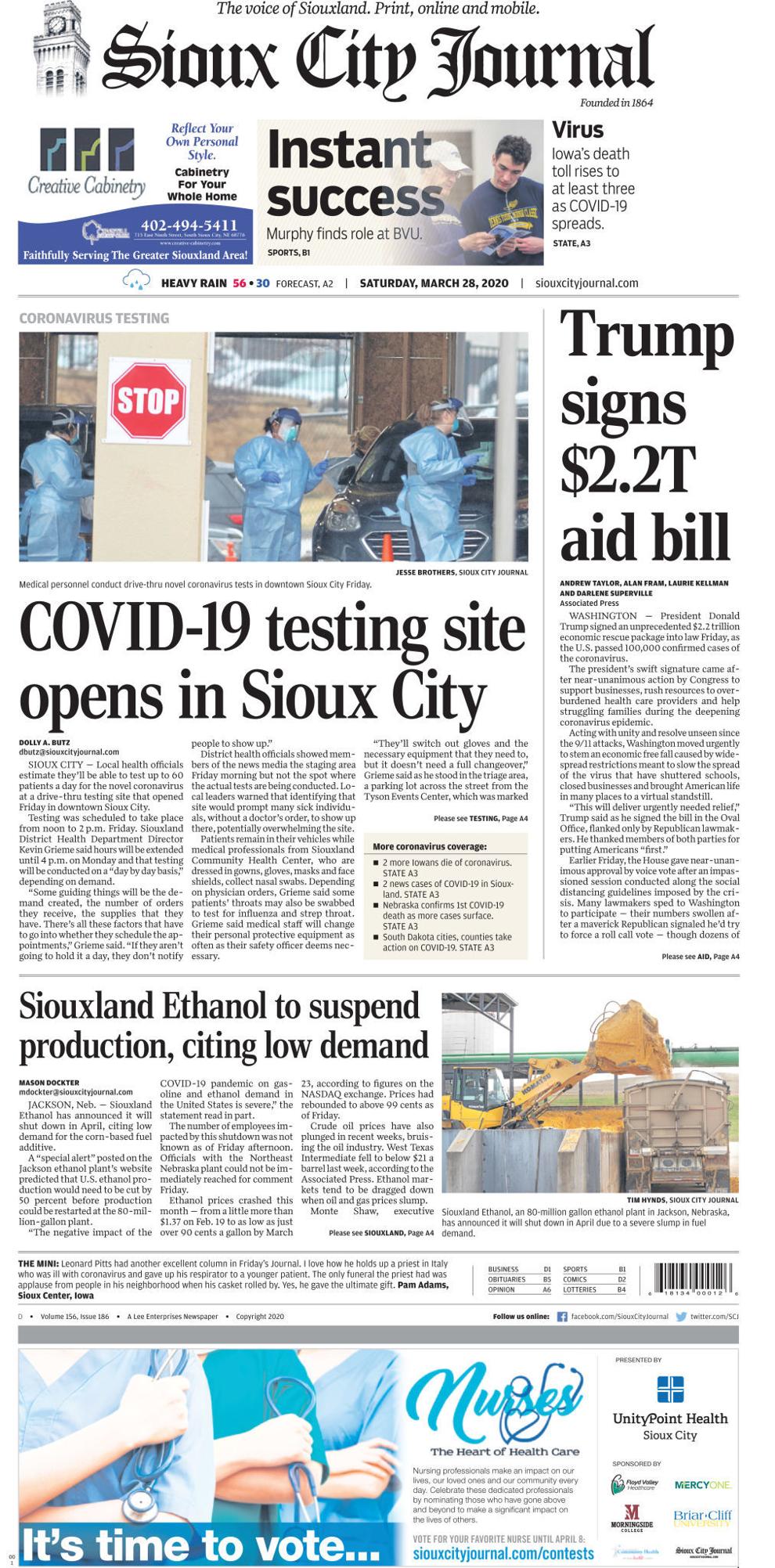 MARCH 29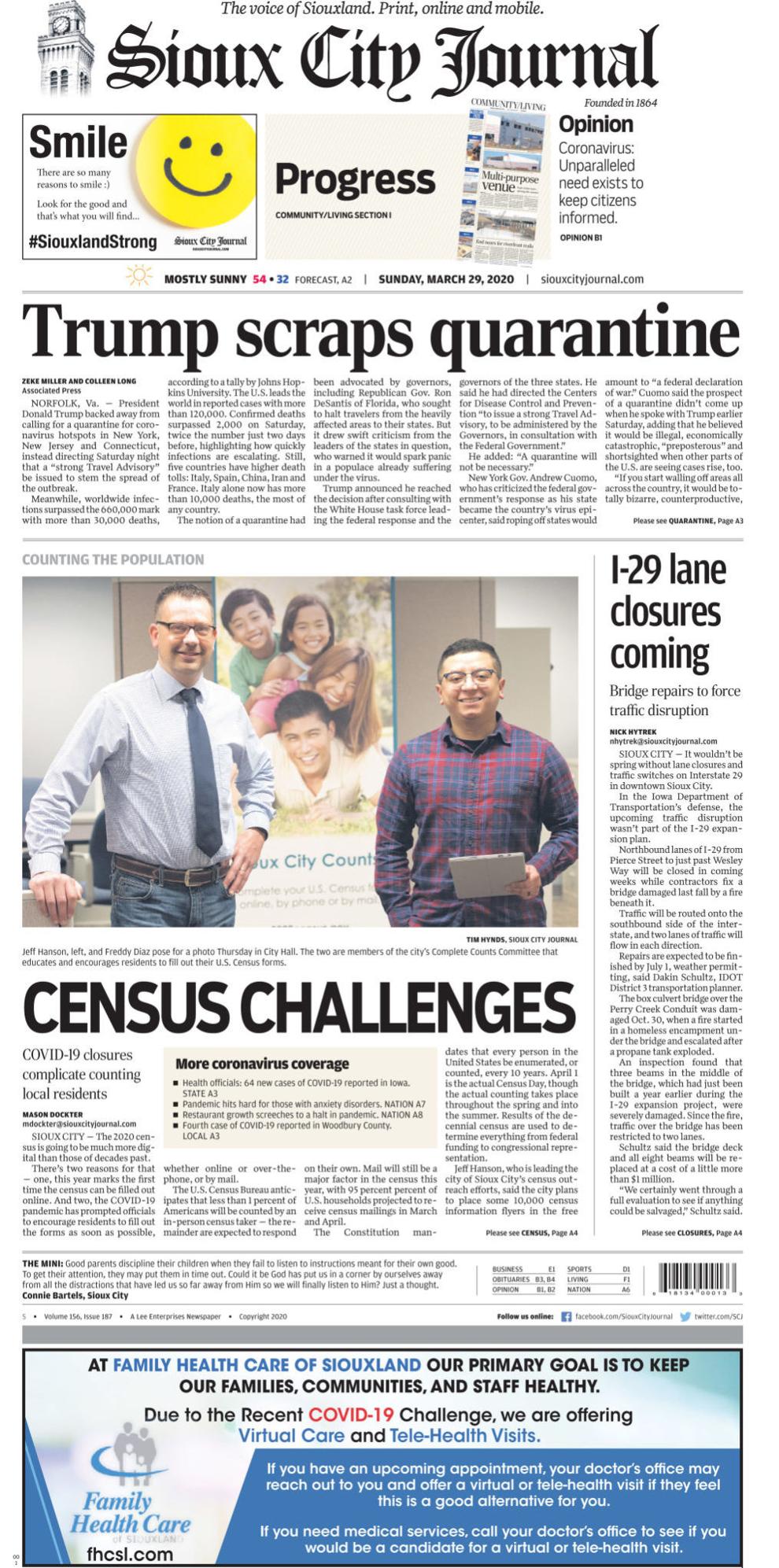 MARCH 30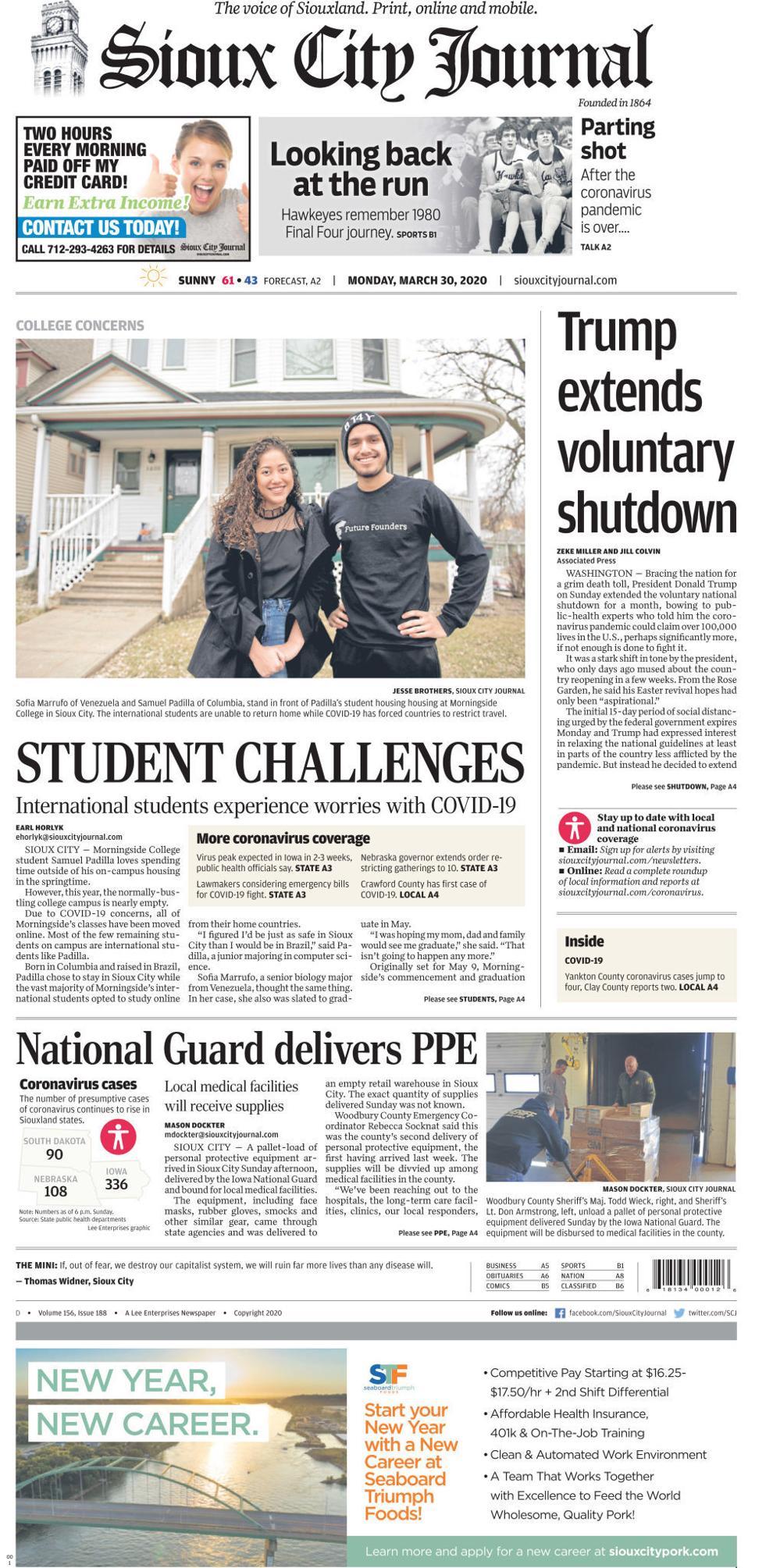 MARCH 31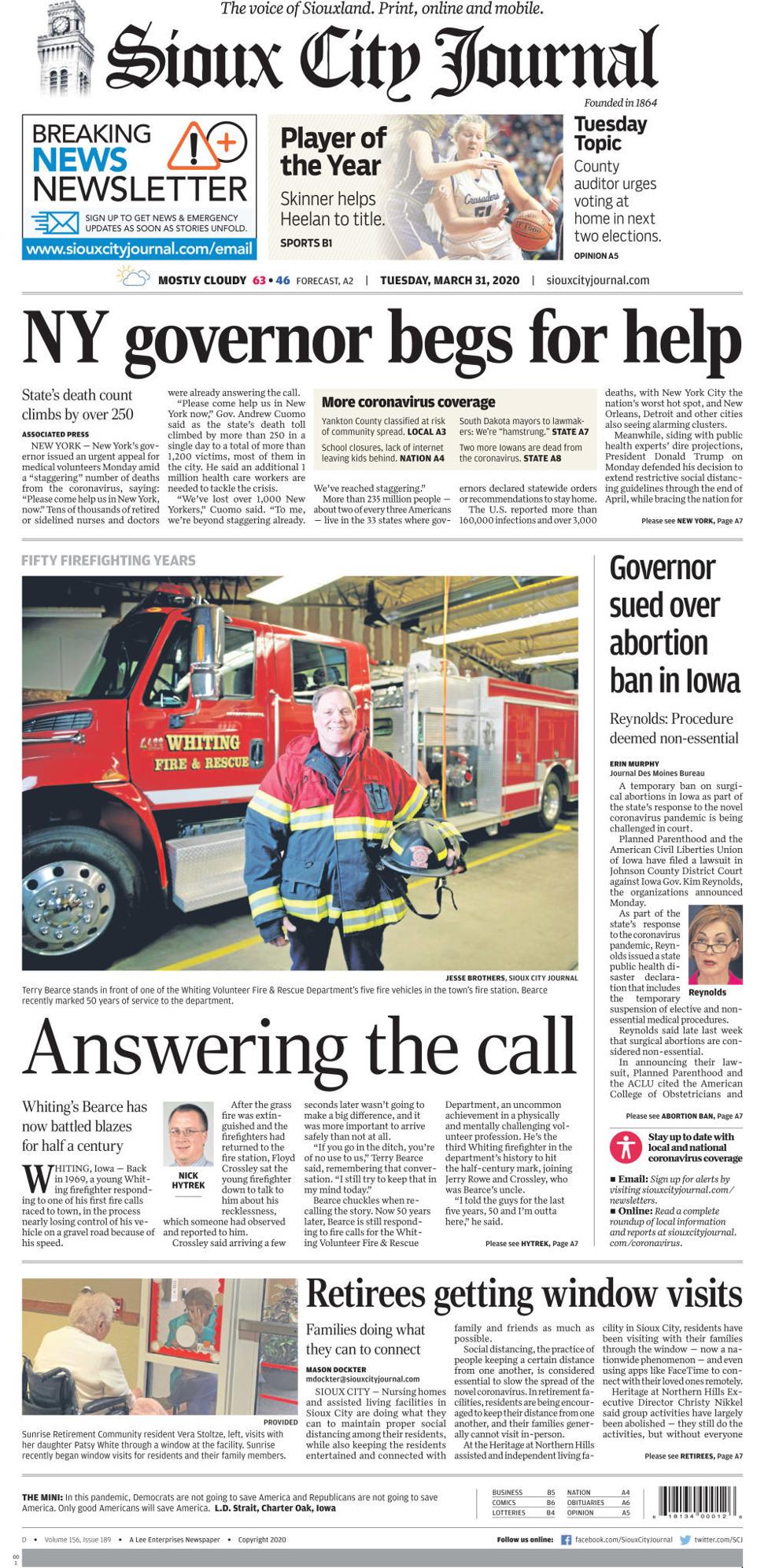 APRIL 1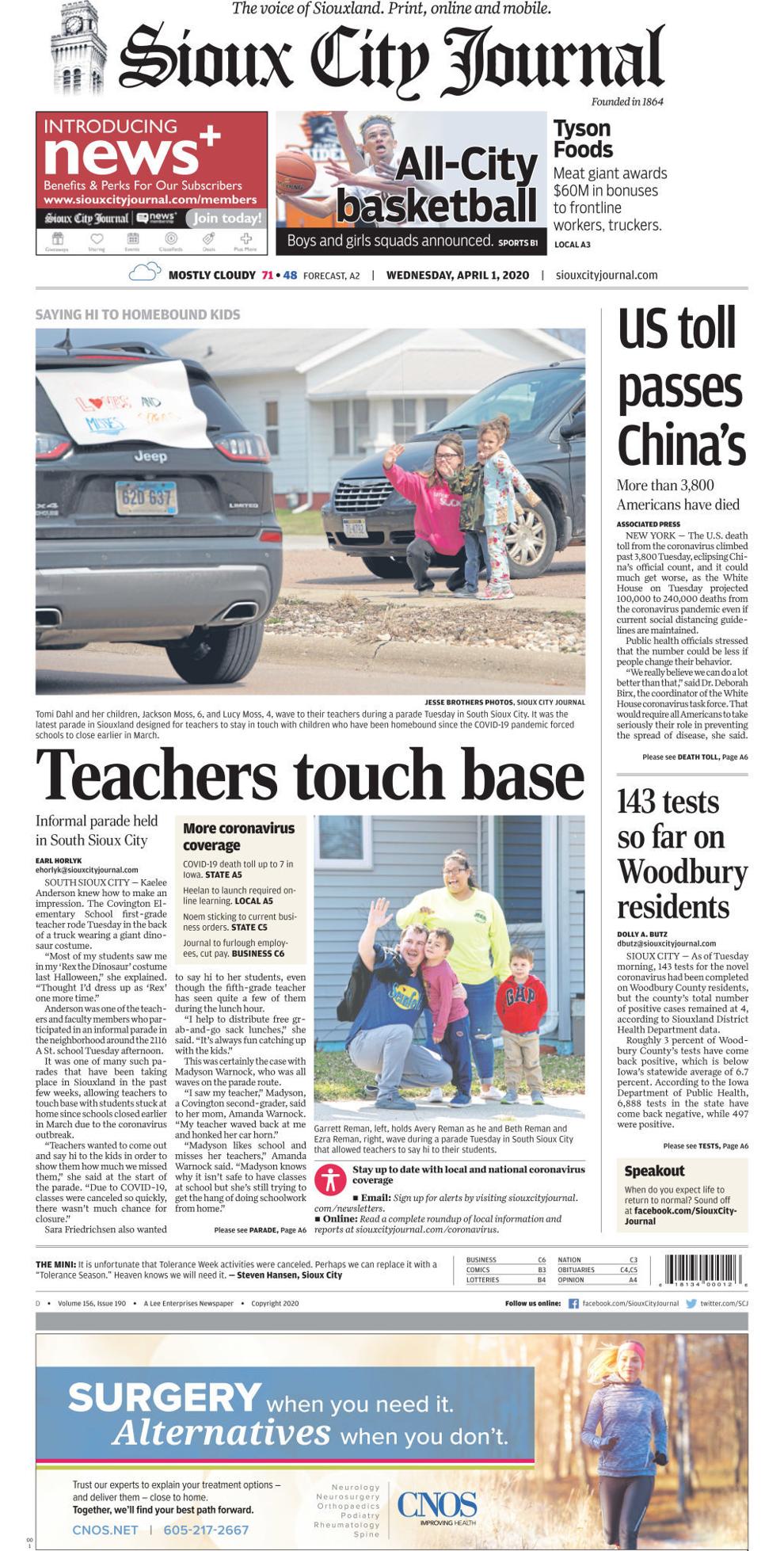 APRIL 2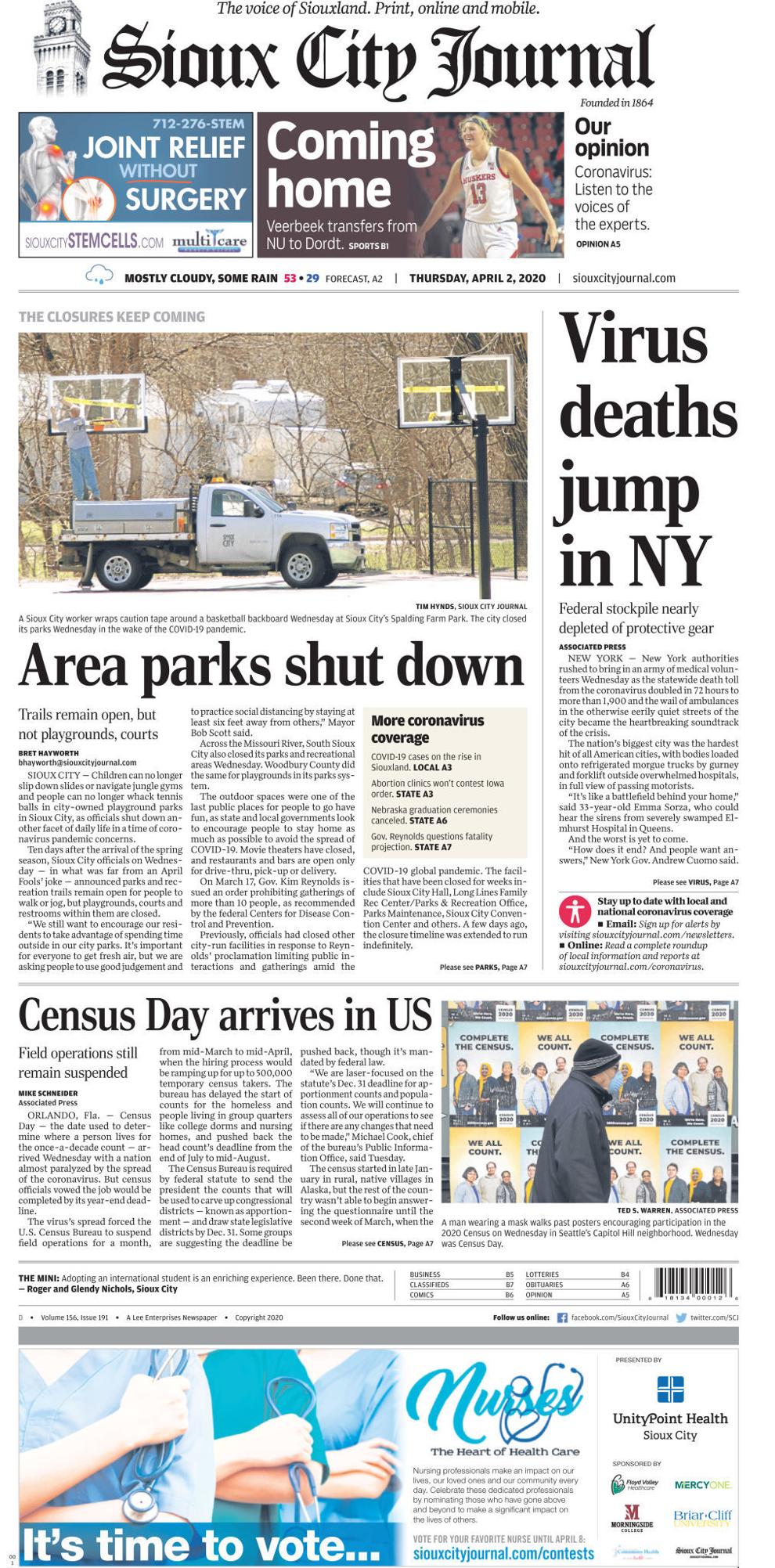 APRIL 3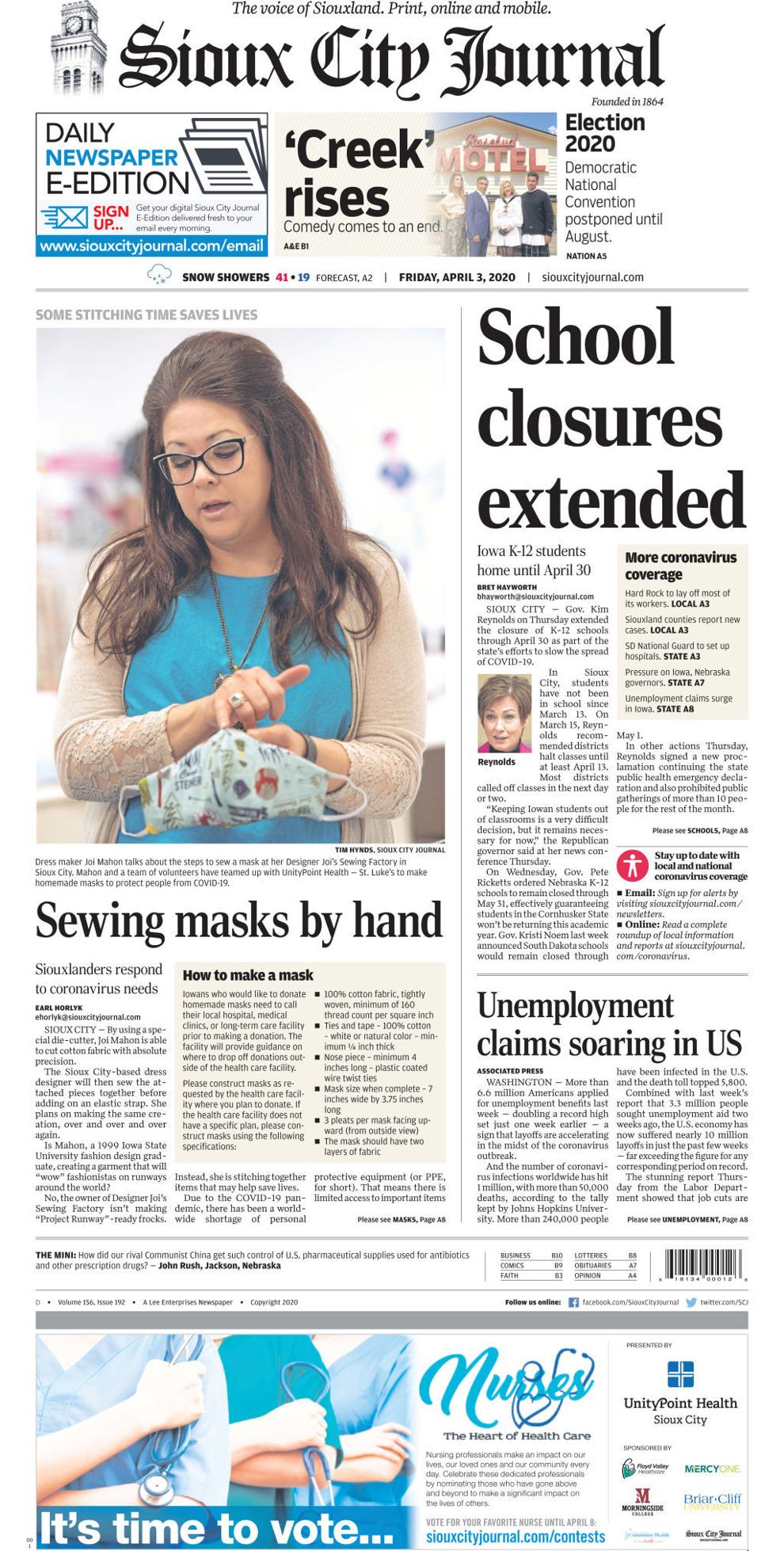 APRIL 4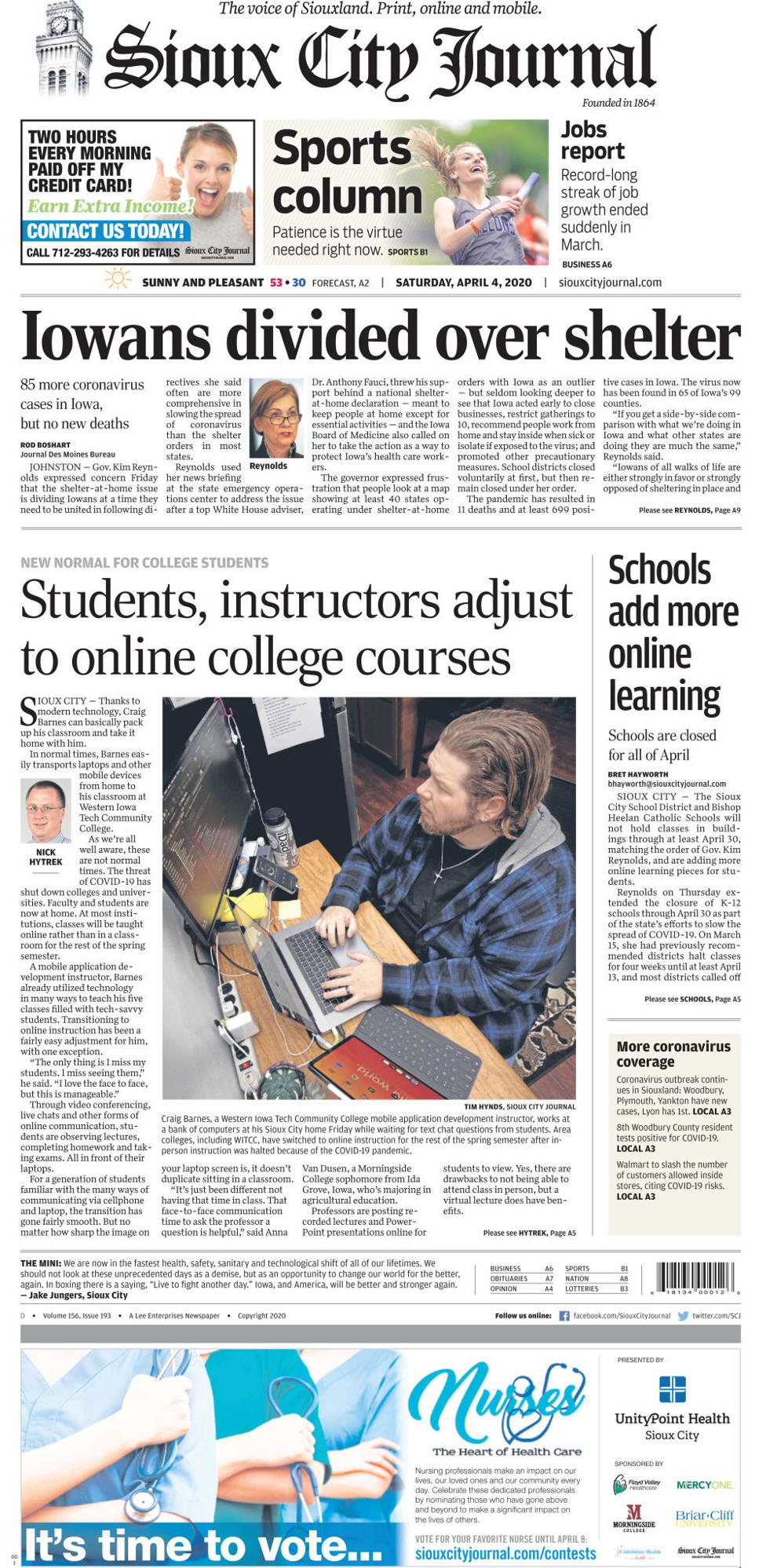 APRIL 5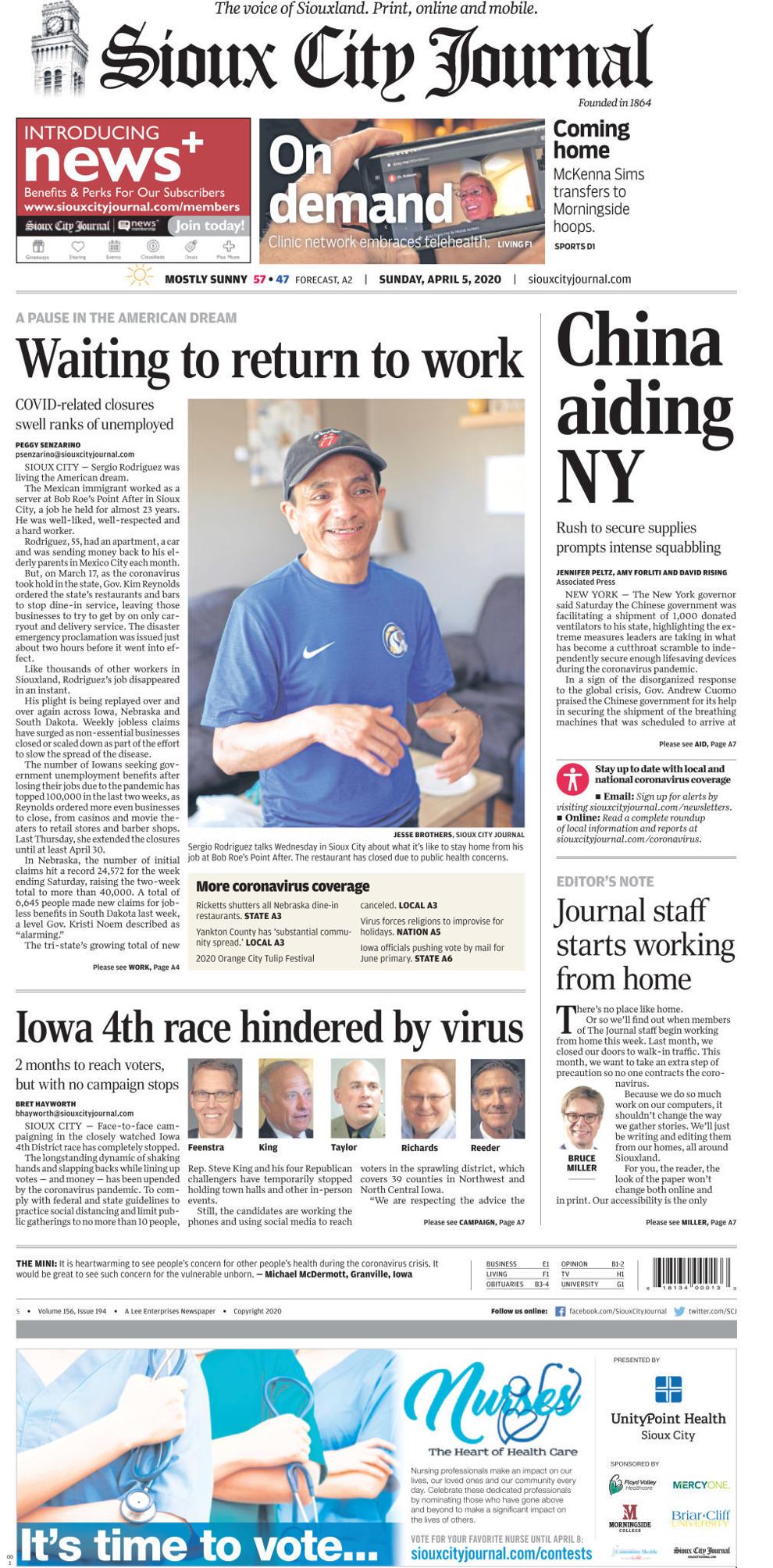 APRIL 6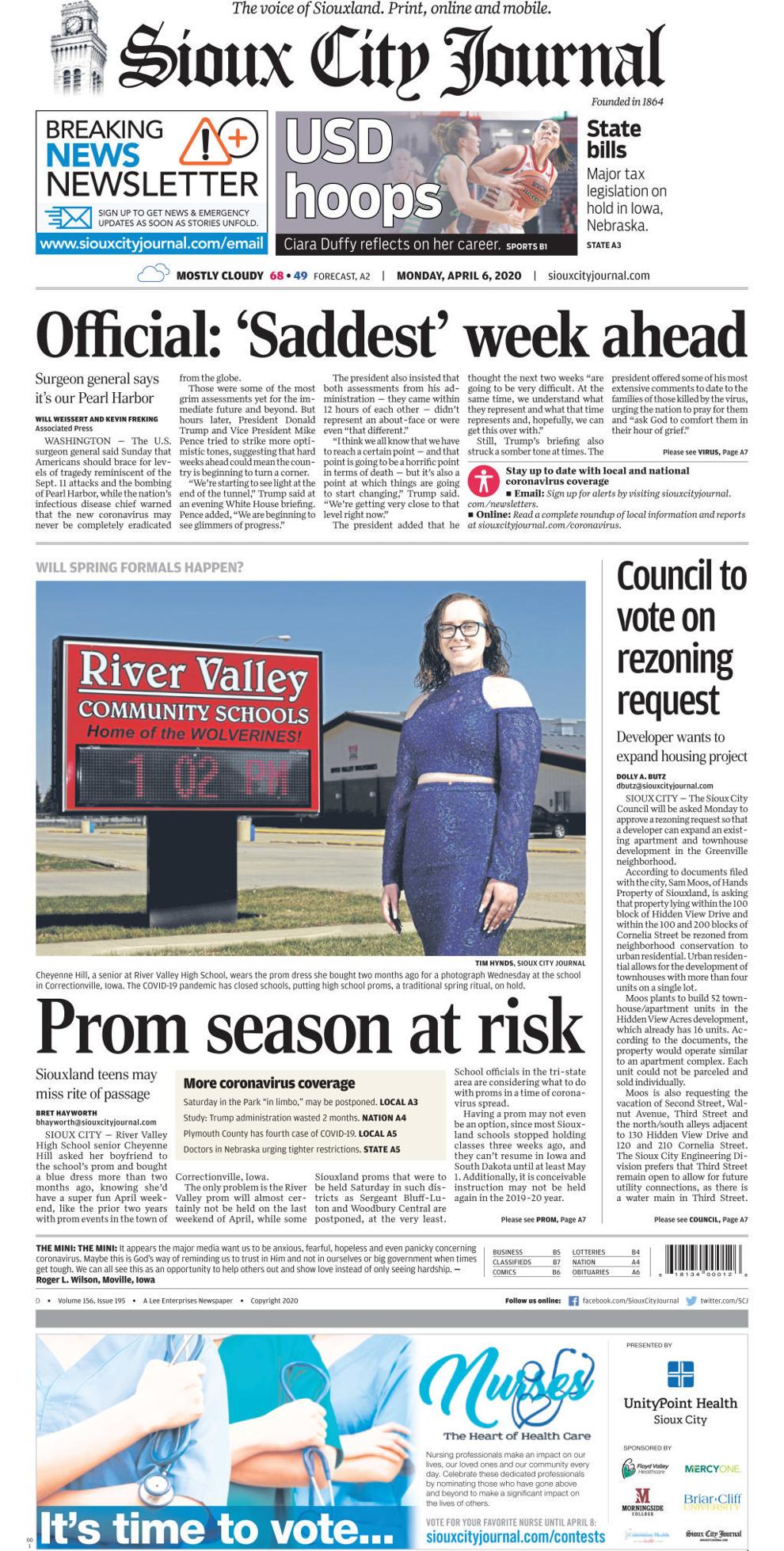 APRIL 7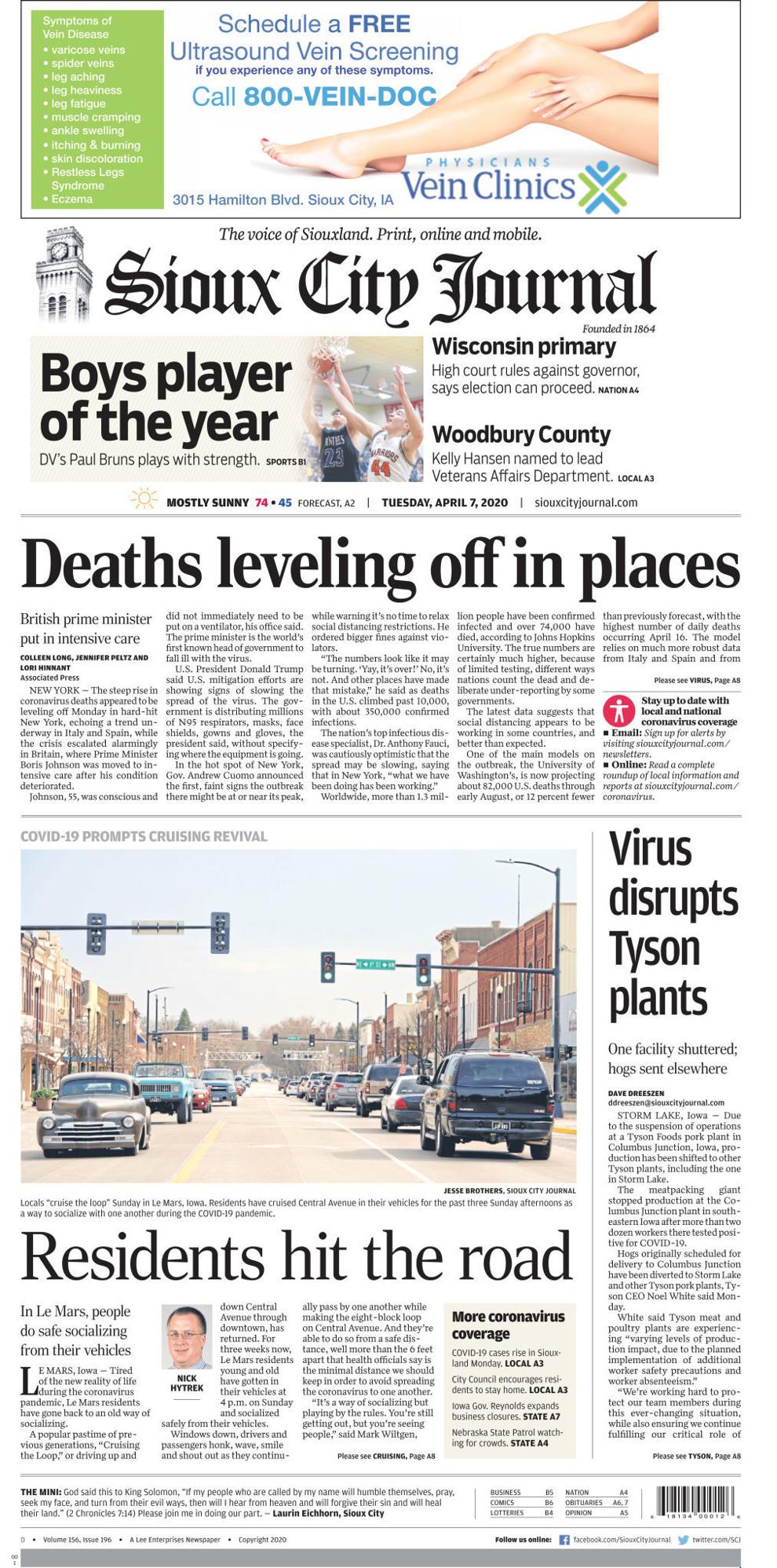 APRIL 8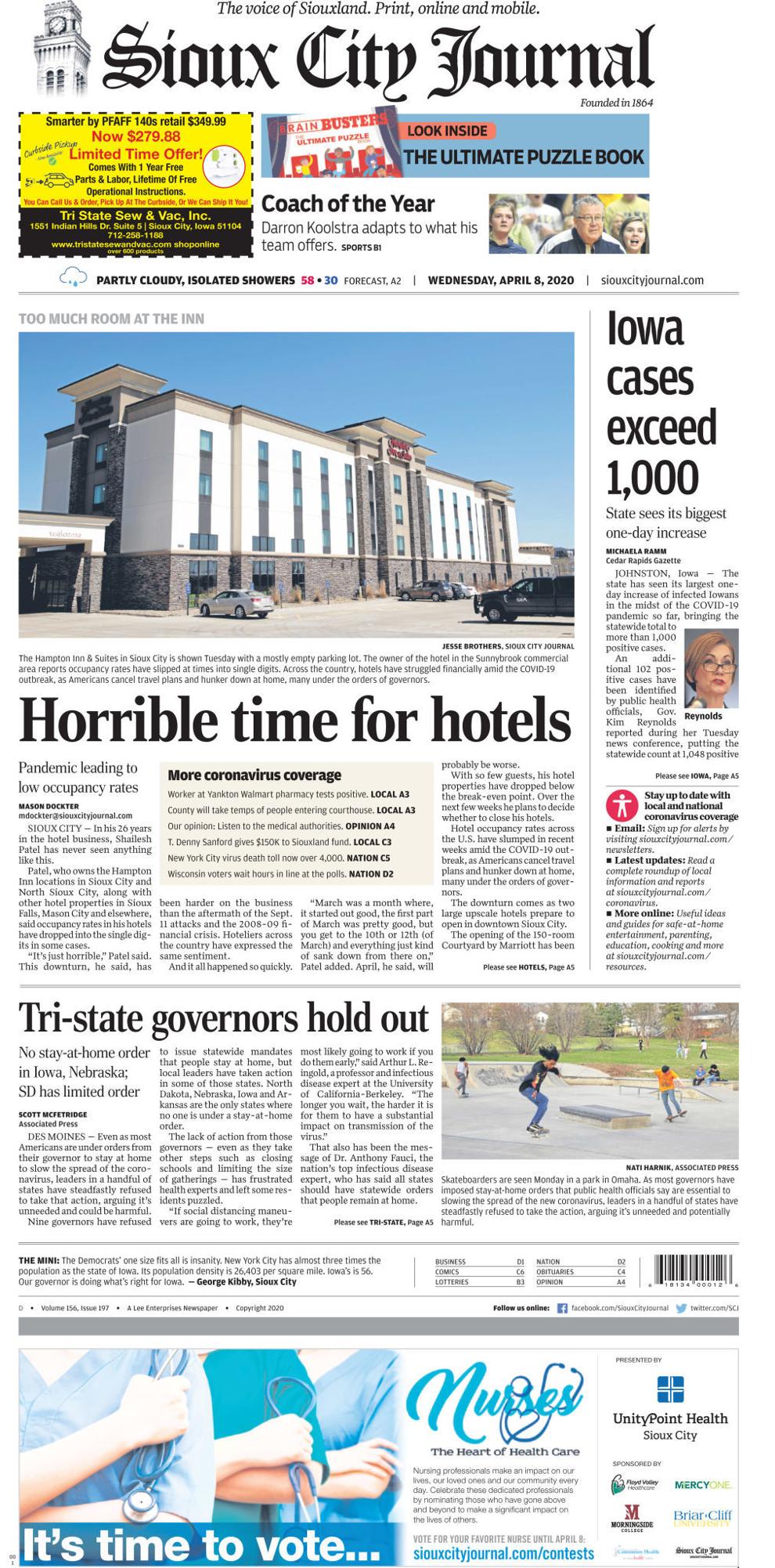 APRIL 9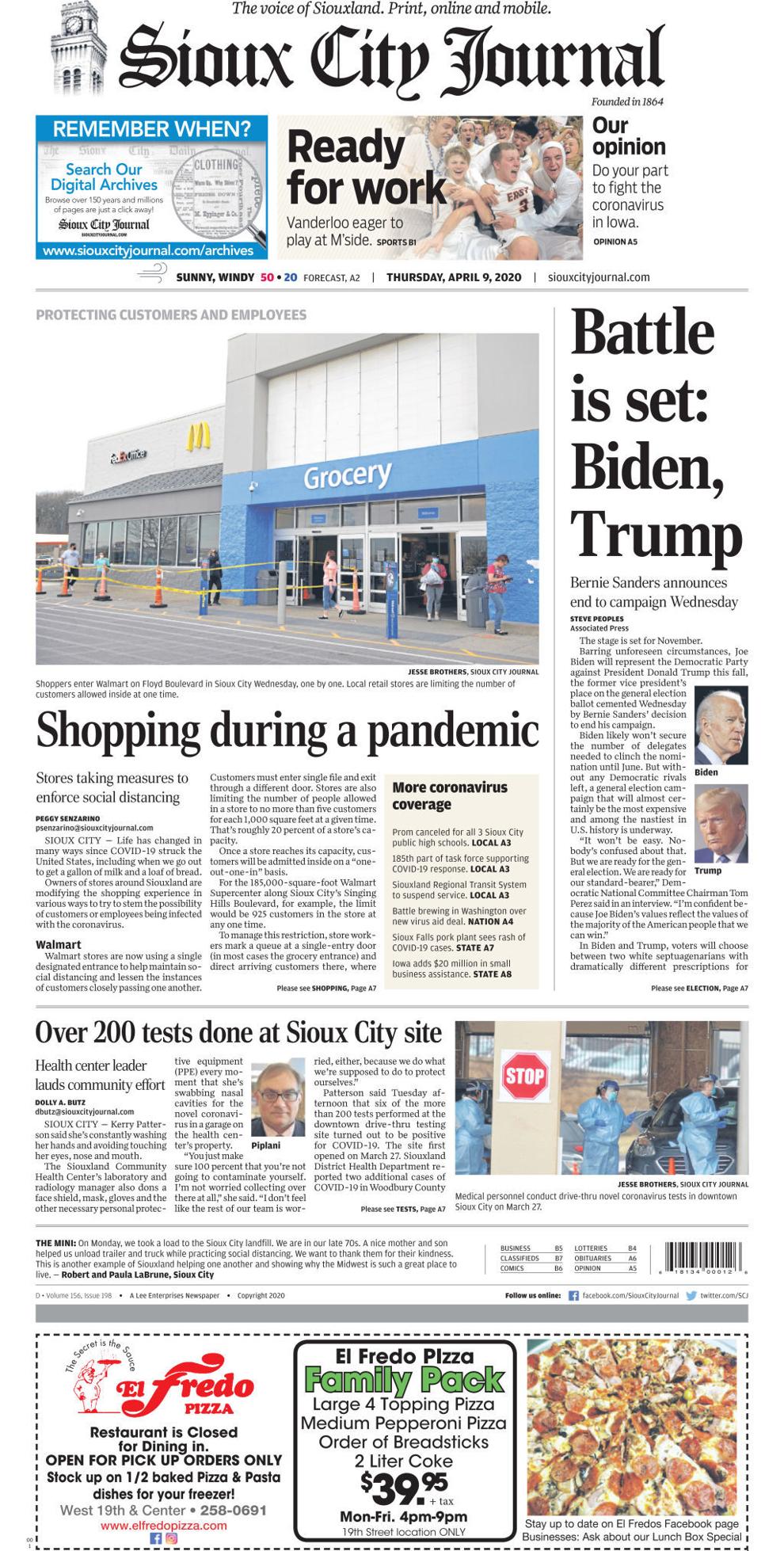 APRIL 10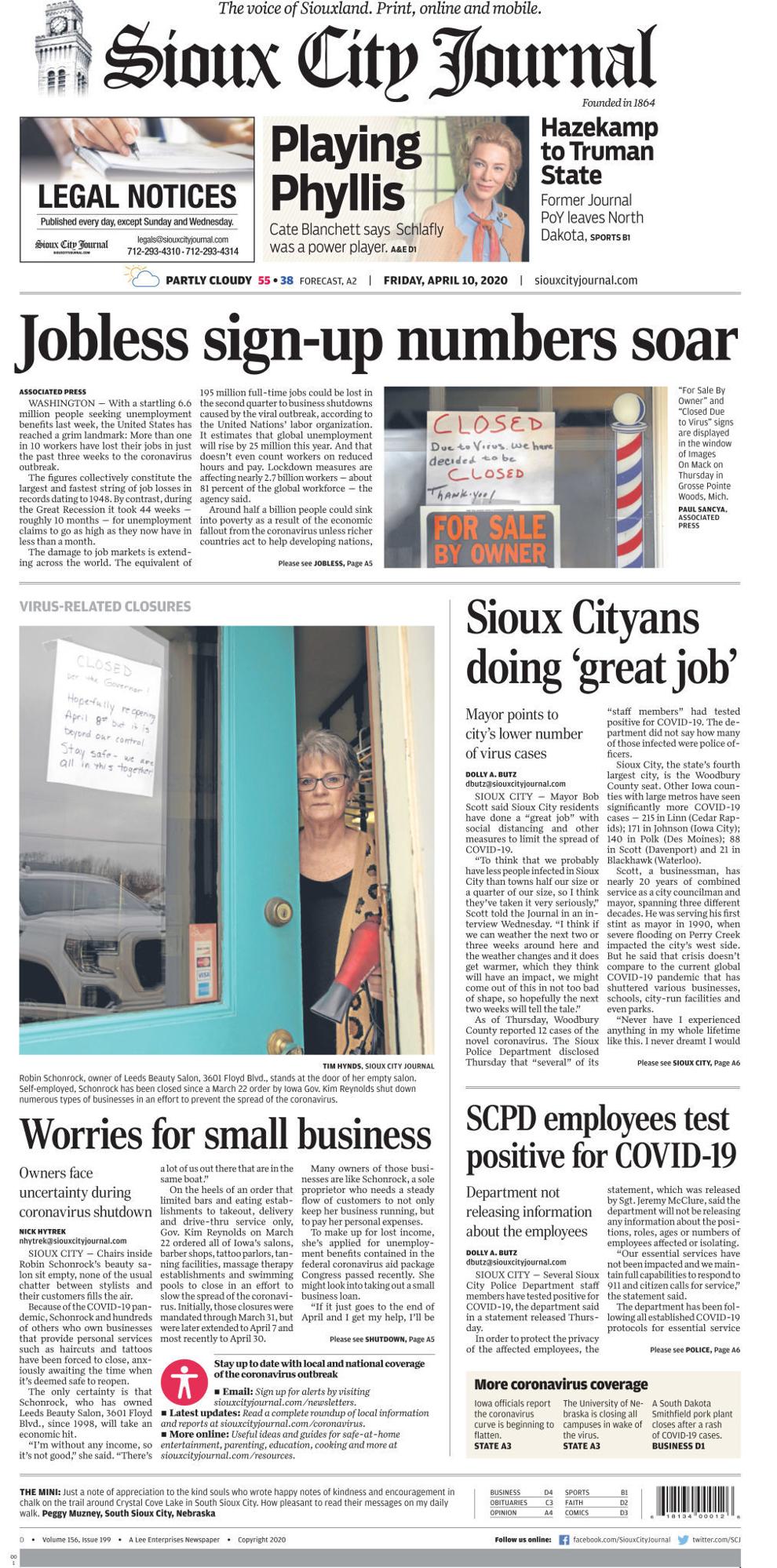 APRIL 11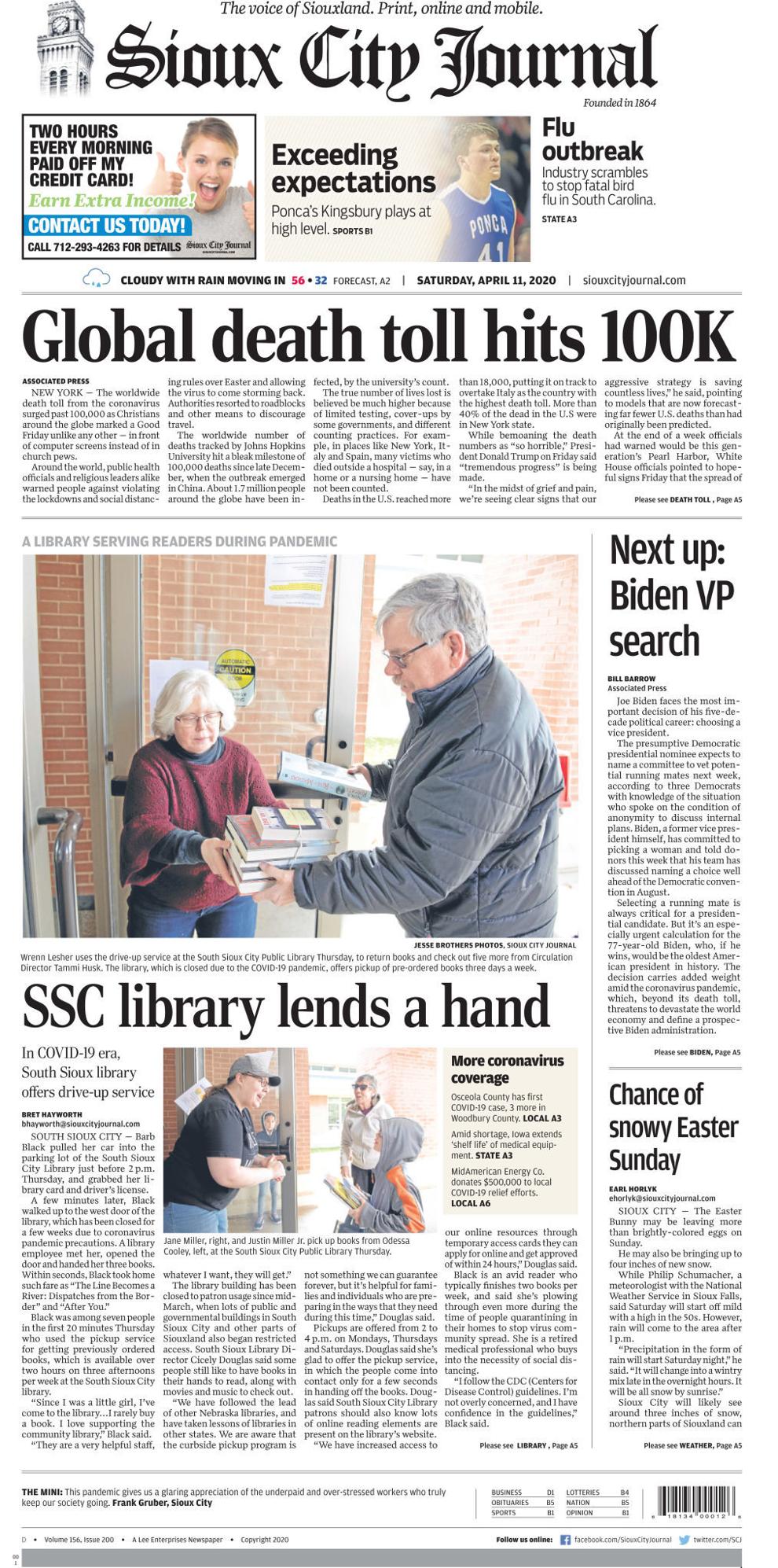 APRIL 12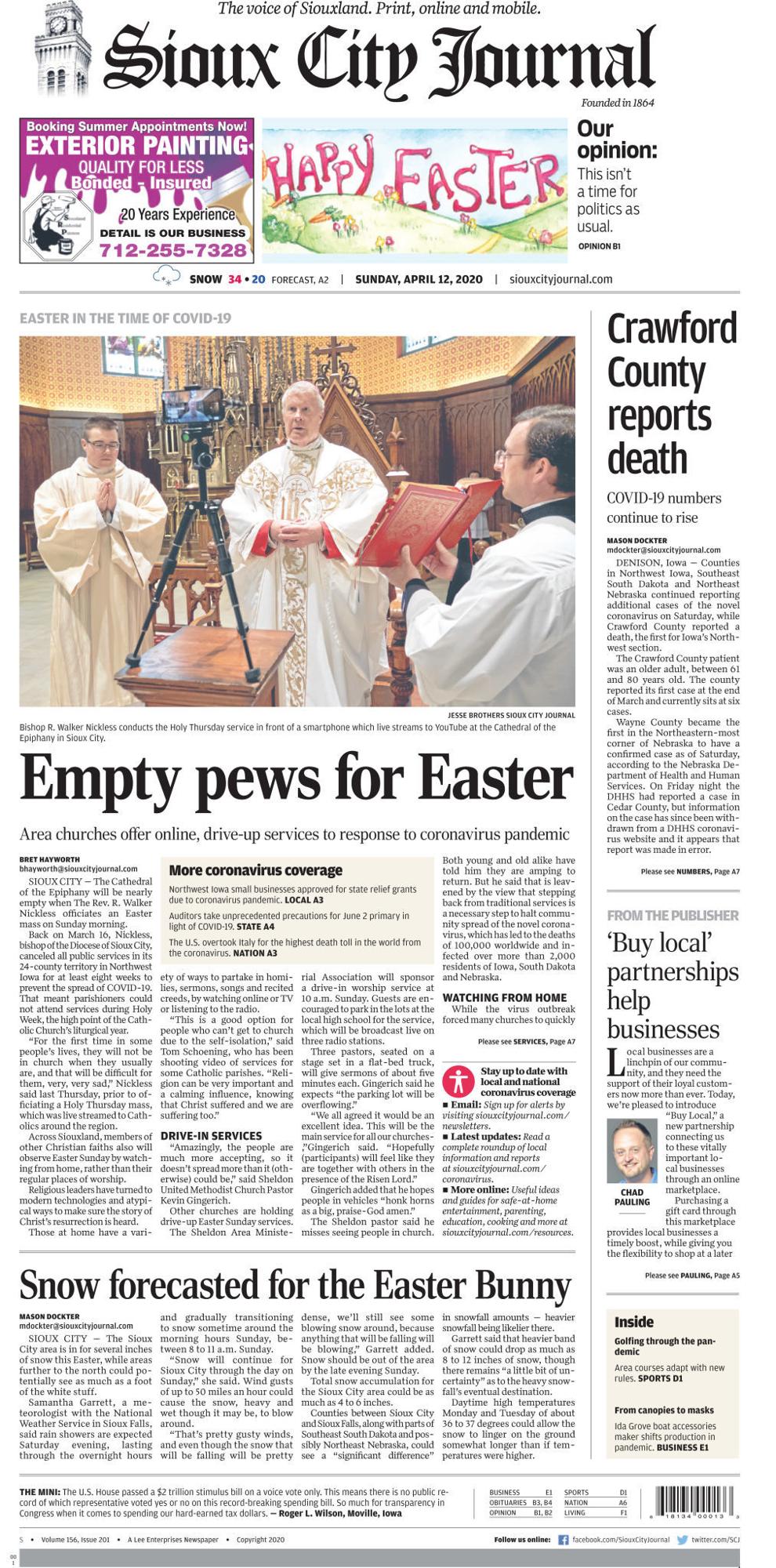 APRIL 13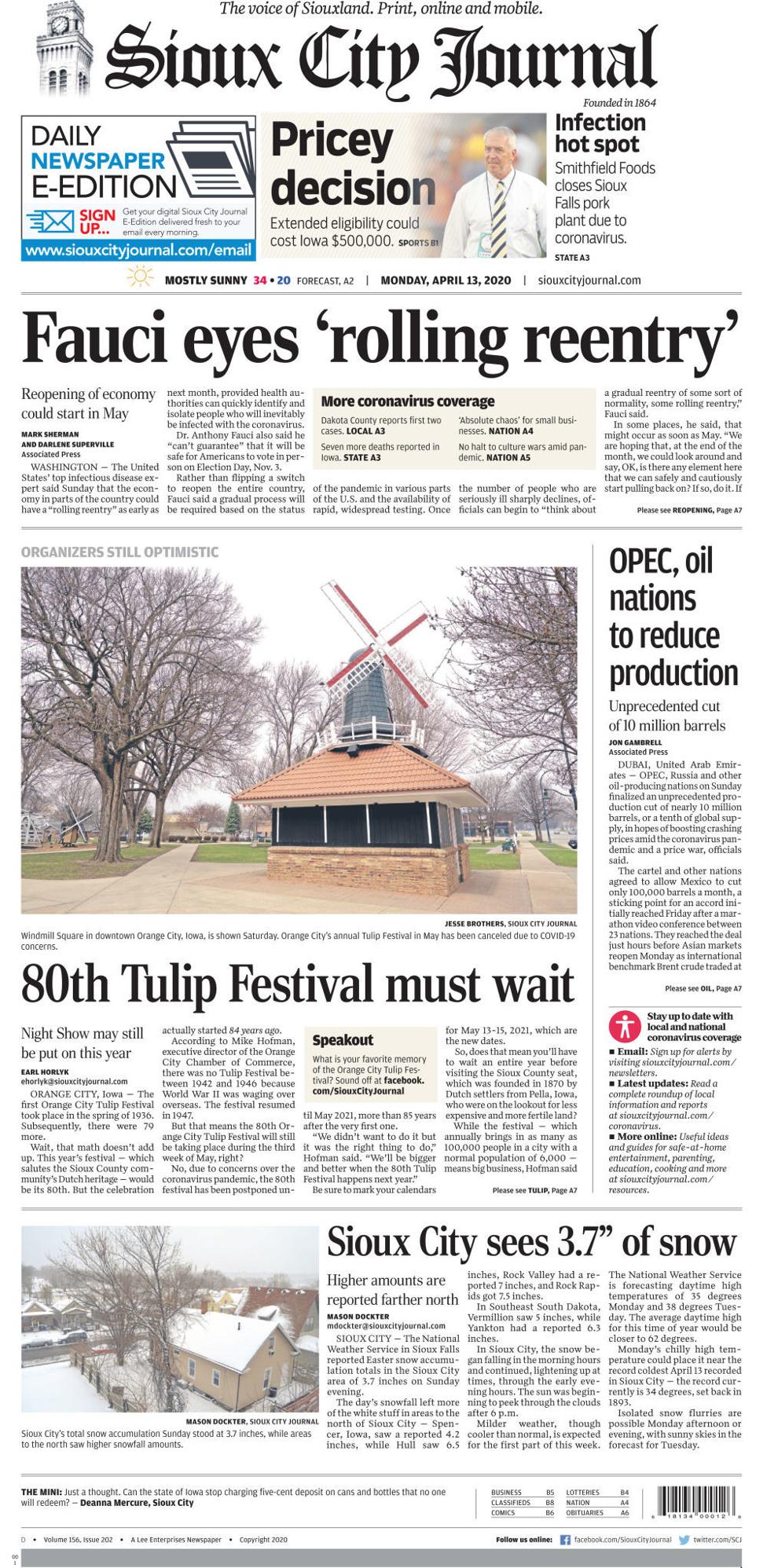 APRIL 14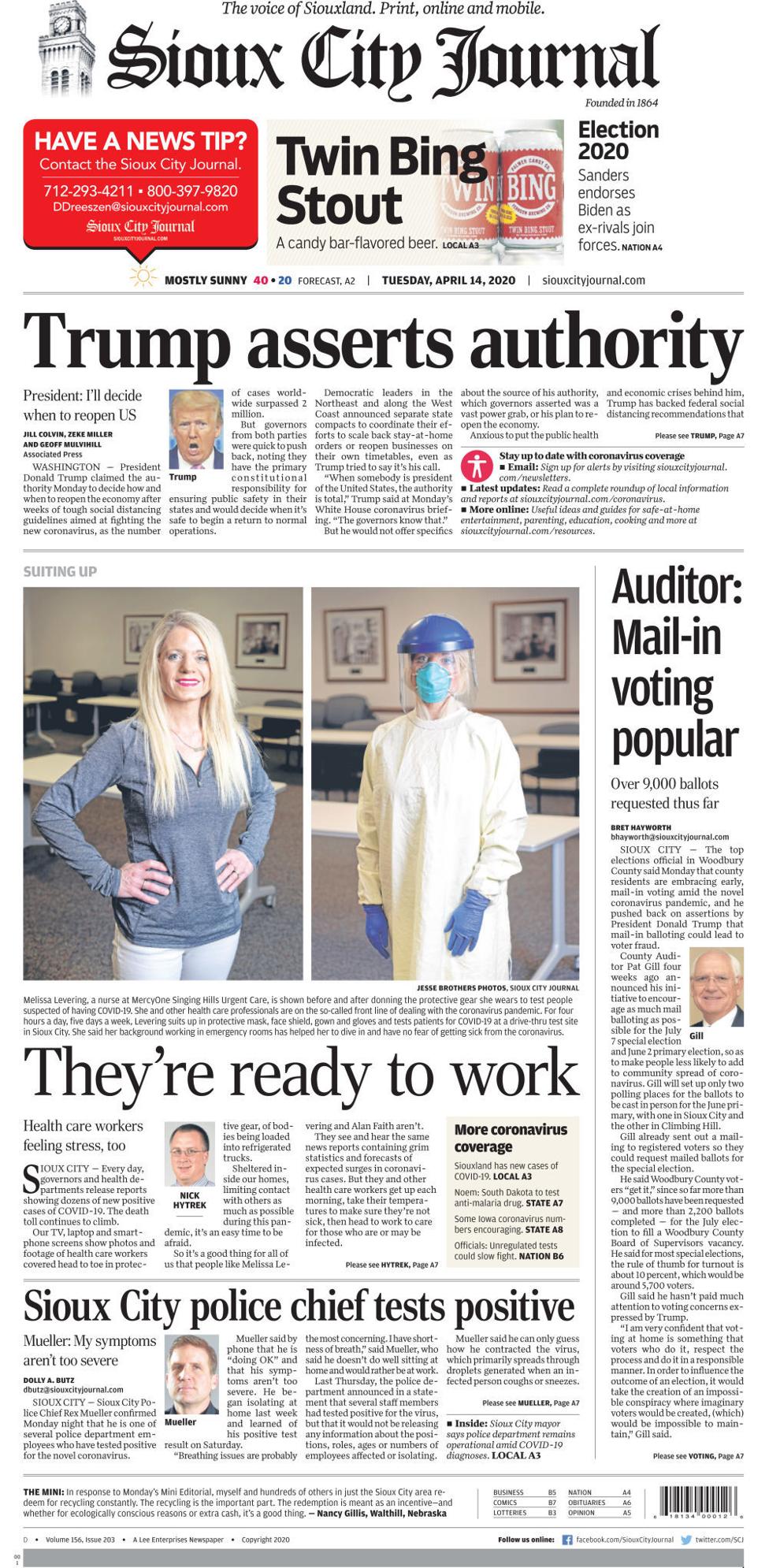 APRIL 15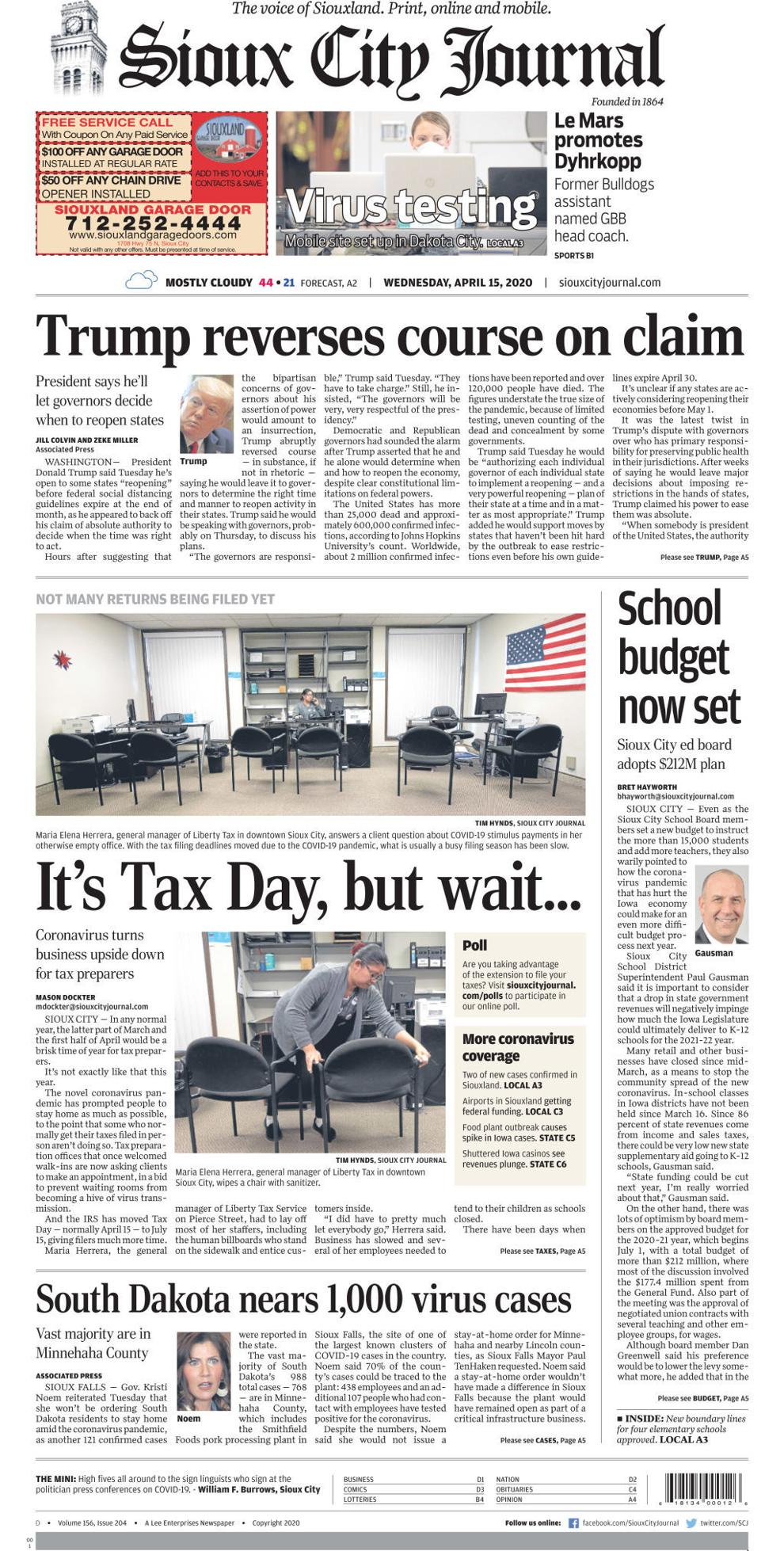 APRIL 16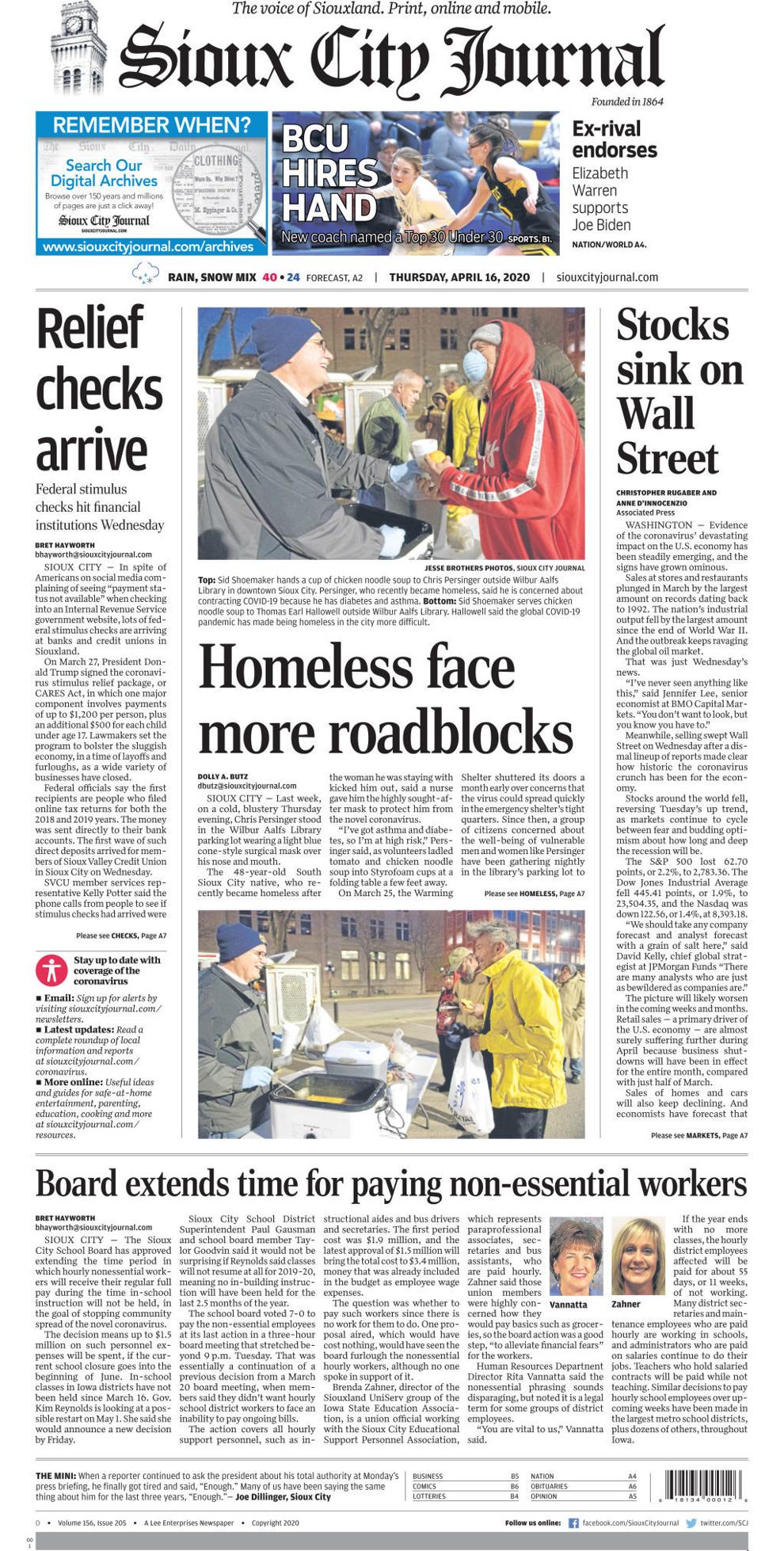 APRIL 17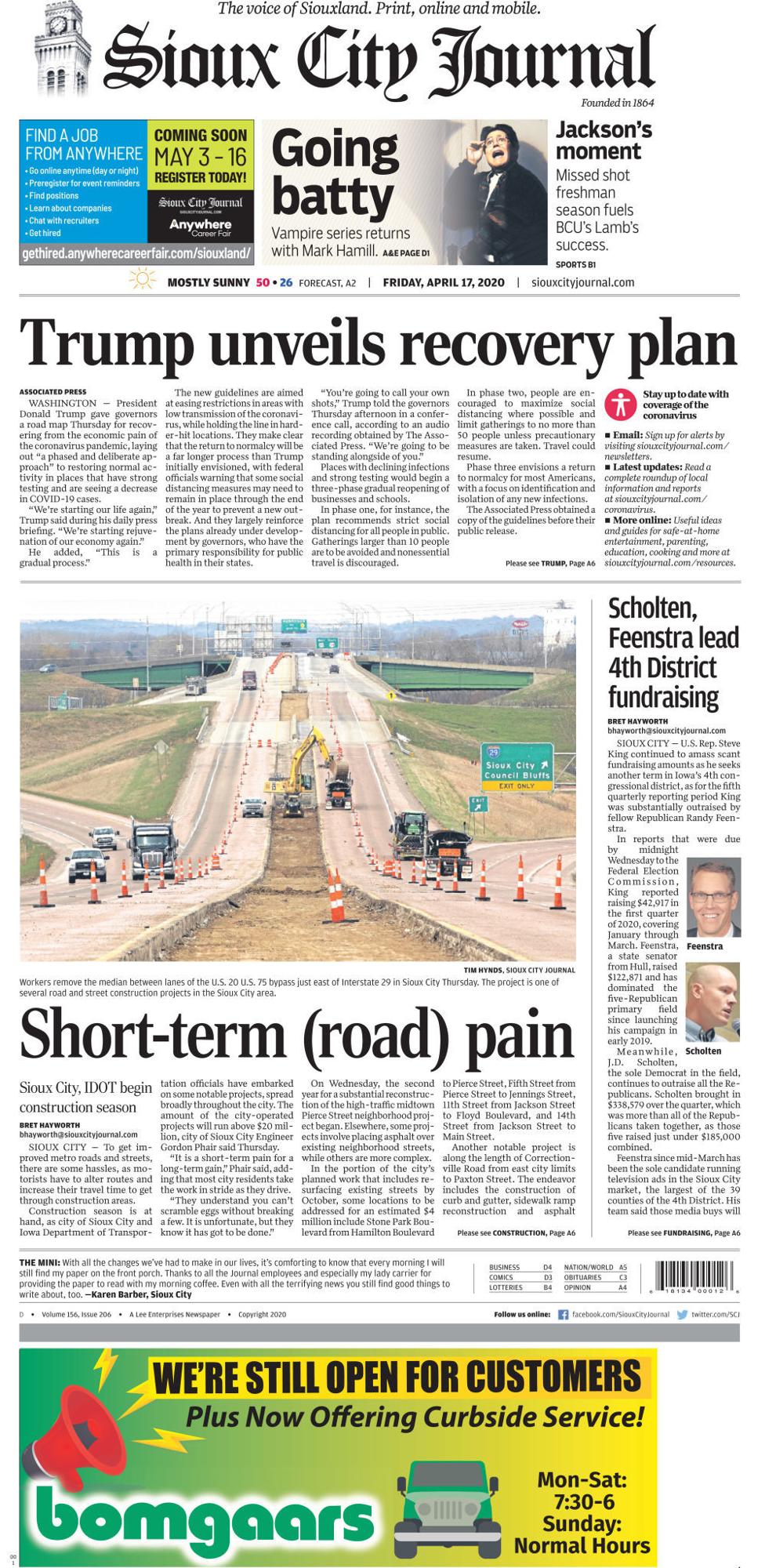 APRIL 18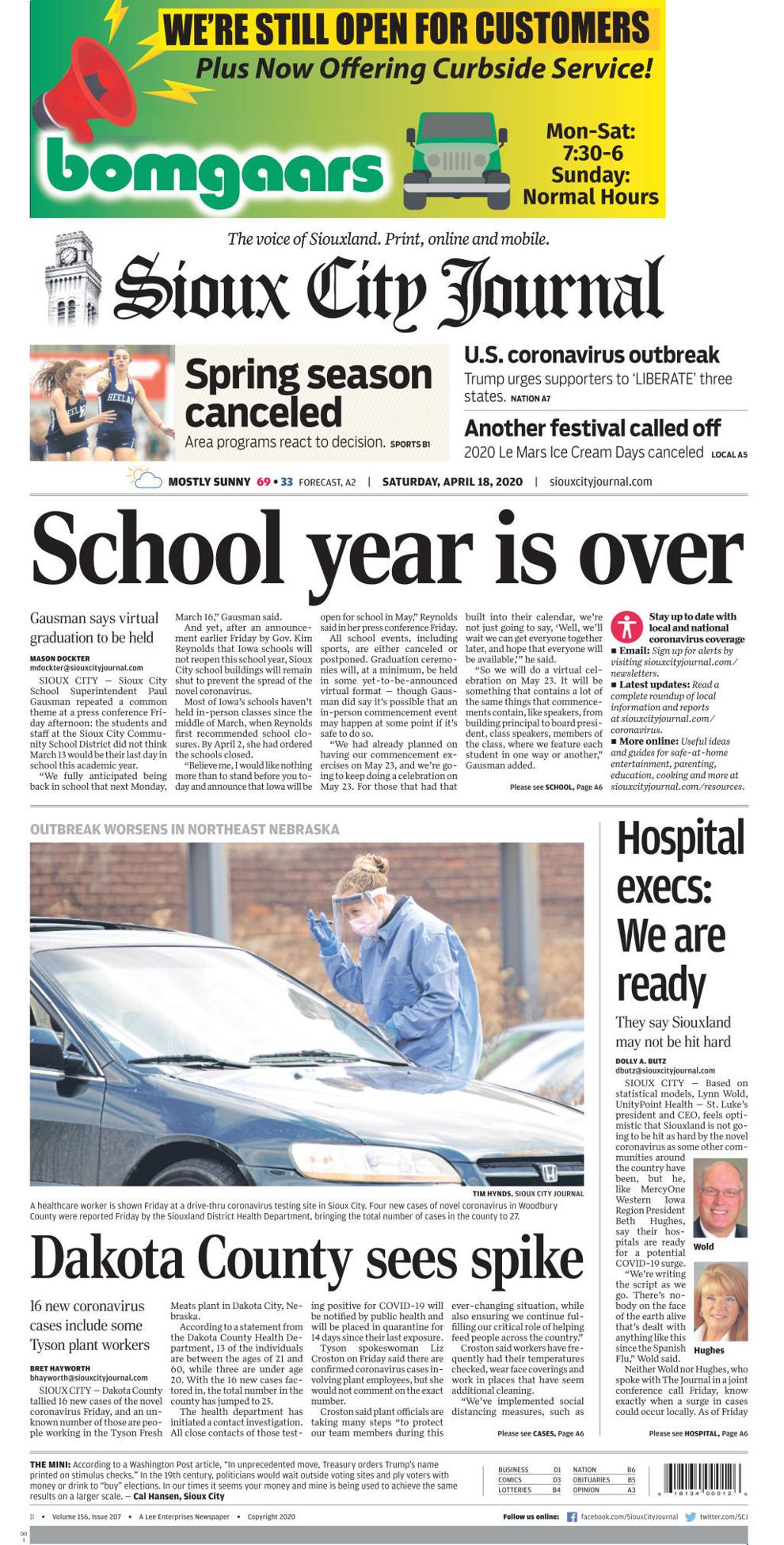 APRIL 19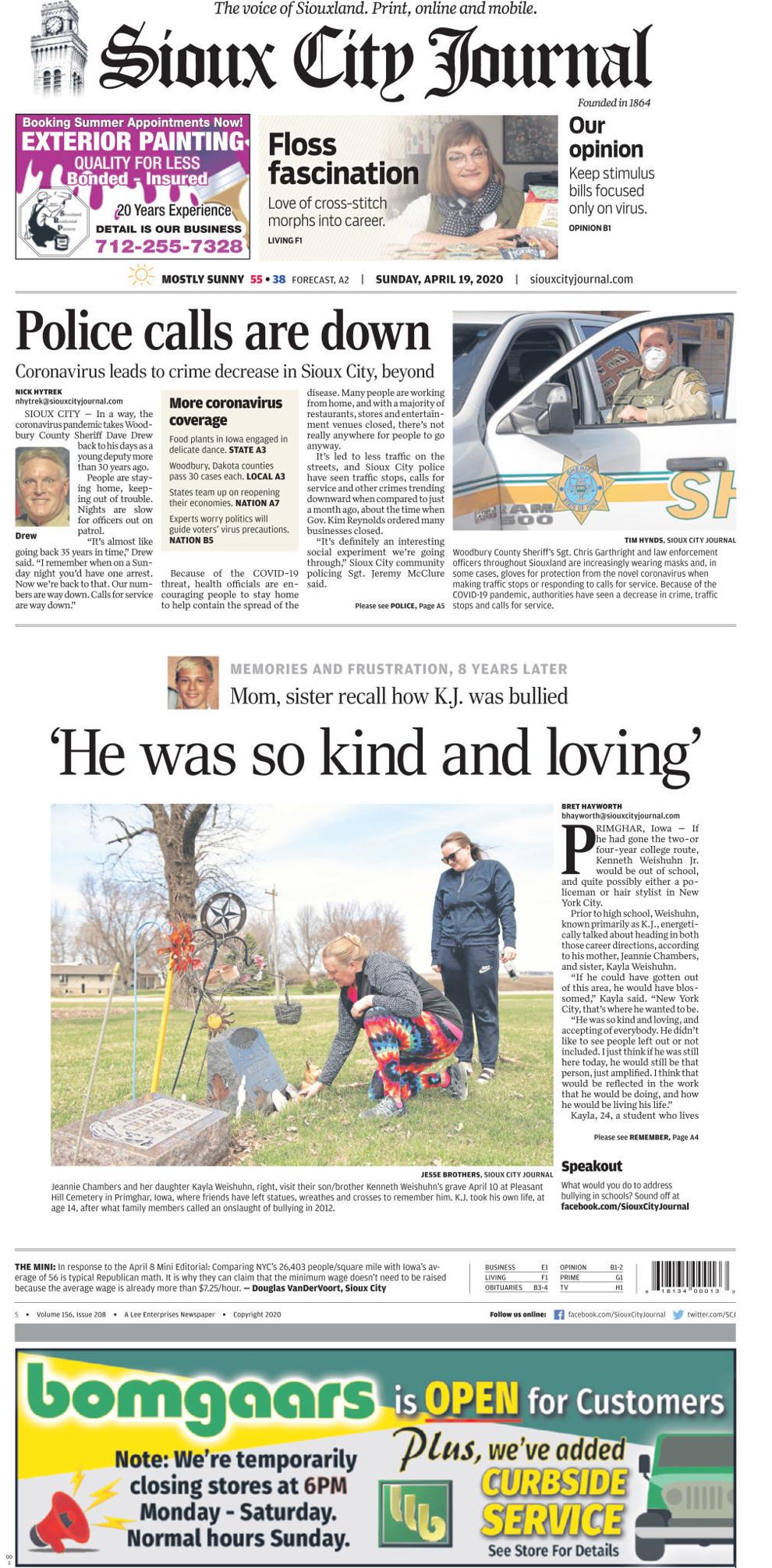 APRIL 20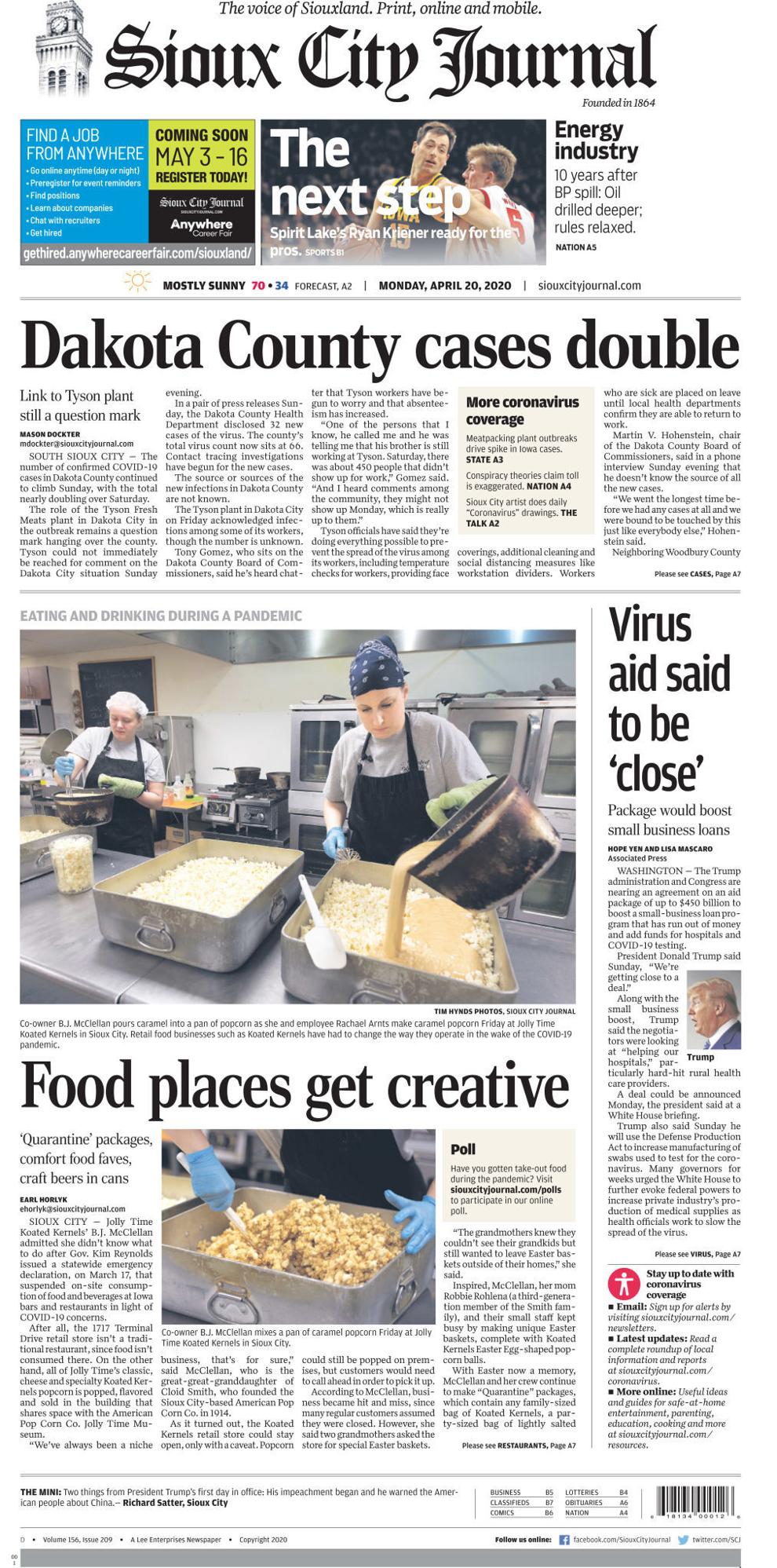 APRIL 21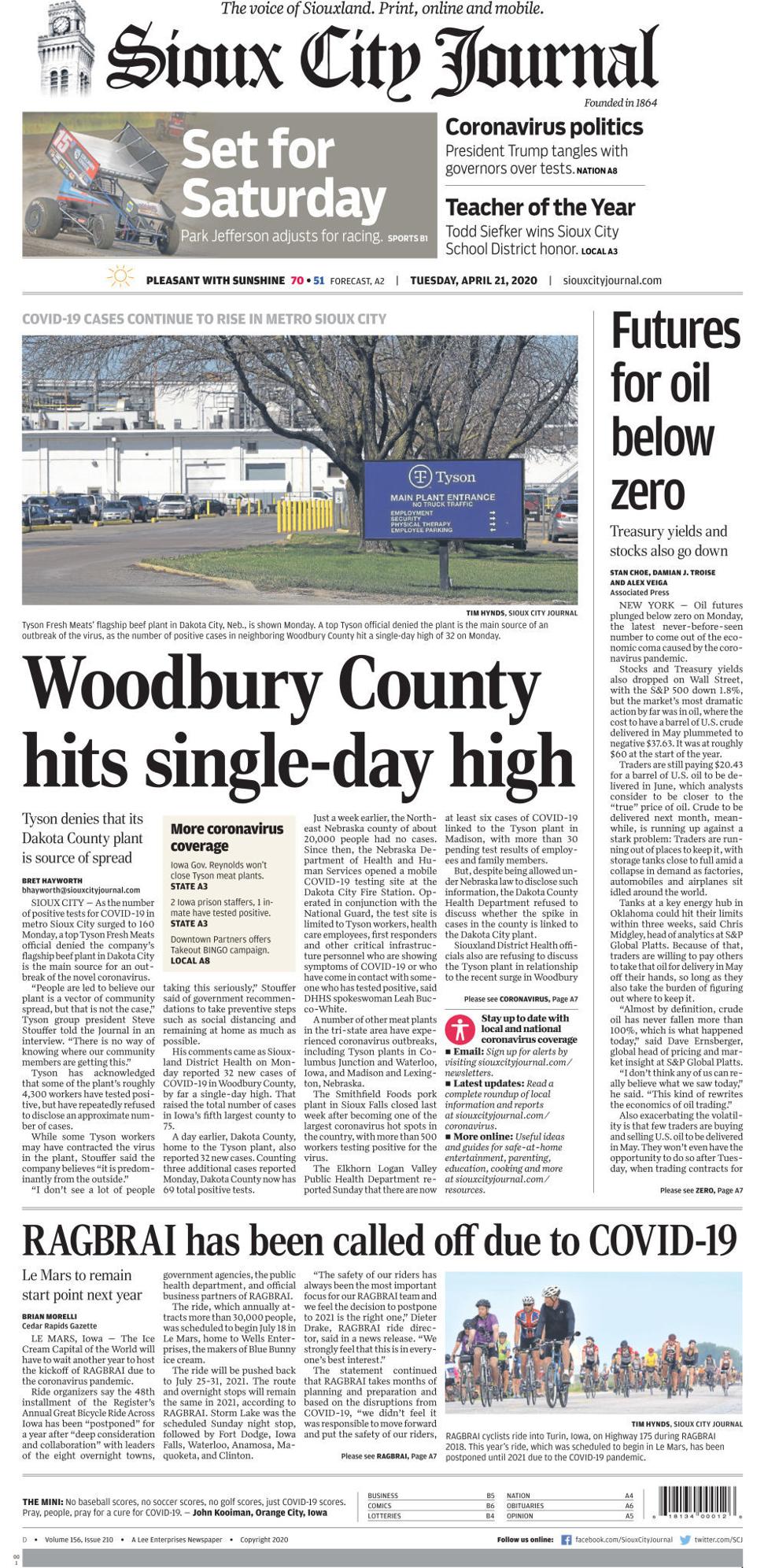 APRIL 22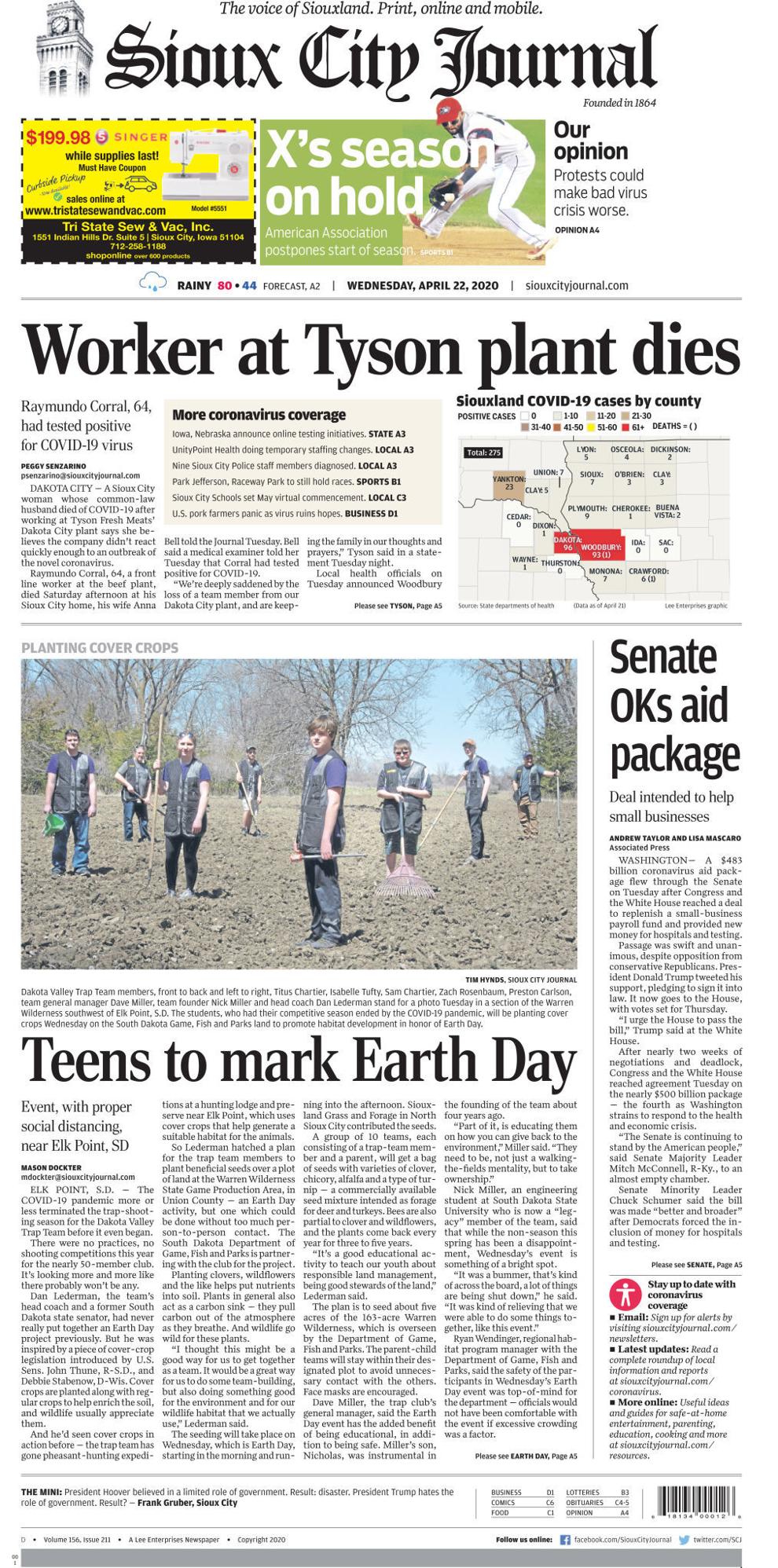 APRIL 23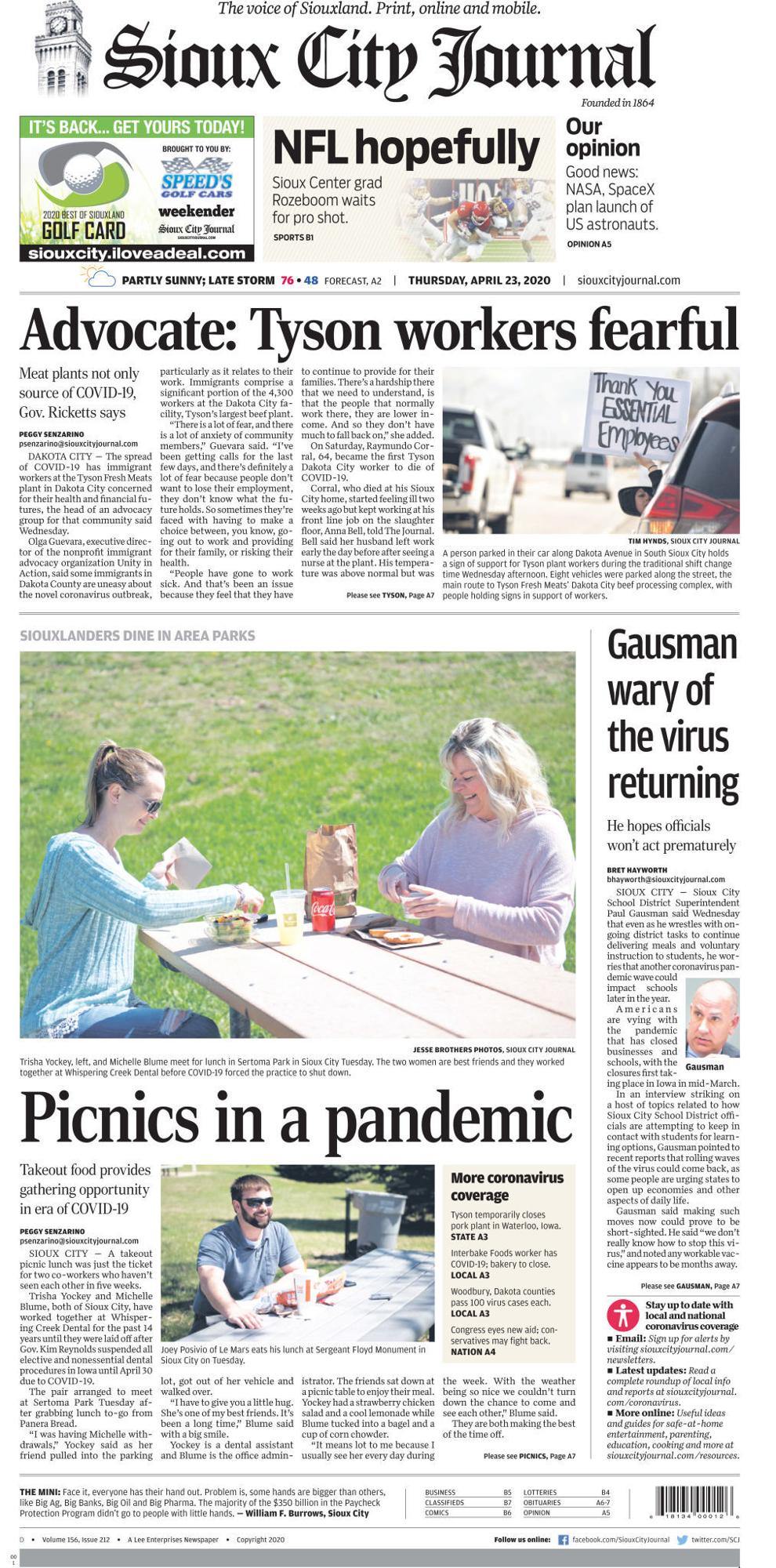 APRIL 24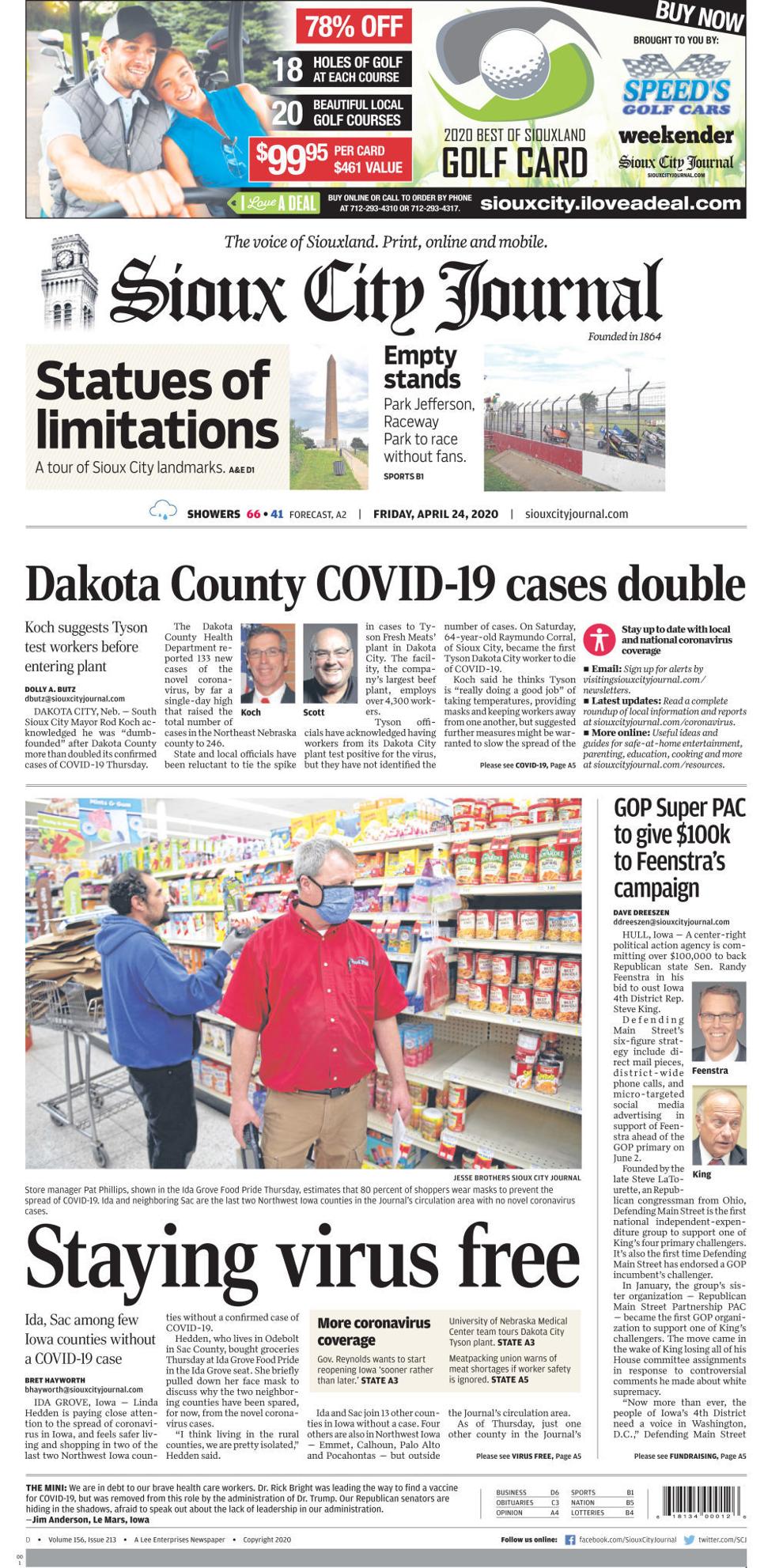 APRIL 25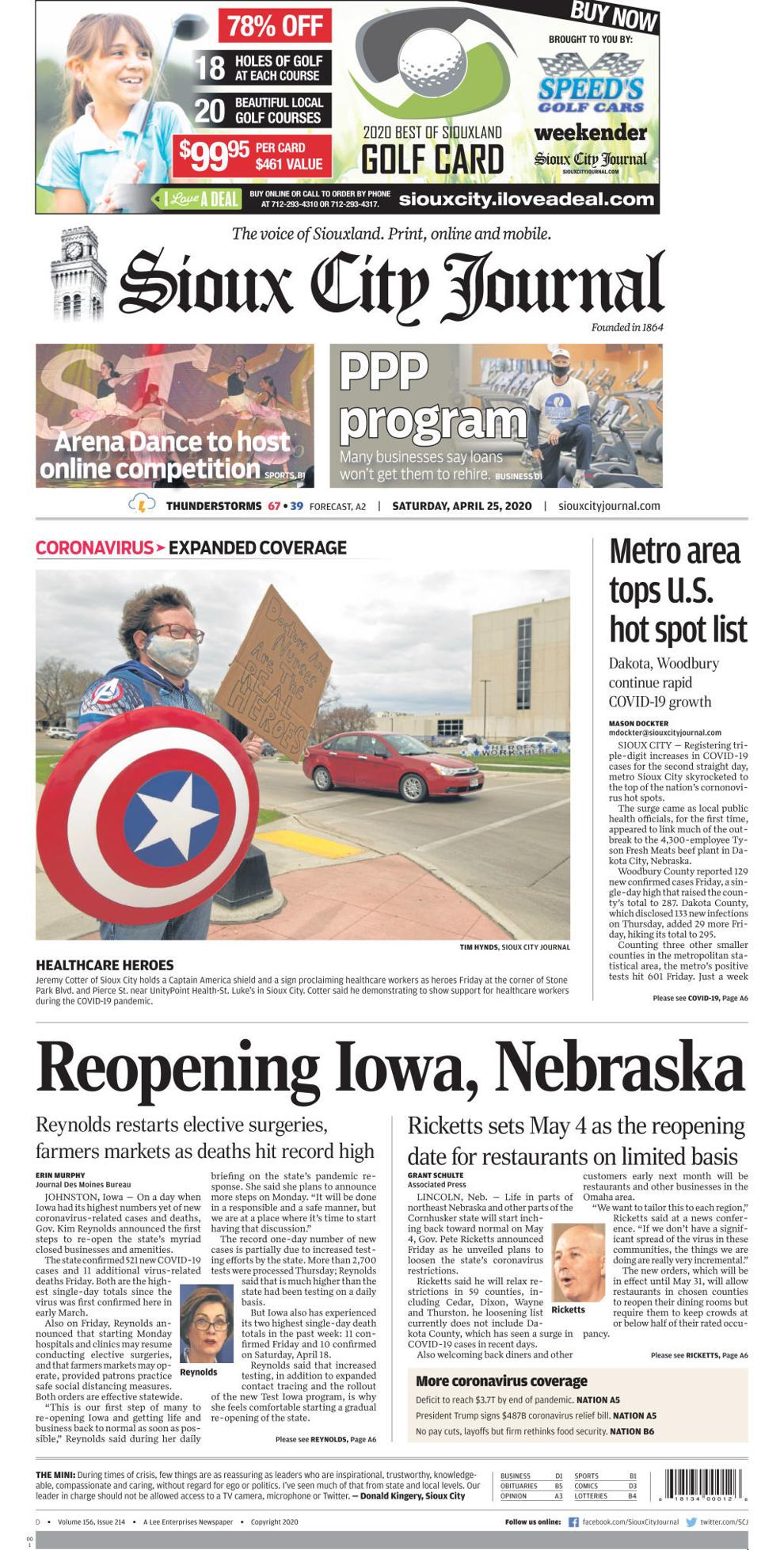 APRIL 26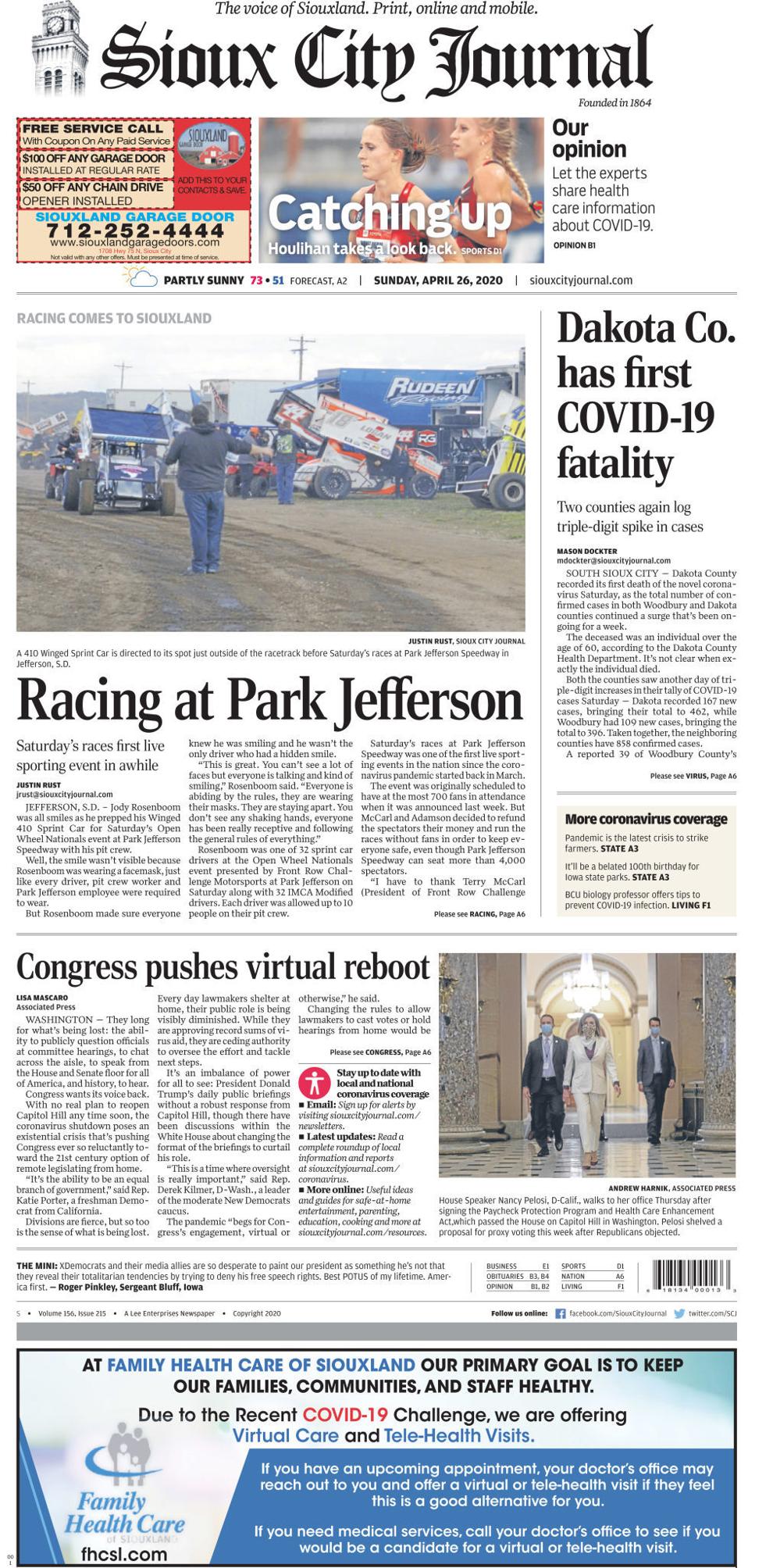 APRIL 27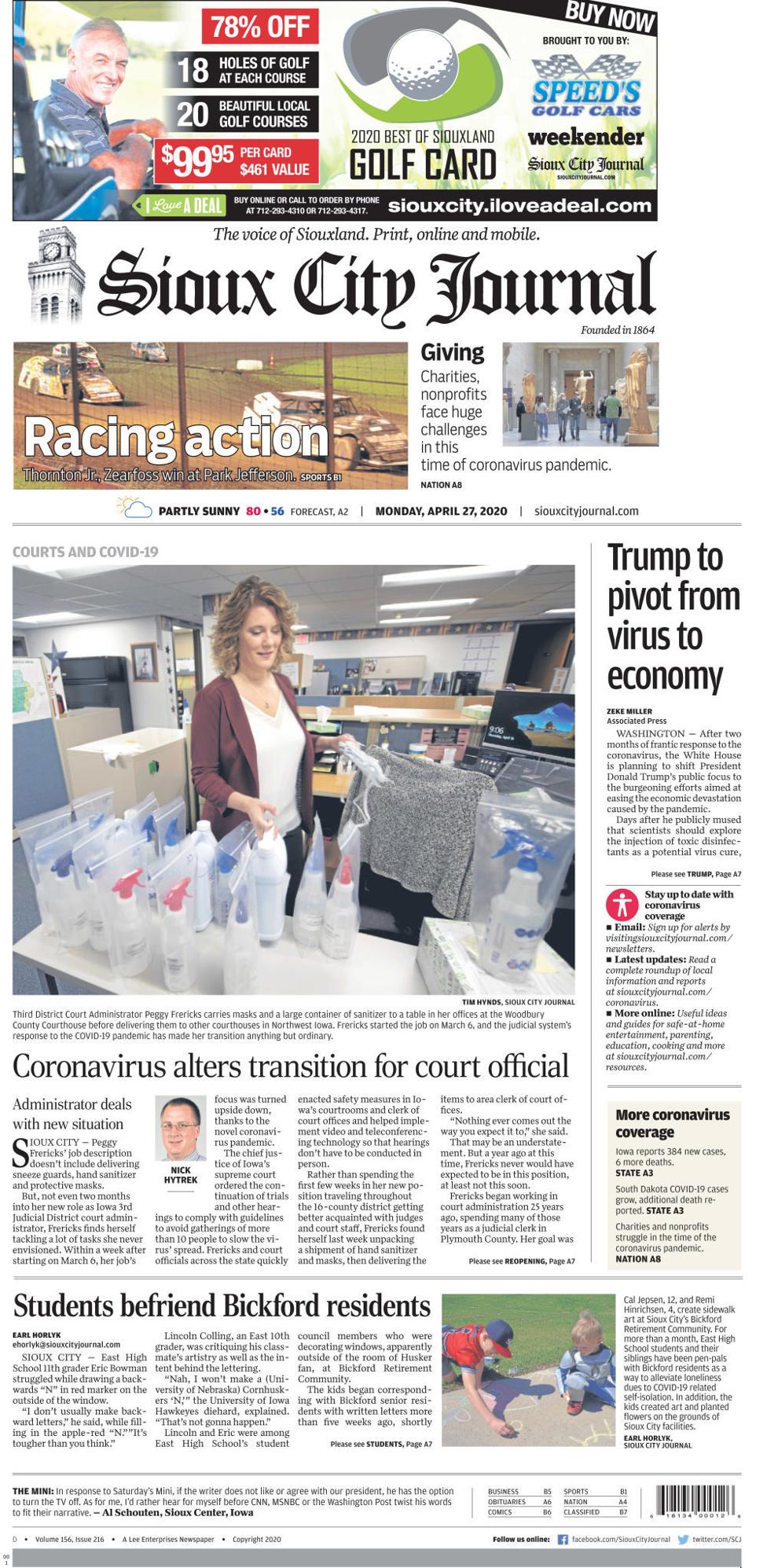 APRIL 28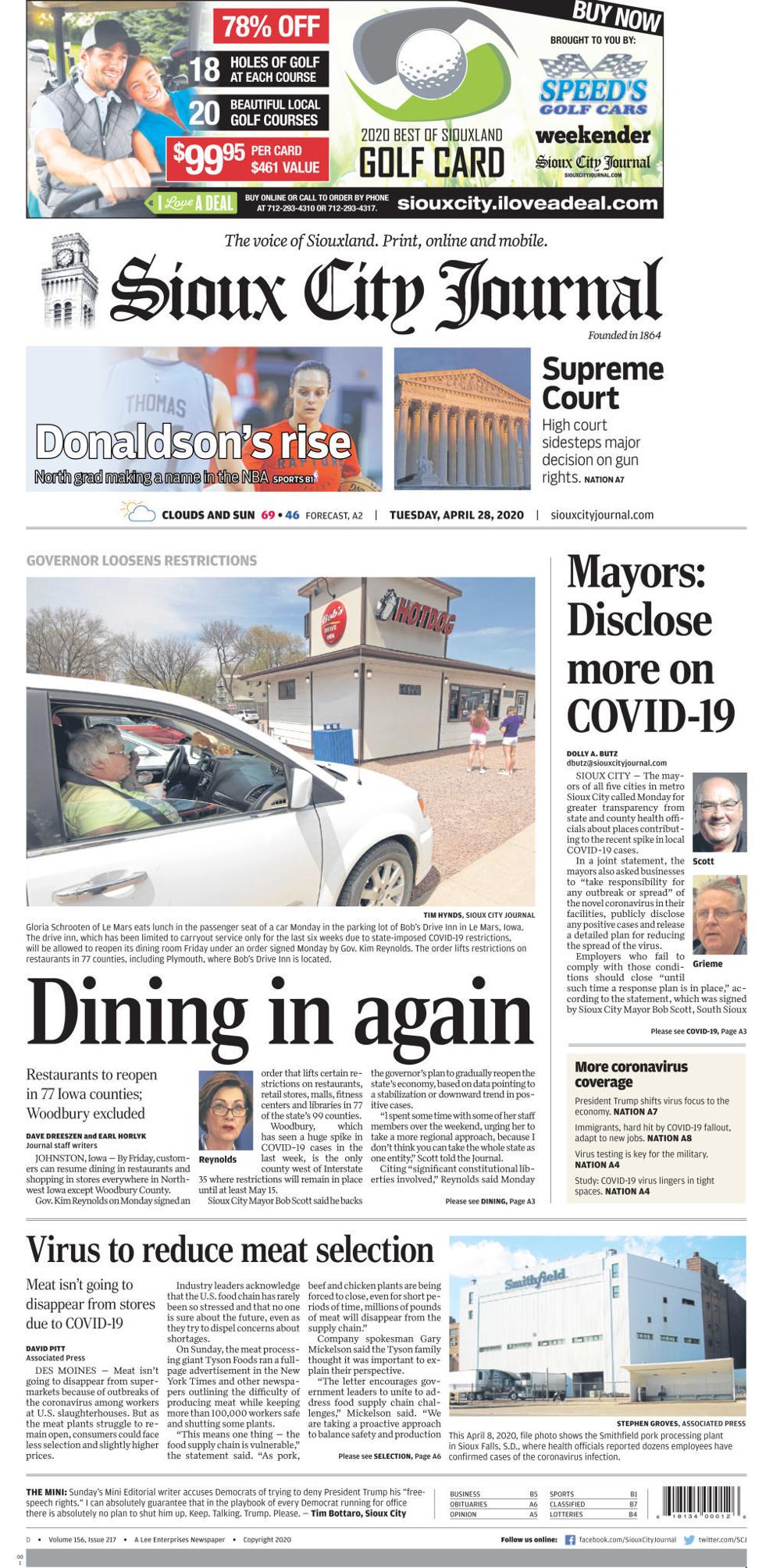 APRIL 29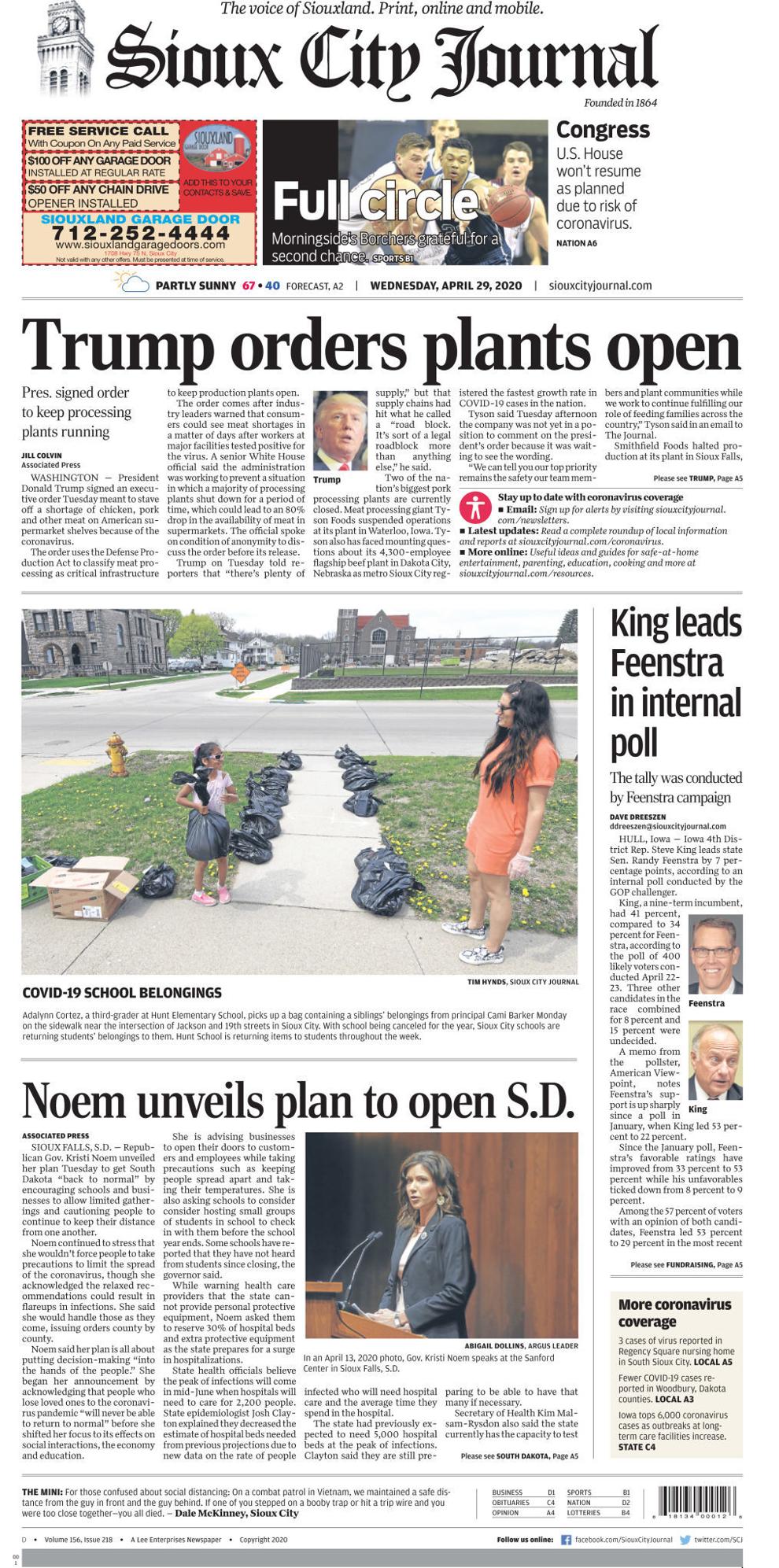 APRIL 30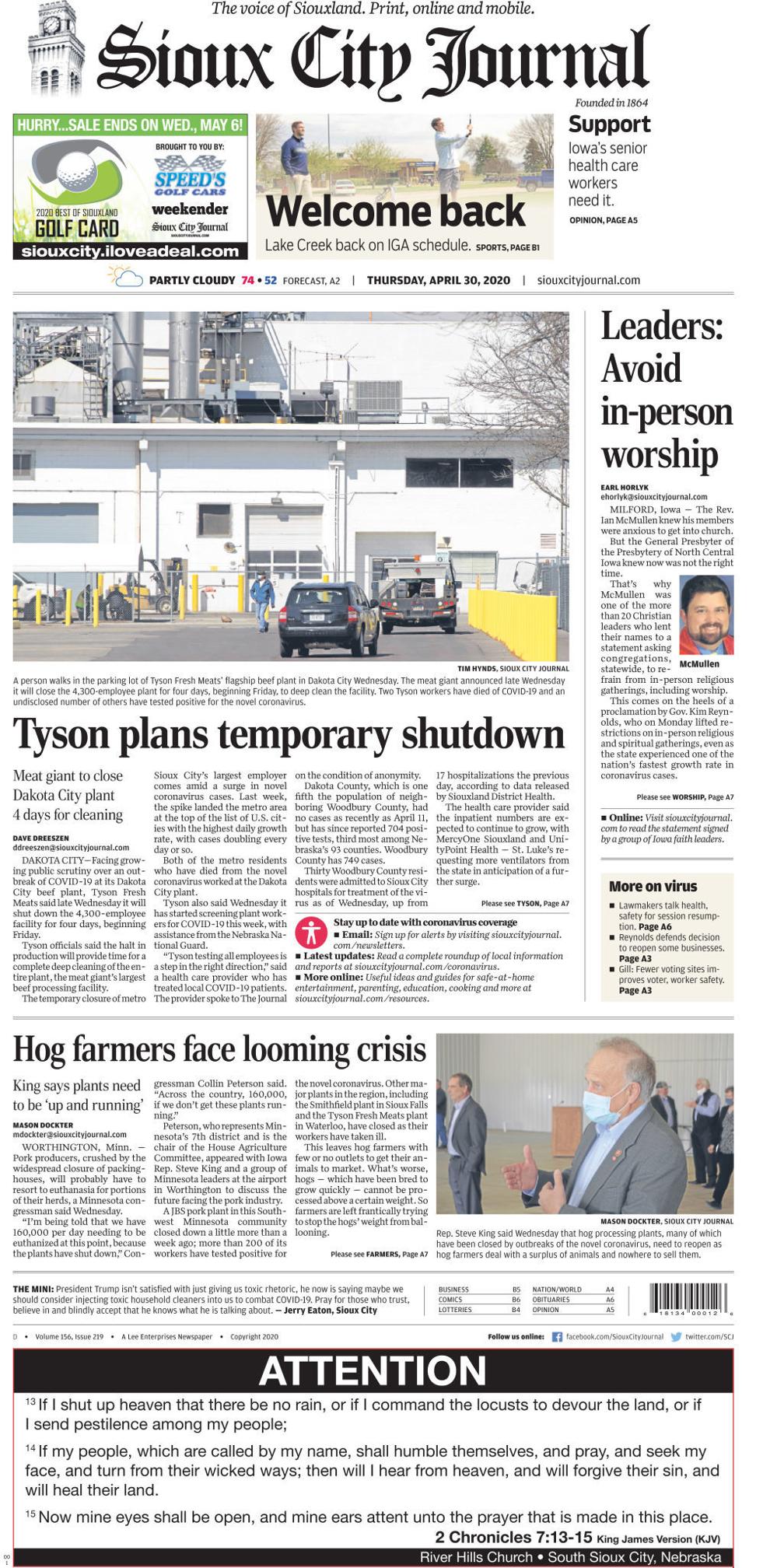 MAY 1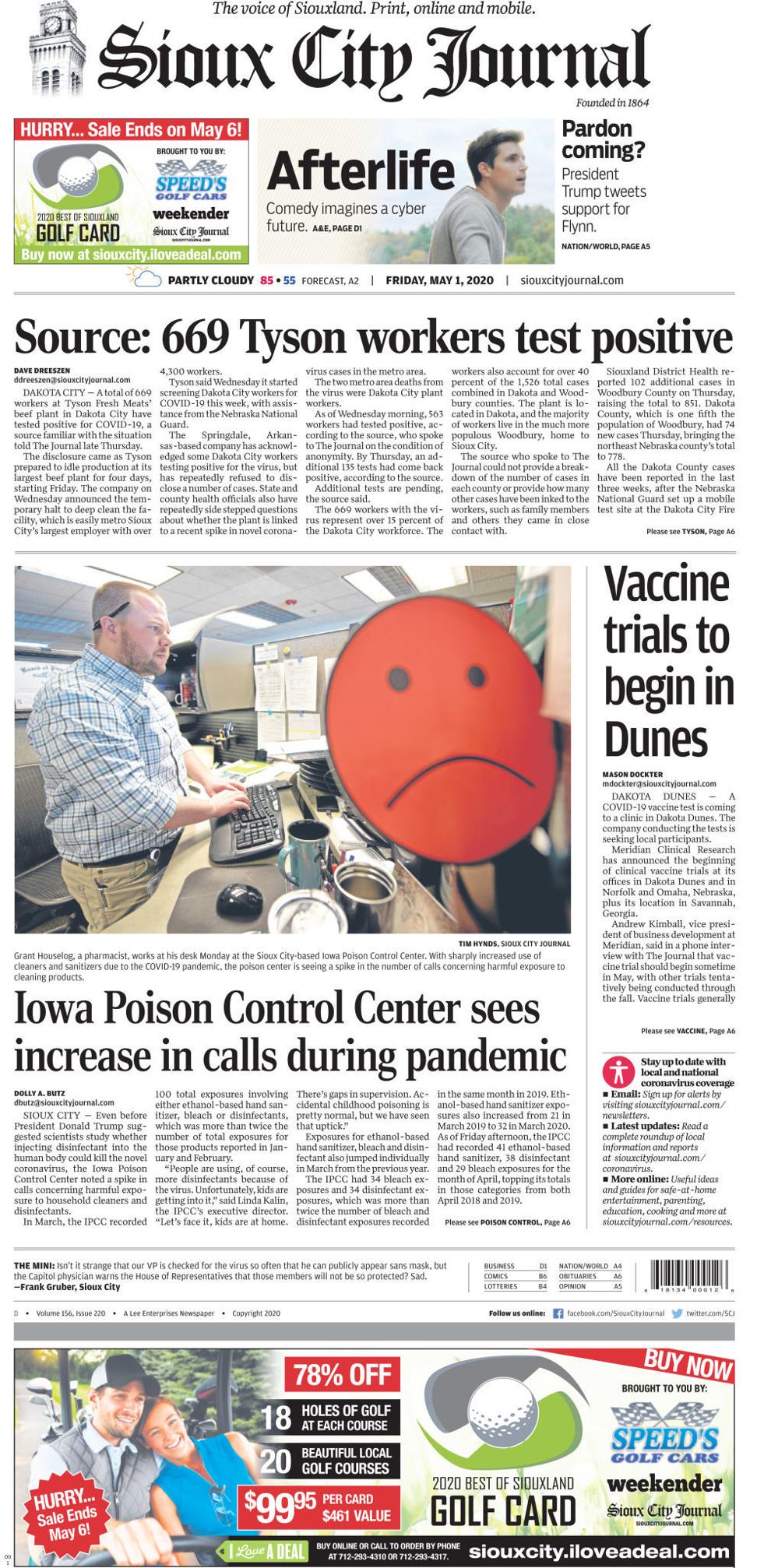 MAY 2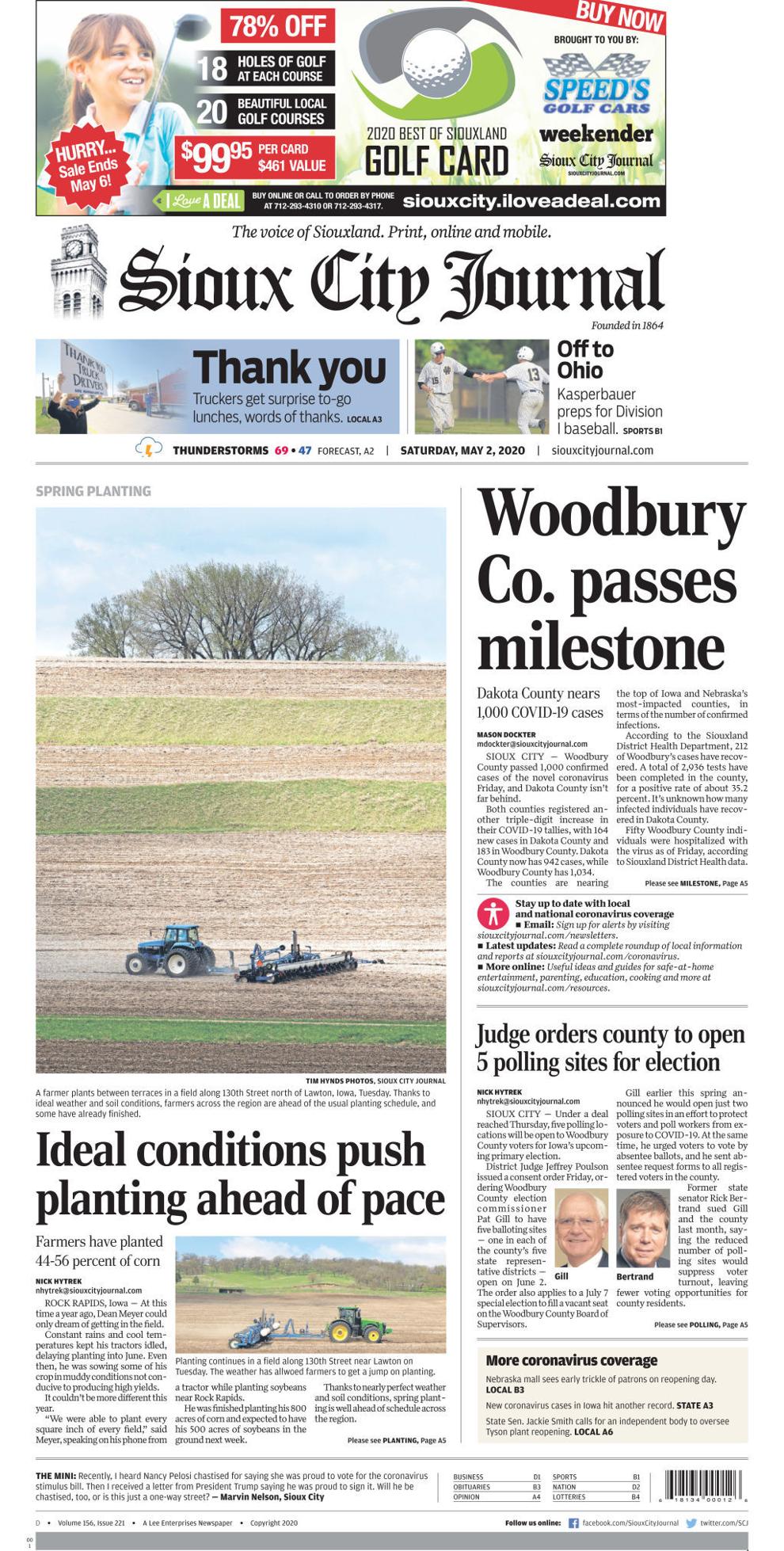 MAY 3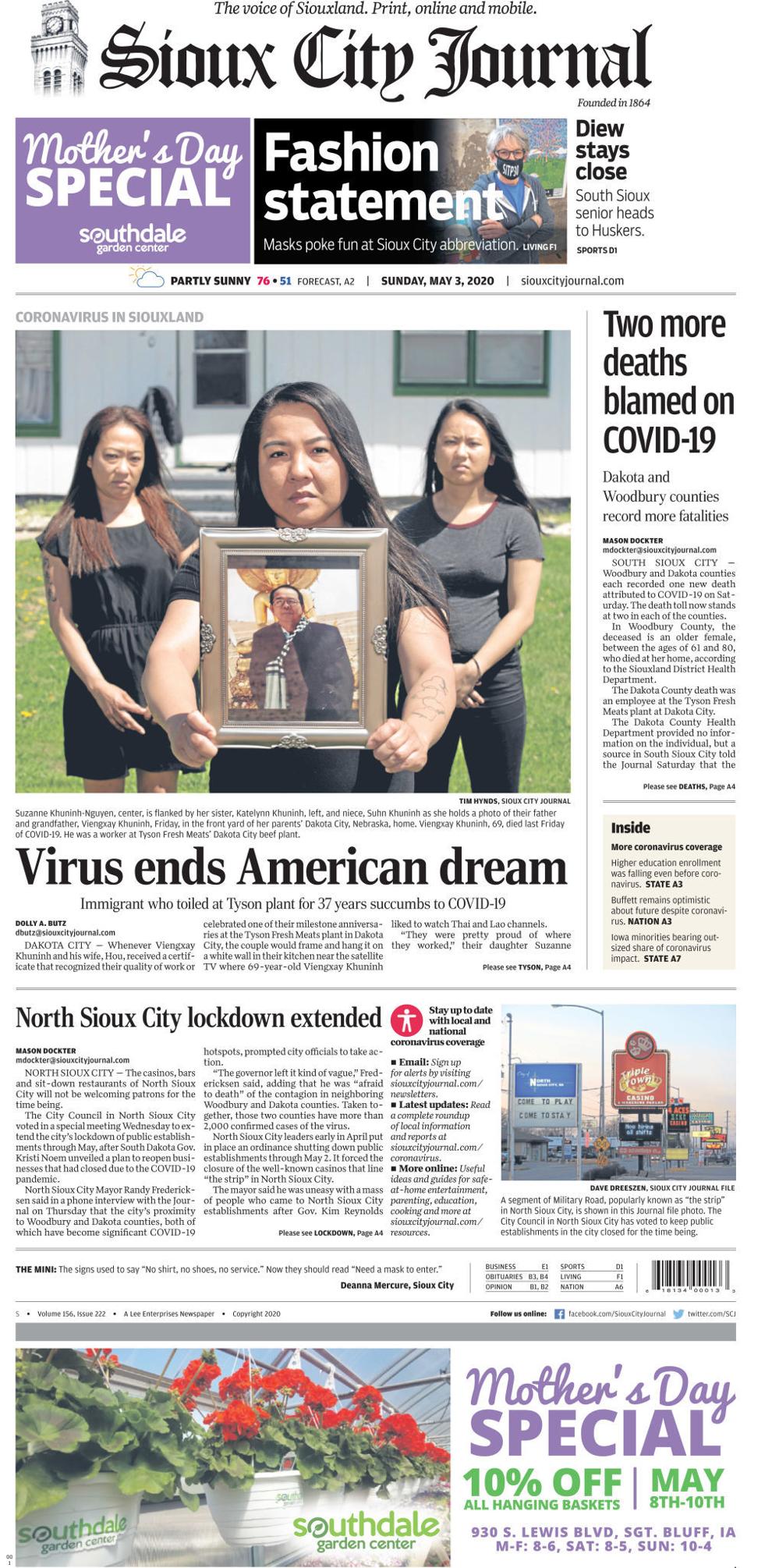 MAY 4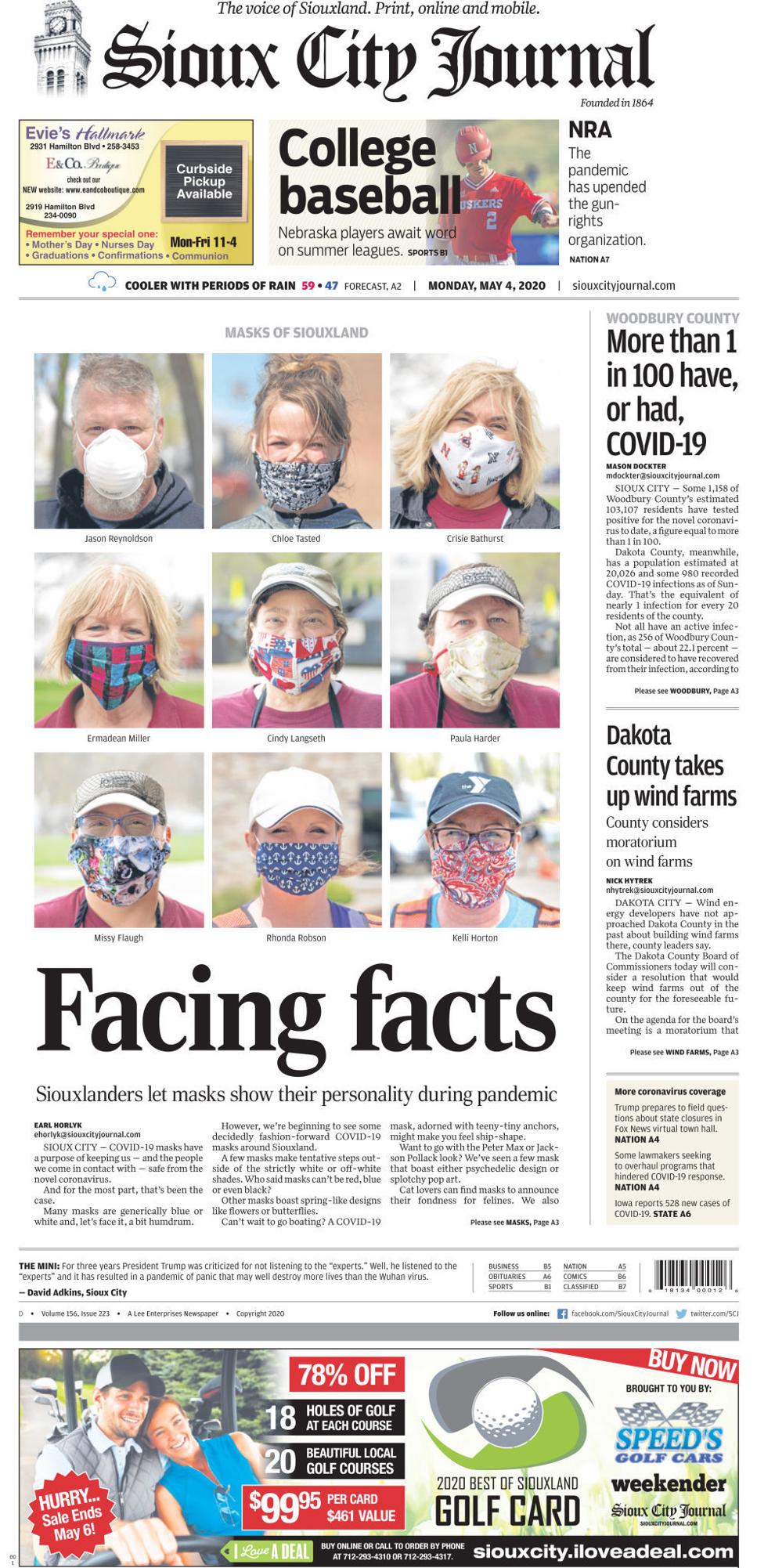 MAY 5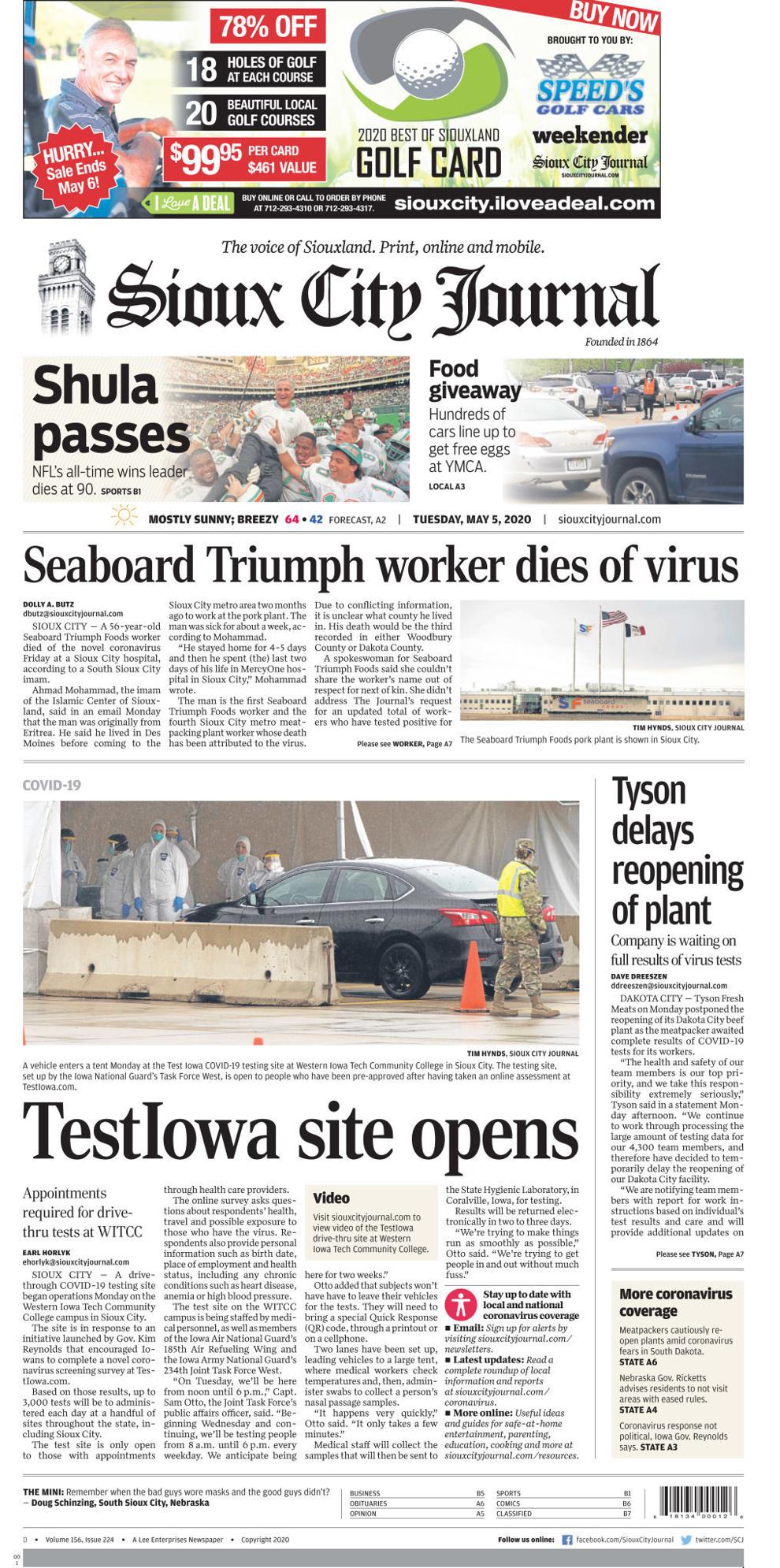 MAY 6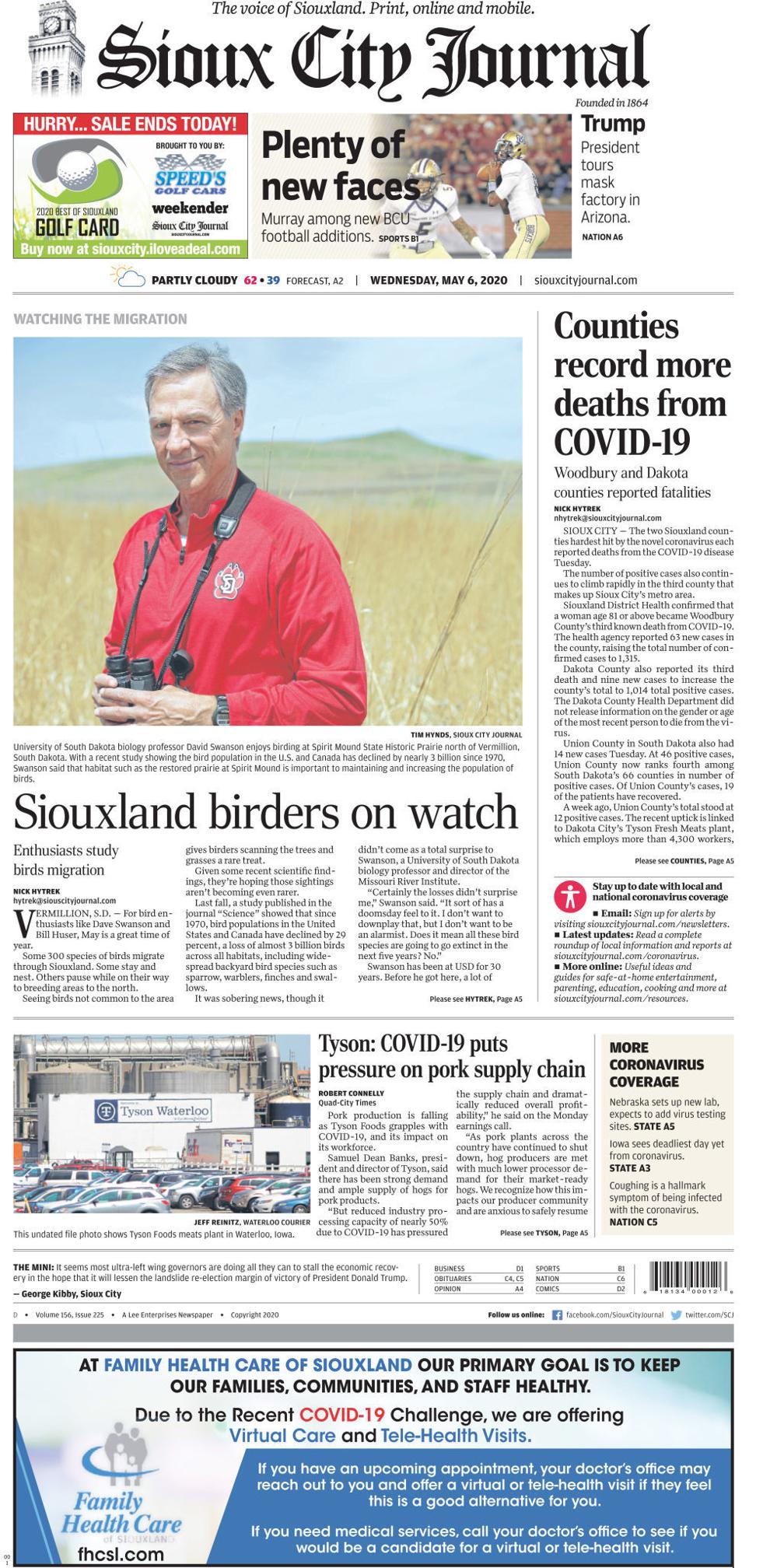 MAY 7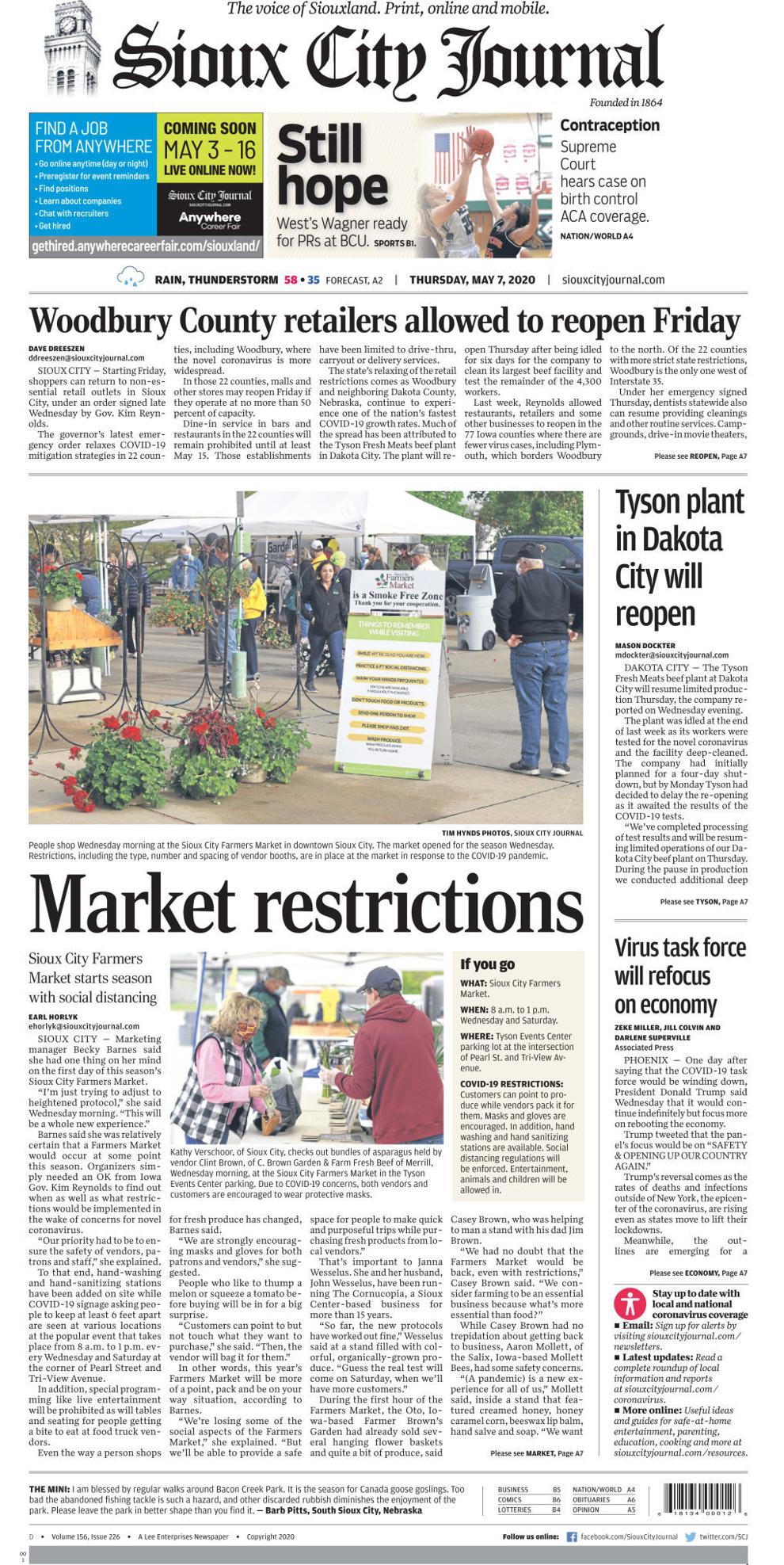 MAY 8
MAY 9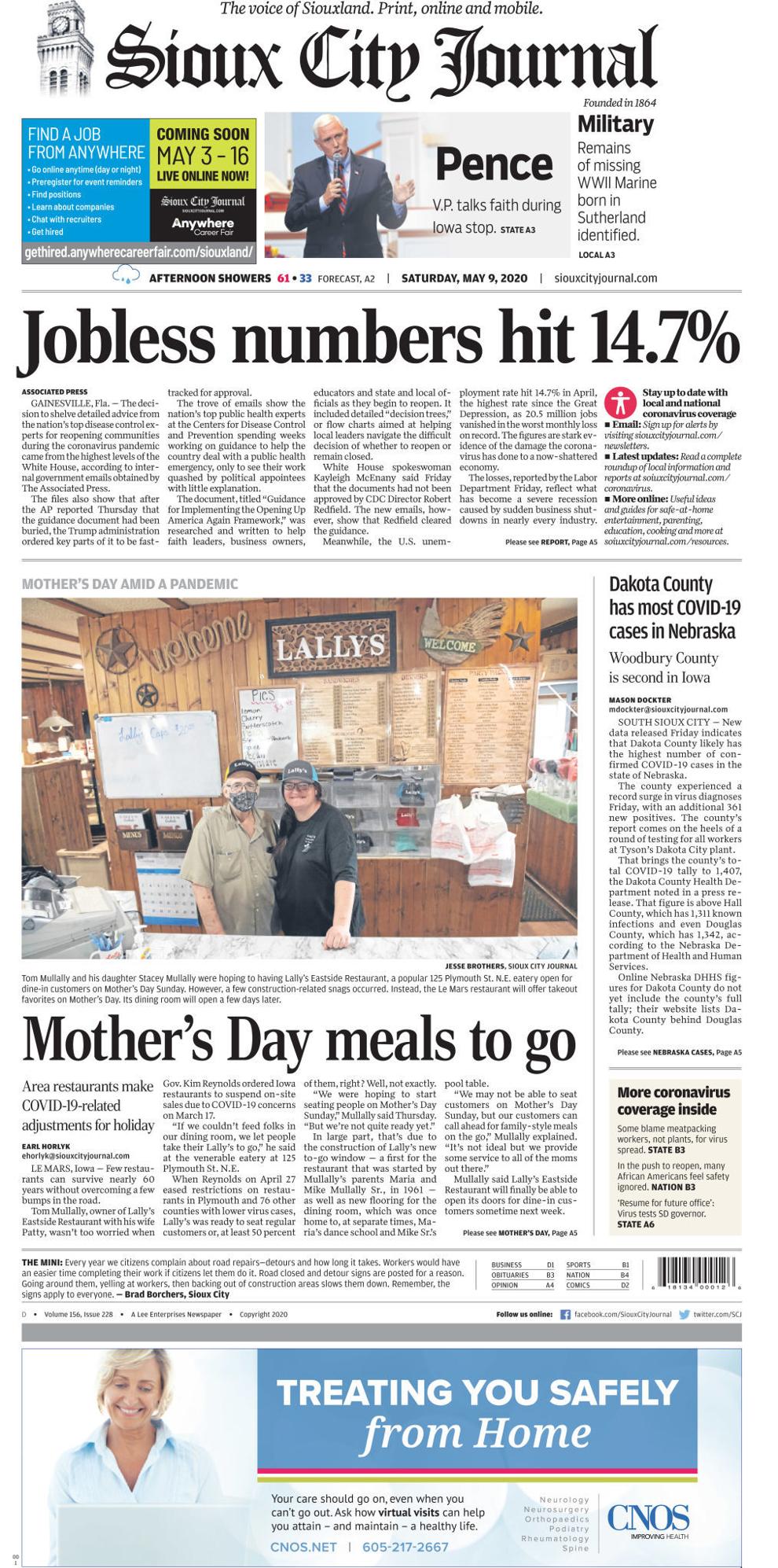 MAY 10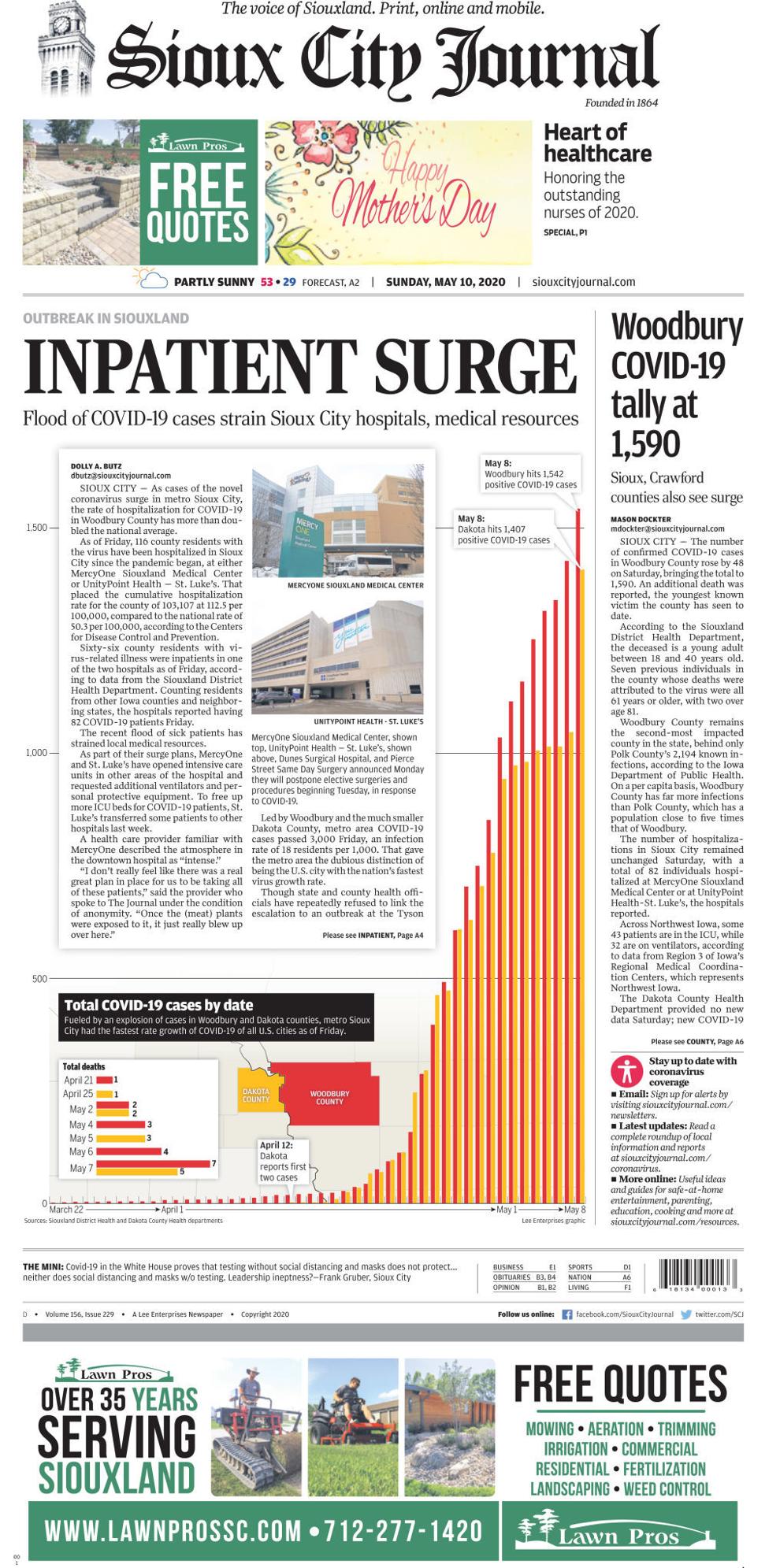 MAY 11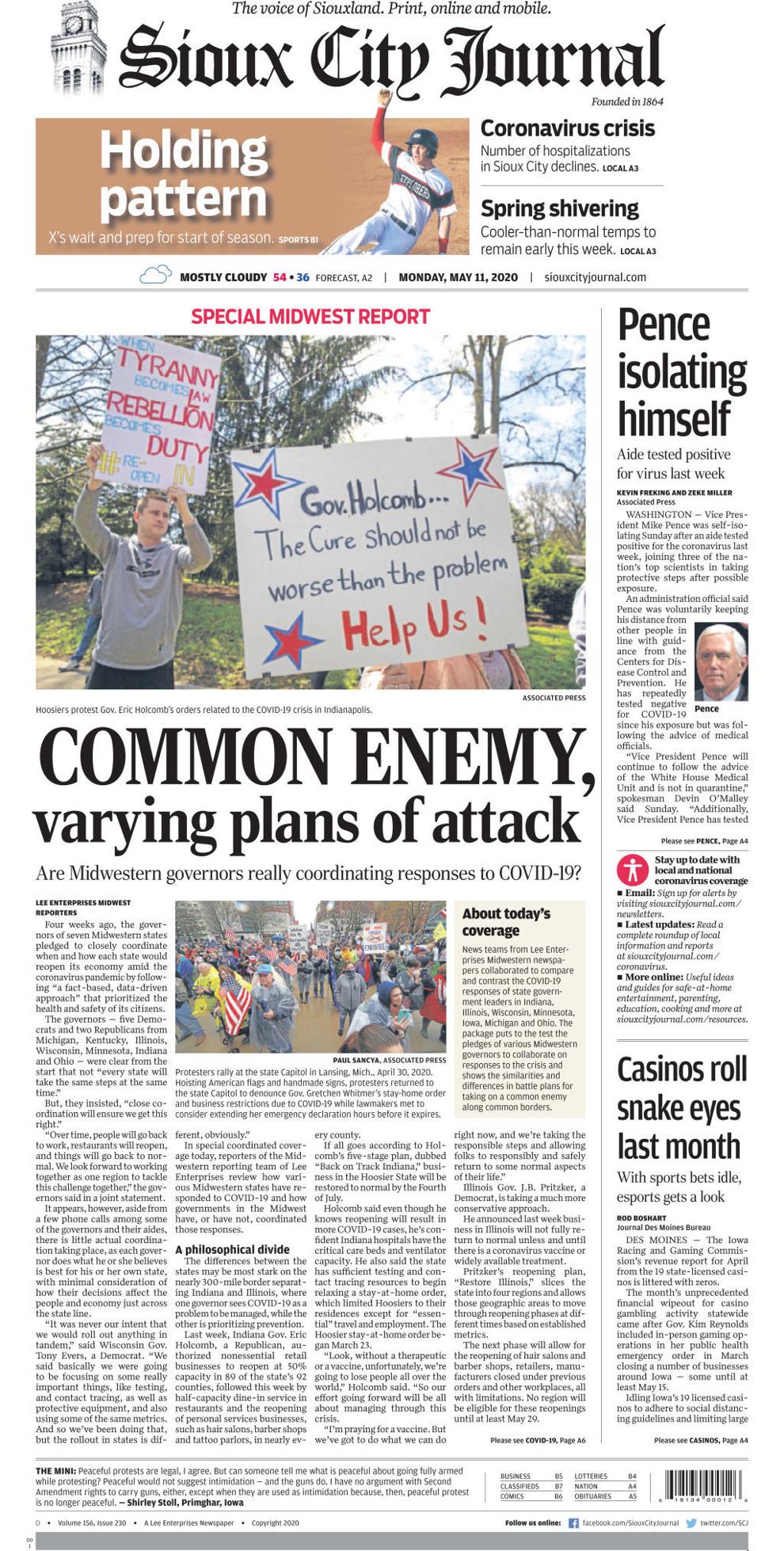 MAY 12
MAY 13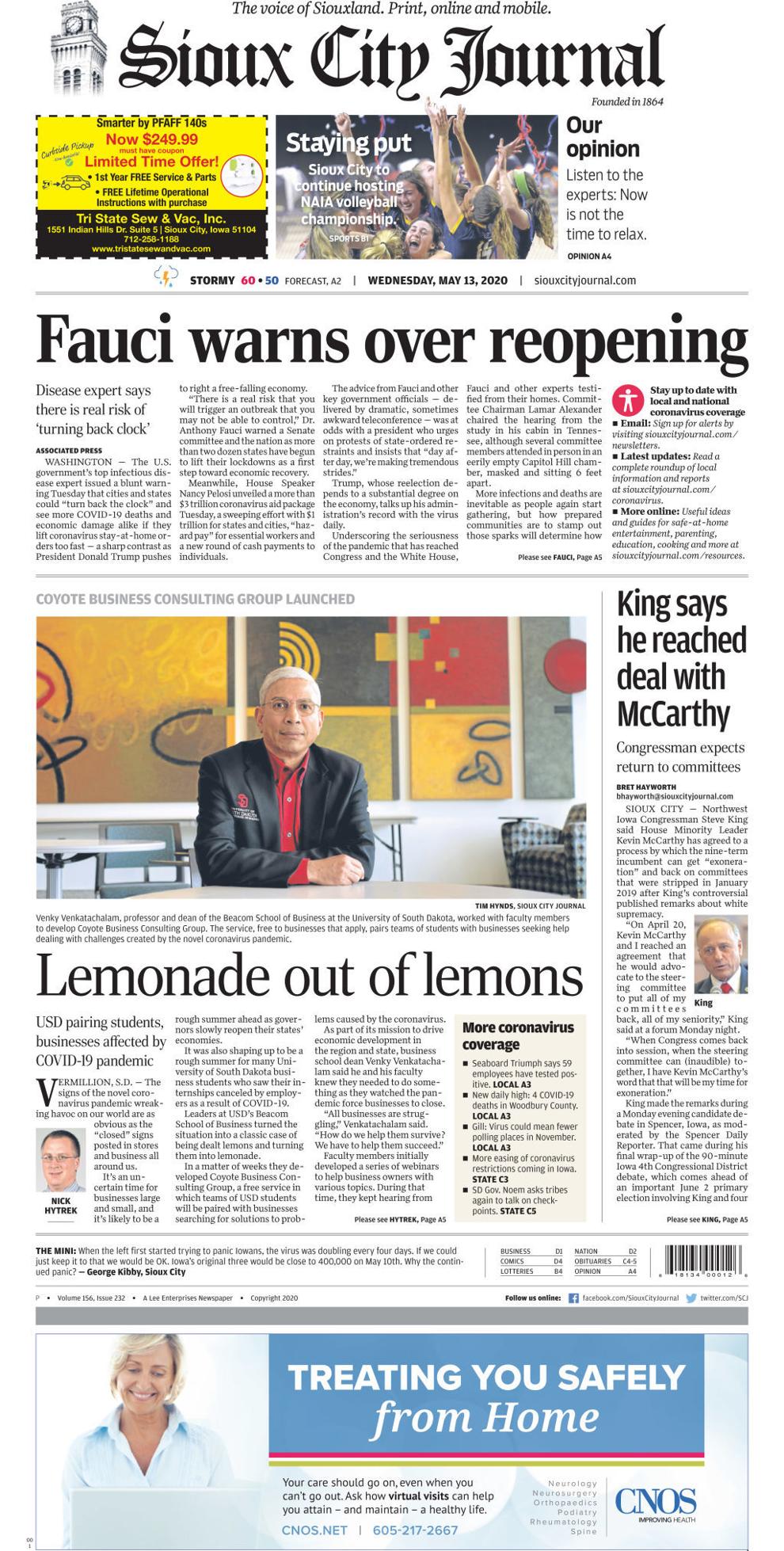 MAY 14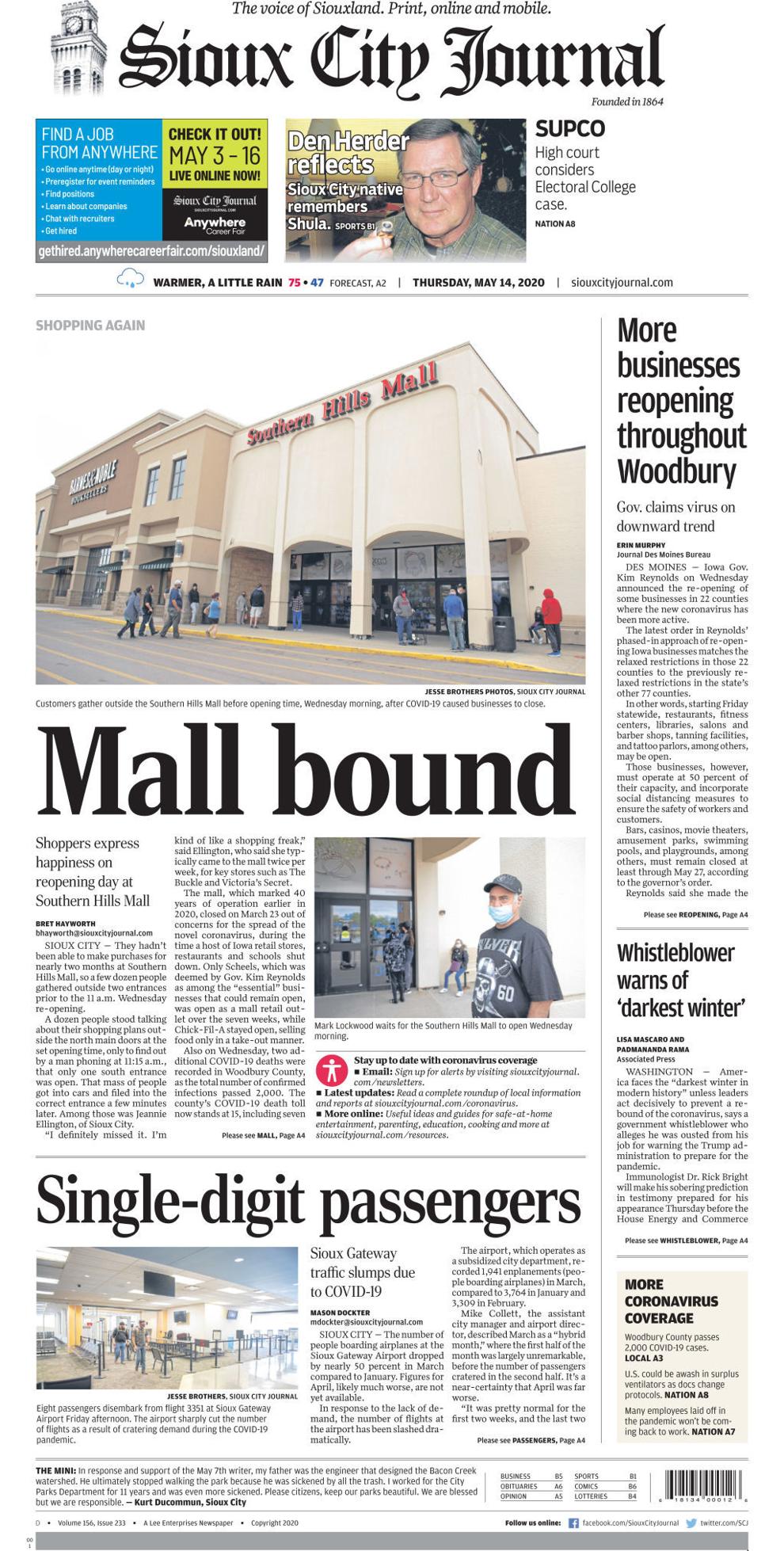 MAY 15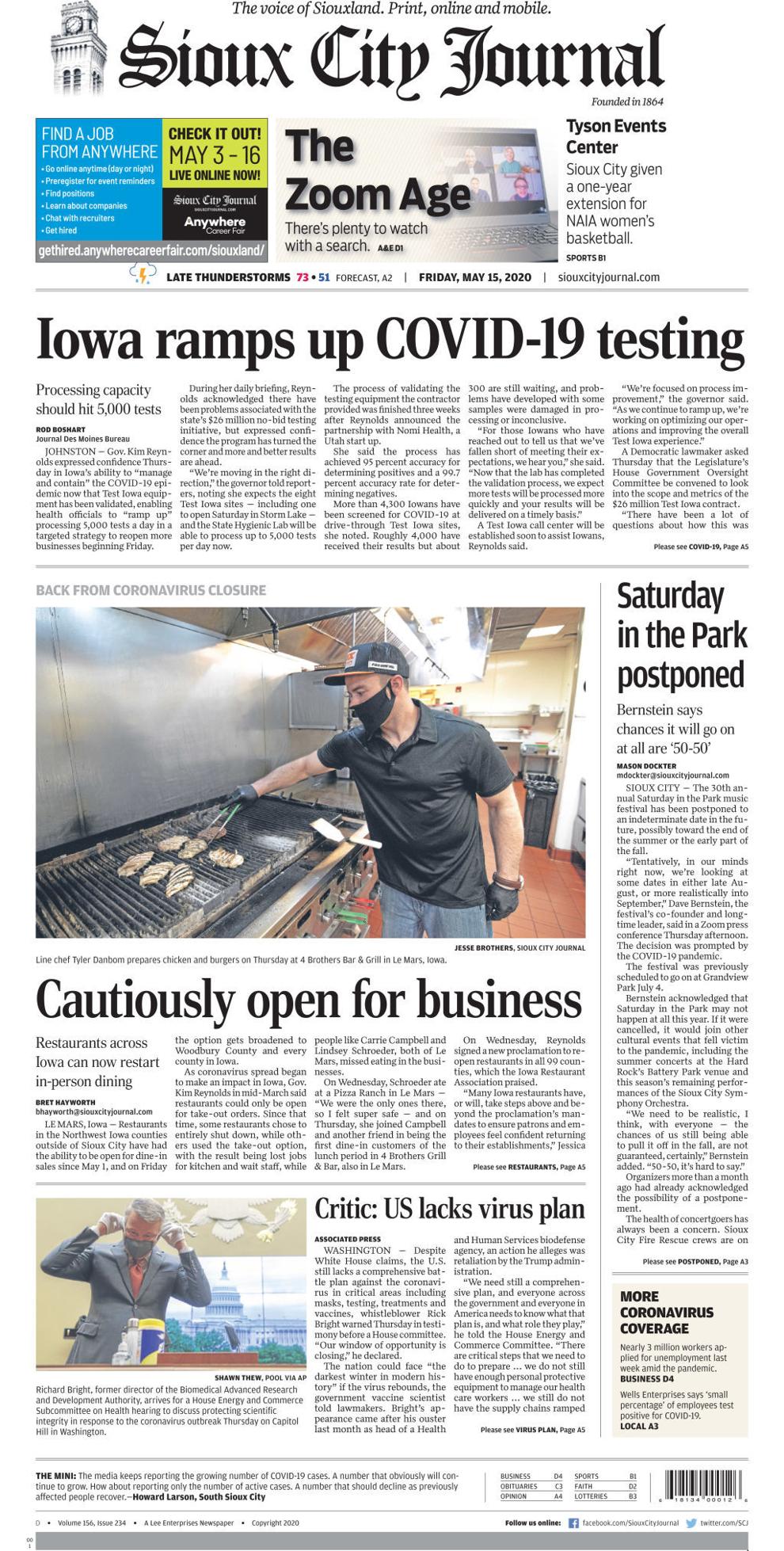 MAY 16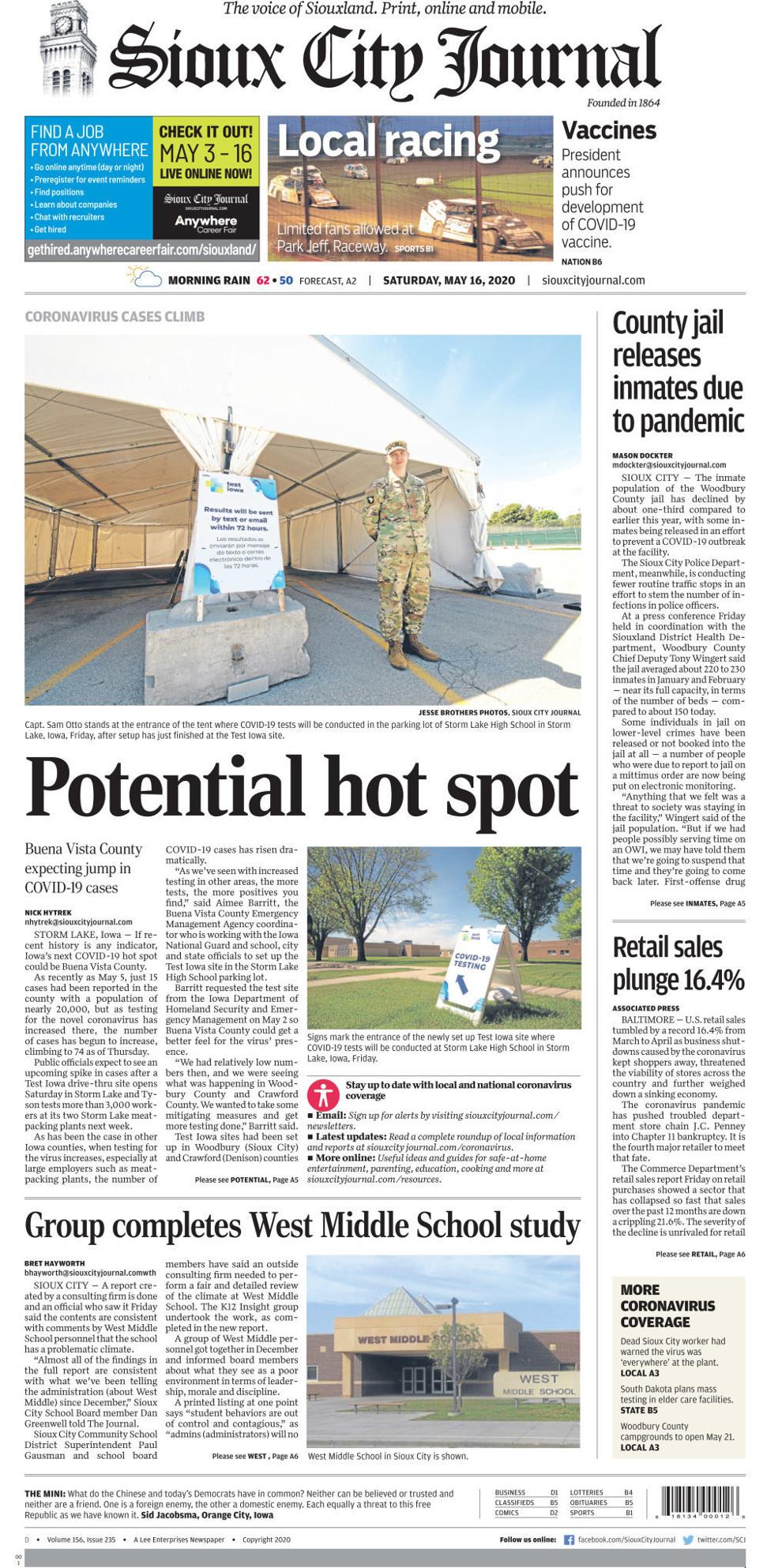 MAY 17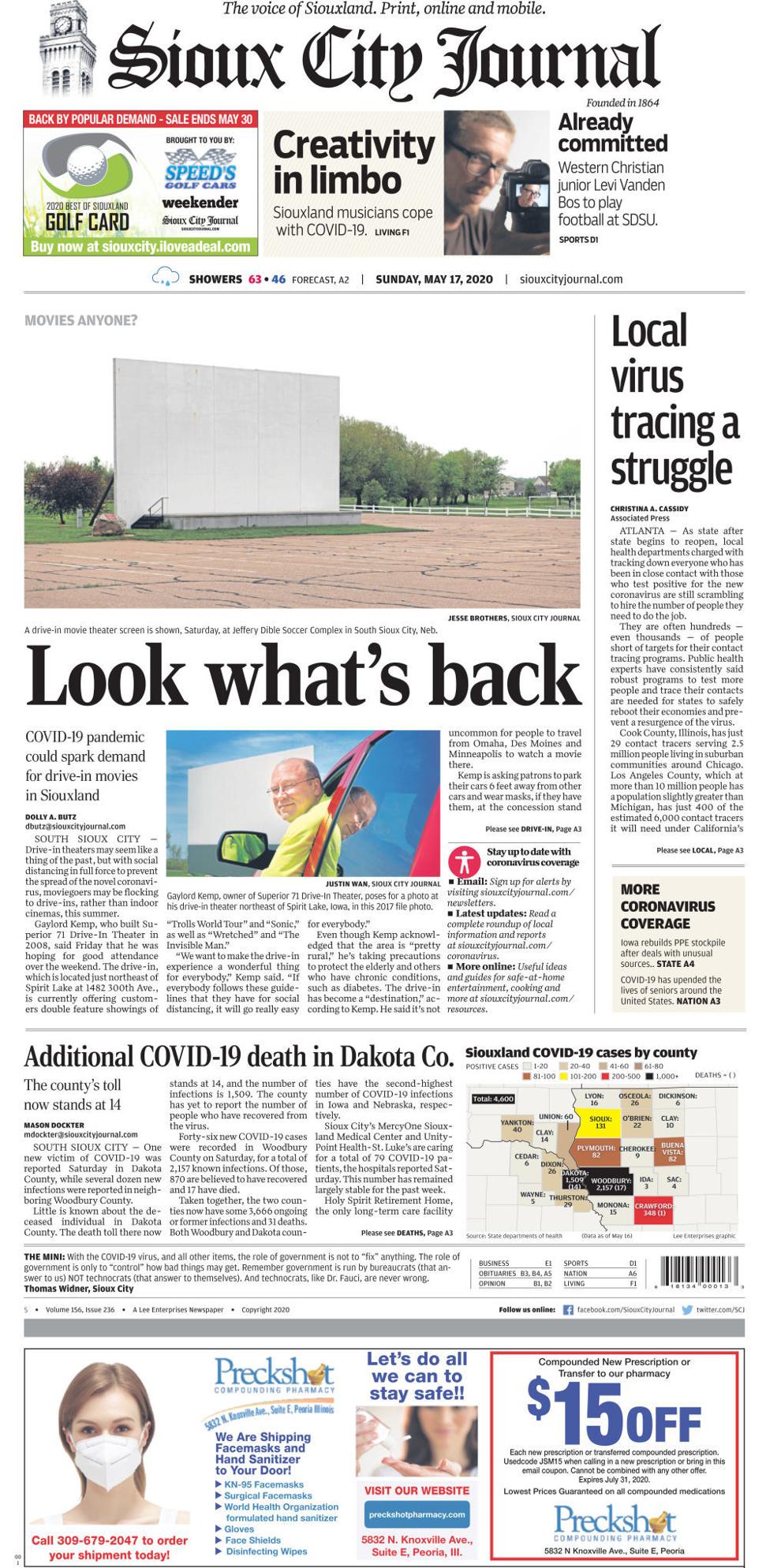 MAY 18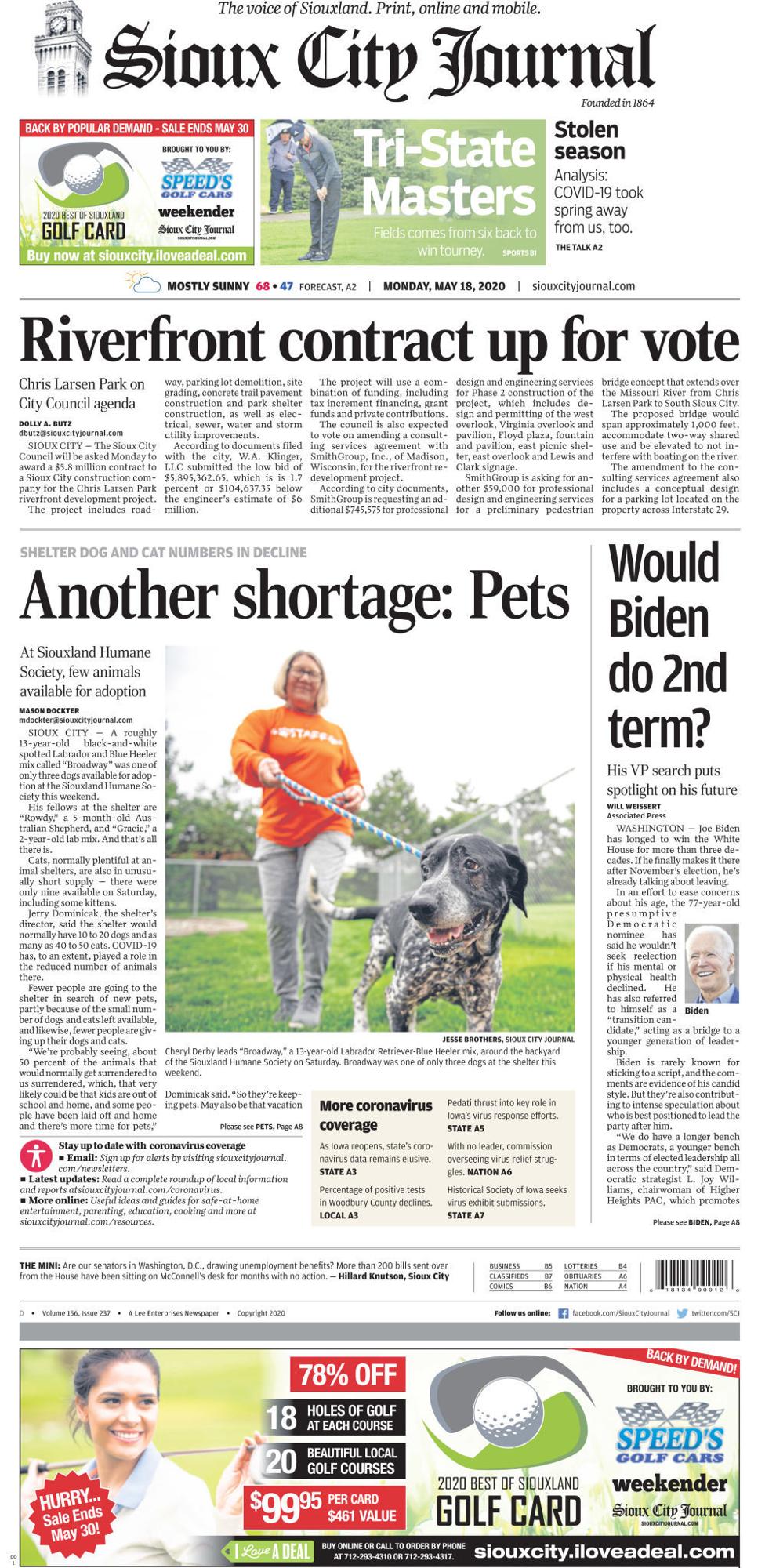 MAY 19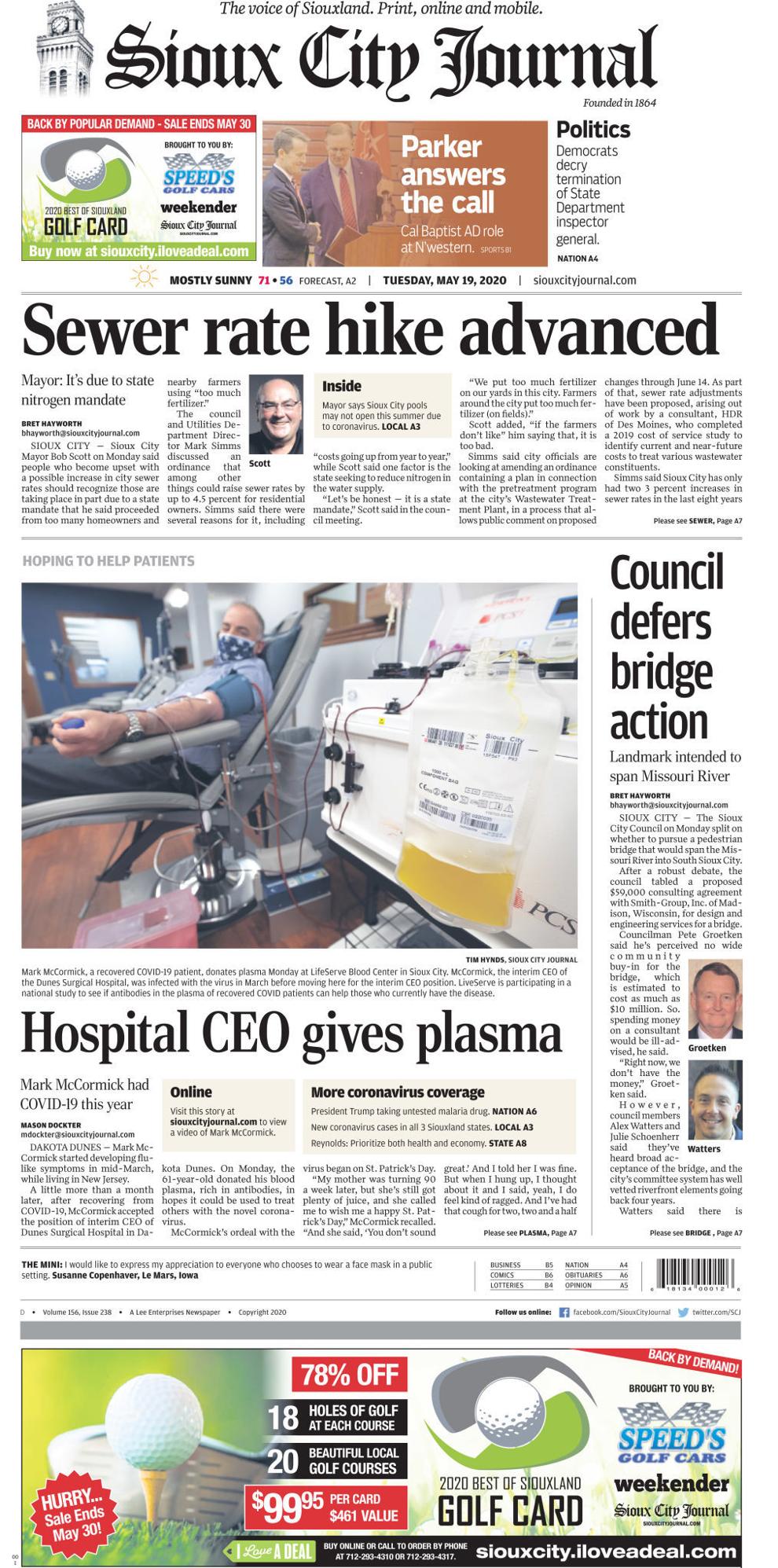 MAY 20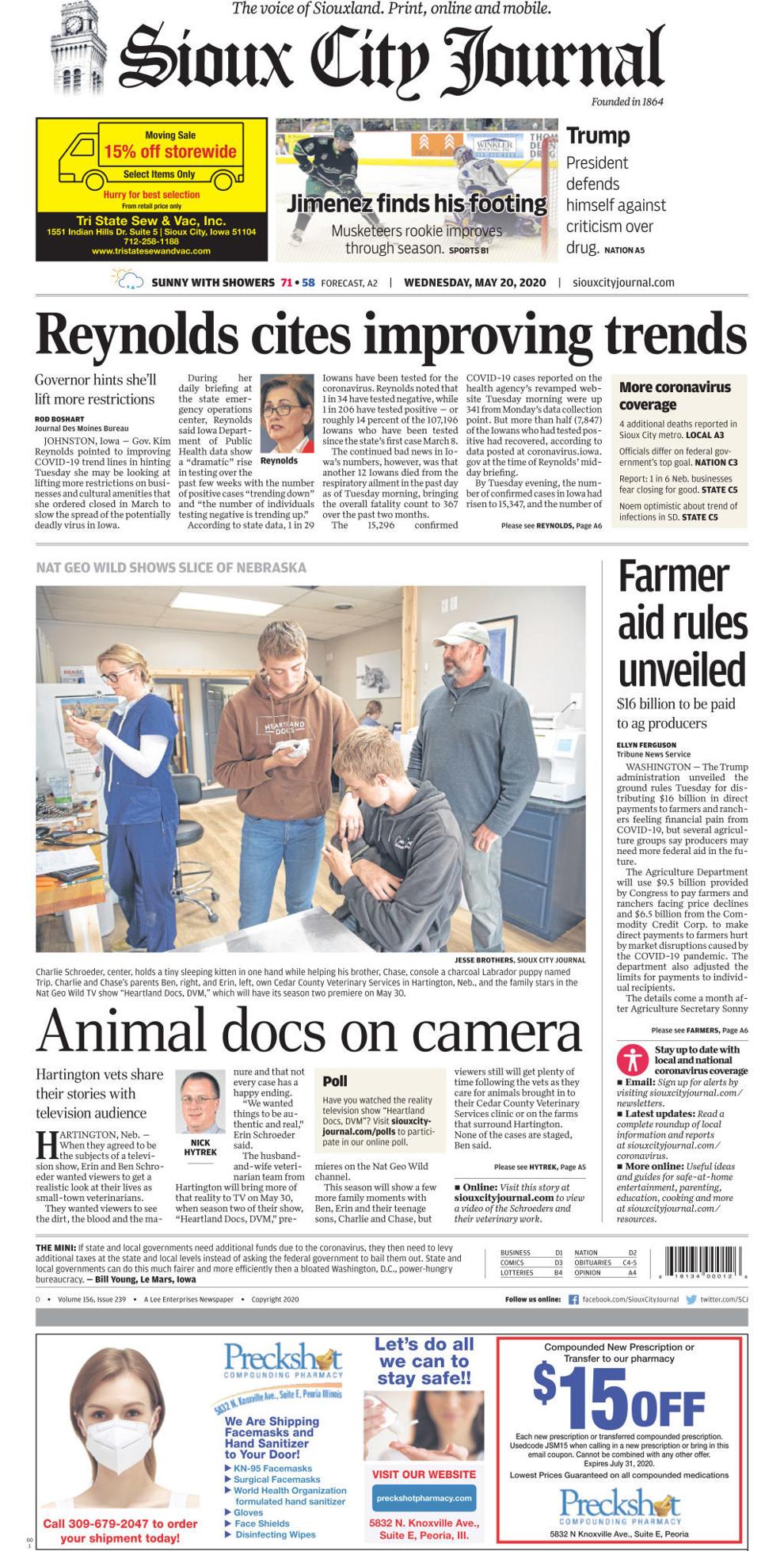 MAY 21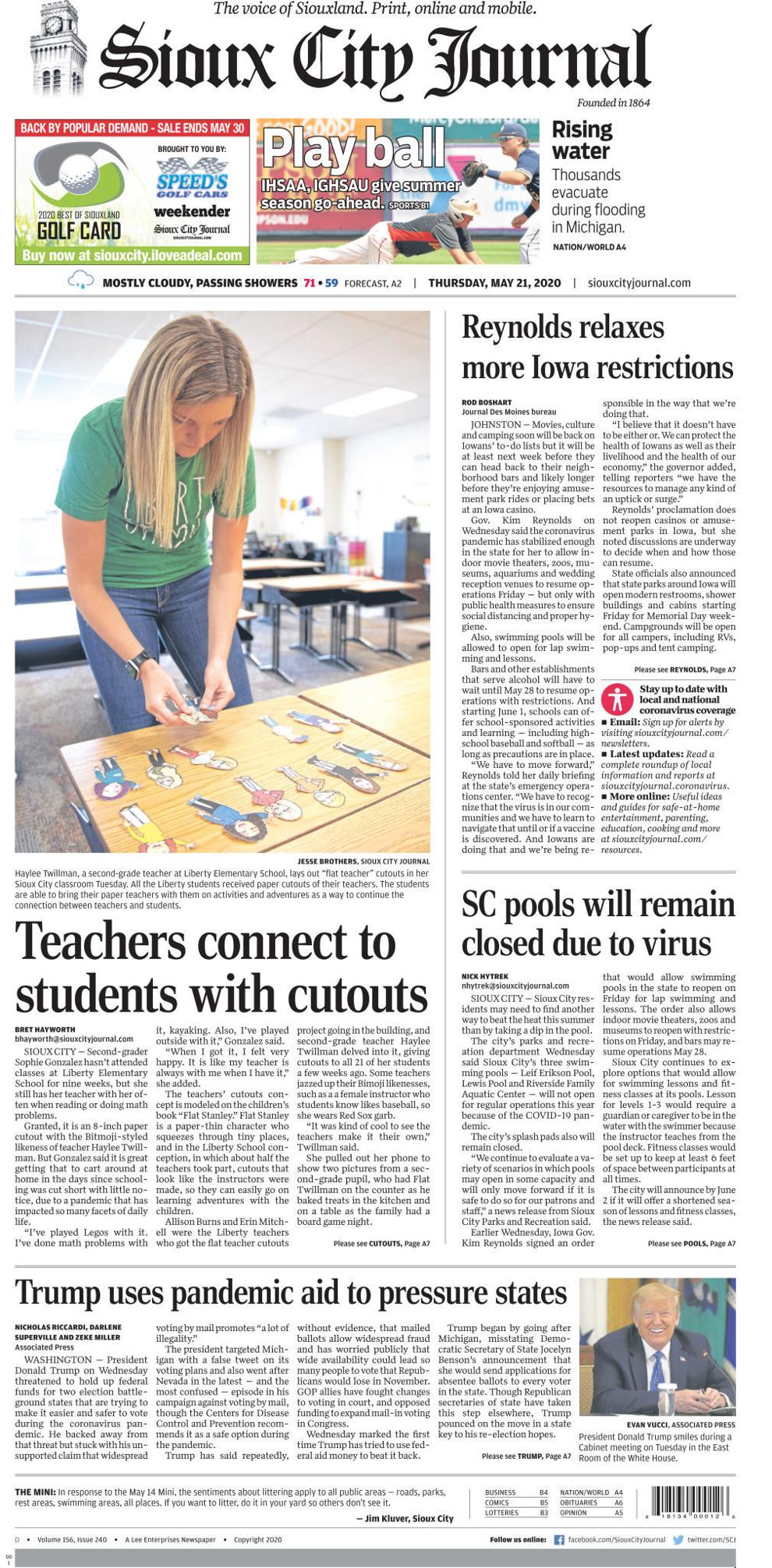 MAY 22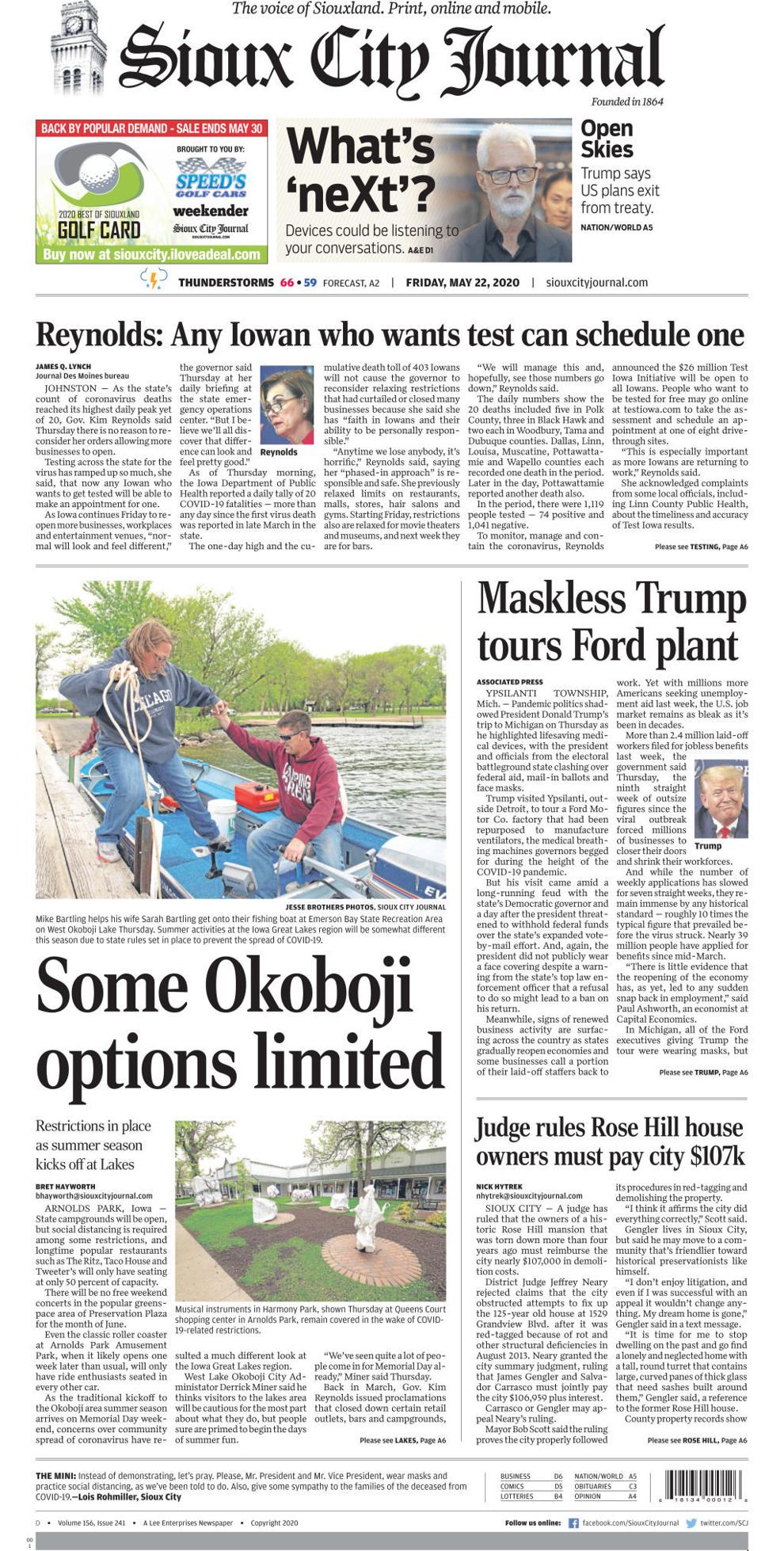 MAY 23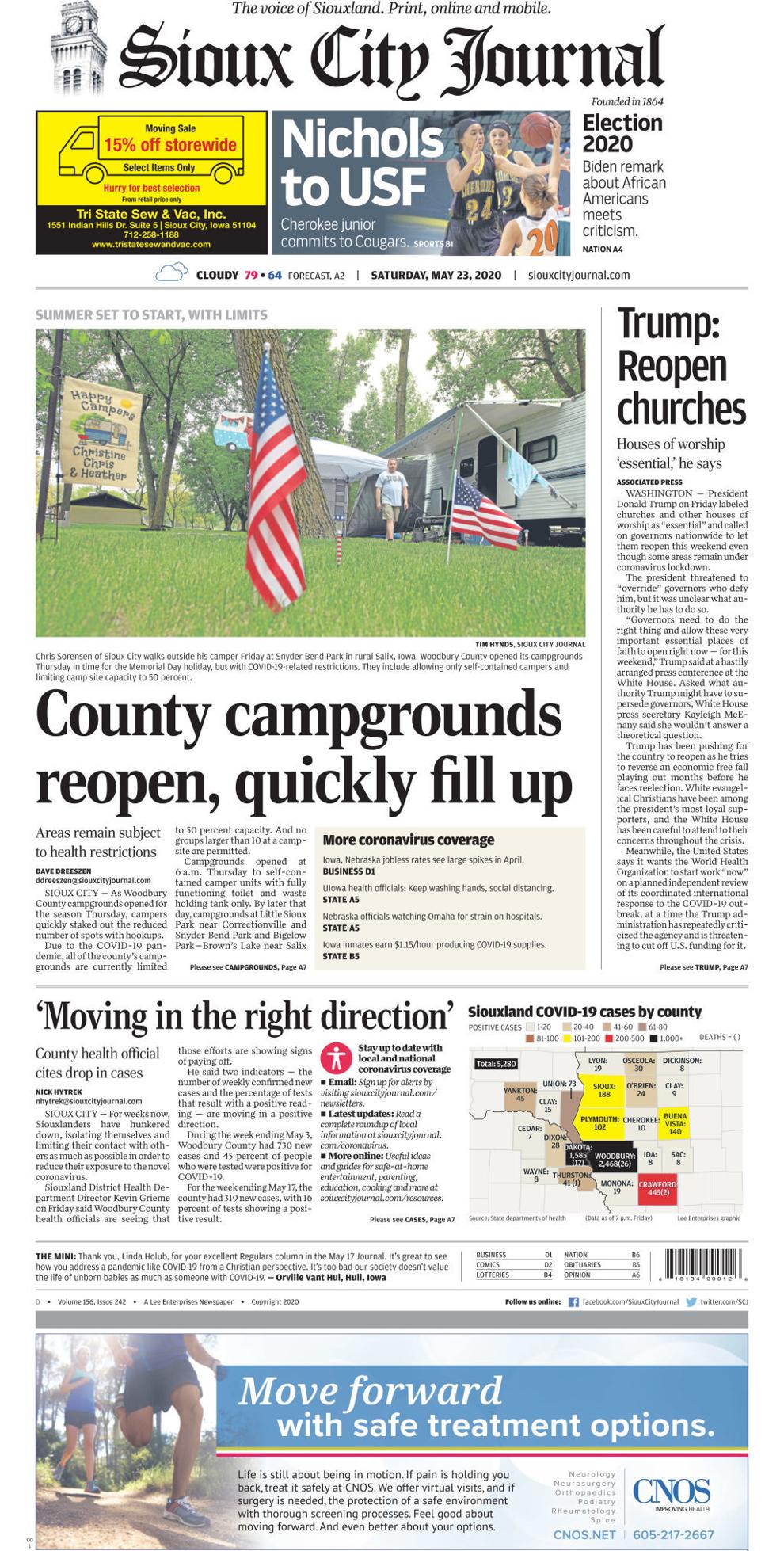 MAY 24
MAY 26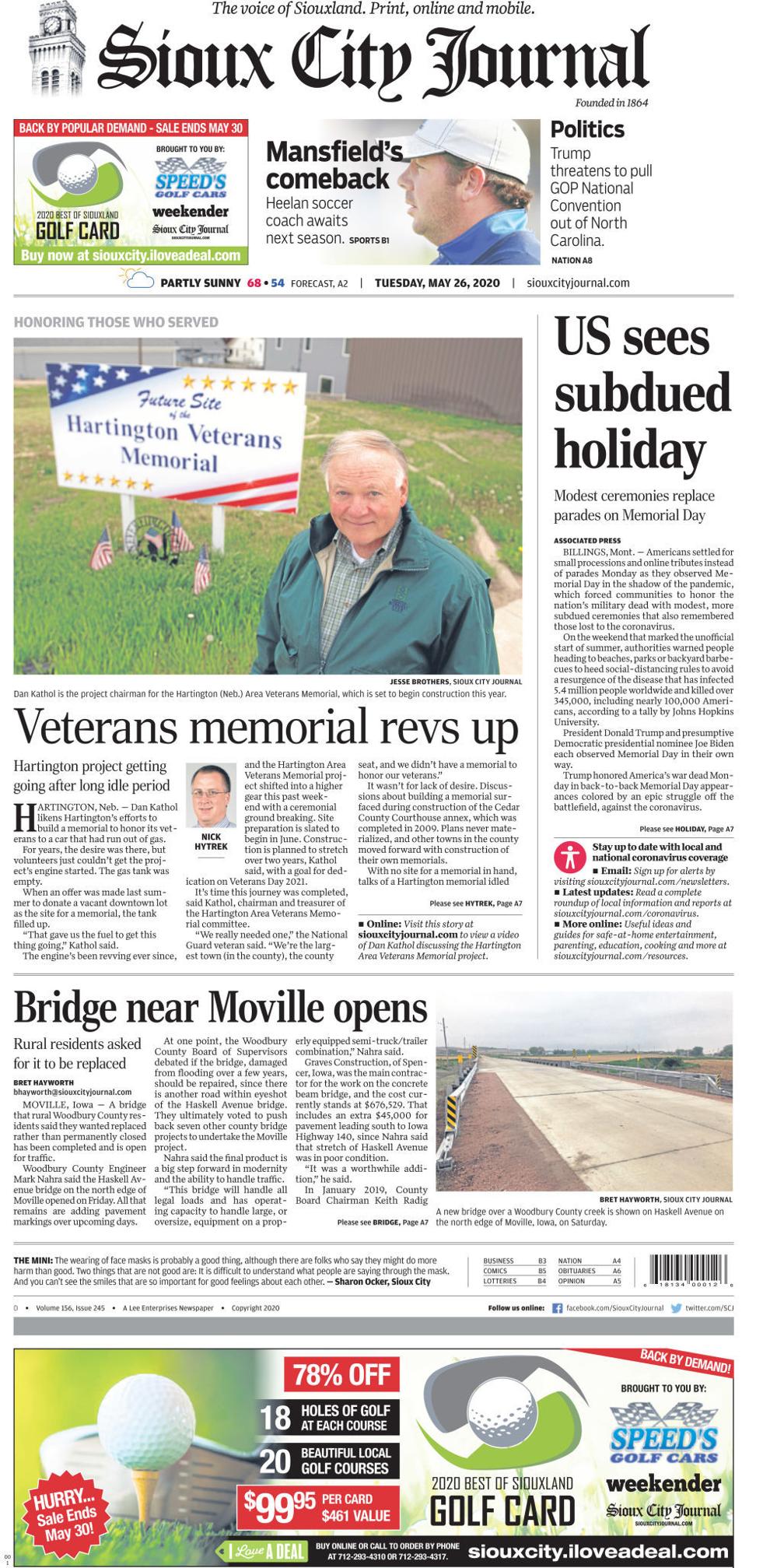 MAY 27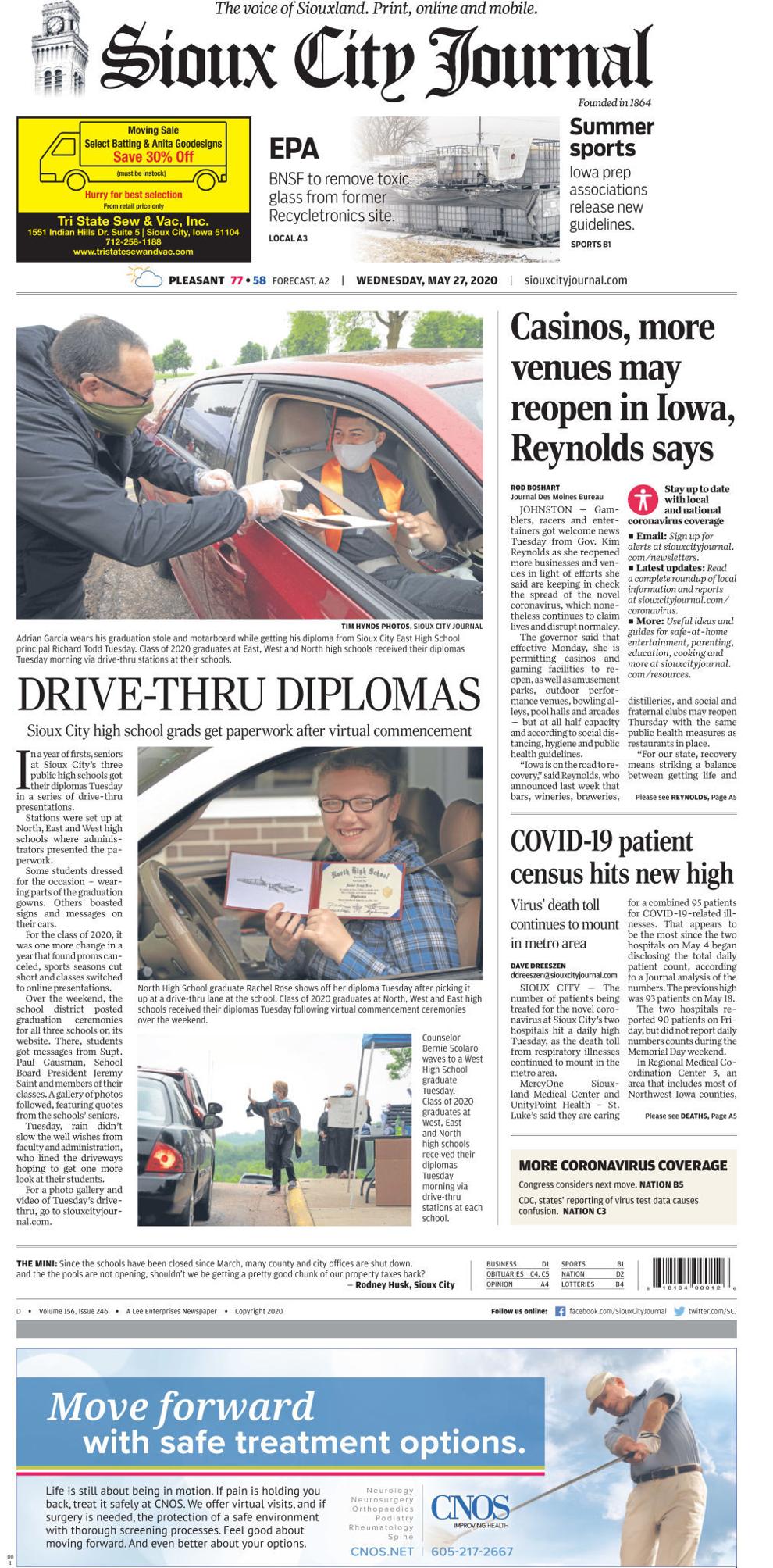 MAY 28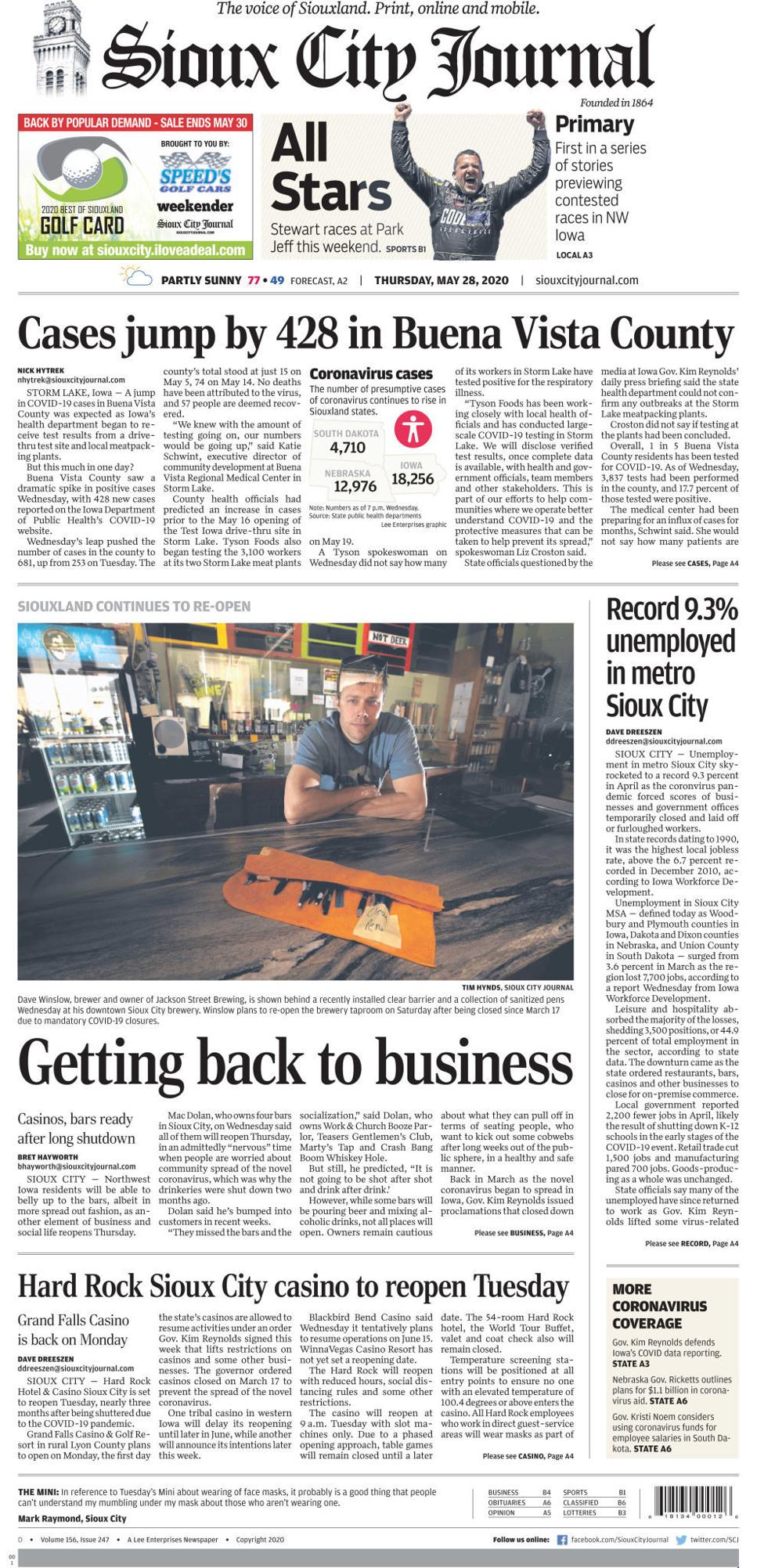 MAY 29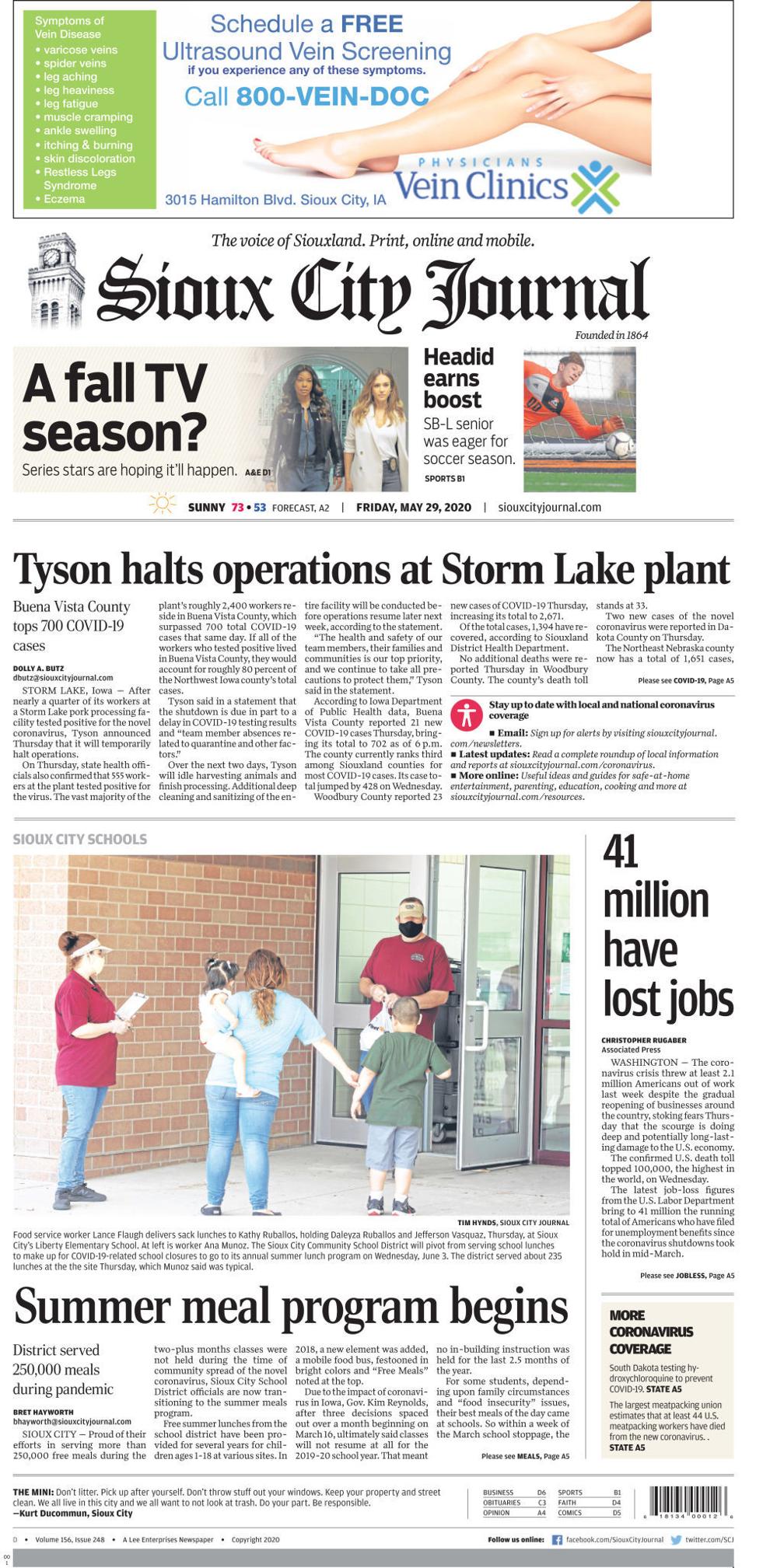 MAY 30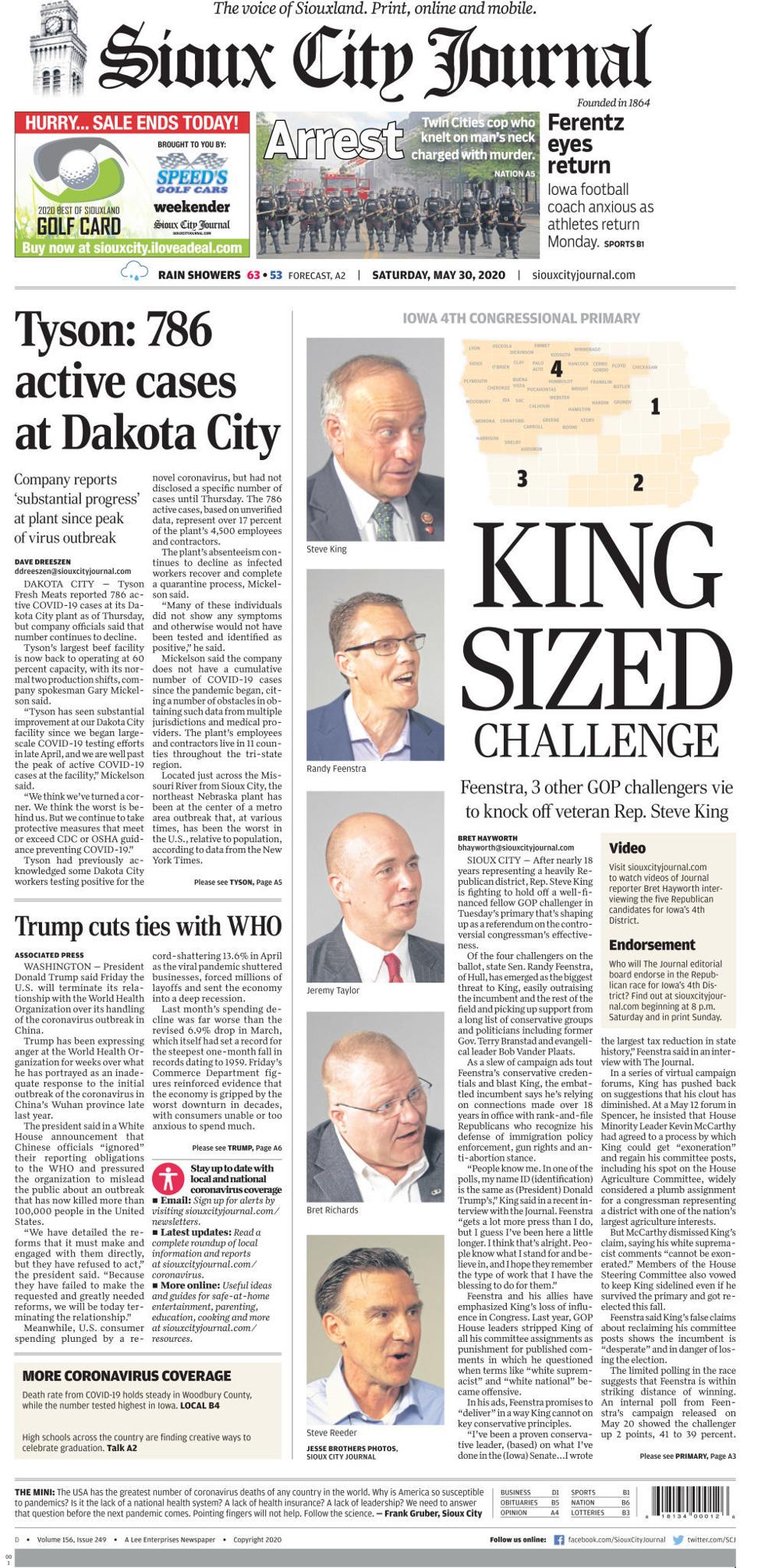 MAY 31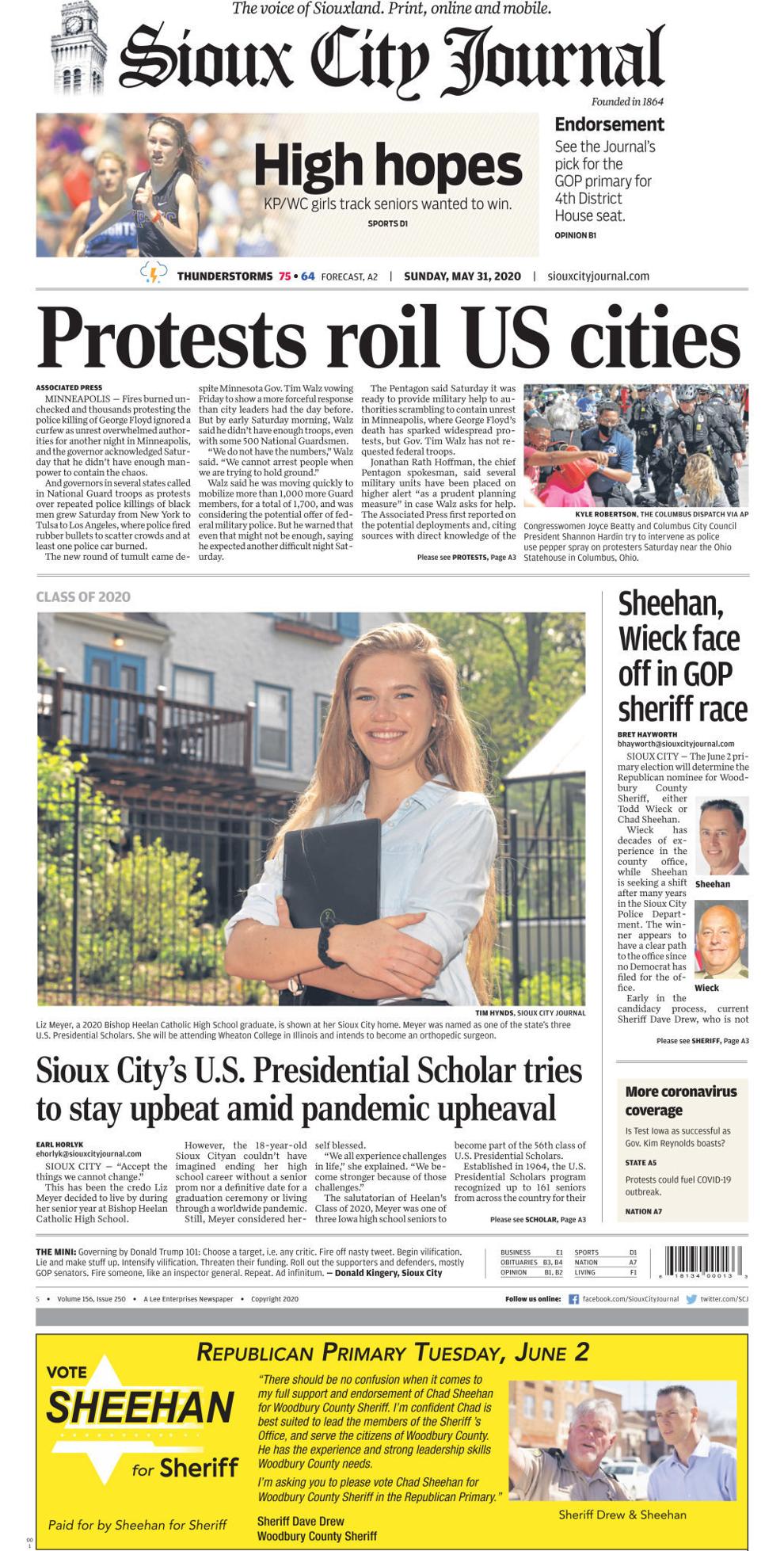 JUNE 1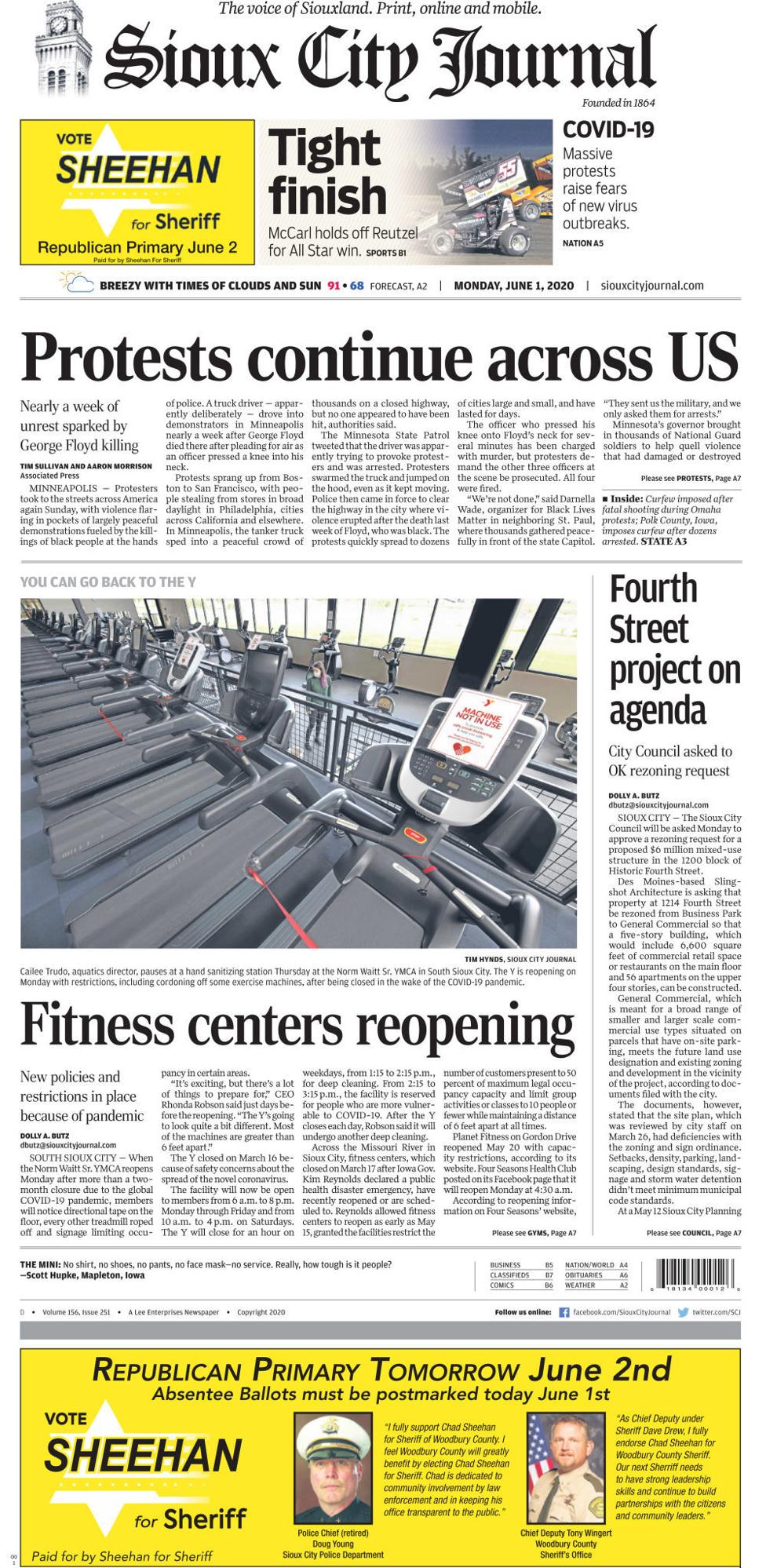 JUNE 2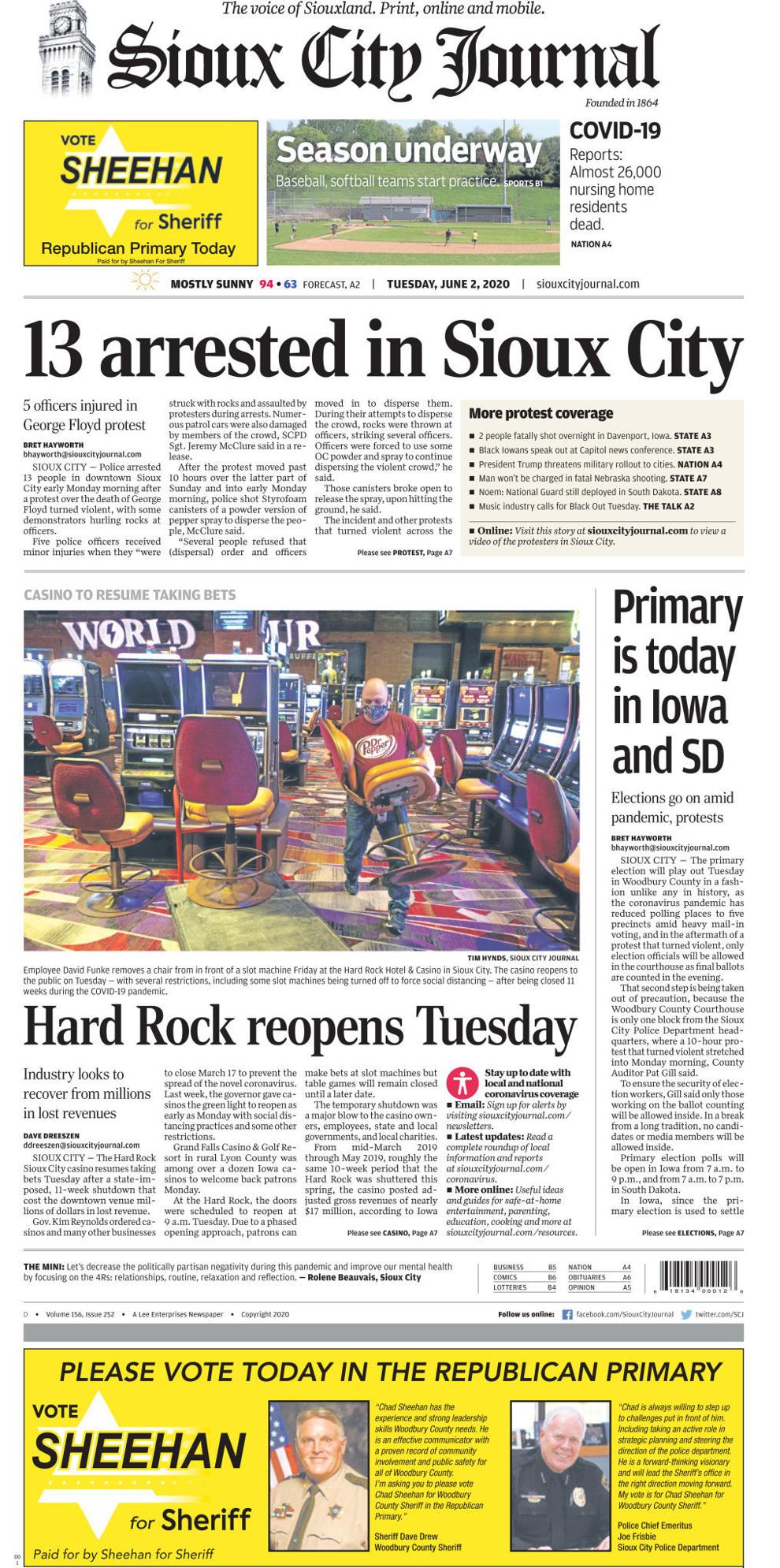 JUNE 4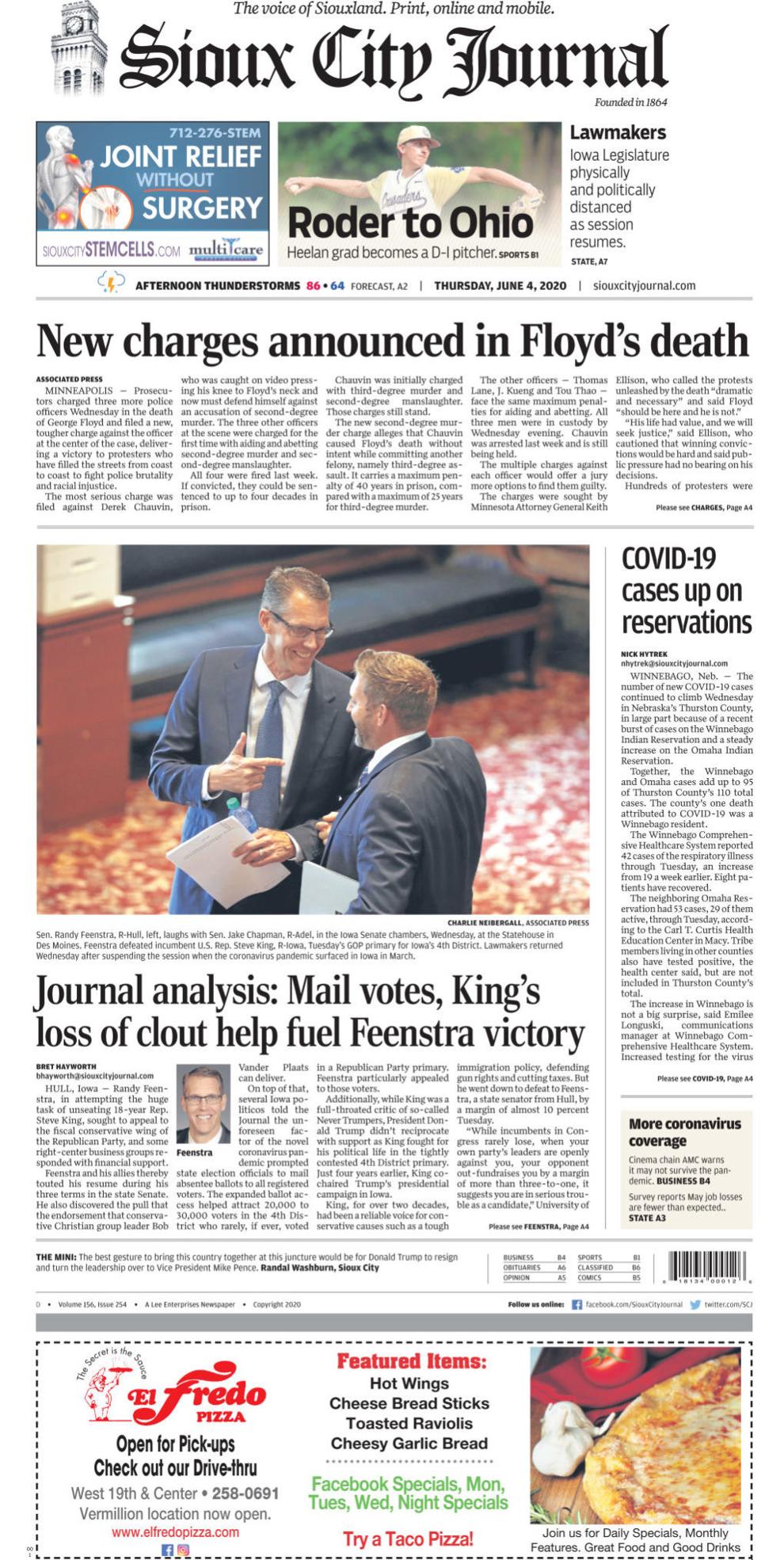 JUNE 5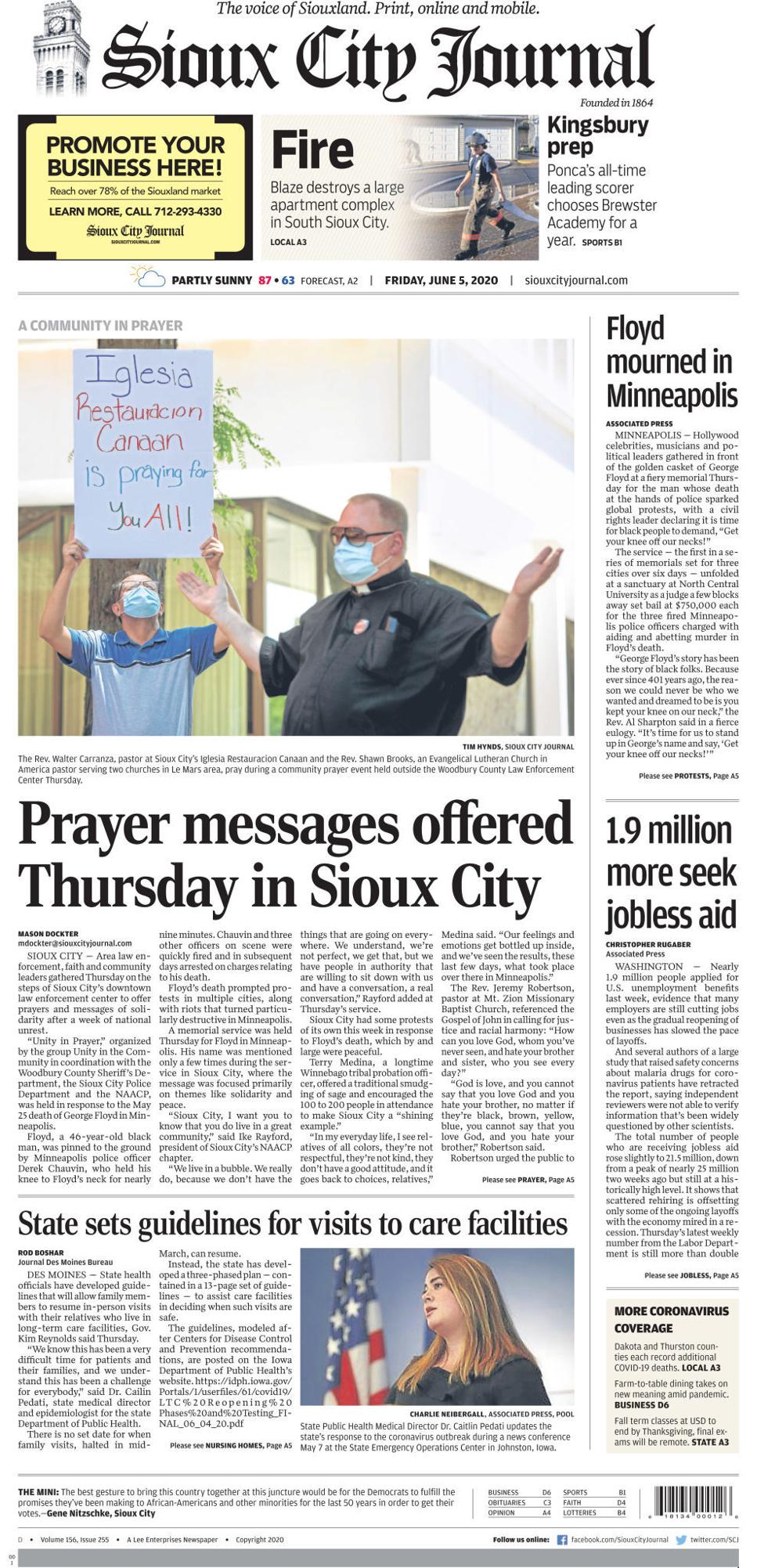 JUNE 6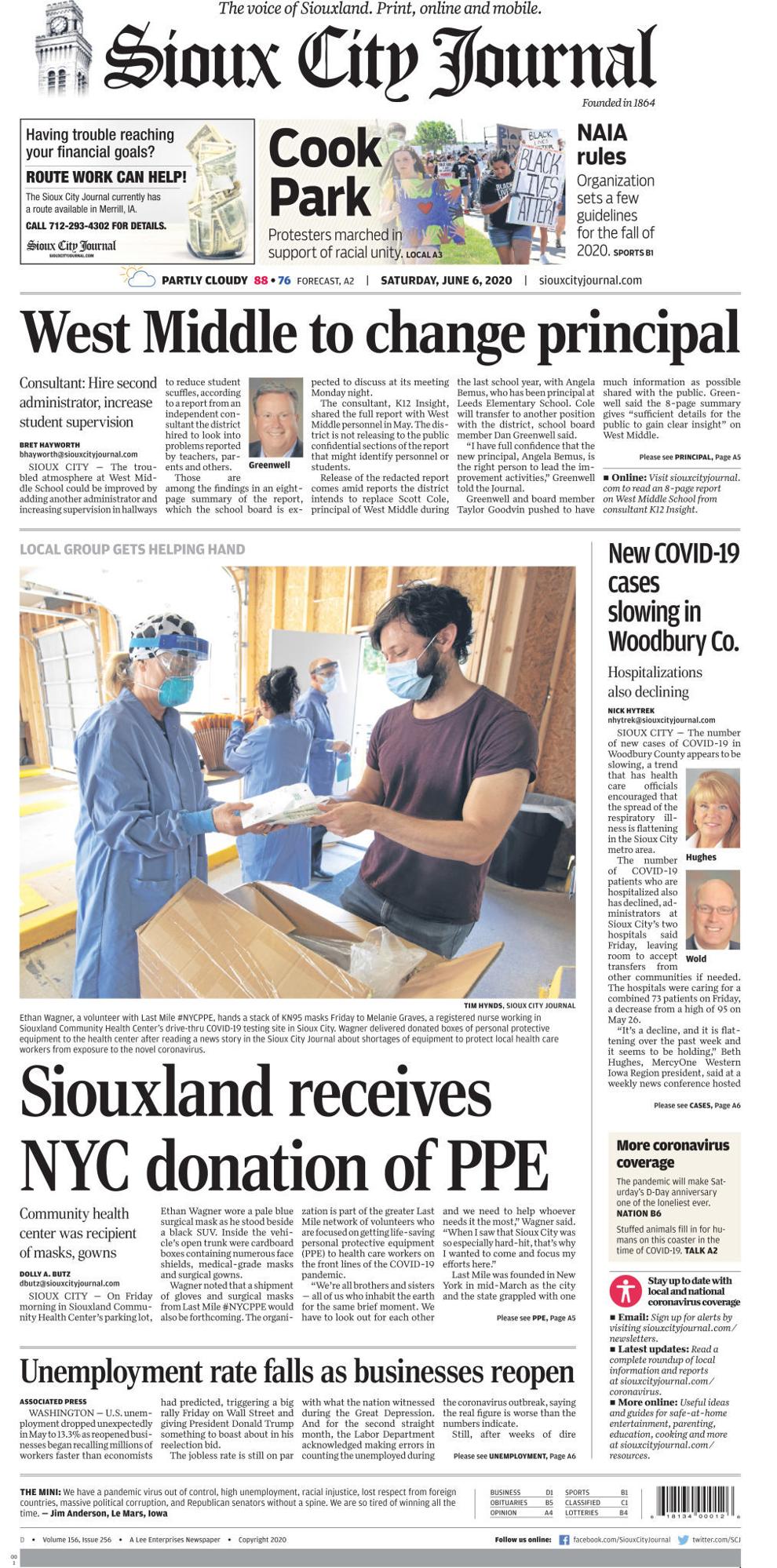 JUNE 7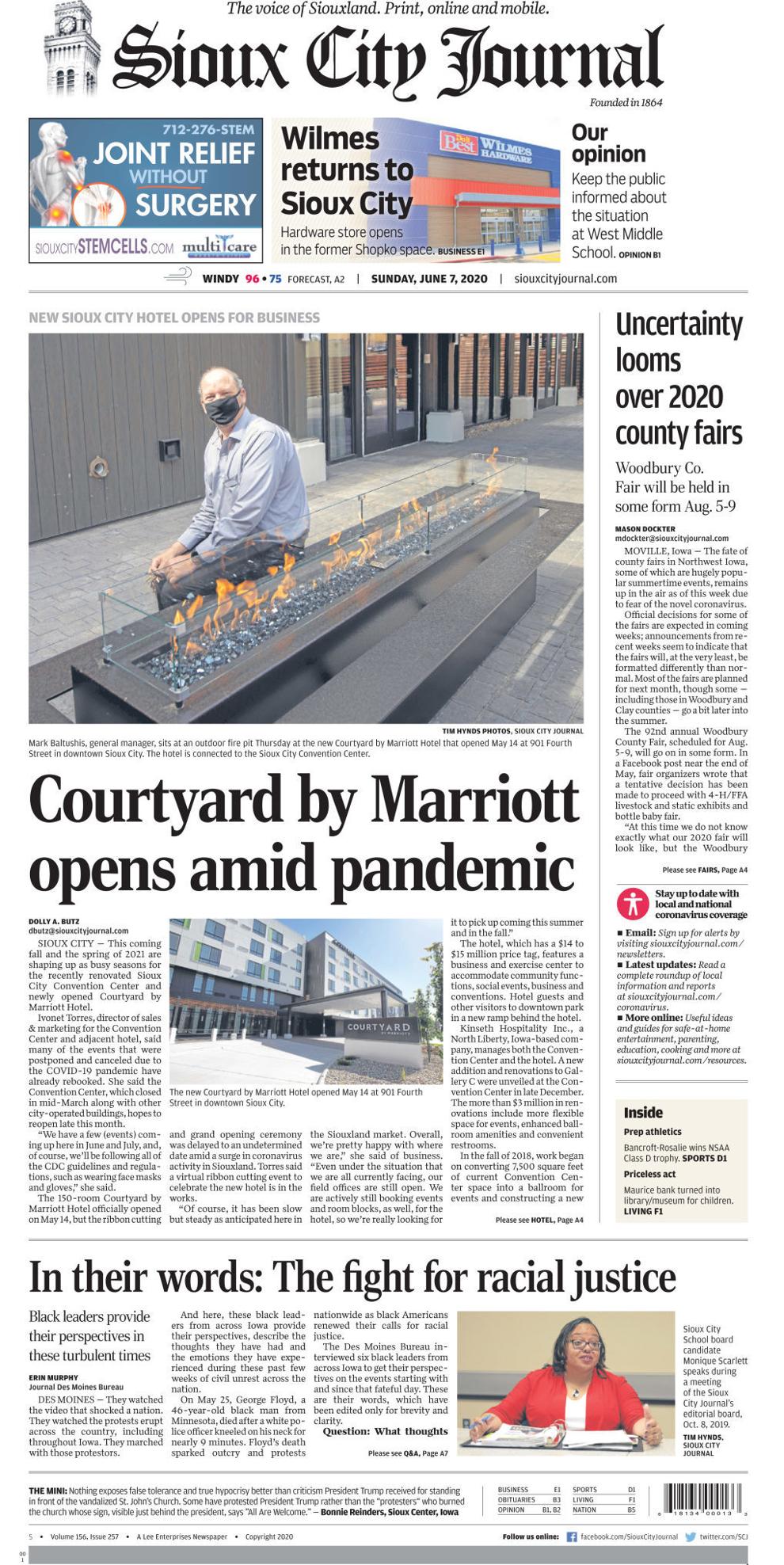 JUNE 8
JUNE 10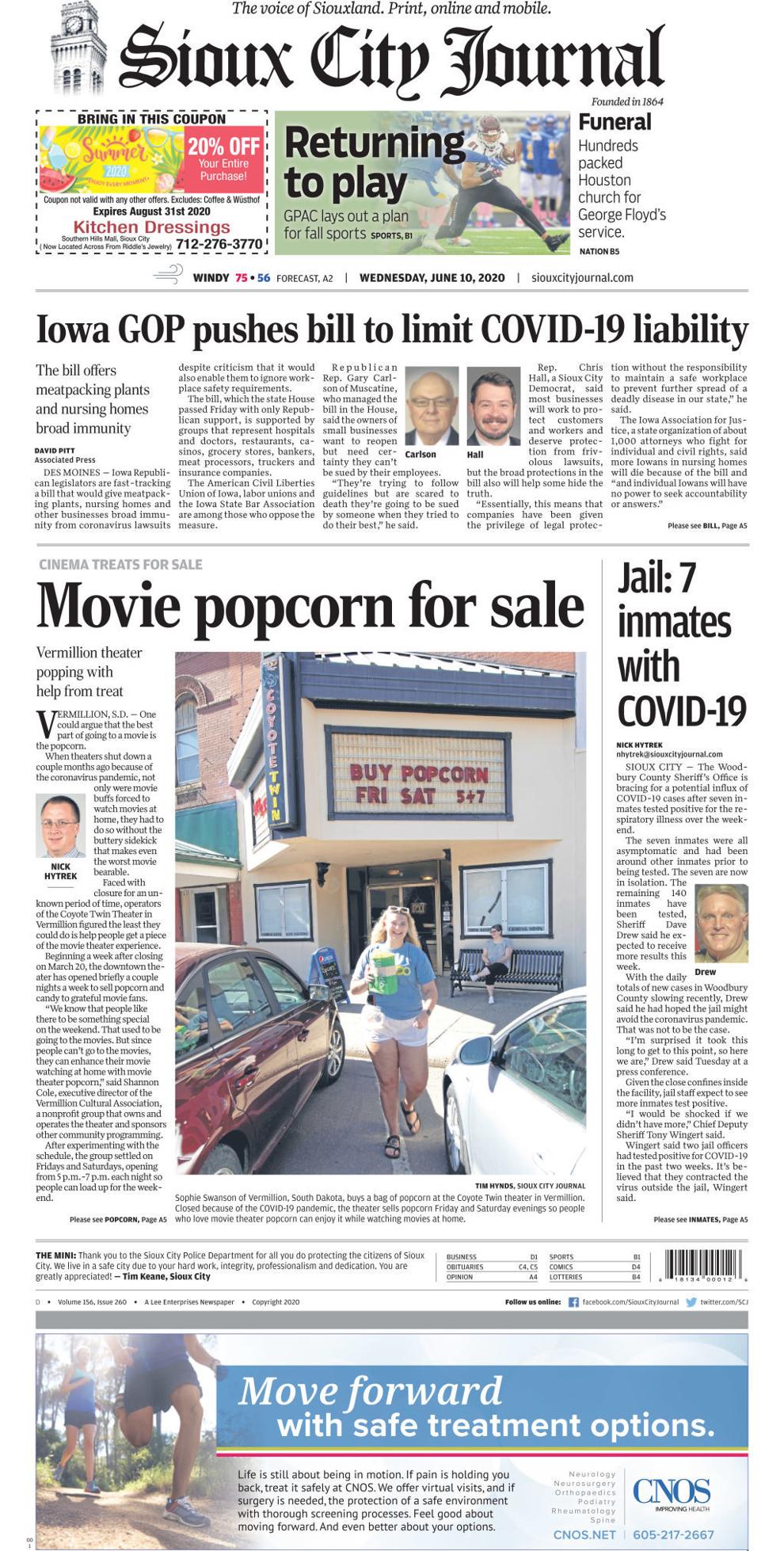 JUNE 11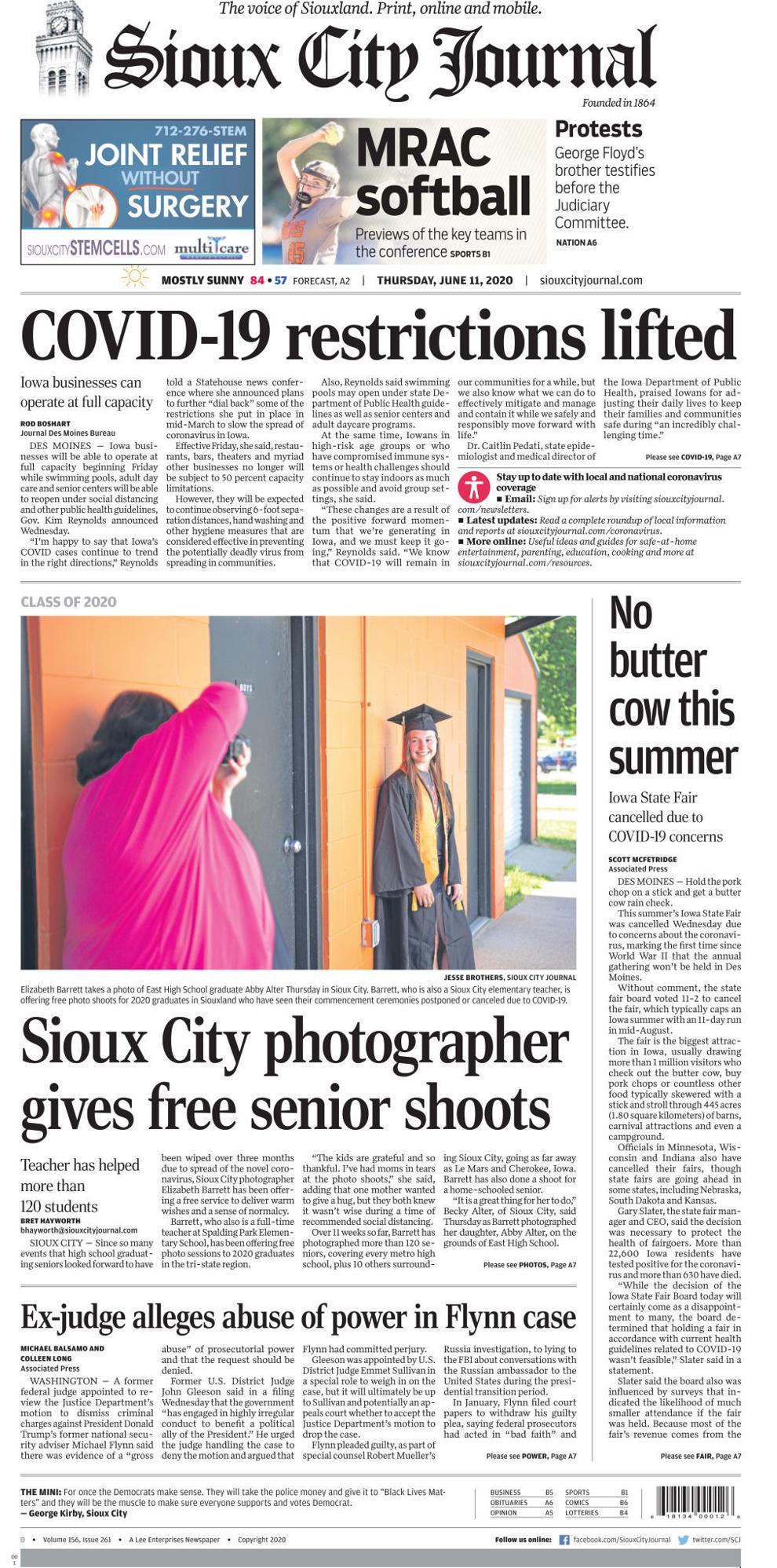 JUNE 12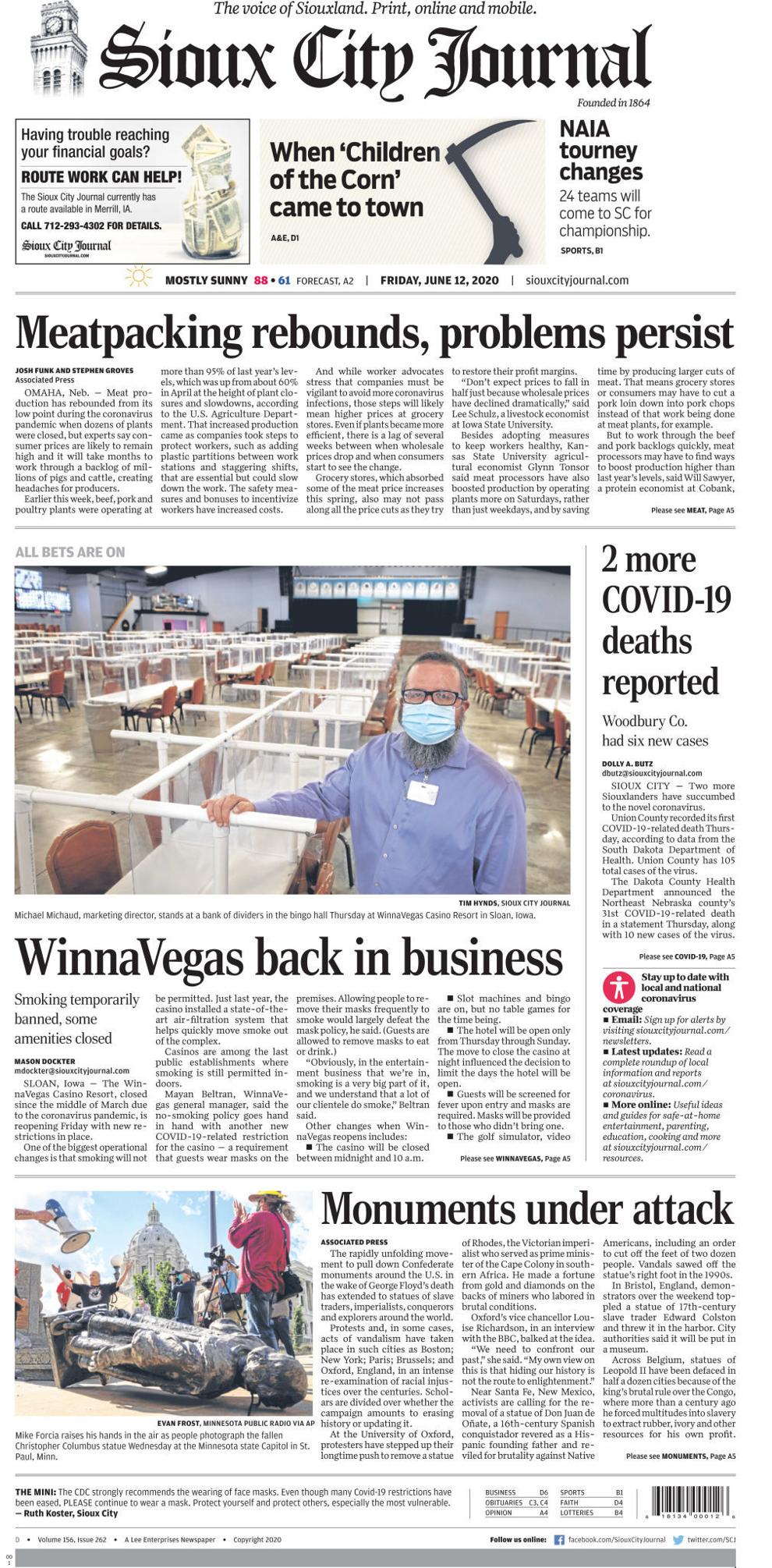 JUNE 13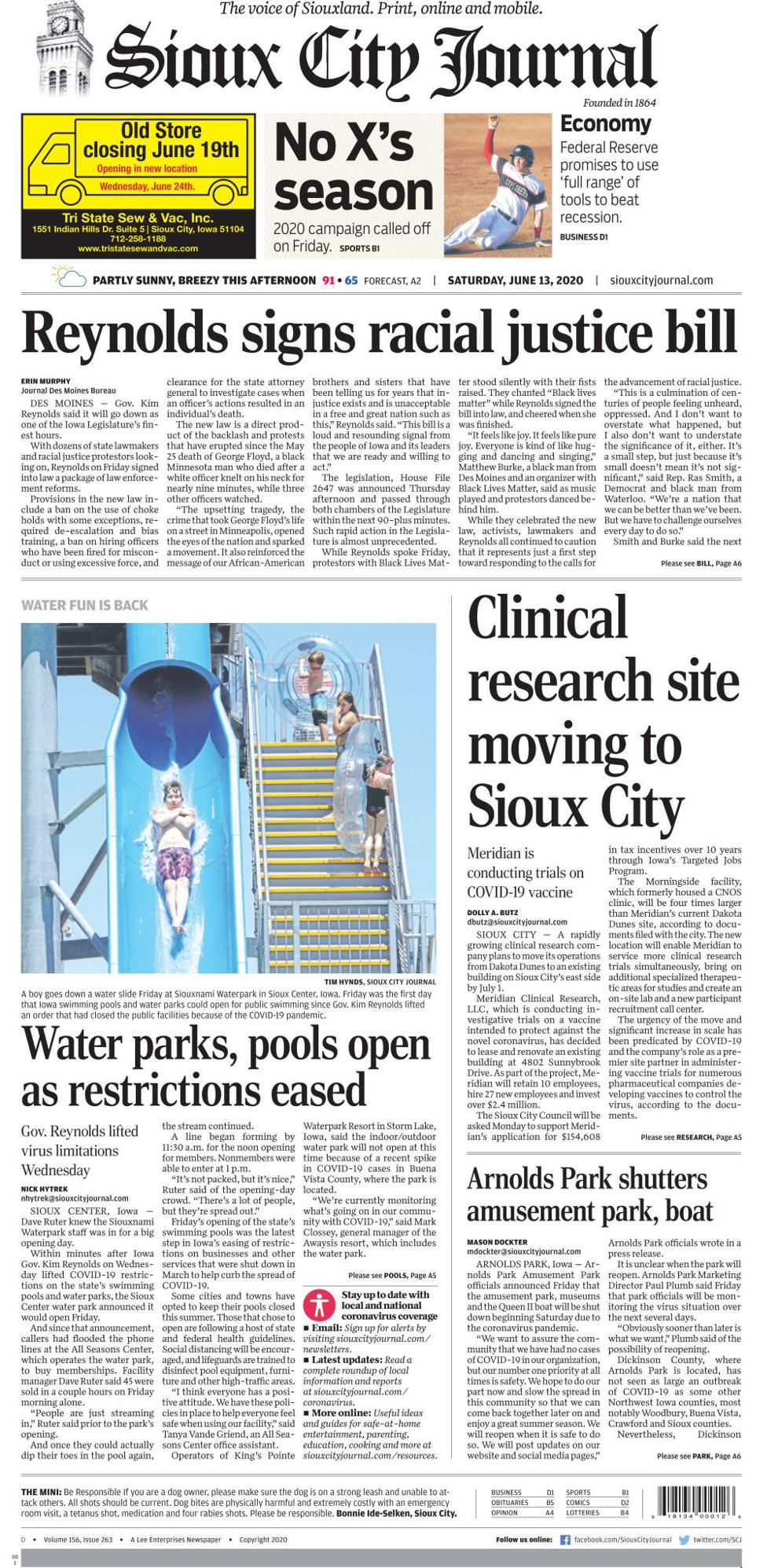 JUNE 14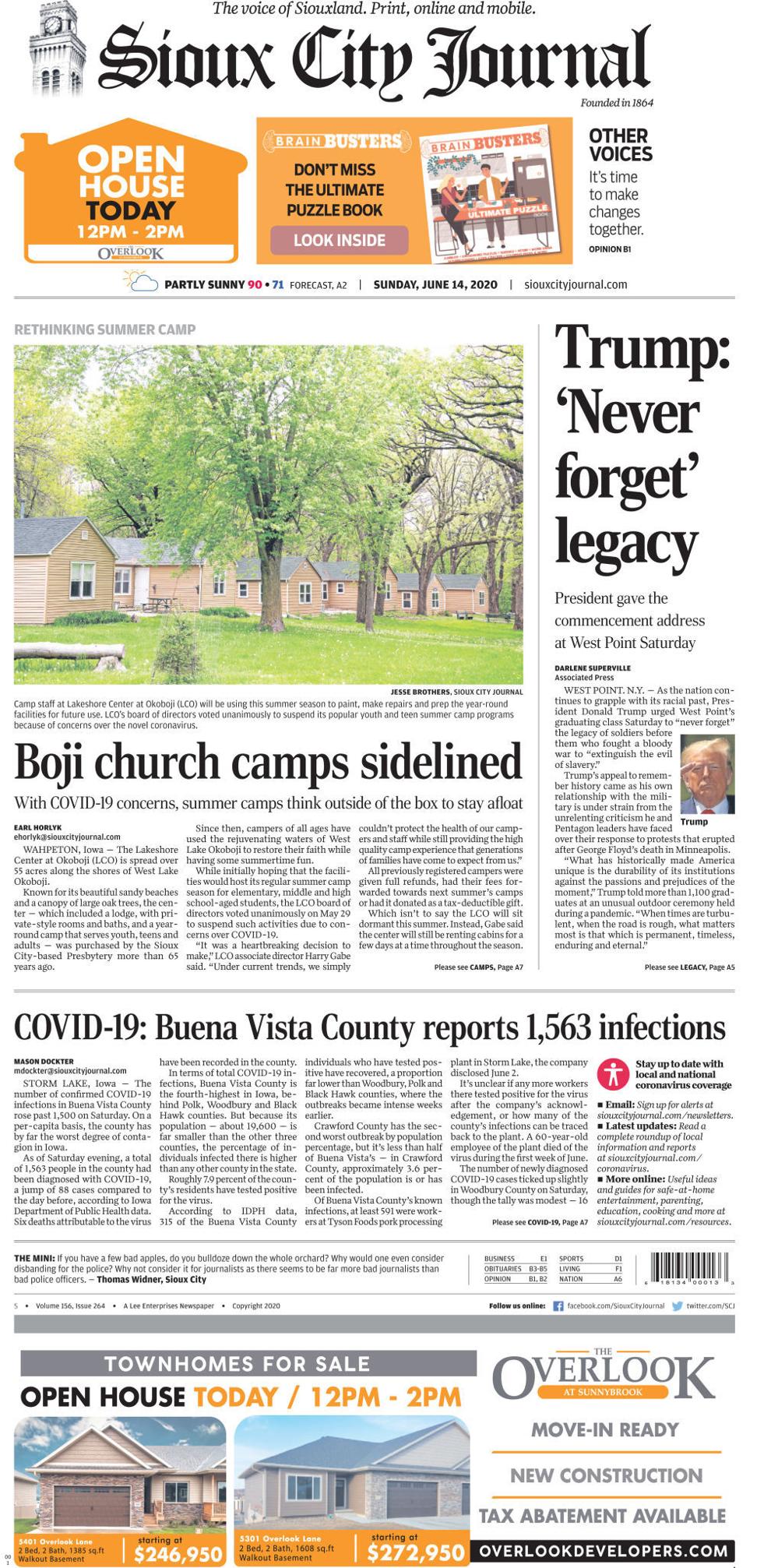 JUNE 15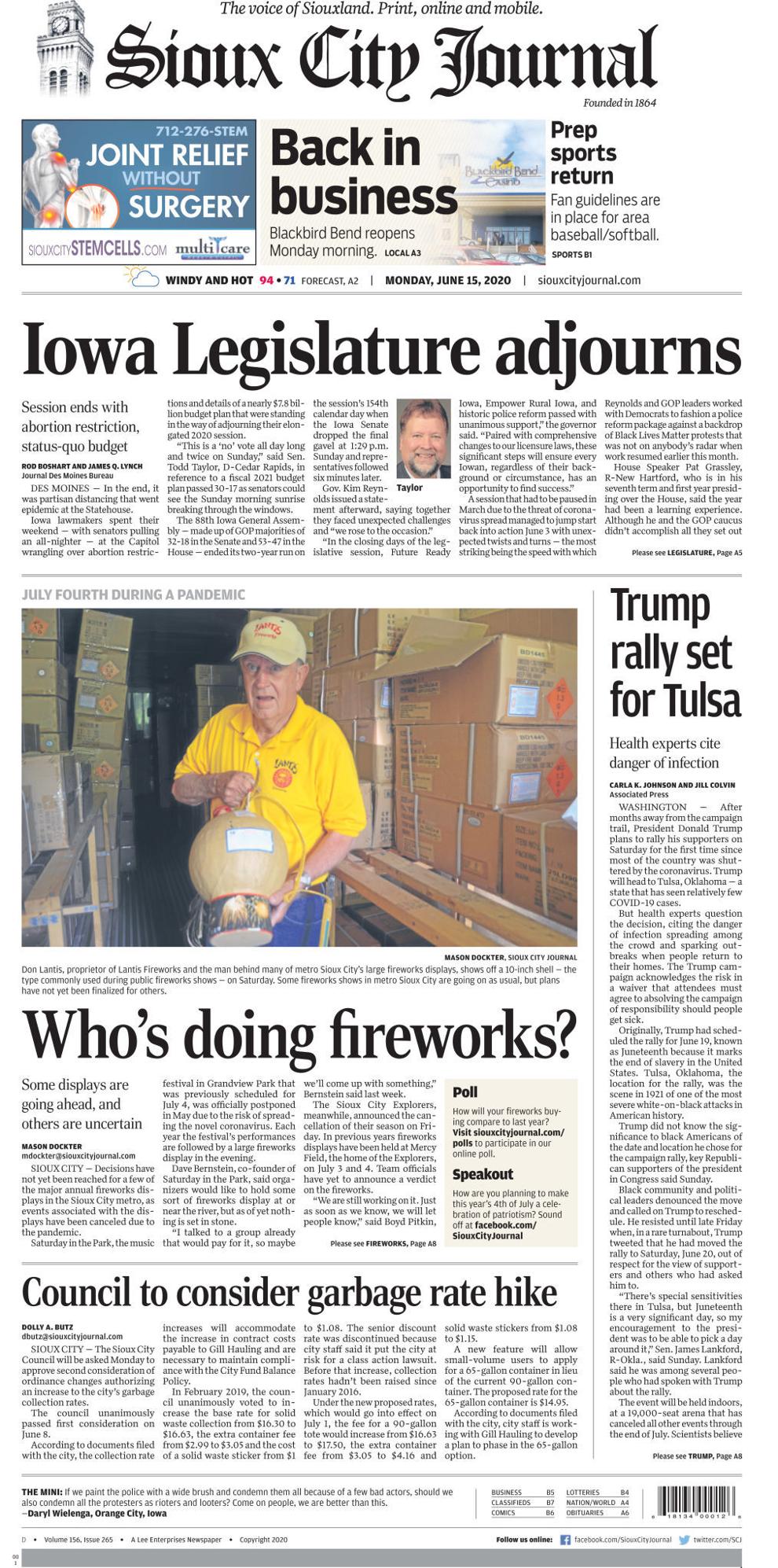 JUNE 20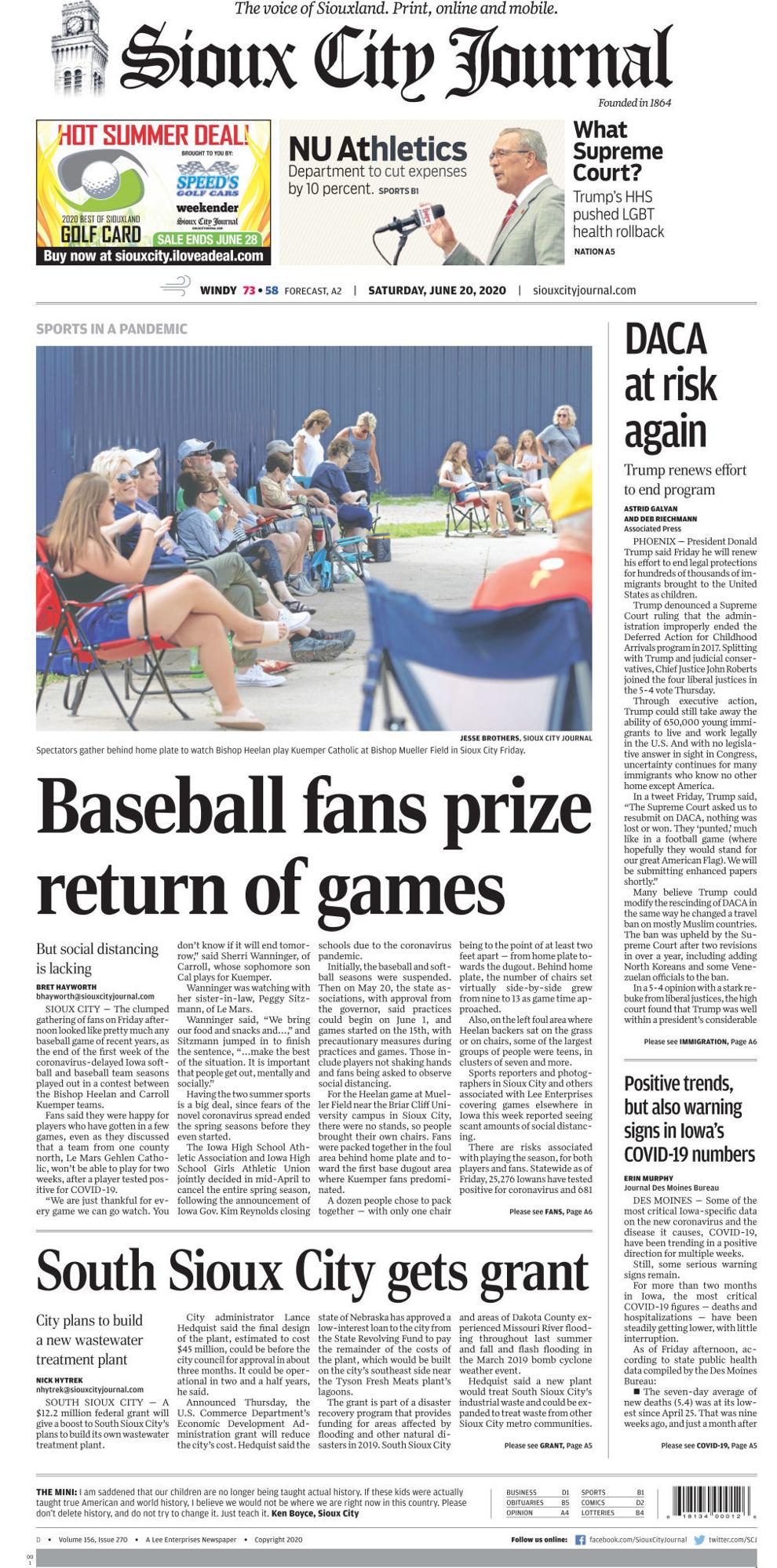 JUNE 23