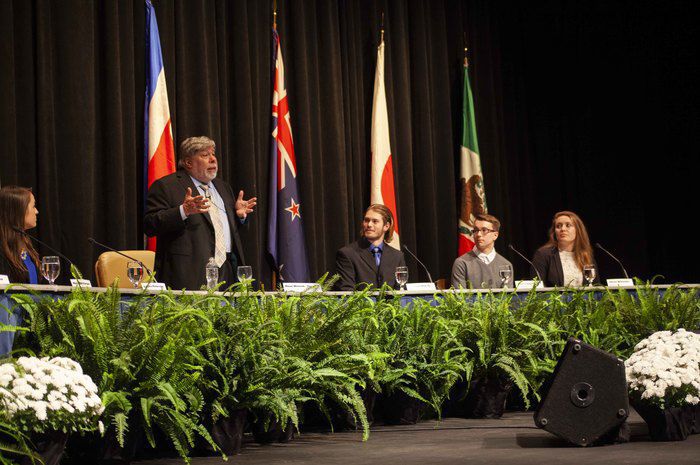 STORM LAKE, Iowa -- Steve Wozniak, co-founder of Apple Computer Inc., discussed his path to business success and personal happiness as the 23rd William W. Siebens American Heritage Lecture laureate at Buena Vista University on Friday.
Wozniak keynoted an afternoon panel before an estimated 700 people while taking questions from six BVU students in Schaller Memorial Chapel on campus. Friday evening, he took the stage in Anderson Auditorium for a question-and-answer with BVU President Joshua Merchant.
"I said to my dad in sixth grade that I'd be an electrical engineer," said Wozniak, who helped shape the computer industry with his design of Apple I, Apple II, and his influence on the popular Macintosh computer. "I also said I'd be a fifth-grade teacher, which stuck with me as a core value."
Wozniak, better known as "The Woz," touched on education in many of his responses, noting that class size is one of the most important factors in a child's education. For years, the business leader served as a volunteer teacher and, as a philanthropist, has founded several educational endeavors.
"Also, a family of five should have more say on how a school is run because they have more in school," he added.
Sam Loerts, a psychology and political science major from Humboldt, sought Wozniak's advice for students who face difficult and potentially limiting childhood situations, as well as the teachers who serve those children.
Wozniak said the answer, for him, is embedded in happiness.
You have free articles remaining.
"I had perfect success because I had happiness with or without Apple," he said, noting that several people told him his early computer designs wouldn't make money. "There is no formula. Have a good attitude about yourself. Pursue what makes you happy. When you hit a home run, you'll know it."
Nate Strohmyer, a computer science major from Sioux Rapids, asked for the characteristics Wozniak looks for in good team members who can lead a start-up venture to success.
"Find people who are enthusiastic about the same sort of ideas," he said. "Be a listener. Be open to change. And the top skill is honesty."
In partnership with Steve Jobs, Wozniak founded Apple Computer Inc. with the Apple I personal computer in 1976. The following year, he introduced the Apple II personal computer and helped ignite a revolution in the personal-computer industry while creating one of the most influential companies in history.
In addition to Loerts and Strohmyer, BVU student panelists included: Michael Martin, a computer science major from Storm Lake; Laura Petersen, a business/human resources major from Inver Grove Heights, Minn.; Olivia Wieseler, a digital media major from St. Helena, Neb.; and Tanner Frost, a digital media major from Boone. Alternate panelists were Regan Sylvester, an elementary education major from Webb; and Emma Bloom, a history major from Middletown, Md.
Dr. Nathan Backman, associate professor of computer science, served as moderator.
The American Heritage Lecture Series is made possible by a generous gift from the late Dr. Harold Walter Siebens, on behalf of his son, William. The series, which began with a lecture by U.S. Supreme Court Justice Harry Blackmun in 1989, serves to chronicle contemporary thoughts on business, academics, law, press, government, religion, and other aspects of American life while deepening an understanding of the liberties and responsibilities of being global Americans.
Other past speakers include former U.S. Presidents Jimmy Carter and George H.W. Bush; and Prime Ministers Margaret Thatcher, Shimon Peres, Benazir Bhutto, and Tony Blair, among others.