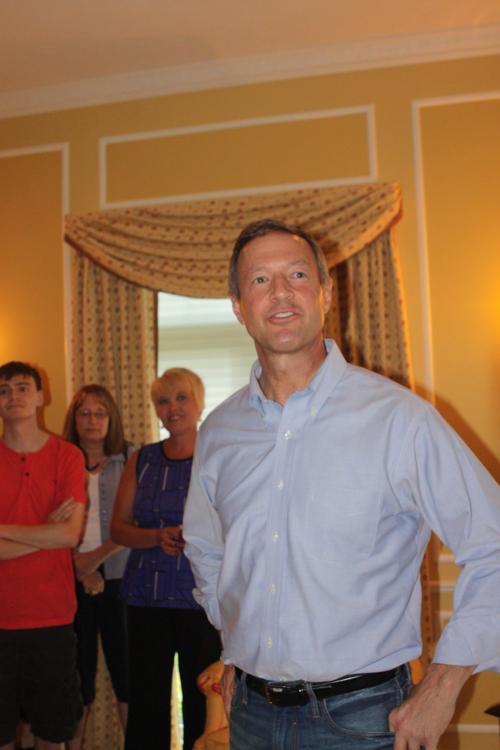 SIOUX CITY | Former governor of Maryland and current 2016 presidential candidate Martin O'Malley made three stops in Iowa Sunday.
O'Malley's first appearance was at the home of Ben Nesselhuf and Angie Schneiderman at noon.
The candidate answered questions from the 60 in attendance.
He touted his record for quality education and lowered crime during his tenure as governor.
Nesselhuf said he and Schneiderman are Switzerland when it comes to the current election choices.
"We haven't picked a side yet, so we're trying to meet the candidates, get to know them more," he said.
Among the current field of Democratic candidates, only Hillary Rodham Clinton has visited Sioux City so far.
U.S. Sen. Bernie Sanders is scheduled to make his first stop in Sioux City July 2.
You have free articles remaining.
Lincoln Chafee, former governor of Rhode Island and former U.S. senator, will come as close as Cedar Rapids July 17.
O'Malley spoke to several people one on one, Nesselhuf said.
Greg Guelcher, current vice chairman for the Woodbury County Democrats, said he was quite impressed with O'Malley.
"I had not heard him speak before, I didn't know much about him actually," Guelcher said. "He interacted well, good presence and people liked his concrete accomplishments."
O'Malley explained he uses an "entrepreneurial" approach to governing, Guelcher said, by basing policies on data instead of ideologies.
"I don't want an ideologue for president. I want someone who is open-minded," Guelcher said.
O'Malley left Sioux City for his second stop at a home in Carroll before finishing at a home in Ames.
Nesselhuf and Schneiderman were both pleased with O'Malley's showing.
"It's important to talk to our candidates and ask them questions," Schneiderman said.