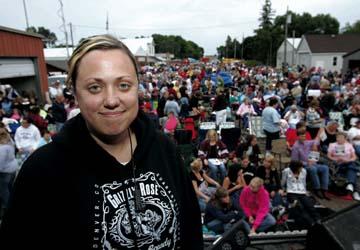 MAY CITY, Iowa -- A "Nashville Star" landed back in May City Wednesday night, attracting an estimated 3,000 fans to her hometown.
The population of the unincorporated Osceola County town is listed at 45. Locals argue it's closer to 80.
They won't argue about their biggest native daughter. She's Shawn Mayer, a 21-year-old finalist on NBC's "Nashville Star" reality show.
Mayer led a Harley Davidson motorcycle parade to a giant stage at the intersection of Frederick and Walnut streets to begin the free concert filmed by a crew with the NBC show.
"It is so nice to be home," Mayer said, looking out on a crowd holding signs that said, "I Wanna Be the Next Shawn!"
As workers addressed a sensitive sound system, Mayer asked fans standing three blocks east to make some noise. They complied with gusto.
"You're lined up all the way back to the baseball field I used to play on," she said. "All hay seed and mosquitoes."
"This is the Shawn we all know and remember," said Charlotte Frodermann, who co-owns Roger's Bar in May City with husband Roger. "She is so well rooted and remembers where she came from."
May City. That's where she came from.
She fed hogs then took a job making tacos for minimum wage at Roger's Bar. She soon graduated to singing for the cash she needed to buy pit passes that allowed her to carry a wrench to fix father Mark's modified stock car as he raced on dirt tracks in places like Park Jefferson Speedway and Buena Vista Raceway.
She then began singing the "Star Spangled Banner" at those tracks as a way to save her admission fee.
Mayer moved to Nashville, the Mecca of country music, last October. She's been back to the May City area several times since.
"She has sung in our party barn three times," said Ron Hennings of nearby Hartley, where Mayer graduated from high school three years ago. "She was probably 16 when we had her sing in the barn the first time. It was her first big gig outside a small bar."
You have free articles remaining.
Mayer returned to Hennings' party barn not long ago.
"She was home for a weekend and I saw her dad," Hennings said. "I asked him if she'd sing and he called her."
Mayer came, performed her show and charged $250, same price she charged as a 16-year-old.
"She wasn't singing for the big bucks," Hennings said. "She loved doing it."
When Mayer survived an elimination round on the show Monday, word began circulating a free show was in the works. Members of fire departments in Osceola County convened that night to plan security, parking and crowd control. Mayer, it was noted, served with the May City Fire Department during high school. Fans began arriving in May City at 2 p.m. They were still arriving at 9:30 p.m., parking on that ball field and all along the gravel streets running through the community.
Long before the concert began, members of the crowd chanted, "We want Shawn! We want Shawn!"
Signs at Curt's Repair, one of three businesses in town, wished May City's rising star good luck. Roger Frodermann hoped the "fuel" at his watering hole would last the night, the biggest in May City, he said, since the 1988 centennial.
"We've had RAGBRAI twice, so we've dealt with big crowds," Charlotte Frodermann replied. "But this is different. This is one of our own bringing in the crowd."
John Prins, a member of the Hartley Lions Club, joined dozens of volunteers directing traffic to the ball field. He recalled visiting May City as a boy in the 1940s to attend the open-air movies.
"This is like back then in that it's an open-air show," he said.
The difference? Probably a couple of thousand people.
"There's no comparing the crowds. This is much bigger," he said.
It humbled Mayer, who nearly broke into tears introducing "Some Gave All," a tribute to soldiers by Billy Ray Cyrus.
"This is for everyone who fought for something they believed in," she said.