SIOUX CITY – Gov. Steve Bullock wears boots. They're dusty, scuffed and brown, but the governor of Montana wears them. And on Monday night, as he addressed a crowd of around 30 in front of a line of "Bullock 2020" signs modestly taped to a pizza rack in a back room of Bob Roe's Point After, he wore them then, too. 
Bullock, one of the nearly two dozen Democratic candidates running for president of the United States, spoke to the current political climate the nation faces, landing on topics such as school shootings and climate change.
"We are more divided today than any time in my lifetime," Bullock said.
Bullock's night at Bob Roe's Point After followed a stop in Storm Lake, Iowa, his first stop in Siouxland.
To Bullock, the key for a Democratic victory in 2020 is speaking and listening to Americans beyond the nation's coasts.
With the Democratic field swelling with candidates, Bullock has found himself at the bottom of most polls. Regardless, he feels his experience as a governor gives him an edge against every other candidate.
Bullock is currently serving his second term as Montana's governor, in a state that is controlled by the Republican Party in both chambers of the legislature. To him, that speaks volumes as to why he should be the Democratic nominee.
"We have to win back places we lost," Bullock said. He told those in attendance Monday that he can lead the counties that were won by Trump to swing blue. 
You have free articles remaining.
"I think we need to find somebody that connect both urban and rural and give them a reason to vote for you," Bullock said.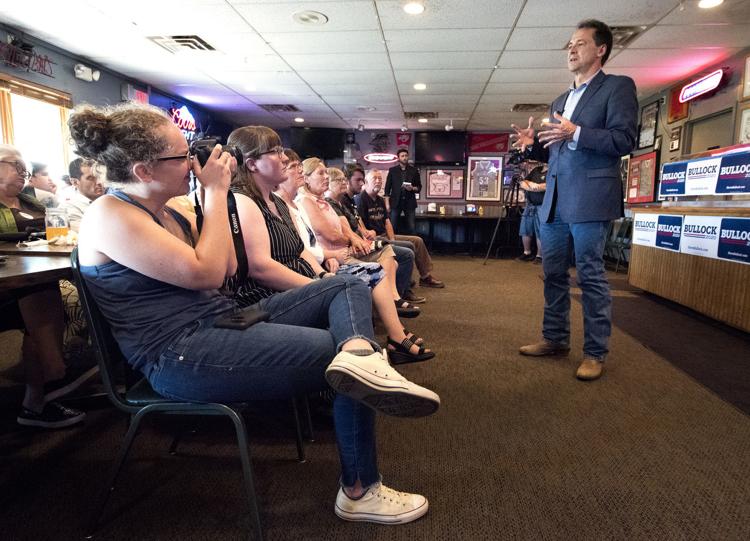 Regardless of the edge that Bullock believes he holds against other candidates, he is currently polling less than 1 percent of the American public, according to the most recent estimates by FiveThirtyEight. This has led to an issue regarding Bullock's access to the debate stage, an issue he addressed Monday night.
According to the Democratic National Committee's debate qualifications, Bollock would not be allowed to join the first large Democratic debate set to begin June 26. 
"I'll make up for it by traveling, by talking to people, by getting out," Bullock said. "And I think, we have a long way to go before the election. It won't be decided after the first of many debates."
In a June 9 poll, less than 1 percent of Iowa caucus voters said they were likely to vote for the Montana governor. But to Bullock, this is only the beginning of a long race, one that is still nearly eight months away from Iowans entering the voting booth.
Jill Orzechowski, of Sioux City, questioned Bullock regarding his stance on several topics, including how he would "reconcile reaching across the aisle with the erosion of rights for women's healthcare and LGBTQ rights."
Orzechowski said she did not find Bullock bold. Regardless, she found Bullock to be empathetic toward her concerns. She still remains undecided.
To her, Bullock may not be the answer for who she will choose in 2020. But she said she found comfort in those scuffed up, dusty boots that Bullock was wearing Monday night. And to Bullock -- who said he hopes voters find a piece of themselves in him -- he believes that will also give him an edge in the 2020 primary. 
This article was corrected on June 12.