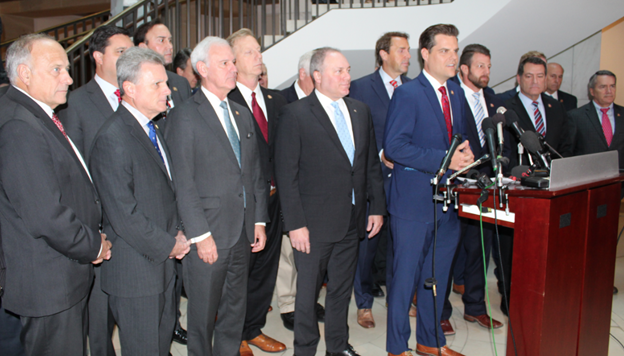 WASHINGTON — Iowa 4th District Rep. Steve King joined around two dozen other conservative GOP House members Wednesday as they stormed into a closed-door deposition with a Defense Department official, bringing the majority Democrats' impeachment probe to a temporary halt.
As the GOP House members flooded the room, the chaotic scene prompted House Intelligence Committee Chairman Adam Schiff, D-California, to suspend the proceedings and hustle the witness, Laura Cooper, a senior Defense Department official who oversees Ukraine policy, out another door.
The standoff happened Wednesday morning after GOP lawmakers held a press conference in which they accused House Democrats of lack of transparency for holding closed-door hearings into the impeachment of President Donald Trump. They argued Americans should be able to read the transcripts of any interviews being conducted as part of the inquiry into Trump's efforts to persuade Ukraine to investigate a potential political rival.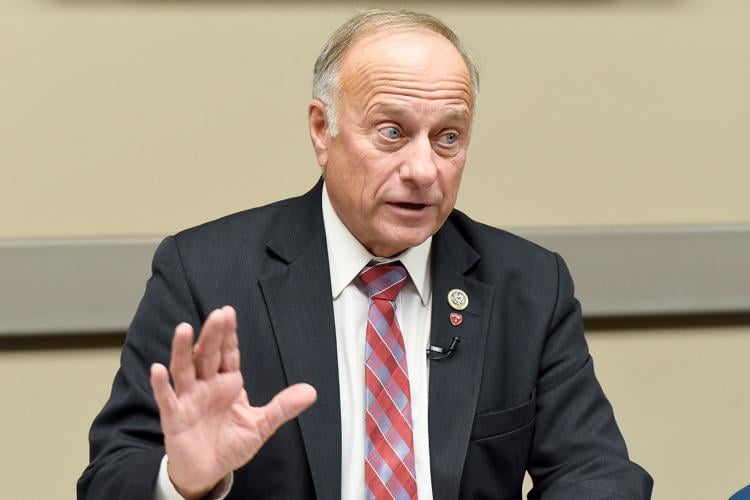 King, an outspoken conservative, said he entered the hearing room to bear witness to "the greatest atrocity I've seen in the United States Congress in 17 years."
"It's unimaginable that anybody would have the audacity to hold secret impeachment hearings here in the House of Representatives, the People's House," King said in a statement. "There's no provision in the Constitution that allows it. There's no precedent that allows it. And there's no sense of decency or fairness that would allow this."
Rep. Jim Jordan, R-Ohio, said the GOP House members "have just had it and they want to be able to see and represent their constituents and find out what's going on." Jordan is the top Republican on the House Oversight and Reform Committee, one of three leading the investigation, and whose members are allowed into the closed-door hearings.
Democrats deny that Republicans are being treated unfairly, noting they have had equal time to question witnesses and full access to the meetings. But they said the GOP members who do not sit on one of the three committees but stormed the meeting Wednesday had compromised security, with some bringing their cell phones and other electronic devices into a secure room.
Several Republicans appeared to be tweeting from the secure room. North Carolina Rep. Mark Walker tweeted: "UPDATE: We are in the SCIF and every GOP Member is quietly listening." Georgia Rep. Buddy Carter wrote that "my Republican colleagues and I just stormed the impeachment hearing room and finally got in."
You have free articles remaining.
The GOP maneuver delayed a deposition with Cooper until mid-afternoon. The interview began roughly five hours behind schedule, after a security check by Capitol officials.
The standoff came the day after a top U.S. diplomat testified that he was told Trump withheld military aid to Ukraine until the country's president went public with a promise to investigate Democrats. Democratic Rep. Ted Lieu of California said Republicans didn't want to hear from Cooper because they were "freaked out" by what William Taylor told lawmakers.
"They know more facts are going to be delivered that are absolutely damning to the president of the United States," Lieu said.
As a series of diplomats have been interviewed in the probe, many Republicans have been silent on the president's behavior. But they have been outspoken about their disdain for Democrats and the impeachment process, saying it is unfair to them even though they have been allowed to participate.
Sen. Lindsey Graham, R-S.C., criticized his Republican colleagues for Wednesday's tactic, calling them "nuts" to make a "run on the SCIF."
"That's not the way to do it," he said.
Democrats have promised to release the transcripts when it won't affect their investigation, and Schiff has pushed back on the criticism of the depositions.
Schiff said in a letter to colleagues last week that "the majority and minority have been provided equal staff representation and time to question witnesses, who have stayed until the majority and the minority have asked all of their questions - often late into the evening."
King was stripped by Republican House leaders of all his committee assignments in January following a public outcry over published comments in a New York Times story that suggested he was supportive of white supremacy and white nationalism. King, who is facing a primary challenge from four Republican candidates, has repeatedly denied he said what the Times reported.