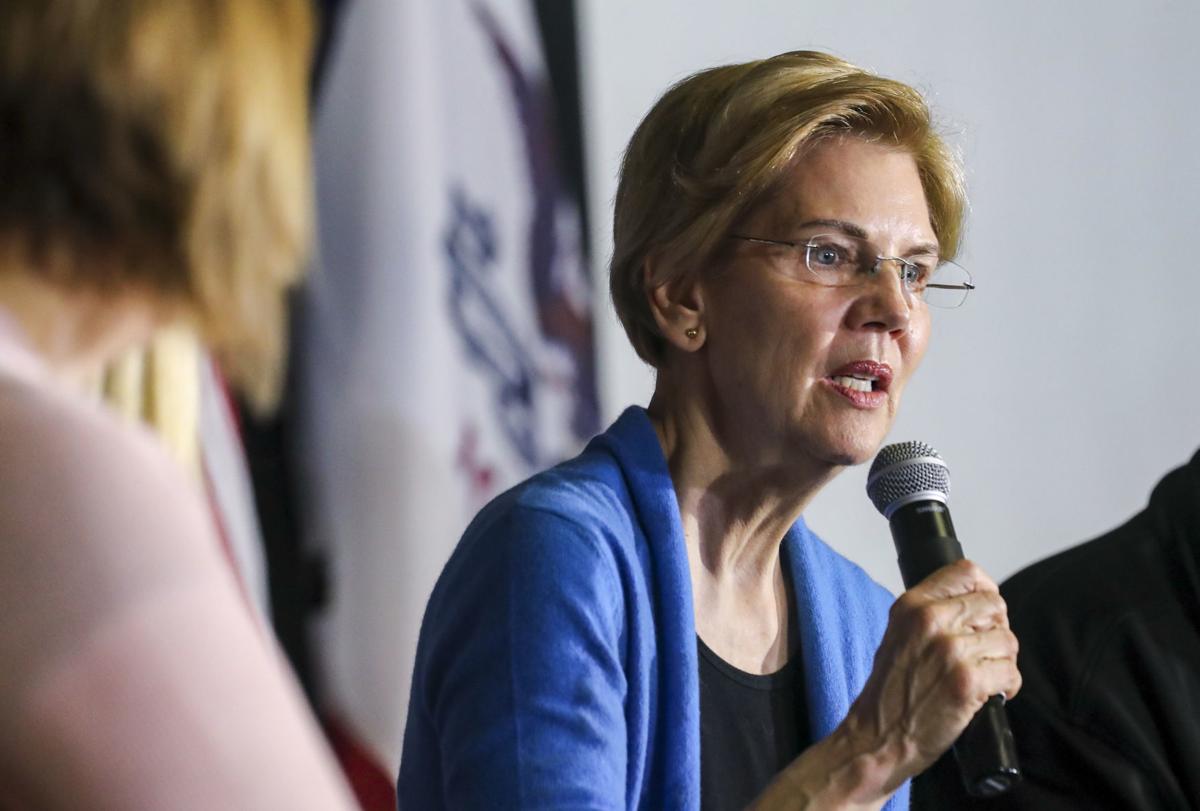 DAVENPORT, Iowa -- Elizabeth Warren says she is ready for what might come her way in a potential 2020 general election fight with President Donald Trump.
She was given a hint of what that might look like when, after making her candidacy for president official this weekend, she was promptly greeted to the race by the Tweeter-in-Chief, who made a reference to Warren's past claims of Native American ancestry.
Iowa Democrats have said one thing they're looking for in the expansive field of 2020 candidates is someone who can defeat Trump in the general election campaign.
"I'm not afraid of anyone, and certainly not Donald Trump," Warren said.
Warren discussed that, as well as health care, economic and agricultural issues in an interview with the Des Moines Bureau ahead of her campaign event in Davenport Sunday. She also held events Sunday in Cedar Rapids and Iowa City.
Warren said she is confident her populist economic message will be well-received in Iowa, which swung significantly from Democratic President Barack Obama in 2012 to Trump in 2016.
A main theme of Warren's campaign has been creating a federal government that works for all Americans, not just wealthy individuals and large businesses.
You have free articles remaining.
She said that fight is what will help define her in the ever-growing field of Democratic candidates -- 11 candidates are running or have formed an exploratory committee, and many more are considering.
"I don't pick these issues because they poll-tested well. This has been the fight of my life," Warren said.
Warren said she thinks her message translates well to rural Iowans. She said agri-business mergers and consolidation has put financial stress on family farms by shrinking markets.
"That's what happens when the federal government doesn't enforce antitrust laws, when it doesn't break up monopolies and trusts, when it doesn't push back against illegal business practices," Warren said. "The people who get hurt are not the big guys. It's the medium and small farms.
"Until someone in Washington is willing to put people in place in the justice department, in the Federal Trade Commission to enforce those laws, not just once or twice but every single day, small and medium farms across America are going to feel the squeeze even harder."
On health care, Warren described a plan that included immediate steps like protecting the Obama-era federal health care law and addressing high prescription drug costs before getting to the ultimate goal of larger health care reform.
"How do we get ourselves to complete coverage at the lowest possible price? Medicare is our best way of doing that," Warren said. "Our obligation is clear: health care coverage for everyone at the lowest possible cost to all of us. No one should go bankrupt because of a medical problem."
She noted her legislation that aims to drive down prescription drug prices and said she supports capping the amount an individual pays in prescription drug costs at $250 per month -- after which a "national insurance pool" would cover the costs -- allowing Medicare to negotiate prescription drug prices and lowering the Medicare enrollment age.