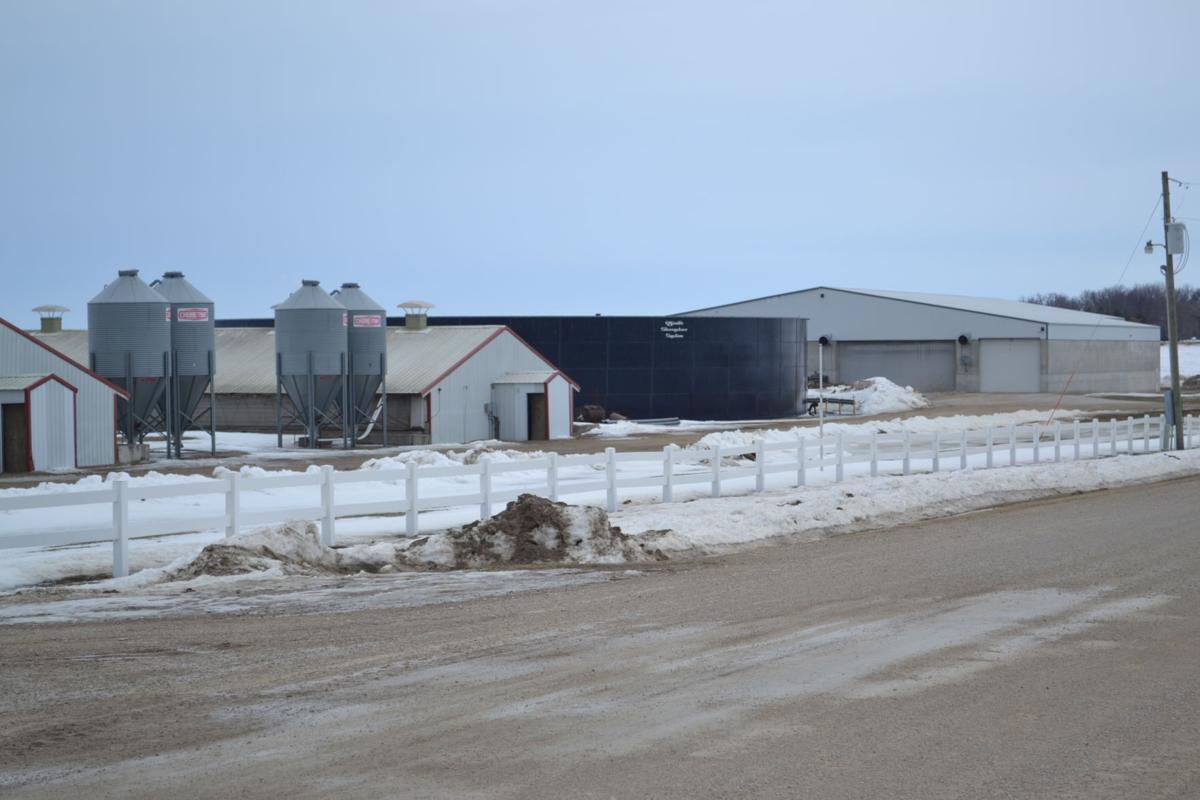 SOUTH SIOUX CITY | Neither of Big Ox Energy's facilities outside South Sioux City have been tied to sewer line problems like issues that displaced as many as two dozen residents at its height last fall.
But interviews with government officials and a Journal analysis of government records related to Big Ox shows the company's facility in northeastern Iowa has in the past year been the focus of odor complaints and an Occupational Safety and Health Administration investigation that yielded multiple citations, including one for a "serious" violation.
Big Ox officials say deficiencies that caused the plant's OSHA citations have since been remedied and that the company has not been notified of any odor complaints.
The private company owns and operates two renewable fuel facilities in the Midwest in addition to its newest plant in South Sioux City, which went online Sept. 2, 2016. Big Ox operates plants near Riceville, Iowa, and near the village of Denmark, Wisconsin, where the company formed in late 2008 and early 2009.
Each of the three facilities uses the same anaerobic digestion process that converts organic waste into methane, or biogas.
Big Ox's facility near Riceville, a town of about 800 in Howard County not far from the Minnesota border, was sitting idle when the company purchased it two years ago. The rural plant has its own wastewater treatment and does not share a sewer line with residents. 
In March of 2016, authorities from the Iowa OSHA office investigated the rural Riceville plant after receiving a complaint that workers were being exposed to chemicals, live electrical parts and fall hazards. 
Jens Nissen, an administrator with the Iowa OSHA office, said a complaint filed included allegations that employees had been exposed to hydrogen sulfide gas, among other gases, and suffered from adverse health effects including eye pain and burns.
The ongoing odor problems in South Sioux City were initially traced to hydrogen sulfide gas entering the homes through a sewer line the neighborhood shared with the Big Ox plant. OSHA also is investigating two separate reports of workers at the South Sioux City plant being overcome by exposure to the potentially hazardous gas.
In northeast Iowa, investigators closed the Riceville case in September, citing the facility with five violations. Those citations resulted in a $1,775 total penalty following an informal settlement.
One citation, issued for Big Ox's failure to fill out a permit before employees entered into a space about 8 feet deep to shovel out content, was designated as "serious." 
"Employees were exposed to a potential hazardous environment when agitating the pit contents," the citation stated. 
Big Ox spokesman Evan Zeppos told the Journal the company has addressed issues identified in the citations, such as adding guardrails and adjusting training procedures. 
"We've been operating, I think, very well since then and have not had any other issues there," Zeppos said. "We've invested more in training and safety programs."
Marshall Rogne of the Howard County, Iowa, Environmental Health Department said he couldn't recall any documented problems with the facility. But he said his department does receive occasional air odor complaints about the facility.
"It's not year-round," Rogne said. "It depends on the wind and temperature."
Like Rogne, Chris Gelner, an environmental specialist with the Iowa Department of Natural Resources, said the facility has been a source of public complaints.
Zeppos pointed out that the rural site is adjacent to large hog and cattle farms, which may be the source of the odors, and he has not been made aware of any formal odor complaints. 
"We've not been approached by any people in the area about odors from our facility," Zeppos said. 
Rogne said groundwater testing at a few area residences has not turned up anything questionable. A regional Environmental Protection Agency official said the EPA has not opened any investigations into air quality at the Riceville facility. 
Kevin Bradley, Big Ox's director of business and economic development, said Big Ox is conscious to keep its odors under control, saying that maintaining odor is particularly "paramount" to its plans for expansion.
"We do take some things in that are smelly," Bradley said. "We have engineering controls in place to address that." 
Waste from the facility applied on farmland was linked to a fish kill in a tributary of the Wapsipinicon River in Howard County last fall, but Gelner said the DNR's investigation found that the fault and penalty lay with the farmer, who had over-applied on the field. 
Big Ox's Denmark, Wisconsin, plant, has not been the source of any OSHA investigations or odor complaints in recent years, according to a Journal check of public records. 
In 2015, the then-owners of the facility were fined $50,000 by the Wisconsin Department of Natural Resources in 2015 for failing in 2010 and 2011 to conduct proper stack emissions testing and obtain permits for construction and operation. Big Ox Energy did not own the facility at the time, however, and was not responsible for the permitting or testing. 
In South Sioux City, Big Ox Energy's plant was initially tied by city officials to sewer odor issues experienced by homes located along a sewer line that connects with the Roth Industrial Park, where Big Ox is located. More than a dozen families living in a five-block area of Red Bird Lane and Lemasa Drive were forced to flee last fall due to hydrogen sulfide gas, which permeated everything they owned, from their furnishings to their wardrobes, with a horrible smell. About a dozen homeowners are still living in hotels because they don't believe it's safe to return home.
Several residents continue to blame the facility for the odors, stating they hadn't experienced any ill effects from sewer gases until the plant went online.
In addition to the odor smell, Big Ox's South Sioux City plant is under a trio of ongoing OSHA investigations and has been monitored by the Nebraska Department of Environmental Quality for hydrogen sulfide levels in ambient air. The Environmental Protection Agency has also become involved and is continuing to monitor the situation. 
Bradley said Big Ox continues to comply with the investigations. He acknowledged that the amount of press about the South Sioux City situation will likely take some explaining.
"I imagine we're going to have to field some questions as far as what we're doing," he said. "That's why it was important for us to understand what happened and if any factors that we contributed to were under our control."