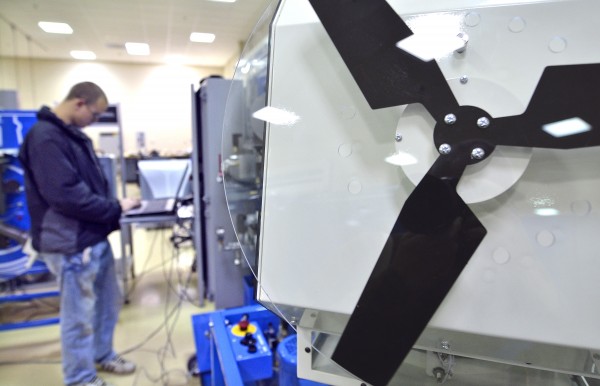 At a time when jobs, energy independence and producing clean, renewable fuels are near the top of this nation's list of priorities, extension of the federal wind energy production tax credit would be money well spent.
Wind energy advocates have mounted a full-court press to save the credit, which expires Dec. 31. We join them in urging Congress to support renewal.
Some day, the wind energy industry should have to stand on its own. We agree with Iowa Gov. Terry Branstad, who during a lobbying trip to Capitol Hill on Tuesday in support of the credit, said, "We know that this is not going to be something that is going to last forever."
To that end, consideration should be given to renewing the credit, but phasing it out over a specific number of years.
This much is clear: Today, wind energy continues to need and should continue to get the credit. Failure to renew would have a devastating, perhaps crushing impact on what is a promising industry. Some 37,000 U.S. jobs could be lost if the credit isn't renewed, according to the American Wind Energy Association.
Already, uncertainty over the future of the credit is having an impact in the form of closed plants and layoffs, including hundreds of job losses in Iowa.
In our state, the nation's second-largest producer of wind energy, the stakes are high. The growing industry supports thousands of jobs, either directly or indirectly. More than half of the state's 99 counties have jobs tied directly to wind energy, according to Branstad.
We agree with Sen. Charles Grassley, R-Iowa, an advocate of renewal, who on Tuesday said the wind energy credit shouldn't be targeted outside a broader discussion within Congress of tax reform. After all, the oil and natural gas industries enjoy billions of dollars in federal tax breaks each year, too.
"No single energy tax incentive should be singled out over others before a broad-based tax reform debate takes place," Grassley said.
The wind energy production tax credit has been in effect off and on since 1992. The current credit — 2.2 cents for every 1,000 watts of wind energy produced — has been in effect continually since 2005. It costs about $1 billion a year.
For the good it does the economy and the nation's energy picture, the wind energy tax credit is, in our view, an investment worth making.
You have free articles remaining.