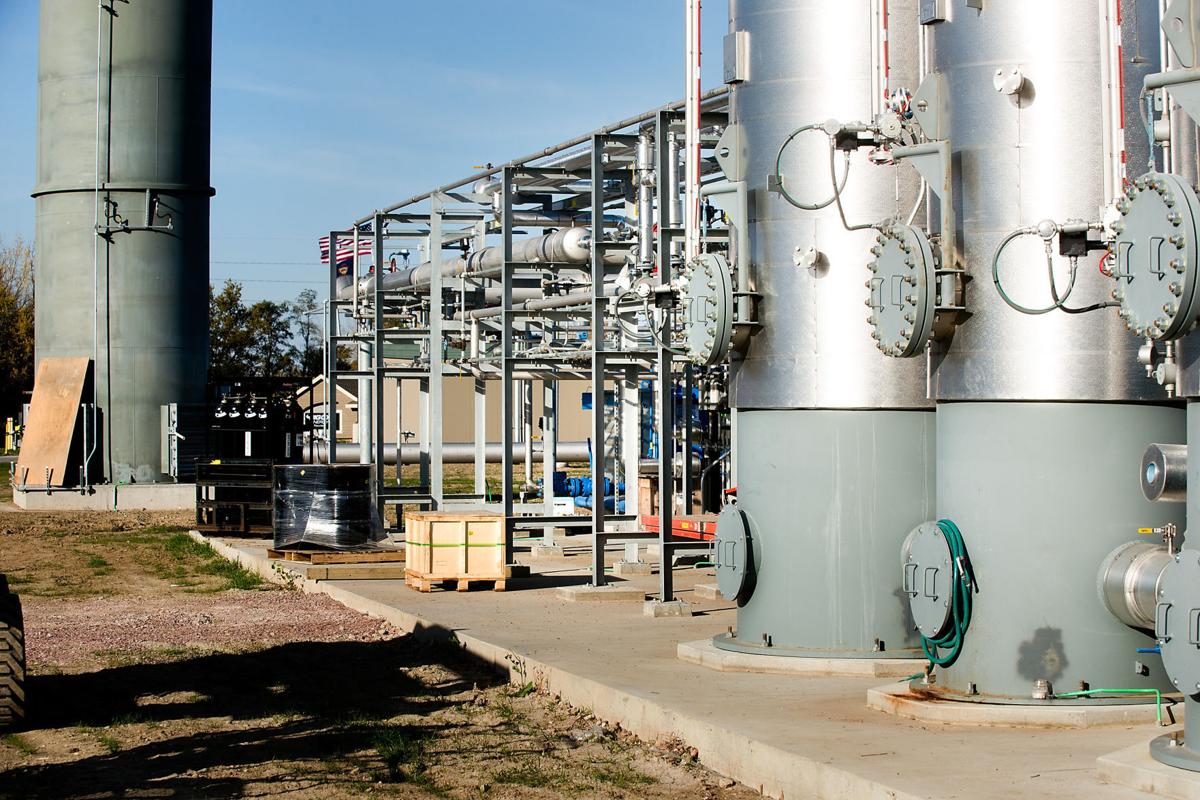 SOUTH SIOUX CITY | Big Ox Energy released a report Tuesday asserting that below-code plumbing in dozens of South Sioux City homes has been the primary reason for ongoing sewer odor issues over the past four months -- not wastewater from the company's plant.
The report, prepared by an engineering firm Big Ox hired, shows that most of the homes that reported sewer odors either had inadequate or broken residential plumbing systems or were residential units that shared a wall with other units that had failed the test.
The report also points to readings in the sewer lines that showed spikes in gas levels even after Big Ox went offline as evidence that the renewable fuels plant was not conclusively the main source of the high levels in the sewer.
Big Ox, a Denmark, Wisconsin-based firm that converts organic waste into methane gas, went online in South Sioux City's Roth Industrial Park Sept. 2. Shortly after, a number of residents in the five-block area of Red Bird Lane and Lemasa Drive that share a sewer line with the industrial park began complaining of "rotten eggs" odors. 
As many as two dozen residents were displaced from their homes at the peak of the odors. About a dozen families still remain in hotels, citing continued odors in their homes. 
Test results have shown hydrogen sulfide gas is now within safety levels established by the state of Nebraska. A firm hired by South Sioux City began testing last week for other sulfur-related compounds in the homes that could be causing continued odors.
The report released Tuesday was prepared by Black & Veatch, a Kansas City-based engineering firm hired to help study the odor issues in South Sioux City.
The report said hydrogen sulfide gas is common in sewer systems and can be produced by a variety of industries similar to those existing in South Sioux City, but if a home's plumbing protections, such as traps and vents, are up to code, hydrogen sulfide should not intrude into residences, regardless of the level of the gas.
Of the 66 homes in the neighborhood associated with the odors, 35 reported an odor while 31 reported no odor, according to the report. Of 32 homes that agreed to be tested, 26 failed plumbing tests, the report said. Three affected homeowners refused to have their homes tested.
Of the six homes that reported odors but passed plumbing tests, three were multi-unit buildings that shared a common interior wall with units that had failed plumbing tests. The other three, the release suggested, may have addressed the faulty plumbing at the city's recommendation prior to the inspection.
Of the homes that did not report odors but still requested plumbing tests, all passed but one, according to the report. Kevin Bradley, Big Ox's director of business and economic development, said the deficiency for that home was found in the attic of the house and that any odor likely escaped without the residents' knowledge.
A map of affected residences shows a number of instances in which one home was reportedly affected while the homes directly around it were reportedly not. 
Tina Mowry Hadden, a spokeswoman from the city, said the report helps the city gain a clearer understanding why some houses were affected and others were not.
"We've all wondered why some houses had odor issues and other houses did not," Mowry Hadden said. "Whether or not that's the only issue, we're still trying to put the puzzle pieces together."
Mowry Hadden said once South Sioux City issues a certificate of occupancy for a constructed home and a person purchases the home, keeping plumbing up to code is the homeowner's responsibility.
South Sioux City resident John Goodier, who moved into his home Aug. 15 of last year but has been displaced from his residence since Oct. 24, said Tuesday that he still believes Big Ox is at fault, since the odors coincided with Big Ox's startup.  
"The bottom line is we did not have this until Big Ox came online," Goodier said. "People lived in my house before and didn't have a problem."
Bradley said the odors could have been due to new reactions in the system, or in the city's recent changes to the rerouting of its sewer system.
"That could also impact a change downstream," he said.
Goodier also questioned the reliability of the smoke tests, saying he believed the company that conducted the tests turned up the pressure too high in an attempt to find a deficiency. 
Big Ox also said in the report that other industries likely contributed to hydrogen sulfide levels in the sewer line after Big Ox voluntarily went offline Nov. 1.
According to the report, between Nov. 2 and Dec. 7, levels of sulfide continued to spike above expected levels, pointing to "new and on-going sources" for the gas levels. 
Hydrogen sulfide levels have returned to normal in the residential line since a separate sewer line rerouted waste from the Roth Industrial Park around the residences.
Bradley added Tuesday that Big Ox has always been in compliance with its discharge permit and has not violated any requirements as far as the strength of the waste it discharges. 
Big Ox has been reimbursing South Sioux City for the displaced residents' accommodations and out-of-pocket expenses. Bradley said Big Ox will continue to pay for resident accommodations into February, although the company is still deciding how long it will continue. At Monday's City Council meeting, some residents said they were worried Big Ox would stop the reimbursements on Jan. 31, forcing them to vacate their hotel rooms after that date.