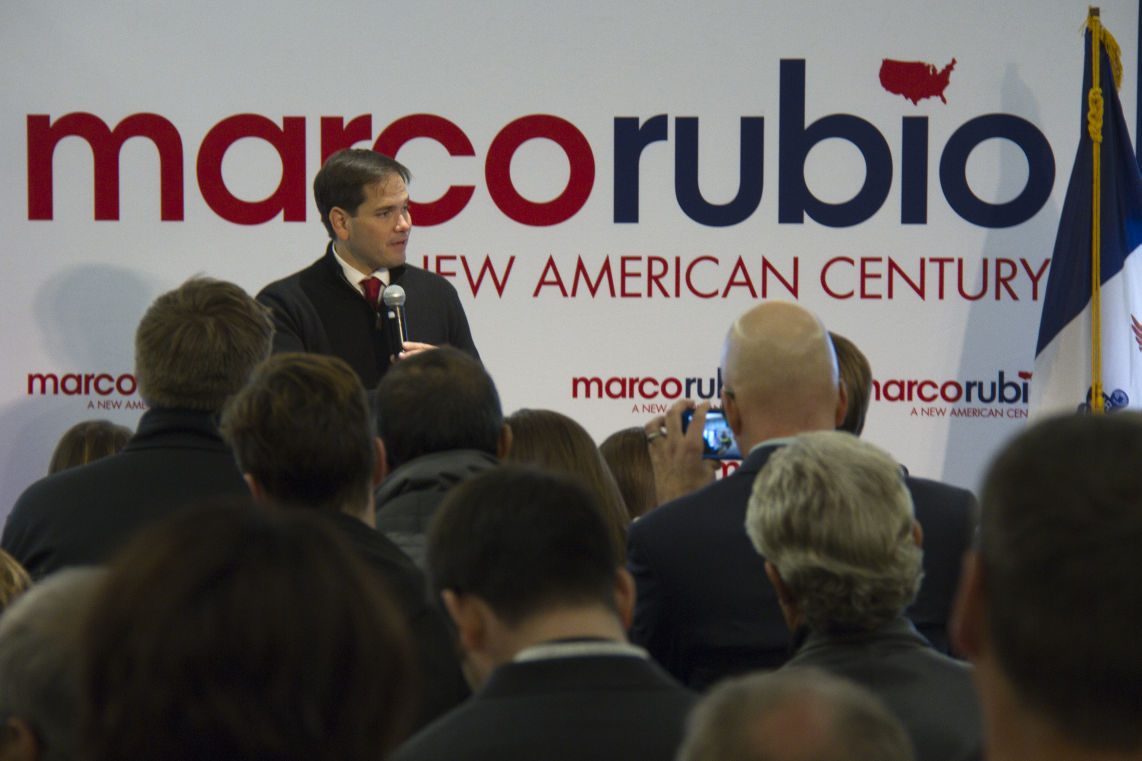 SIOUX CITY | Republican presidential hopeful Marco Rubio said Friday he would do away with "job-killing" regulations, especially those that govern agriculture, during his second campaign appearance in Sioux City.
The Florida senator, who was in town in July, told a crowd of more than 100 at Bev's on the River that an overabundance of federal regulations is hurting private-sector growth.
Rubio stopped in Sioux City on his way to a GOP fundraiser with fellow candidates Chris Christie, Carly Fiorina and Rick Santorum in Orange City, Iowa.
"I want this to remain a special country," Rubio said. He recounted how his parents, working-class immigrants who came to the U.S. from Cuba in 1956, worked hard most of their lives to provide for their children.
"They wanted to give us everything they didn't have growing up," Rubio said.
The senator chastised the Democratic Party for a lack of new ideas and said every solution to the nation's economic troubles offered during the Oct. 13 Democratic  presidential debate involved more taxation.
You have free articles remaining.
Rubio also vowed to disband the U.S. Department of Education and bar federal involvement in K-12 education. He said only local and state governments should oversee schools.
He said real-world experience should count toward college credit and that those who choose vocational training over a four-year degree shouldn't be stigmatized.
Rubio also said adjustments to Medicare, Medicaid and Social Security are needed, such as a later retirement age. Otherwise, he said, those programs could be bankrupt by the time his children qualify for them.
"I may have to retire at 68 instead of 67 years old," Rubio said. "And that's not unreasonable to ask."
He also emphasized the need to repeal and replace the federal Affordable Care Act, commonly referred to as Obamacare.
"It has increased premiums, discourages small business owners to hire less people and has led less people to go into medical school," Rubio said. "It's a disaster."
He said government should not be involved in health care and that individuals should be able to control their own medical insurance plan.