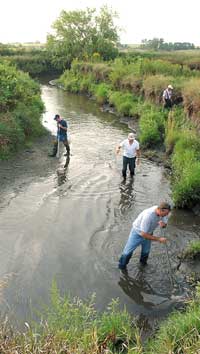 ALTON, Iowa -- It's been more than three months since 4-year-old Breiton Ackerman disappeared while fishing with his family. One minute the little boy in blue jean shorts and a lime green tanktop was there, family said -- the next, he wasn't.
His family and authorities presume Breiton fell off the bridge that crosses Willow Creek on his grandfather Glenn DeJong's farm near Alton, Iowa. He must have drowned that Sunday afternoon, they say. There was nowhere else for him to go. The surrounding fields were barren, crackling stalks of harvested corn the only things jutting out of the chunky dirt.
Breiton wasn't even wearing shoes.
But no body has been found -- the creek has been searched all the way to the Floyd River near Le Mars, and the Floyd River has been searched to where it dumps into the Missouri River. Not just once. And not with a light touch, either. Divers, dogs and hundreds of volunteers have spent thousands of hours leaving no rock unturned, no bend unexplored.
Wednesday the Sioux County Sheriff's Department took a last-ditch effort at finding the little boy's body, mobilizing a volunteer group at least 100 strong. The official search had been called off a week after Breiton's disappearance, but low waters in the creek now had officials hopeful that it may be easier to locate a body.
However, Sioux County Sheriff Dan Altena said this search, too, turned up nothing.
"I don't anticipate any more searches," he said. "I think we're just going to ask hunters, trappers and farmers working in the fields to keep an eye out for anything."
Authorities have discussed just about every theory or possible situation regarding Breiton's disappearance, Altena said. There may have been a hole somewhere he fell into and his body has been completely covered, he said, in which case there may be little anyone can do. Little evidence points in any direction.
"We're sure he must have drowned, though," Altena said. "At this point we don't have any reason to think otherwise."
More than 50 volunteers from surrounding fire departments, emergency services, friends and family assembled at 8 a.m. in the Alton Fire Department garage Wednesday, some drinking coffee in preparation of the day ahead. About 150 more showed up throughout the day to take over. All were driven to locations on the creek in a school bus and two pickup trucks.
They spent their time poking into the soft, sinking silt with walking sticks and their feet, shuffling upstream. Only minutes into the search, volunteers uncovered something that looked promising -- rib bones and a femur buried in the bed of Willow Creek two miles north of Le Mars.
"You don't think these are human, do you?" a volunteer asks, holding up a bone for inspection.
"Nah, that's too big," another said. "There was a deer carcass up here on the bank last week when we were out. It's not here anymore."
Altena said the bones were nevertheless examined by Iowa Search and Rescue dogs and a Le Mars veterinarian. They were indeed from a deer.
Some of the volunteers have been involved since May, persisting with the search through the summer months. Anne Lowatchie of Iowa Search and Rescue and her black lab mix rescue dog, Montie, have sometimes walked the banks on her days off, searching for a trace of scent. It would have been nice to have some closure by finding his body, she said, not only for the family but also for herself.
"We all have the desire to help. It's something we train for," she said as Montie put his paw on her arm. "There are mysteries all over the place here. This is something we can't just drive off and leave every day. We take it with us."
Breiton's parents, Brad and Beth Ackerman of rural Alton, DeJong and other relatives have persisted searching through the weeks.
"I thought maybe we'd find something today," DeJong said. "There is always that little bit of hope when the last (volunteers) haven't come in, but now it's over. They're finishing up and going home."
As for the family, they will never give up hoping they'll find their little boy someday, he said.
"We might be looking five years from now if nothing happens," De Jong said. "But it would be nice to have something final."
Be the first to know
Get local news delivered to your inbox!