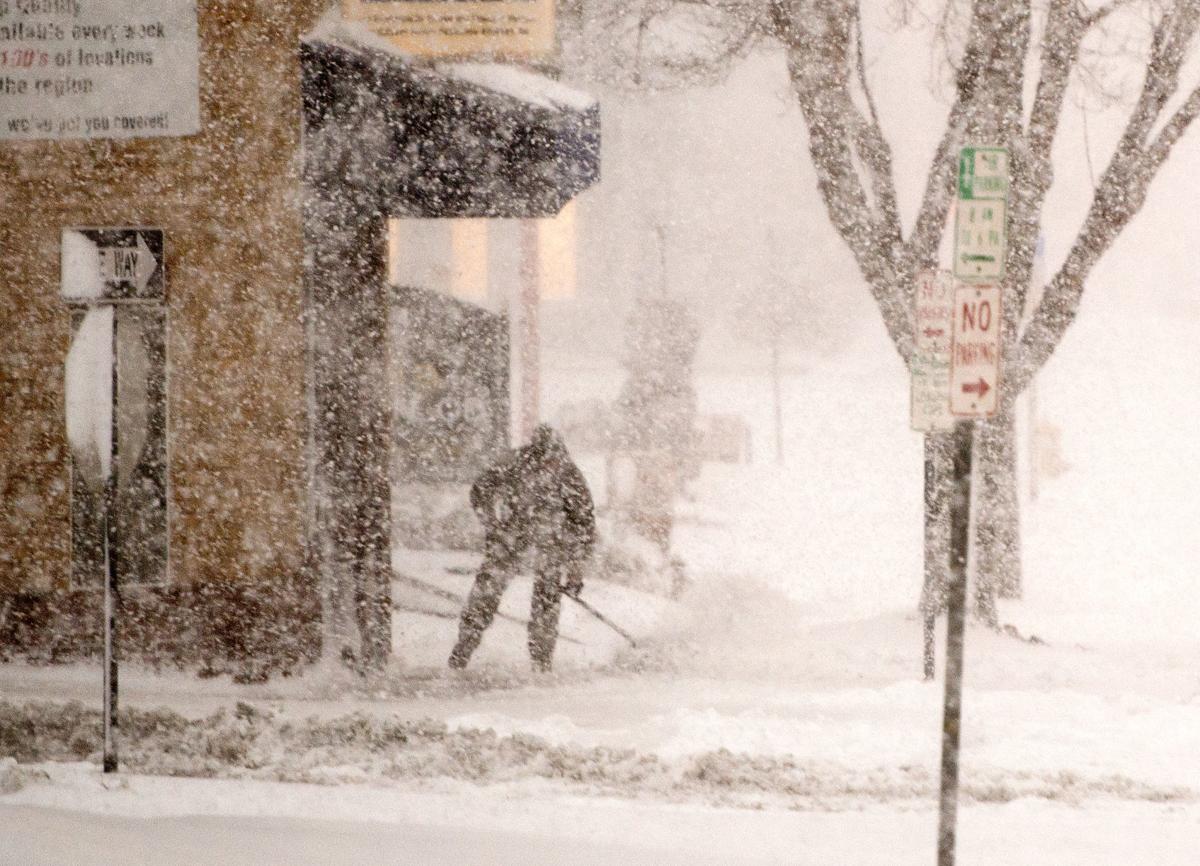 SIOUX CITY -- Expectations of a weekend blizzard moved people to call off a wide variety of events in Siouxland, knocking out plans for high school prom festivities, the biggest annual track meet in Sioux City and a forum for Iowa Democratic governor candidates.
The winds started Thursday evening and blew into Friday strongly at 40 mph, then rain and scattered thunderstorms poured down as Friday evening went on, and an onslaught of snow was expected in the early hours of Saturday, once temperatures dropped from the 40s of Friday.
All those elements conspired to cancel or postpone many Siouxland events. It also moved people to wonder if a legitimate spring season would ever arrive, now three weeks past the spring equinox and two weeks after Easter. The average high temperatures for April 14 and 15 in Sioux City is 62 degrees.
A man from Plymouth County posted on his Facebook account, "Mother Nature -- you are drunk."
The National Weather Service in Sioux Falls placed most Northwest Iowa counties, including Woodbury County, in a Blizzard Warning, as were the five closest Northeast Nebraska counties and all but a few northern counties in South Dakota. The blizzard warning runs to 1 a.m. Sunday.
A tweet from the Sioux County (Iowa) Sheriff's Office on Friday said, "Please prepare now and be ready to halt travel later Friday & Saturday for a dangerous winter storm. If this storm and accompanying winds arrive as predicted, no travel will be advised. Please take this storm forecast seriously."
A wind gust of 51 mph was reported just before 5 p.m. Friday near Little Rock, Iowa, in Lyon County. About 7 p.m. Friday, strong winds blew over some utility lines in parts of Sioux City, making for isolated power outages.
You have free articles remaining.
Sioux City could see six to eight inches of snow in the storm. Areas northwest of Sioux City could get pummeled much harder, as Yankton, South Dakota, might see a foot of snow.
Weather service Meteorologist Todd Heitkamp said with winds possible up to 45 mph, zero-visibility conditions and extremely perilous travel conditions could result.
"I wouldn't be surprised that the whole area will be under a blizzard warning," Heitkamp said.
Heitkamp said South Dakota will be hit hard by a blizzard, so it could be a "historic storm" in the state. The South Dakota Department of Transportation by 2 p.m. Friday had closed a long stretch of Interstates 29 and 90.
The city of Sioux City announced a snow emergency designation would go into effect at 2 a.m. Saturday. Residents should park on the even side of the streets on Saturday and the odd side of the street on Sunday.
The second day of the Sioux City Relays on Friday was cancelled due to poor weather. The two-day annual track and field meet at Olsen Stadium was originally scheduled for Friday and Saturday. But with rain turning to snow in the forecast, organizers moved up the relays by one day. Thursday's events went on as scheduled.
ACT tests were cancelled at Northwestern College in Orange City, Iowa, and at Wayne State College, in Wayne, Nebraska, where a college planetarium was also cancelled. Also in that town, the Wayne High School prom was postponed.
Additionally, the Saturday public forum with five Democratic governor candidates at Morningside College has been cancelled due to inclement weather. Jeremy Dumkrieger, chair of the Woodbury County Democratic Party, said the forum may be rescheduled for a later date.
Among many other cancellations, the Tri-State Area College Fair in South Sioux City was called off for Sunday.