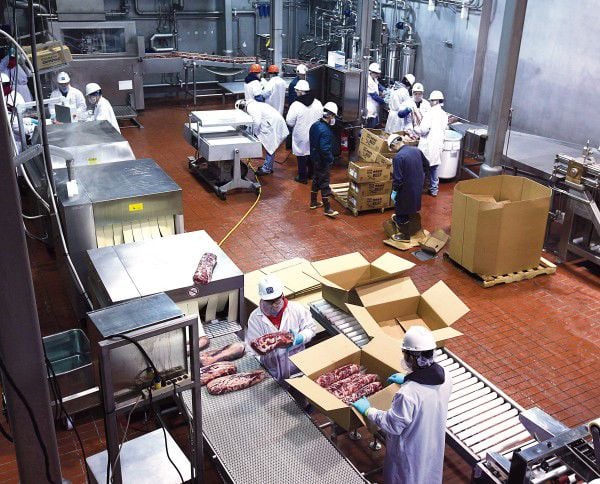 SIOUX CITY | The settlement of Beef Products Inc.'s $1.9 billion defamation lawsuit against ABC and one of its correspondents is likely to reach far beyond the operations of both companies.
Media companies, beef and agriculture organizations and the food production and safety industries paid close attention to the case as it went to trial, anticipating a jury verdict that was sure to shape future decisions made by leaders of all those industries.
The case didn't have a public resolution -- both sides agreeing to a confidential settlement agreement on Wednesday, ending the trial after 17 days of witness testimony -- but the overall case and its resolution provided those interested in its outcome with messages that could have a temporary, if not lasting, effect on how they do business.
"I think the case in some ways highlighted the disconnect between people and agriculture production and food production and how it works," said Jennifer Zwagerman, associate director of the Agricultural Law Center at Drake University. "I view it as an opportunity in some ways to continue to provide education to consumers and the media into food production and agricultural production in general."
The case, by now, is well known: ABC and correspondent Jim Avila reported a series of stories in March and April 2012 about BPI's signature product, Lean Finely Textured Beef. The network's repeated use of the term "pink slime" to describe BPI's product, which was blended with ground beef to lower fat content, led consumers to question what was in their food. Though LFTB has U.S. Department of Agriculture approval, ABC's coverage caused consumers to question its safety and nutritional value.
Suffering the loss of approximately 80 percent of its business and the closure of three of its four plants, BPI sued ABC in Union County District Court in September 2012, claiming the stories contained information the network knew was false. That bad publicity, BPI said, led to the loss of hundreds of millions of dollars, and the Dakota Dunes-based meat processor sought up to $5.7 billion in damages.
Terms of the settlement are unknown. BPI lawyers can't comment on whether there was a financial component to the settlement, saying only that company owners Eldon and Regina Roth are pleased with the resolution. ABC has not retracted or apologized for the coverage.
The result is seen by many in the agriculture industry as a win, and it may embolden other companies who feel they or their products have been portrayed negatively to take action.
"This is a milestone. The industry hasn't had a win like this for some time. It shows how to go on the offensive and attack detractors with factual information," said Russell Cross, a professor in the Department of Animal Science at Texas A&M University and a former administrator of the U.S. Department of Agriculture's Food Safety and Inspection Service who played a role in the department's approval of the definition of LFTB as meat in the early 1990s. "I hope the industry takes note of it and realizes it's possible to win some of these cases."
Chuck Baldwin, journalist in residence at the University of South Dakota Media and Journalism Department, foresees reporters, editors and producers taking a closer look at how they report such stories, and he said they should present those reports in an open, transparent way. Though the BPI settlement might encourage lawsuits against media companies, Baldwin doesn't see the media backing away from public-interest pieces.
"I don't think this is going to lead anybody to cut them out," Baldwin said. "I think we're going to be more careful with how we do things."
Bill Marler, managing partner of Marler Clark, a Seattle-based food safety law firm, and a food safety advocate, said companies also should learn that openness and cooperation with the media could head off public outcry before it reaches the level seen in the aftermath of ABC's reporting on LFTB.
"I hope companies learned it's better to be transparent than not. I think when consumers feel something's being hidden from them, they overreact," Marler said. "My advice to companies is to be transparent, be honest, tell your story and deal with it."
As a result of BPI's lawsuit, the media may have learned that repeating a controversial story may bring legal consequences, Marler said. ABC broadcast 14 stories in 28 days. Those same stories also were published on the network's website and social media sites. BPI lawyers counted more than 300 instances in which ABC used the term "pink slime."
"Maybe in cases going forward, a media outlet will do a story, but pounding it into the ground like ABC did isn't something worth doing," said Marler, who represented two former USDA scientists who were interviewed for the ABC reports and initially included in BPI's lawsuit but later were dismissed.
You have free articles remaining.
The case shined the light on a broader issue, Zwagerman said, and that's the balance between agricultural and production practices deemed safe by regulatory agencies vs. what the public wants. She sees debates similar to those about LFTB being raised about the use of genetically engineered food products. Since ABC's reporting on LFTB, Zwagerman said she's seen an increase in consumers' demands to know what's in their food.
The industry is responding, she said.
"I think what we'll see is more voluntary labeling. That's more in response to consumer demand," Zwagerman said. "We're seeing more and more where consumer demand is trickling down into labeling products."
Some companies are trying to engage consumers even more, said Tamika Sims, director of food technology communication at the International Food Information Council Foundation, a Washington, D.C.-based nonprofit, nonpartisan education foundation that aims to distribute science-based information about health, nutrition and food safety.
More companies are reaching out to consumers on various social media platforms rather than sit by when a food controversy is in the news.
"The industry has tried to be in the conversation more on social media," Sims said.
Based on comments made on stories on the Journal's website and Facebook page, the "pink slime" stigma attached to BPI's product still exists to some degree. Sims said it's hard for companies to undo negative publicity, and she hopes that in the wake of the company's settlement with ABC, media companies make sure they're presenting accurate information to their audiences.
"I think that as far as the industry goes, it's difficult to garner consumers' trust and hold it. I think it's possible for a bad story to linger," she said. "I'd hope that with media coverage of any issue related to food production or food safety, that they really check their facts before they air it or print it or post it.
The settlement leads to three questions:
Will it lead to an increase in similar cases? Zwagerman said it might, Marler said he didn't expect to see more.
Will the media shy away from doing stories for fear of being sued? It's hard to say what discussions will occur in newsrooms when such stories present themselves.
"I hope the news media continues to uncover stuff that the public has the right to know," Marler said.
And, finally, has BPI's name and LFTB been cleared of controversy? BPI lawyer Dan Webb said after the settlement was reached that it vindicated the company's product.
Zwagerman said words can have a lasting effect, and it could be hard for the "pink slime" moniker to ever disappear in reference to LFTB.
Cross said he hoped the settlement leads to renewed confidence in BPI's product and the company sees increased sales and demand for its product.
"I think it (the settlement) should go a long way toward clearing the name," Cross said. "I think we should abolish the words 'pink slime.'"