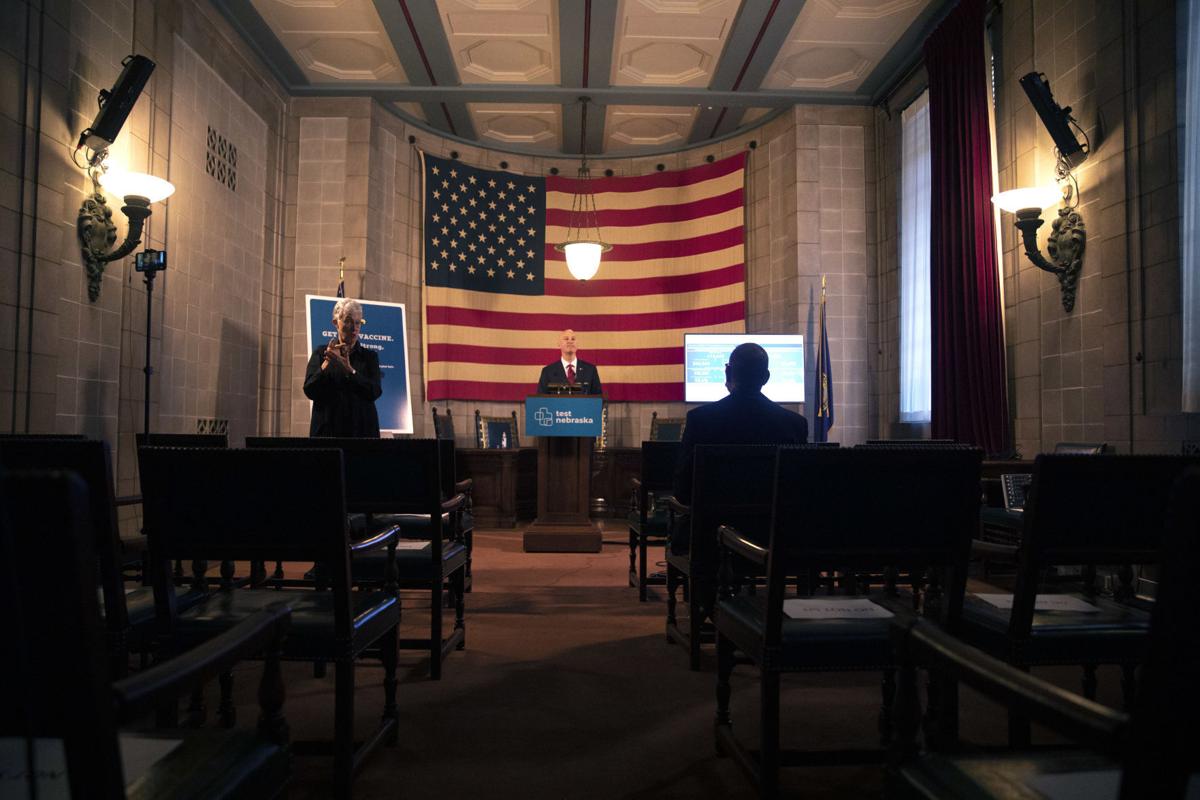 With increasing numbers of COVID-19 variances popping up in the state, Gov. Pete Ricketts on Monday renewed his ongoing call to Nebraskans to get vaccinated.
"The vaccine will keep you out of the hospital and prevent you from dying," Ricketts said. "It's how we get back to normal life."
Some 237 Nebraskans have now contracted new strains of the virus, Felicia Quintana-Zinn, deputy director of the Nebraska Department of Health and Human Services, reported at the governor's news briefing.
That includes 187 with the United Kingdom strain, 48 with the new California strain and two with the Brazilian strain. The U.K. strain was described as "the more contagious and more severe" variance.
Six of those patients have been hospitalized, Quintana-Zinn said, but that reflects the same rate of hospitalization for all COVID-19 patients.
Ricketts said 168 COVID-19 patients currently are hospitalized in Nebraska and that rate currently is "pretty stable."
But the positivity rate for contraction of the virus in Nebraska has increased, the governor said, and "we want to continue to slow that down."
Some 750,000 Nebraskans have now received at least one dose of the COVID-19 vaccine, Ricketts said, and about 20 percent of the state's population has now been fully vaccinated.
Nebraska experienced more than 30,000 vaccinations in one day last week, he said.
A medical investigation continues to examine the incident of one person who contracted blood clots after receiving the vaccine, Qunitana-Zinn said, in order to try to determine if there is a direct connection to the vaccine.
"There are not any concerning patterns about rare medical events" connected to the vaccine, she said.
"All these vaccines are safe and effective," Ricketts said.
"The vaccine works more than 99 percent of the time," Quintana-Zinn said.
In answering questions on other matters, Ricketts said President Joe Biden's proposed infrastructure legislative package is "a thinly disguised way to spend money on more things that Democrats have wanted to spend money on for a long time."
Only about 5% of the funding would be devoted to roads and bridges, the Republican governor said, and 16% to what he would describe as "real infrastructure."
Asked about the Legislature's reluctance to commit funding for construction of a new prison to replace the State Penitentiary, Ricketts said senators must choose between "putting money into the current facility that is not designed for modern programming" or choosing to build a modern new prison.
"A modern correctional facility with modern programming and one that would keep officers and inmates safer," the governor said in describing his proposal to proceed.
Ricketts has urged construction of a new prison now; the Legislature has made a preliminary decision to prepare for construction without making a final determination on whether to proceed.
The governor declined to comment on reports that former Gov. Dave Heineman may be considering entering the 2022 Republican gubernatorial primary race. 
"I'm not going to comment on rumors," he said, while repeating his earlier intention to endorse a Republican candidate. 
Virus by the numbers: 10 charts that show how Nebraska is coping with COVID-19
Omaha hospital bed occupancy
Douglas county COVID-19 deaths
Douglas county COVID-19 cases
Nebraska ICU capacity, by county
Nebraska hospital capacity, by county
Nebraska COVID-19 vaccine distribution
COVID-19 vaccination rates: How Nebraska compares
Nebraska COVID-19 hospitalizations and ICU usage
Lincoln hospital bed occupancy
Lancaster county COVID-19 cases
Lancaster county COVID-19 deaths
Nebraska COVID-19 testing