DES MOINES -- While visiting Iowans affected by severe flooding in western Iowa, Vice President Mike Pence last week called out Democrats in the U.S. Senate — including a few by name — for their vote against a federal disaster assistance package.
Two of those Senators-slash-presidential candidates — Amy Klobuchar and Cory Booker — were in Iowa this week, and they expressed disappointment with Pence's comments and accused him of politicizing the issue of disaster relief.
"Stop this crap and get the help to the people that need it in Iowa, Nebraska and Missouri," Klobuchar said.
Klobuchar and Booker visited the Iowa Capitol this week — Booker on Wednesday and Klobuchar on Thursday — to speak to Democratic state lawmakers and field questions from statehouse reporters.
Not quite a week earlier, Pence called out them and fellow Senate Democrat Elizabeth Warren for their vote against a disaster assistance package written by Senate Republicans.
"If you see Sen. Elizabeth Warren, if you see Sen. Amy Klobuchar, if you see Sen. Cory Booker and others come to Iowa asking for your vote, you ought to ask them why they voted against disaster assistance for Iowa," Pence said while flanked by flooding victims and Iowa Republican leaders. "There will be plenty of time for politics when 2020 comes around. Right now, Iowa needs disaster assistance and it's time for Congress to act."
Senate Democrats said they voted against the proposal because in their opinion it contains insufficient relief for Puerto Rico's recovery from a devastating hurricane and that they instead support a package written by House Democrats.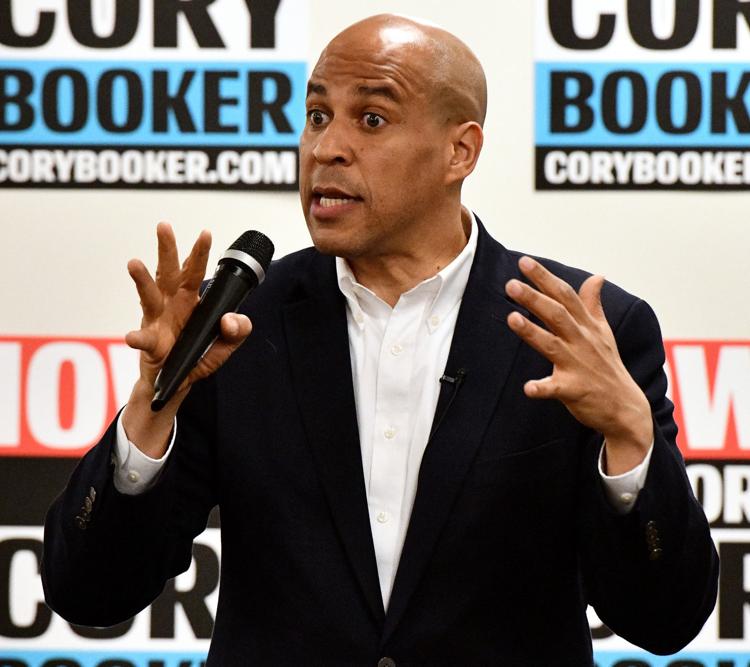 Booker and Klobuchar, both of whom also have visited flood-damaged areas in western Iowa, said Pence was the one who turned the issue political with his comments.
"I think all of us should be sophisticated enough for people on both sides of the aisle that when someone comes to town and starts pointing fingers and throwing stones, it says more about them then it does about their earnest desire to really reach out and solve problems," Booker said.
Klobuchar said she was surprised by Pence's comments. She recalled talking to a woman who was in danger of losing her home even though it stood more than 2 miles from the Missouri River.
"I did not ask if she was a Republican or a Democrat," Klobuchar said. "Because when it comes to infrastructure, I've always thought there is no red levee or a blue levee. There's only levees. There's no Republican levee or a Democratic levee."
Klobuchar and Booker repeated their insistence that the federal disaster assistance package should include more support for Puerto Rico.
"Here we are a country that has afforded trillions of dollars of tax cuts to the wealthiest Americans and then pleads poverty and says we don't have enough money to take care of all those Americans who have dealt with natural disasters," Booker said.
Said Klobuchar, "The point is they're trying to siphon off certain areas that need help, like in Puerto Rico, instead of just doing it altogether. And they're playing politics with it. And I think that is the worst thing to do."
Get Election 2020 & Politics updates in your inbox!
Keep up on the latest in national and local politics as Election 2020 comes into focus.