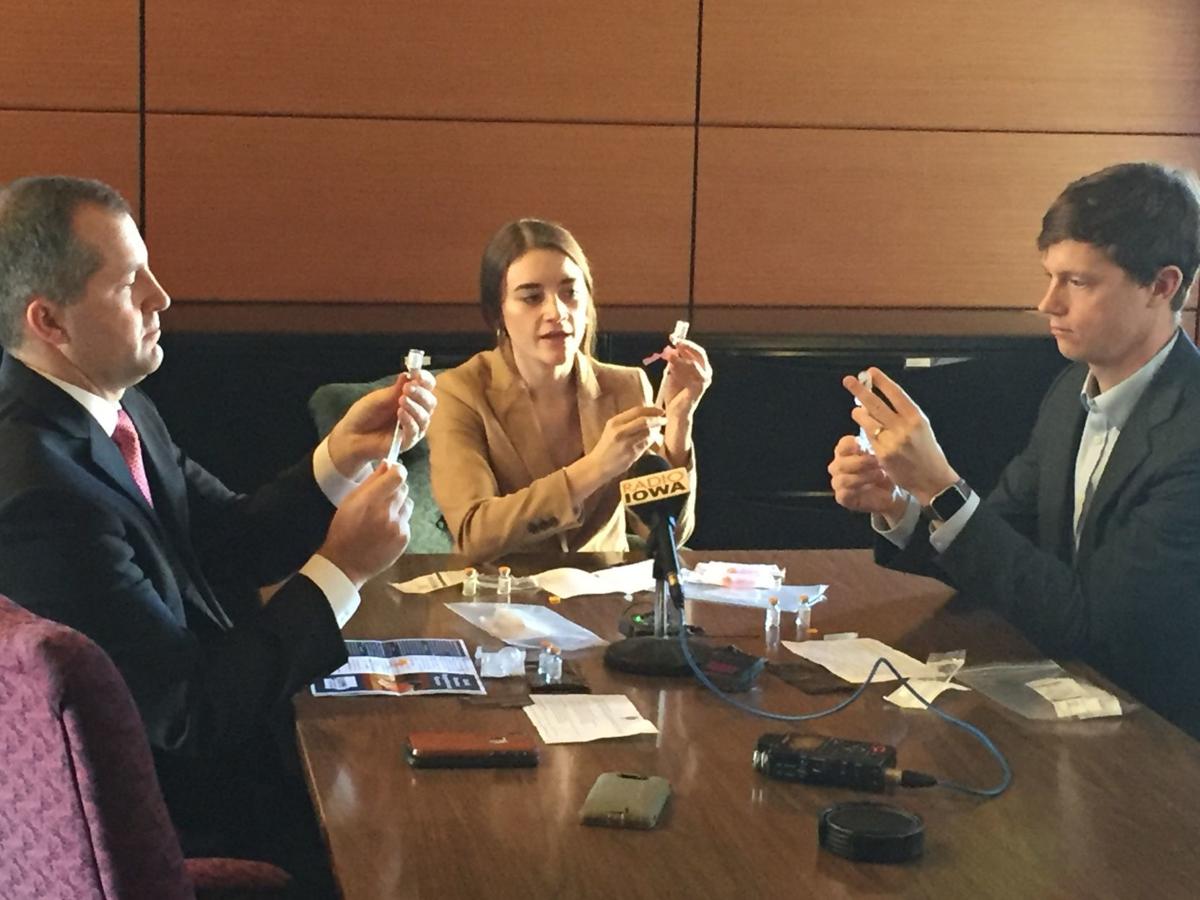 A roundup of state government and Capitol news items of interest for Monday, Dec. 2, 2019:
MORE IOWANS REGISTER TO VOTE: For the first time in state history, there are more than 2 million active voters in Iowa heading into a general election year, according to Iowa Secretary of State Paul Pate. The state's commissioner of elections announced Monday that 2,014,226 Iowans are registered to vote in the state. That is the most ever at the start of December before a general election. The all-time high for active registered voters in Iowa was 2,045,864 — set in January 2017, he noted.
"Iowa is one of the top states in the nation for voter registration, and we have made it easier than ever to register to vote," Pate said in a statement.
Iowa is one of only seven states that offers online voter registration, same-day voter registration, early voting and no-fault absentee voting, he added.
The current statewide active voter registration totals breakdown is as follows: Democratic, 613,899; Republican, 640,180; independent (no party), 743,885; and others, 16,262.
PRISON ASSAULTS: Officials with the Iowa Department of Corrections are investigating two separate incidents in which staff members at state prisons in Fort Dodge and Anamosa were assaulted.
Officials say a correctional officer was assaulted at the Fort Dodge Correctional Facility around 10:15 p.m. Sunday. The officer was responding to a cell where inmates had started a fire and an inmate began striking the officer with closed fists and kicks when he opened the cell door. When the inmate attempted to attack another officer, officials used pepper spray to subdue the inmate, according to the corrections agency. Staff used a fire extinguisher to put out the fire in the cell, and no damages or injuries were reported from the fire. The officer who was assaulted was treated by institution medical staff.
On Friday morning, an inmate at the Anamosa State Penitentiary assaulted a correctional officer after he gave the inmate multiple directives about being in an unauthorized area. When the officer approached the inmate to restrain him, the inmate struck the officer in the face with a closed fist. Other staff members in the area assisted in restraining the inmate, according to corrections officials. The staff member was taken to Jones County Hospital and later returned to duty at the institution.
You have free articles remaining.
A department spokesman said the two assaults were not connected.
"Whenever a violent incident occurs inside a correctional facility, the incident is thoroughly investigated to determine not only the cause and whether the response was executed properly, but also to learn how it might be prevented in the future. At this time, it does not appear that staffing levels played a role in these incidents. If a pattern is identified related to staffing numbers and violent incidents, it will be communicated with the governor and Legislature for their consideration," the spokesman said in a statement.
STATE REVENUE GROWS: State tax receipts from July through November have grown by 6.4 percent but the nearly $3.336 billion in collections may be overstated due to a slowdown in corporate and personal income tax refunds issued last month, according to the latest monthly report from the Legislative Services Agency.
Even with refund and timing factors accounted for, state tax collections are "well above current projections" of 1.5 percent year-to-year growth set by the Revenue Estimating Conference in October, said LSA tax analyst Jeff Robinson. That three-member panel is slated to meet Dec. 12 to reconsider its fiscal 2020 estimate of $7.851 billion. The final number established at that meeting will become the official estimate that Gov. Kim Reynolds and lawmakers must use in assembling a new state budget next session. To date, state tax collections are running about $200 million ahead of last year — thanks to 8 percent growth in sales tax revenue that accounts for slightly more than half of this year's boost. Robinson attributed this fiscal year's growth to a change in the Iowa personal income tax withholding tables that took effect in January 2019, which will decrease deposits moving forward, and the increased sales and use tax base that took effect last January, which will increase deposits moving forward. He said Black Friday sales the day after Thanksgiving will not show up in the numbers until after Dec. 10. Major sources of revenue and their contributions to the fiscal 2020 year-to-date revenue change include personal income tax up $37.7 million, 2.1 percent; sales/use tax up $104.8 million, 8.0 percent; and corporate tax up $12.3 million, 5.7 percent.
IOWA INDICATORS UNCHANGED: The Iowa Leading Indicators Index remained unchanged in October — marking the fourth time in the past five months that the index registered at 107. According to the state Department of Revenue, three of the index's eight components were positive contributors in October — the national yield spread, residential building permits and the new orders index. The five components contributing negatively to the index were average manufacturing hours, average weekly unemployment claims (inverted), the agricultural futures profits index, the Iowa stock market index and diesel fuel consumption. Department analysts said broad-based signals of weakness in the Iowa economy continued in October, but a slight percent increase in Iowa's non-farm employment moved that index to its 24th consecutive month of positive growth.
CAPITOL HOLIDAY DISPLAYS: Representatives of American Atheists announced Monday that seven nonreligious displays will be present in the Iowa Capitol building this month, which they say is a record for the largest number of secular displays inside the rotunda.
American Atheists, Dubuque Area Humanists, Eastern Iowa Atheists, Freedom from Religion Foundation, Iowa Atheists and Freethinkers, the Iowa State University Atheist and Agnostic Society, and Secular Students at Iowa all applied and were granted permission for holiday displays.
"For as long as I can remember, holiday displays in capitol buildings and courthouses have been the exclusive privilege of the Christian religion," Iowa Atheists and Freethinkers member Robert Cook said. This year, seven of the eight available spots at the Capitol will be filled by a secular group.
"The abundance of atheist and secular holiday displays scheduled to appear this holiday season will showcase how vibrant, involved, and connected the growing community of nonreligious Iowans is," said Justin Scott, American Atheists' state director for Iowa. American Atheists' display showed a snowy scene as background to the words, "This season, no matter what you celebrate or why, Happy Holidays! — Your atheist neighbors."
Four of the groups' displays are appearing during the first two weeks of December, while three different ones will go on display during the last two weeks of the month, according to organizers.