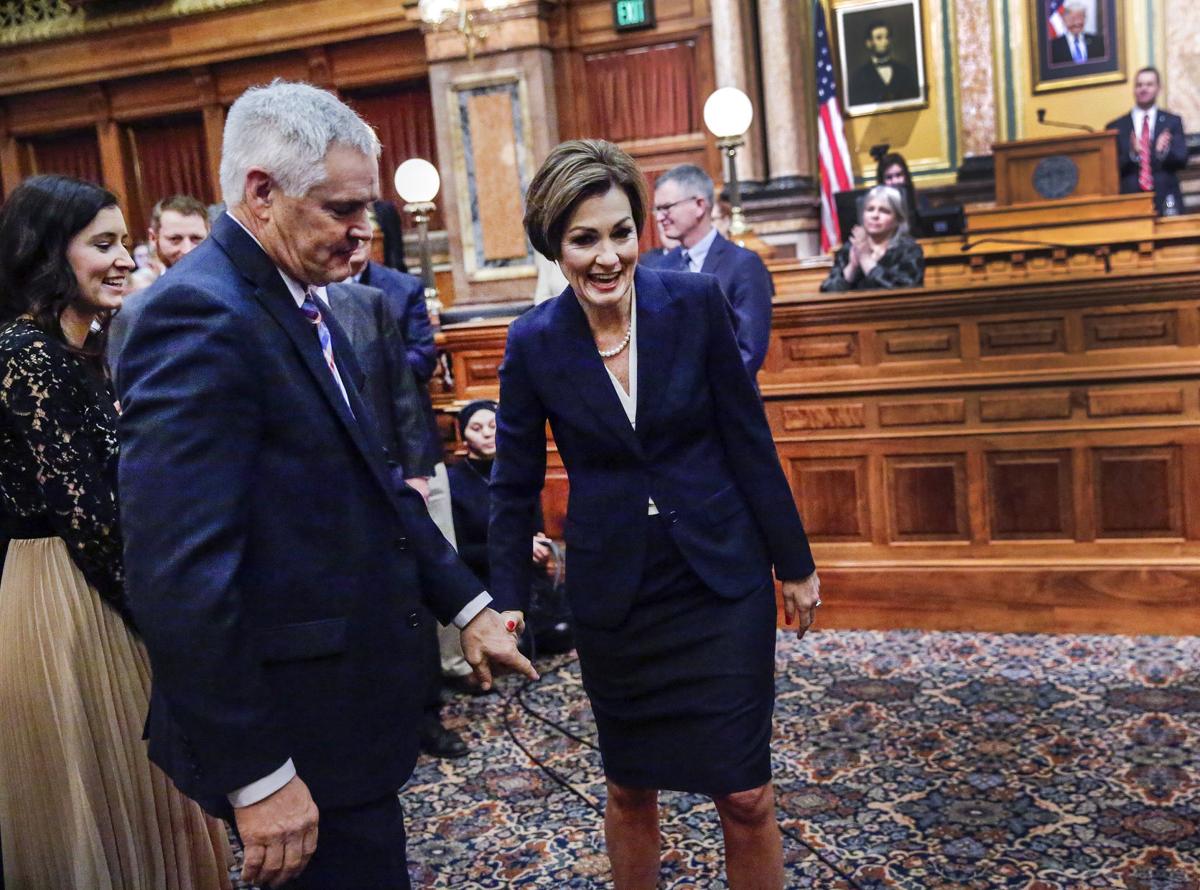 DES MOINES — Gov. Kim Reynolds' call Tuesday for a "bold and visionary" plan to reduce Iowans' tax burden, preserve land and water, strengthen schools, improve health options and give every Iowan a chance to succeed earned a generally favorable response from legislators who will determine the fate of her proposals.
"Let's be bold and visionary," Reynolds told a joint session of the 88th Iowa General Assembly and a statewide television audience. "Let's seize this opportunity and make the next decade Iowa's best. It's time to show the world that opportunity lives here."
In her third Condition of the State speech, the Osceola Republican proposed an "Invest in Iowa Act" she said would lower income taxes, provide sustainable funding for mental health care, reduced the property tax burden and fund the Natural Resources and Outdoor Recreation Trust.
"Funding that trust is no small investment, but I believe it's one we need to make," she said about the Iowa Water and Land Legacy that was approved by voters 10 years ago but never funded.
It's a move popular with majority Republicans and Democrats. However, members of both parties want more information, especially on how the governor wants to raise the state sales tax and lower income and property taxes.
It's a move she says better funds needs like conservation and mental health care while lowering the overall tax burden in Iowans.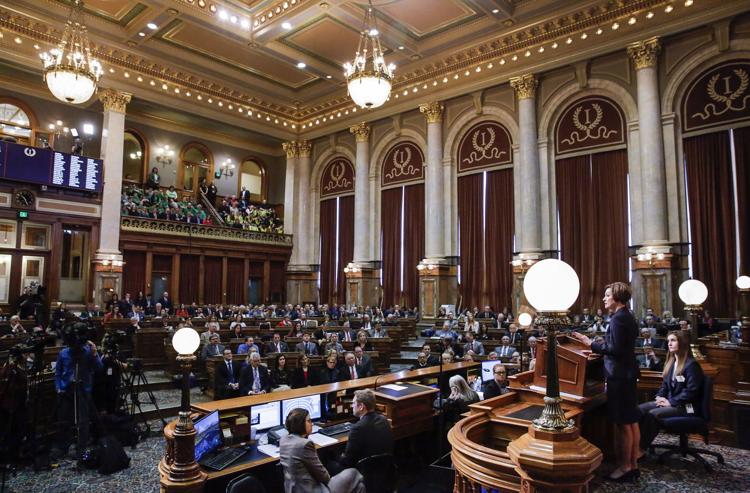 "A lot of what she said, you know, I think she can find bipartisan support," said House Minority Leader Todd Prichard, D-Charles City. "We share priorities in terms of funding water quality projects and finding ways to fund mental health — what I would say were her headlines."
But "the devil's in the details" was a frequent response from members of both parties. Many called it a "heavy lift."
"I've been here long enough not to make any predictions like that 10 minutes after the governor's speech," said House Speaker Pat Grassley, R-New Hartford.
Responses to other parts of the governor's speech were less bipartisan.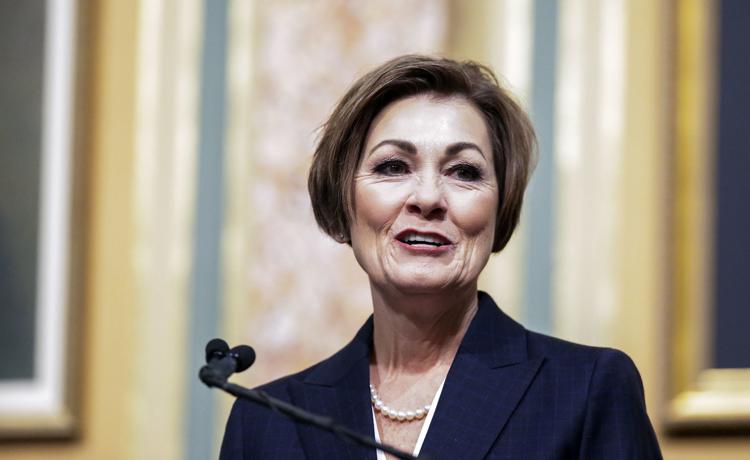 Her call to change the state constitution so it can't be read to guarantee the right to an abortion is sure to spark opposition from lawmakers in favor of keeping abortion rights.
Such a measure, if ever approved by lawmakers and voters, would have "a devastating effect on families in Iowa and it's a fundamental violation of a woman's rights and freedoms," said Rep. Liz Bennett, D-Cedar Rapids.
However, Senate President Charles Schneider, R-West Des Moines, believed there would be interest from Republicans.
"I'm sure our caucus will have a strong interest in that," he said. "So we'll see what happens when the bill is actually filed. My record is being anti-abortion. This is something that would be in front of the voters to let them decide."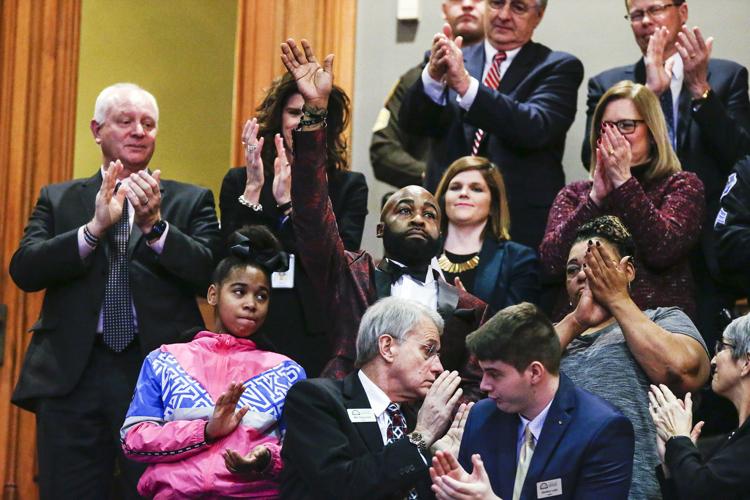 Water and Land Legacy
The governor proposed instituting a 2010 constitutional amendment passed by Iowa voters that authorized the Legislature and governor to raise the state's sales tax and direct the proceeds into a wide range of environmental, conservation, natural resources and outdoor recreational initiatives.
As prescribed in the amendment, three-eighths of a new penny sales tax increase — estimated at about $170 million a year — would flow into the Iowa Water and Land Legacy fund under Reynolds' plan.
The new tax would take effect Jan. 1, 2021.
But the designated formula for distributing that money should change to reflect current water quality priorities and realities, she said.
As a state senator in 2010, Reynolds said she voted for the distribution formula, but said now "the challenges we face today and will face tomorrow are different than what we understood them to be 10 years ago, so it's time to amend the formula."
Under her plan, Reynolds said almost 58 percent of the new money would be allocated for water quality and conservation, or an estimated $100 million annually, an increase. Another $52 million would go for other conservation and outdoor recreation efforts, also an increase.
"These investments will not only aid our conservation efforts, they will improve our quality of life and help us retain and recruit a new generation of Iowans," Reynolds said.
But in a statement, Iowa Policy Project Executive Director Mike Owen called Reynolds' proposal to change the funding formula "a giveaway to the powerful agricultural interests."
You have free articles remaining.
He said farm operators would pay little of the new tax because of exemptions, and that funding for amenities that would benefit the public — like trails and parks — would be reduced.
Mental health
Two years after the Legislature reformed the adult mental health system and a year after creating children's mental health system, Reynolds called for lawmakers now to follow up on their commitment to provide predictable funding.
"No parent, family member, or friend should be told that treatment isn't available for their loved one," she said. "By establishing a dedicated and stable fund for mental health, we will give hope to so many who are suffering in silence. It's a promise we've made, and it's a promise I intend to keep."
Reynolds wants to use proposed sales tax proceeds to reduce property tax levies and provide the funding through the state general fund. Counties now levy a property tax to help fund mental health care, but do so at different rates.
Her plan calls for the state and counties to split mental health funding 70-30, which could result in a $77 million reduction in county property tax burdens. The state share in the coming fiscal year would be about $80 million and would rise to $130 to $140 million.
Her budget also includes additional funding to expand the use of telehealth services, including mental health, to underserved Iowans.
Reynolds has directed the Department of Human Services to remove barriers that restrict schools from partnering with telehealth providers, especially for behavioral health.
"What used to be a 70-mile drive in the middle of the school day can now be a walk down the hall," she said. "That means more children will receive the care they need, with less disruption to their education."
Lawmakers generally applauded the governor's commitment to funding mental health, but reserved judgment until they see the details.
Speaker Grassley said he wants to know how her plan affects the 15 multicounty mental-health regions that now oversee that funding.
"It's a little premature to say whether I'd be supportive of something until we actually see what the proposal would look like," he said. "If the Legislature has the will to do something on this issue, I think that will be part of the conversation."
Democrats also withheld judgment on the funding aspect of Reynolds' mental health plan. They said they want to make sure the tax changes she's proposing don't increase the burden on low-income Iowans.
"The question that we ask as Democrats," Rep. Prichard said, "is one who's bearing that burden. So we welcome the conversation as in terms of talking about funding mental health. That's obviously the end goal that we share. How we get there, we may have our differences as we go through the process."
Workforce initiatives
Much of Reynolds' address was about developing Iowa's workforce for today and the future.
From near record-high unemployment 10 years ago to record-low unemployment today, Reynolds said the state is in a strong position.
"We have thousands of open jobs in rewarding careers," she said, but employers need workers. "That's why this year, 2020, we need to plan for 2030. For 2040. We need to seize the opportunities that exist so that years from now, the next generation of Iowans will inherit an Iowa whose greatness comes as no surprise to anyone."
She called for additional appropriations for Future Ready Iowa, which the Legislature funded last year. More than 6,000 Iowans — 80 percent non-traditional students — have taken advantage of the Last Dollar Scholar program. She wants an additional $2.8 million for the program and the same increase for the Employer Innovation Fund for businesses that work with partners to develop new programs.
Some of those programs involve child care, which Reynolds called "the next workforce issue we need to tackle."
"It's another barrier for families looking for a way up," she said. "For some, it's about affordability; for others, access is the issue; and for thousands of Iowans, it's both. This year we need to act."
That was welcome news to Rep. Running-Marquardt, D-Cedar Rapids. Finding quality, affordable child care is a struggle for many working families, "so I'm appreciative that was addressed."
Reynolds proposed making child care more affordable by expanding early childhood tax credits available to families making $45,000 or less to double that income threshold to $90,000.
She also called on legislators to begin to address the "child-care cliff so that we are not punishing parents as they continue on a path to self-sufficiency" by implementing a tiered copay system.
Included in the governor's workforce initiatives was her "second chance" approach to focus on prisoner re-entry and rehabilitation to break a "circle that leads back to prison" at an average cost to taxpayers of $32,000 per year.
She also renewed her support to amend the Iowa Constitution so that it no longer bars felons from voting after they've served their sentence.
The governor also called on legislators to make sure government isn't stifling the ingenuity of Iowans by reforming the state's professional licensure system.
She said it puts Iowa at a competitive disadvantage and costs 48,000 jobs and $290 million.
"We should never dismiss the importance of protecting the health and safety of the people, but it's been far too long since we've modernized our licensing structure. That's what I'm asking you to do today," she told lawmakers, urging them to adopt universal licensing recognition and to waive fees for low-income individuals.