DES MOINES — Legislation that would prohibit transgender youth from using school bathrooms and locker rooms that correspond with their gender identity is headed to Republican Gov. Kim Reynolds for her signature.
The Iowa House voted 57-39, with five Republicans joining Democrats in opposition, to pass Senate File 482.
The legislation requires public schools to maintain separate bathrooms, locker rooms, showers, dressing areas and overnight accommodations for biological boys and biological girls.
Students wishing for greater privacy would need parental permission to request use of alternative facilities, such as a single-occupancy or faculty bathroom or locker room. Schools would be required to evaluate such requests and, "to the extent reasonable, offer options for alternative facilities."
The bill states that schools cannot be punished for restricting bathrooms and locker rooms to members of the same biological sex. It also directs the Iowa Attorney General's Office to investigate complaints of alleged violations of the legislation and file action in court to seek "equitable relief" should it determine that legal action is warranted.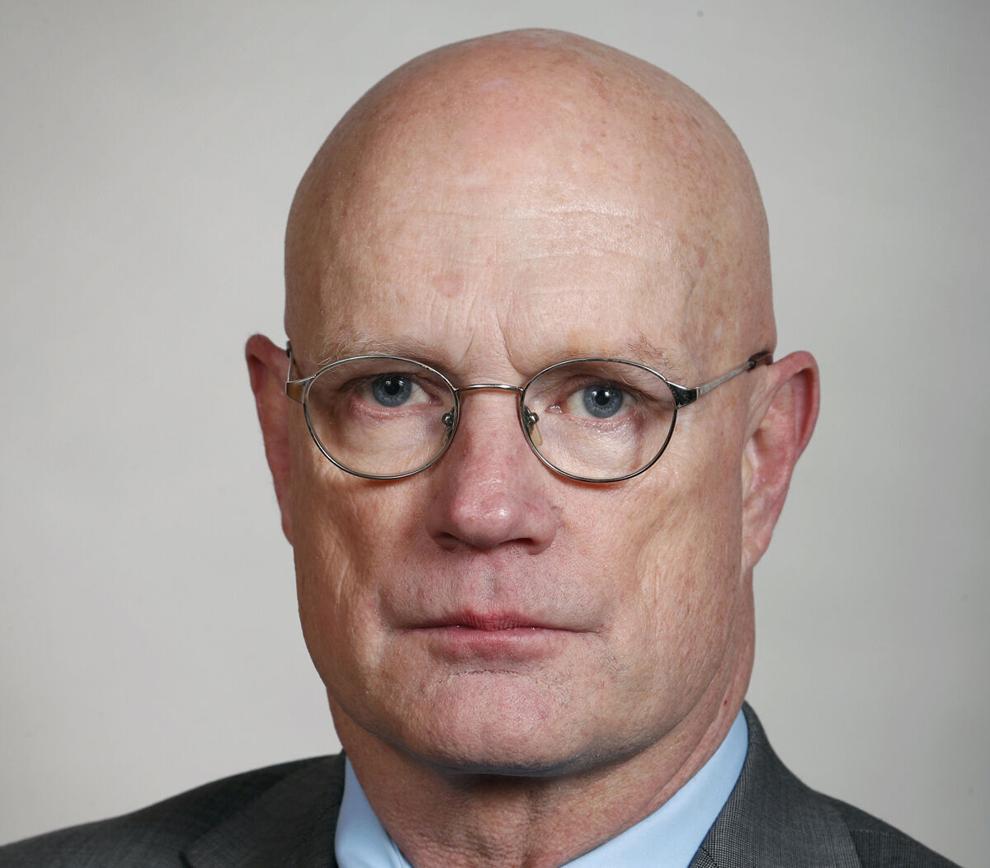 Senate Republicans passed the bill last week, describing the proposal as a common sense way to ensure the privacy and safety of all Iowa students.
"The issue addressed in this legislation at one point … was not up for debate, but the goal posts have now been moved," said Rep. Steven Holt, R-Denison, the bill's floor manager. "For many decades, schools have separated locker rooms and bathrooms and hotel rooms on school trips by biological sex. This is nothing new."
Data, though, overwhelmingly shows that incidents of sexual assault in school bathrooms are rare, and that transgender individuals are far more likely to be victims of sexual assault than non-transgender people, including at schools with prescriptive bathroom policies.
Opponents of the bill have repeatedly said that there have been no incidents of transgender students in Iowa harassing their peers or misbehaving in bathrooms over the last 15 years. And have noted that Iowa schools have been able to provide accommodations without issue.
Holt countered that he knows of six school districts — which he would not name — that have expressed concerns, and claimed school superintendents are "begging for guidance"; on the issue. He added he's "not interested in waiting until a child is raped"; in a restroom by someone pretending to be transgender.
Democrats contend it's another in a growing attack this legislative session on transgender Iowans that would paint the state as unwelcoming and exacerbate Iowa's workforce recruitment and retention issues.
House Minority Leader Jennifer Konfrst, D-Windsor Heights, said forcing students into bathrooms that don't match their gender identity puts their safety at risk, and notes it is already illegal to enter a restroom to harm someone or invade someone's privacy.
Konfrst said the legislation is another way of singling out transgender students, and equated the bill to "state-sponsored bullying."
Holt said he empathizes with transgender students uncomfortable using a facility that doesn't correspond with their gender identity. He said accommodations should be made when possible "to keep that child comfortable; however, that should not be done at the expense of the privacy and safety of our daughters."
'We can't afford to lose workers'
North Carolina was thrust into the national spotlight in 2016 for passing similar legislation, which was subsequently partially-repealed. The bill sparked a nationwide backlash, causing far-reaching political and economic damage.
Doug Neumann, executive director of the Cedar Rapids Metro Economic Alliance, said while the economic impact of such legislation is hard to measure, Iowa businesses have already seen impacts on workforce.
"We've been far more engaged in discussions in recent years, particularly on social issue bills that have a direct impact on businesses and their workplaces," Neumann said in a statement. "We strongly encourage legislators, employers and citizens to advocate policies that are welcoming to all populations and encourage people to come to, and stay in, Iowa. We can't afford to lose workers or make it any harder than it already is to attract talent."
Advocates decry 'relentless attack' on transgender Iowans
A record 29 unique pieces of anti-LGBTQ legislation were introduced already this legislative session, said Keenan Crow, a lobbyist with LGBTQ activist group One Iowa. That, they said, compares to 28 LGBTQ-related bills introduced during the two-year General Assembly from 2021-2022.
State lawmakers last week passed a ban headed to Reynolds for her expected signature that would prohibit Iowa doctors from prescribing puberty blockers or hormone therapy to transgender children under the age of 18. It would also prohibit any surgeries on minors intended to affirm a gender that does not match up with their sex at birth.
House Republicans have also passed a ban on instruction on gender identity and sexual orientation in kindergarten through sixth grade. The bill, which has yet to pass the Senate, has drawn comparisons to Florida's so-called "don't say gay" law.
One Iowa, in a statement, called on Reynolds to veto the bill and "other legislation that harms LGBTQ Iowans and benefits no one."
Reynolds' office did not immediately respond Thursday when asked whether she plans to sign the bill into law once it reaches her. The bill, once signed, would go into effect immediately.
If the bill is signed into law, it likely will be at least temporarily halted by a legal challenge.
Gender identity was added as a protected class to the Iowa Civil Rights Act in 2007. The protections extend to education and public accommodation. At the federal level, Title IX protects gender identity when it comes to restroom and facility access in schools.
"This bill is a solution to an imaginary problem, all for the sake of bullying trans children," Becky Tayler, executive director for Iowa Safe Schools, said in a statement.
Iowa Safe Schools provides education, outreach, advocacy and victim services for LGBTQ and allied youth.
"Our organization continues to be disappointed by the disproportionate amount of time and effort the Iowa Legislature has spent attacking LGBTQ kids this legislative session," Tayler said.
The Human Rights Campaign — the nation's largest lesbian, gay, bisexual, transgender and queer (LGBTQ+) civil rights organization — said transgender students "deserve the fundamental human dignity of being able to use the bathroom at school without being targeted or humiliated."
"Transgender youth have a right to an education, and not being able to use the bathroom safely at school abridges that right," the campaign said in a statement.
Erin Murphy of The Gazette Des Moines Bureau contributed to this report.
PHOTOS: Iowa LGBTQ Rights Rally at Capitol
Iowa LGBTQ Rights Rally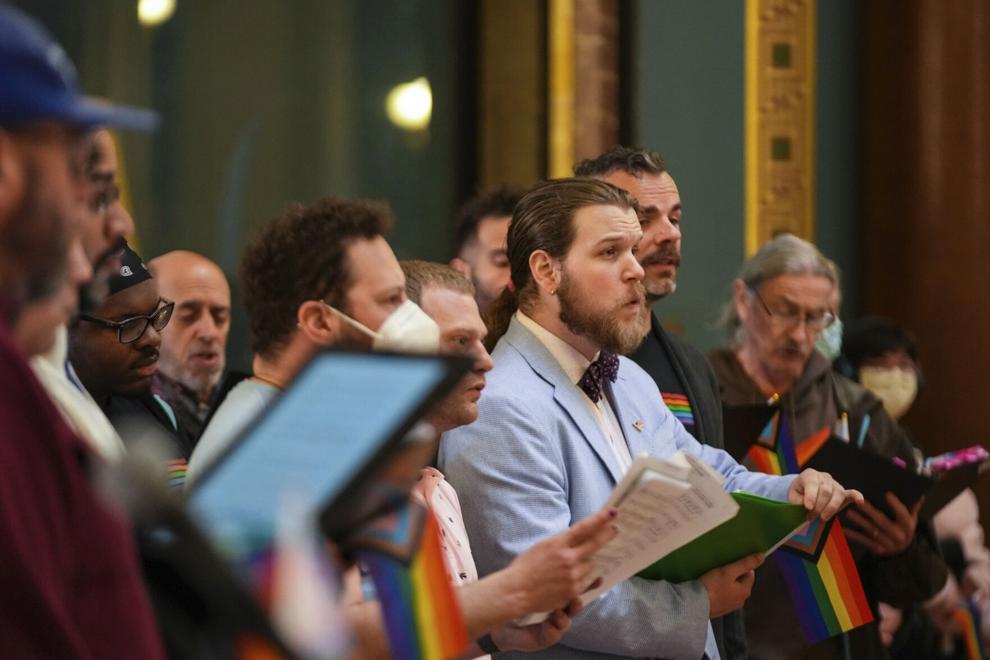 Iowa LGBTQ Rights Rally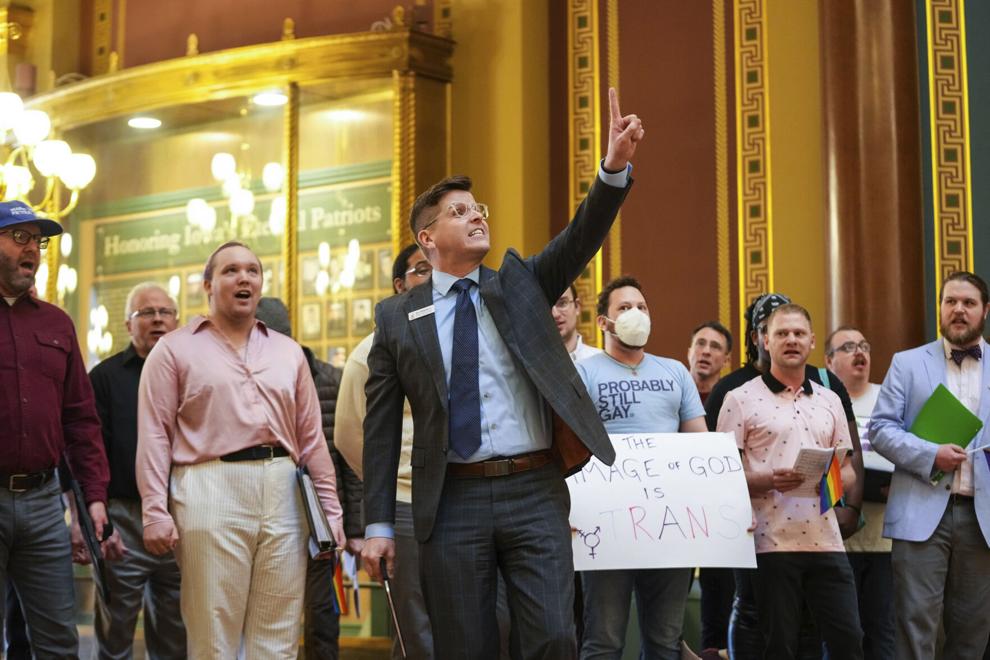 Iowa LGBTQ Rights Rally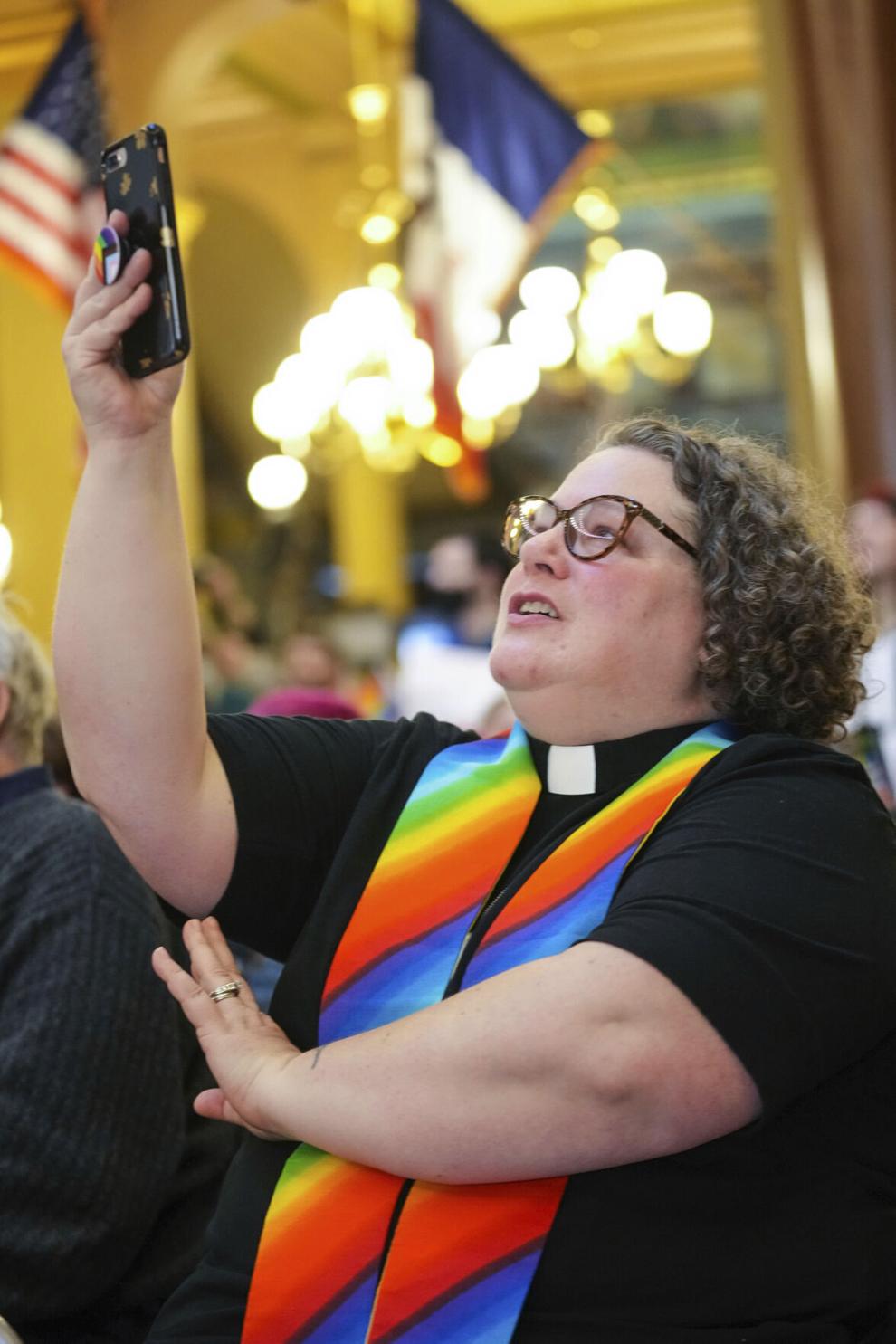 Iowa LGBTQ Rights Rally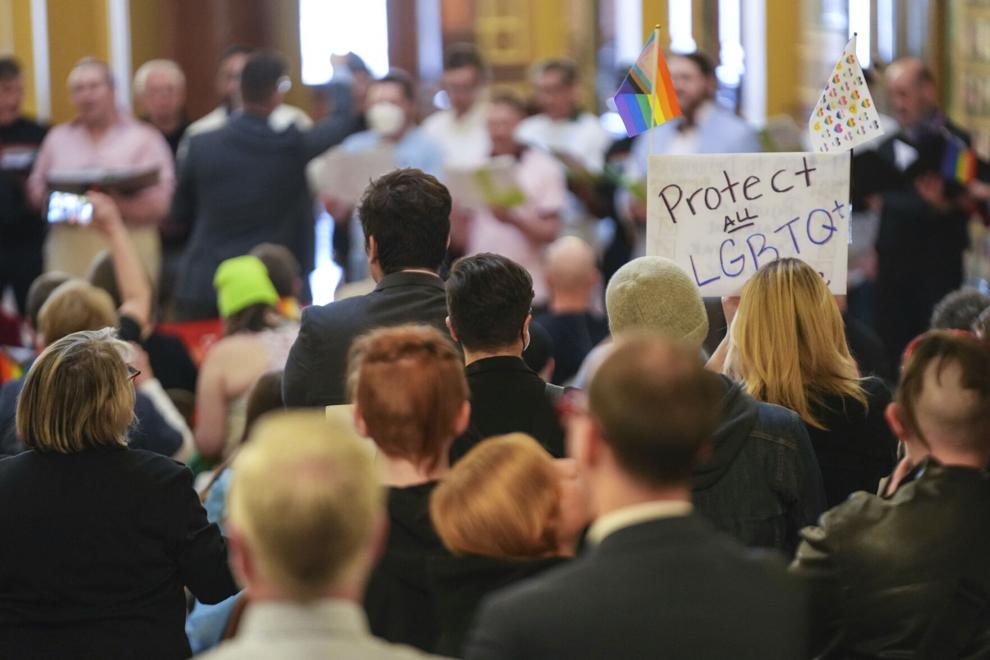 Iowa LGBTQ Rights Rally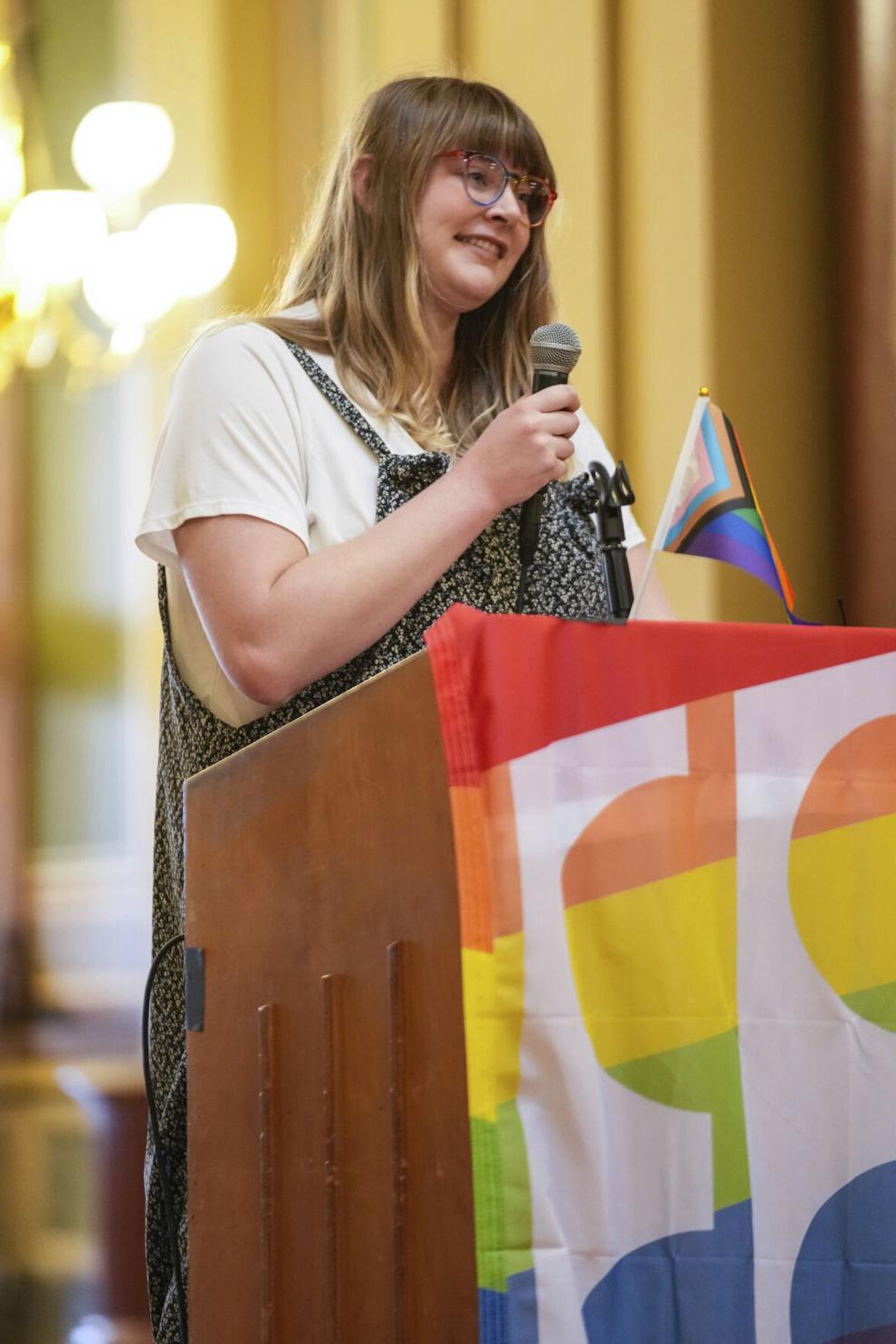 Iowa LGBTQ Rights Rally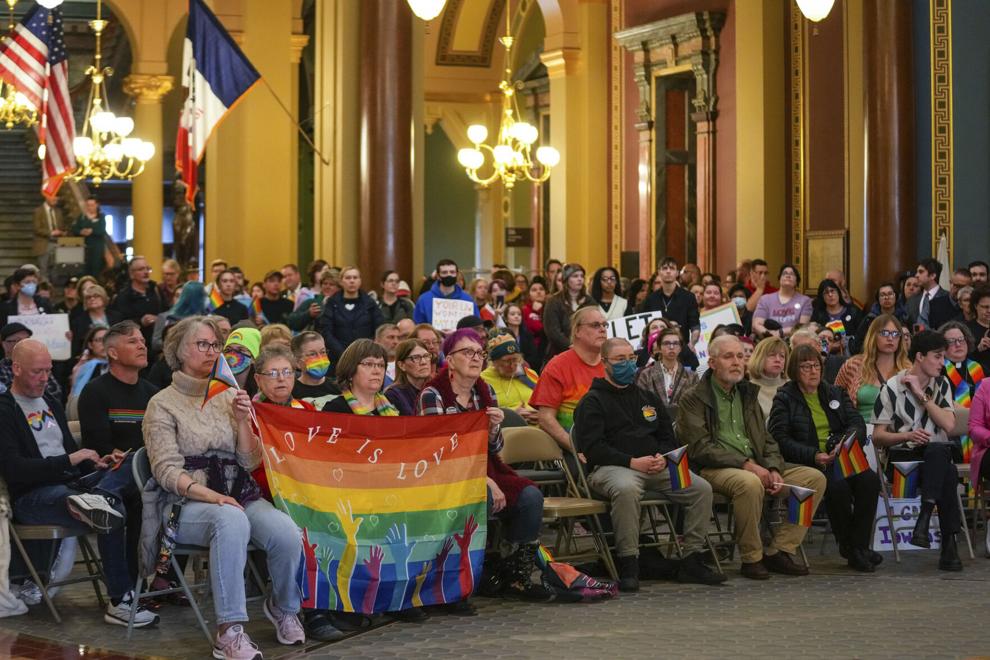 Iowa LGBTQ Rights Rally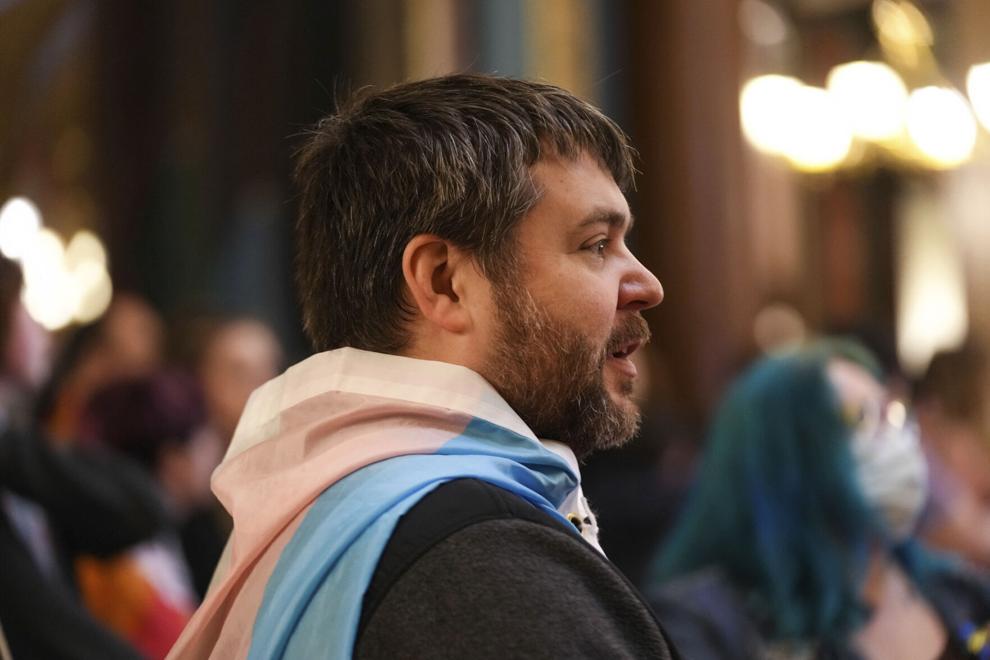 Iowa LGBTQ Rights Rally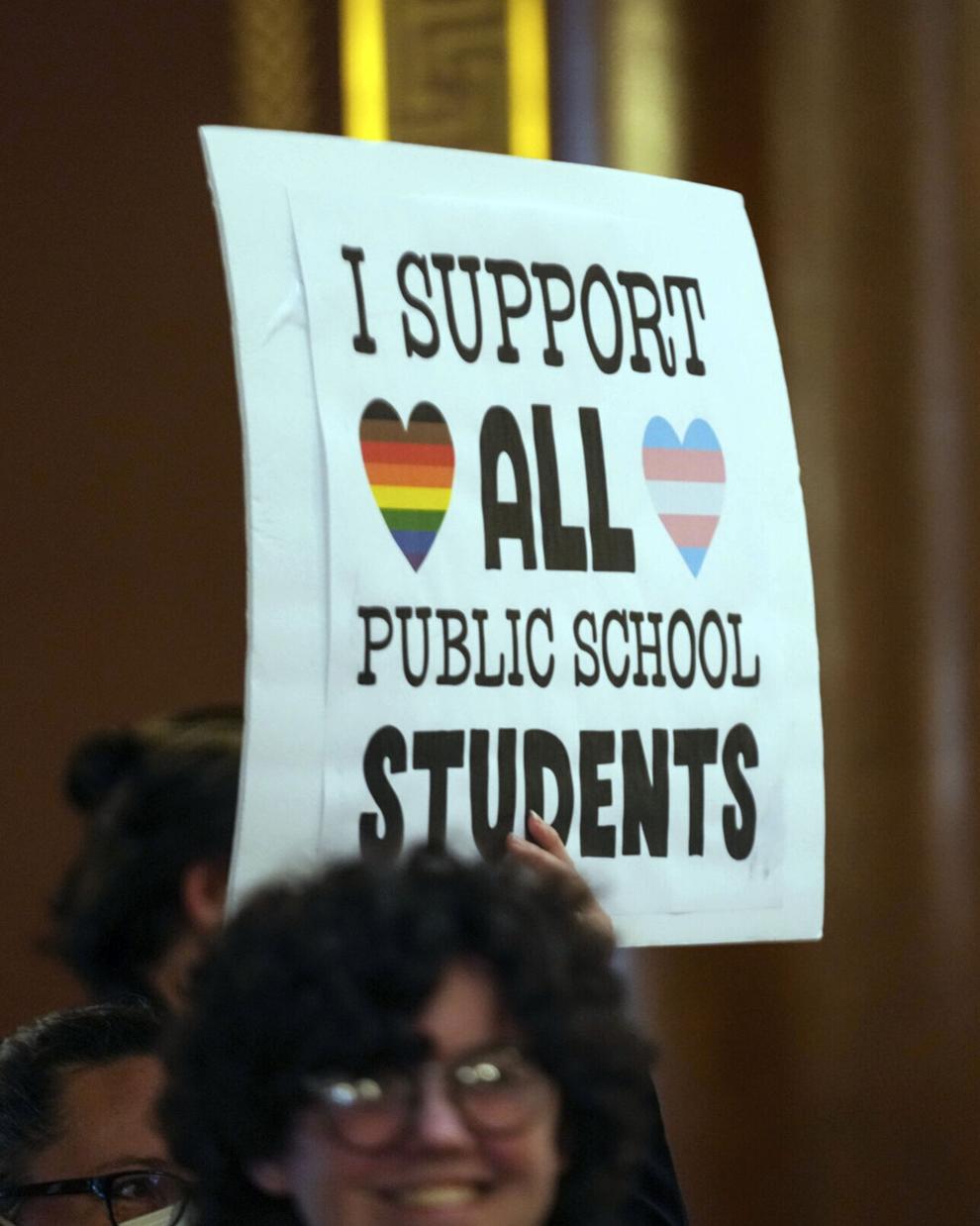 Iowa LGBTQ Rights Rally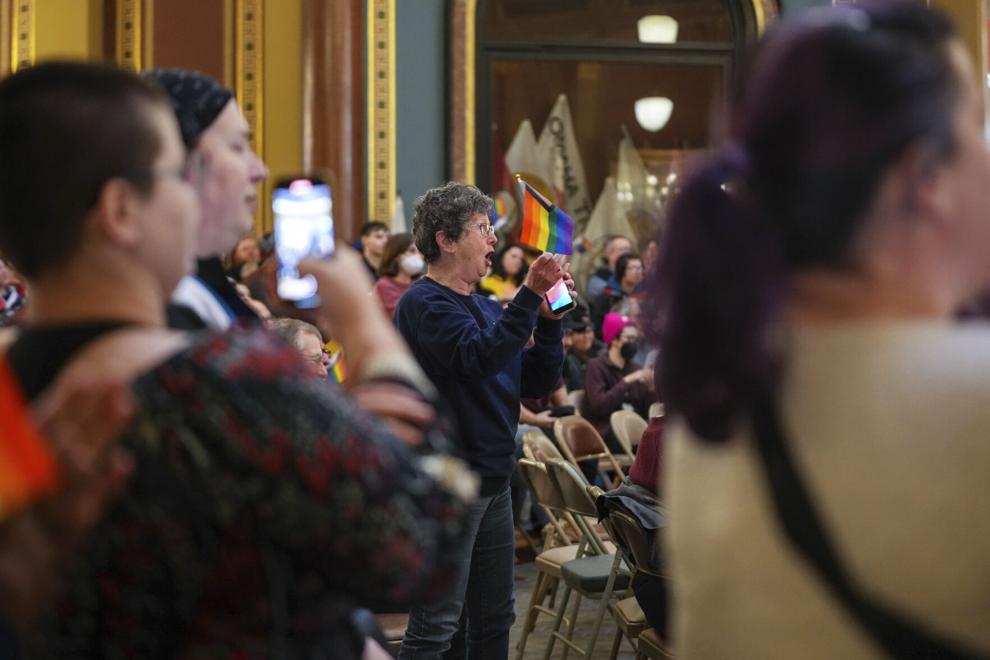 Iowa LGBTQ Rights Rally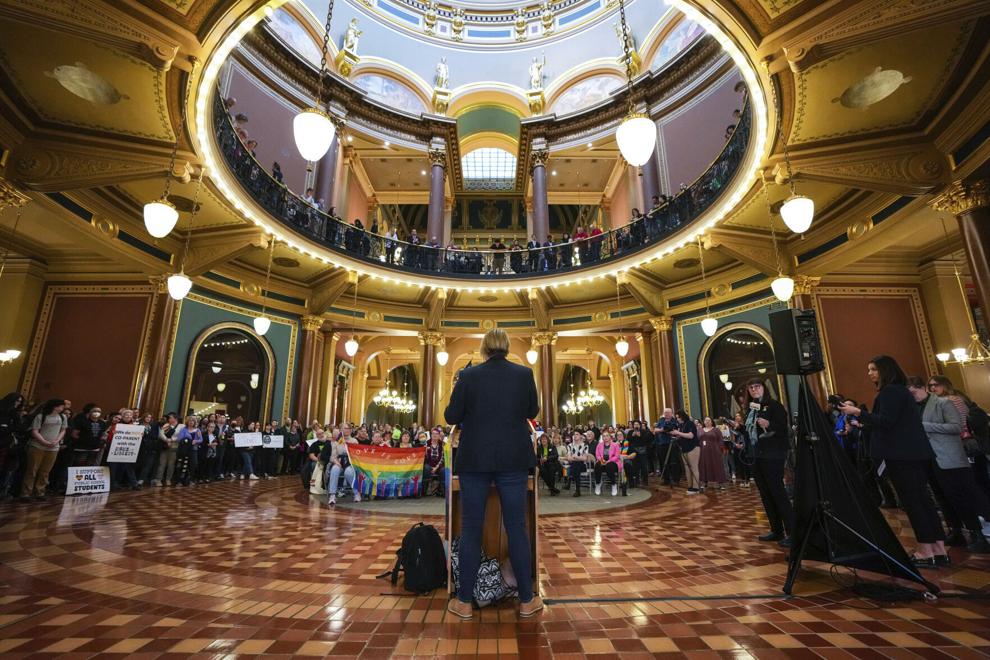 Iowa LGBTQ Rights Rally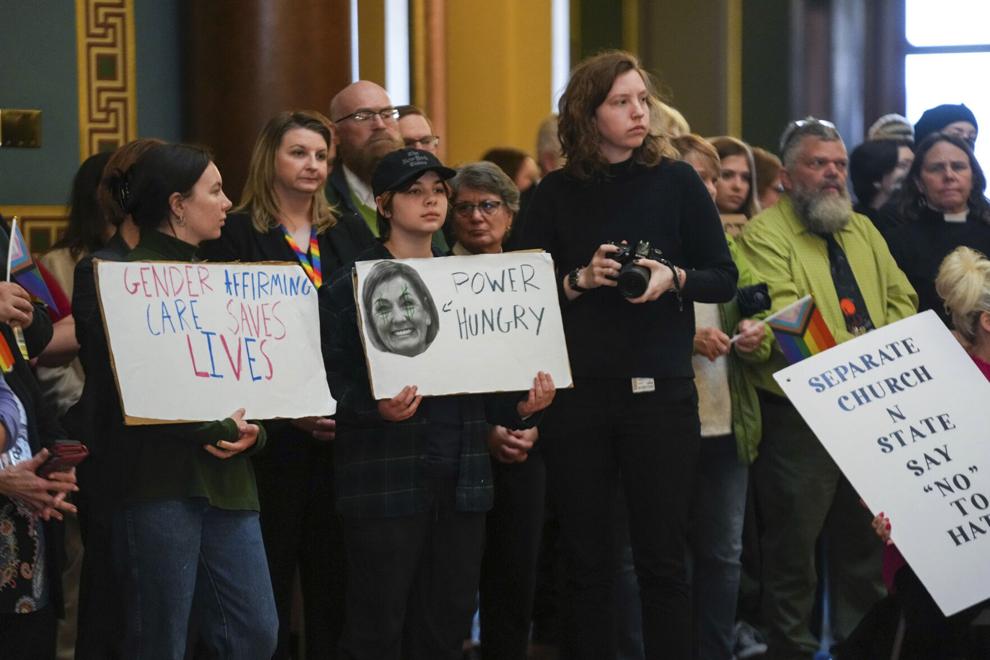 Iowa LGBTQ Rights Rally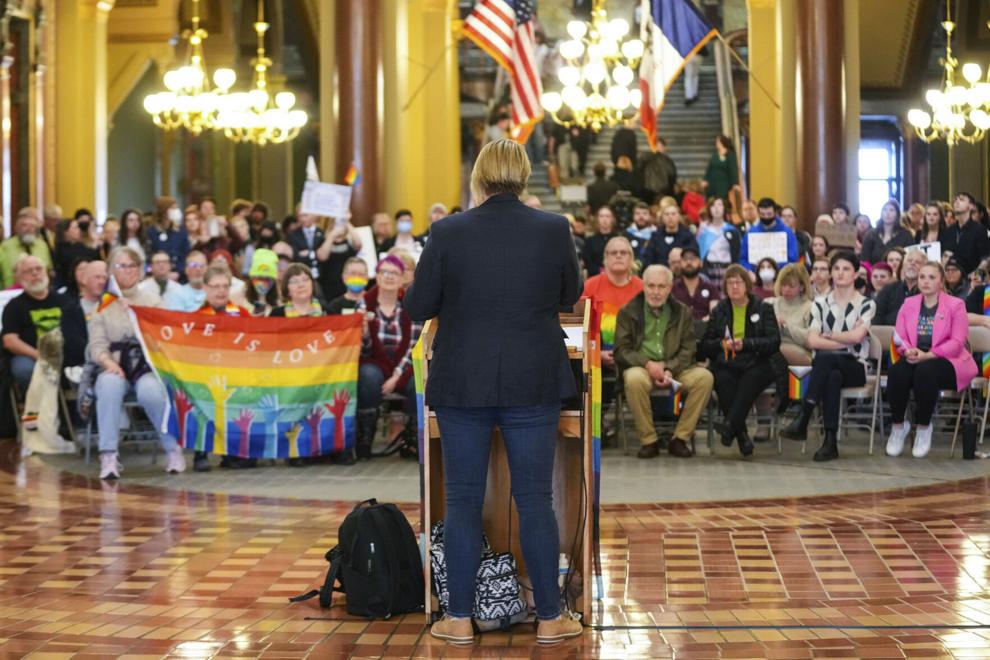 Iowa LGBTQ Rights Rally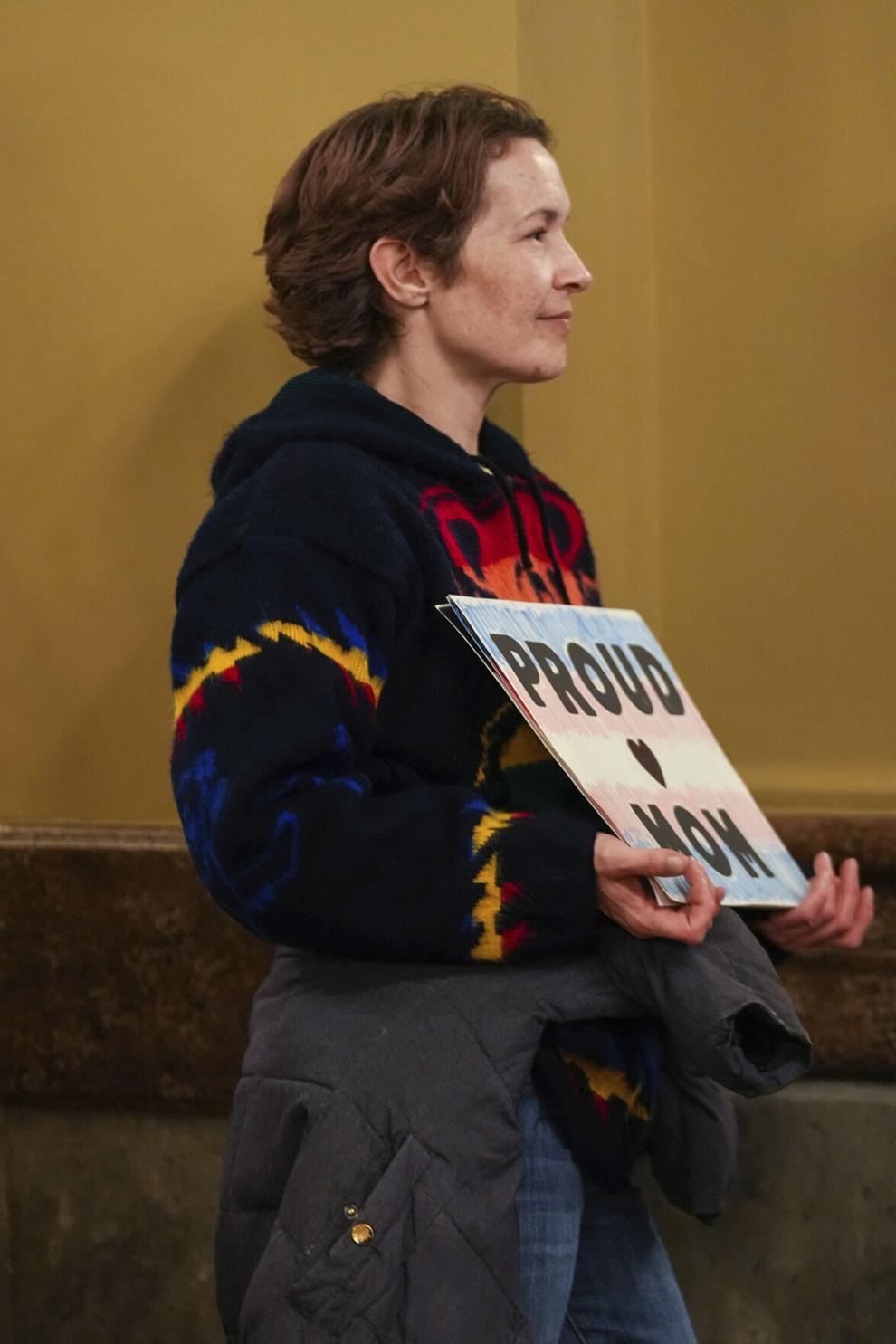 Iowa LGBTQ Rights Rally
Iowa LGBTQ Rights Rally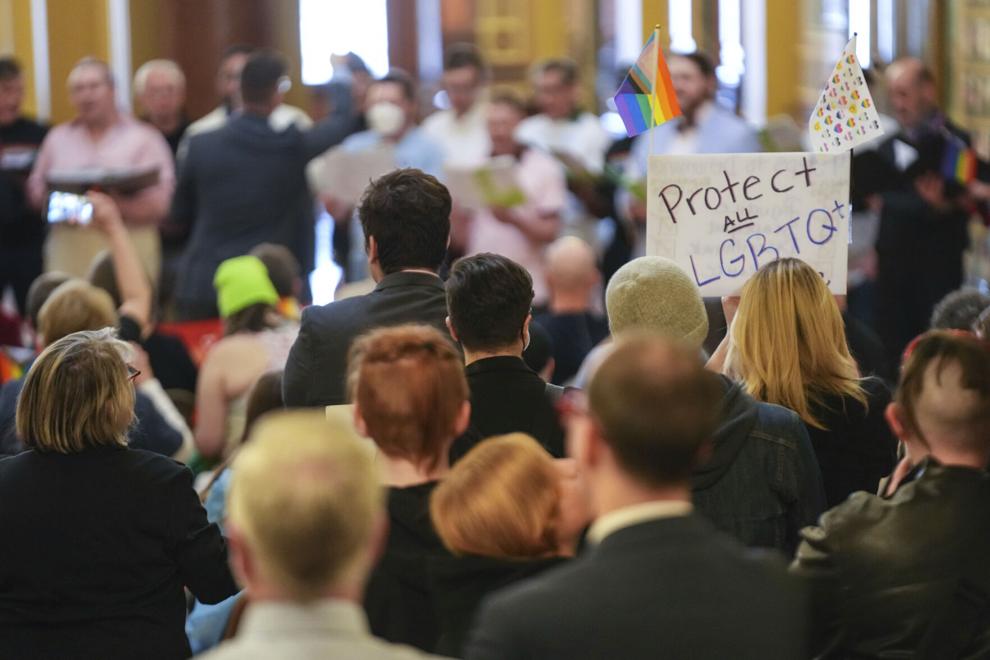 Iowa LGBTQ Rights Rally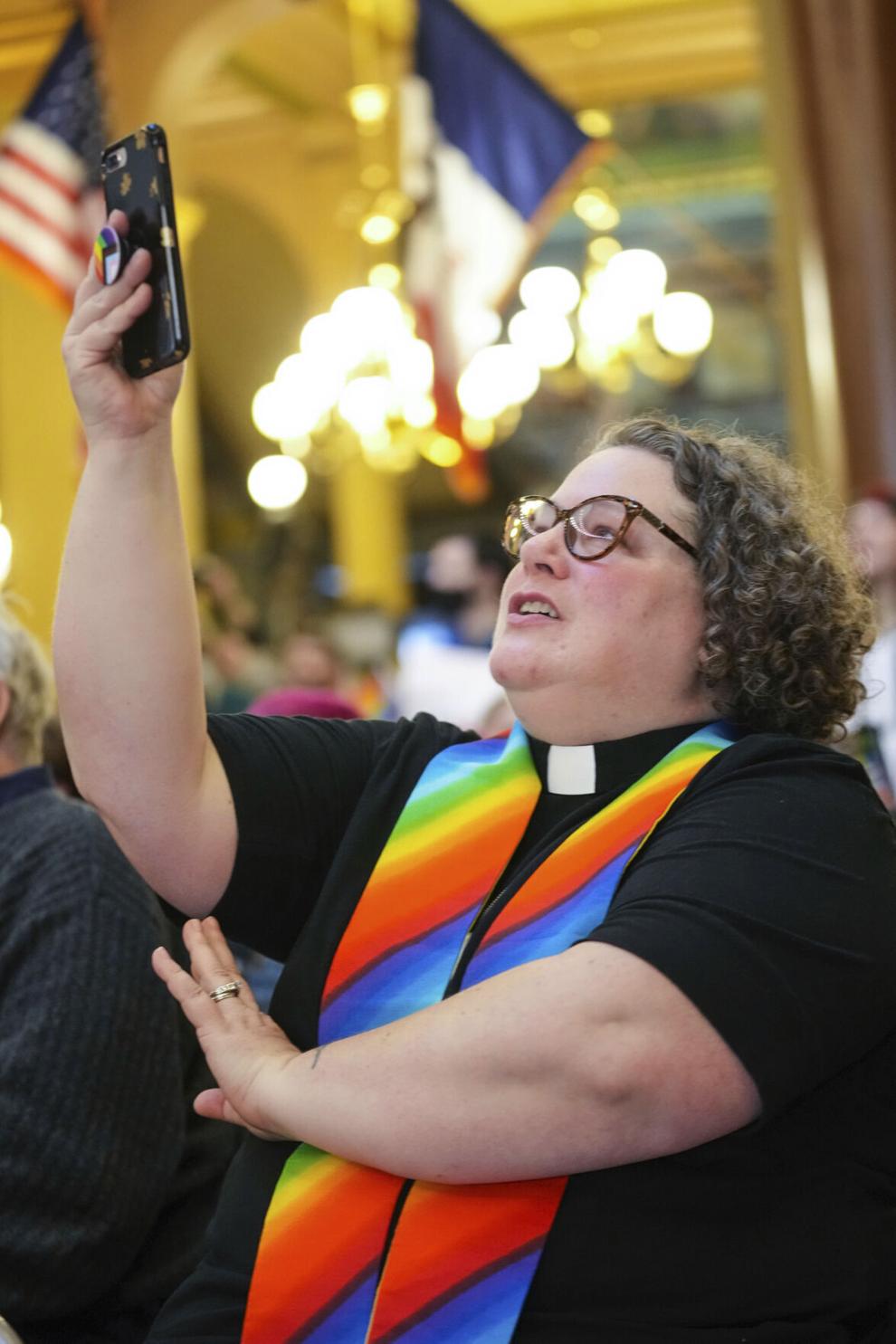 Iowa LGBTQ Rights Rally