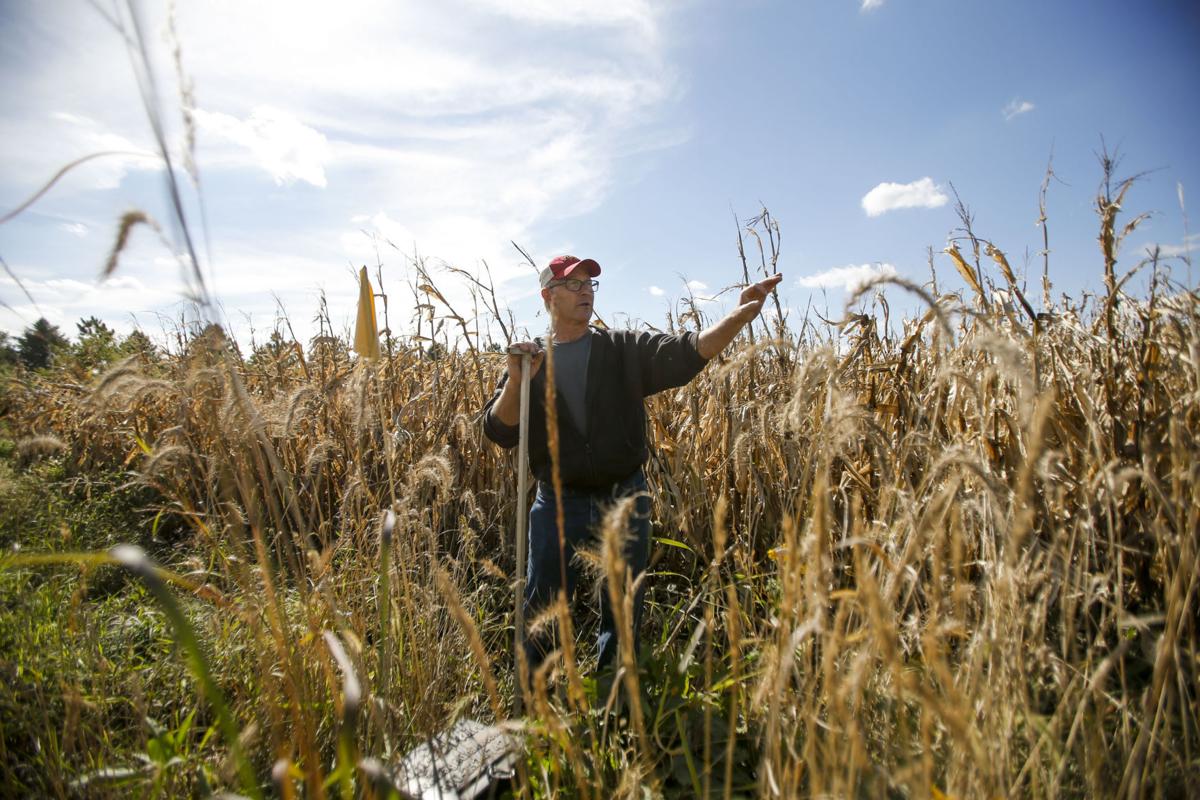 To Curt Zingula, a Linn County grain farmer, a newly written federal rule means more clarity and less concern about the federal government's jurisdiction over his land.
Zingula and other Iowa farmers and agricultural groups are cheering the new rule, which seeks to define which waterways are subject to regulation under the federal Clean Water Act.
Introduced this past week by President Donald Trump's administration, the new Waters of the United States rule rewrites the version written under previous President Barack Obama.
The previous rule received backlash from farmers and ag groups, who said it would have given the federal government broad regulatory authority over even the smallest collections of water on farmland. The Obama-era rule was challenged in court and was never implemented in some states, including Iowa.
The issue became a political rallying cry for Republicans, and Trump pledged to overhaul the rule. This past week, the federal Environmental Protection Agency announced what it called "a clear, understandable, and implementable definition of 'waters of the United States' that clarifies federal authority under the Clean Water Act."
The rule now must go through a public comment period.
But in Iowa's agricultural community, the newly written rule is receiving praise.
"Like most other farmers, I think the first 'waters of the U.S.' was a little overreach," Zingula said.
Iowa Farm Bureau president Craig Hill, who attended this past week in Washington, D.C., the unveiling of the newly written rule, said it provides relief for all farmers and said the previous rule "threatened" Iowans' ability to farm and hindered conservation efforts.
Zingula has been proactive about implementing water quality best management practices on his own farm near Marion. He has one of the state's few saturated buffers, an underground system that regulates the flow of runoff from his field into a nearby creek.
"The previous rule just created a lot of ambiguity and farmers didn't know where to turn in order to find out what was jurisdictional on their farm and how they could comply with the law," Hill said, calling the rule one of the most consequential federal regulations of agriculture in decades. "It was really very troubling. ... It pretty much put every acre of land on a farmer's farm as jurisdictional to the EPA or under the thumb of the federal government. It just cast a shadow over your whole farm."
Hill said that uncertainty meant farmers feared they would have to hire legal help to determine which portions of their land were subject to federal regulation, and that the newly written rule clarifies much of that confusion.
"This new rule has been written with farmers in mind, with landowners in mind," Hill said.
You have free articles remaining.
The new rule, according to the EPA, provides "clarity, predictability and consistency." Traditional navigable waters and their tributaries, adjacent wetlands, and certain lakes, ponds and ditches would be federally regulated. The newly written rule also excludes from federal regulation waters "that only contain water during or in response to rainfall," most roadside or farm ditches, stormwater control features, and waste treatment systems, the EPA said.
Acting EPA administrator Andrew Wheeler in a statement called the new rule "one that respects the limits of the Clean Water Act and provides states and landowners the certainty they need to manage their natural resources and grow local economies."
"For the first time, we are clearly defining the difference between federally protected waterways and state protected waterways," Wheeler said. "Our simpler and clearer definition would help landowners understand whether a project on their property will require a federal permit or not, without spending thousands of dollars on engineering and legal professionals."
The new rule was hailed by Iowa's Republican U.S. Senators, Chuck Grassley and Joni Ernst, as well as Republican Gov. Kim Reynolds and state agriculture secretary Mike Naig.
"I appreciate their effort to listen to farmers and other stakeholders and address their legitimate concerns about the previous rule," Naig said in a statement. "It is critically important that farmers, businesses and communities have greater certainty and predictability around what is and what is not covered by the rule."
But many of those concerns were overstated, according to at least one Iowa agricultural policy expert.
Neil Hamilton, director of Drake University's Agricultural Law Center, said the waters of the U.S. rule as written under the Obama administration did not produce a challenge to Iowa farmers.
"The Obama-era rule was not a threat to farmers at all," Hamilton said. "Most of the concerns that people tried to raise about it were basically hyperbole and exaggerated."
Hamilton said the federal government has not aggressively regulated other Iowa waters under its jurisdiction — like the Raccoon River, for example — and called many of the concerns raised by farmers and ag groups over the Obama-era rule "political hype and theater," and "wacky stuff."
"Unfortunately, I think people kind of used the rule as an outlet for anger about the Obama administration and about environmental regulation, and some farmers were able to (focus) on that and they whipped everybody into a frenzy," Hamilton said. "(The old rule) didn't propose a threat."
Hamilton said the new rule complies with the spirit of the Clean Water Act, but will still require some clarification and could also face legal challenges from environmental groups.
Jennifer Terry, executive director of the Iowa Environmental Council, said the organization "supports robust enforcement of the Clean Water Act.
"Whether that enforcement seems easy or complicated, whether it is convenient or inconvenient, whether or not certain groups support enforcement or they don't," Terry wrote in an emailed statement to the bureau. "(The council) will continue to be a watchdog to ensure the government follows its own rules."
Hamilton said disputes over the regulation of the Clean Water Act are as old as the law itself. The current version of the law was written in 1972, and the U.S. Supreme Court four times has ruled on cases relating to the law.
"From the very beginning, that whole question of how far that (jurisdiction) reaches has always required someone else to give an answer," Hamilton said. "Is it possible to make it so there's no confusion? Probably not because of that question of where do you draw the line."