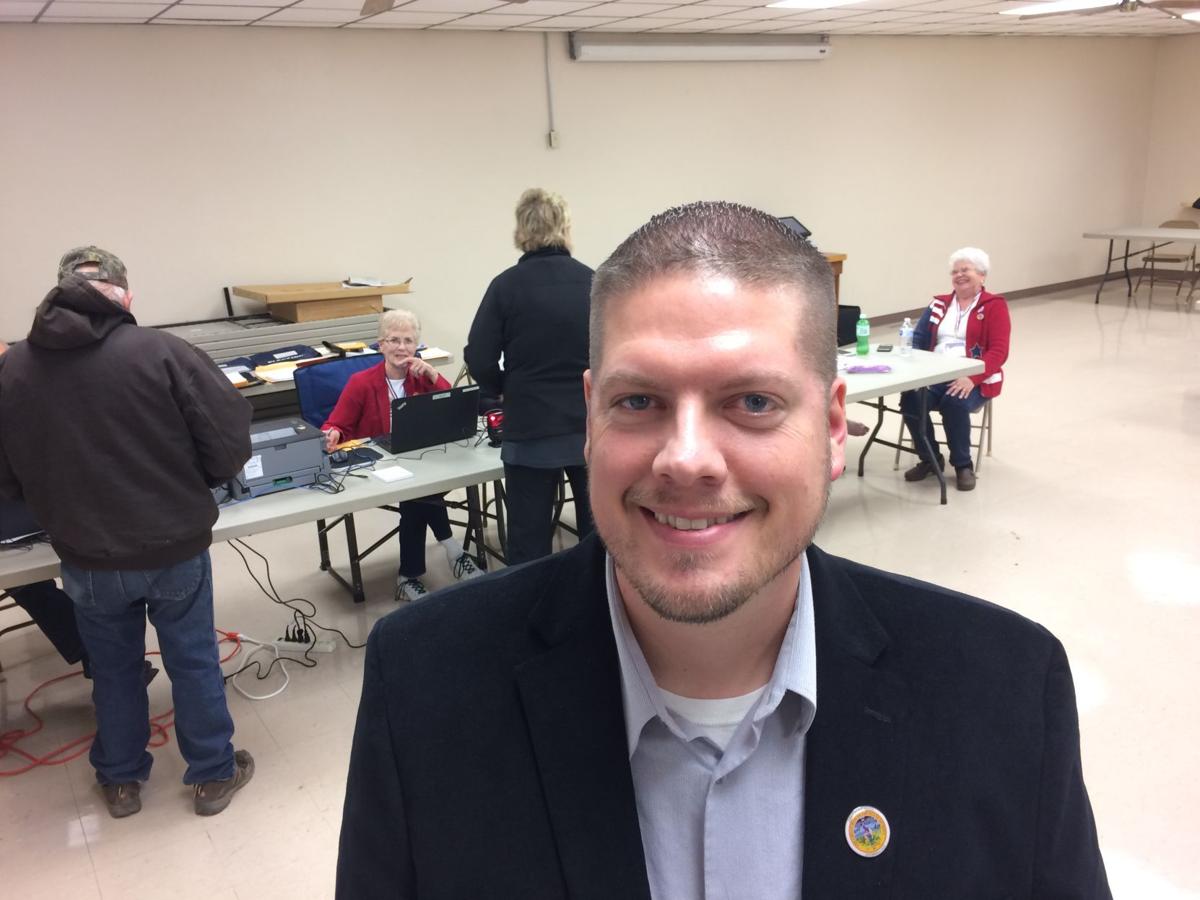 As prospects for a federal voting rights bill flounder, Iowans who prefer to vote early will likely face more difficulties casting a ballot in the next election.
Iowa voters will have less time and fewer options to vote early in person or by mail-in ballot under sweeping changes to Iowa election laws passed this spring — the first in a Republican-backed nationwide push to pass so-called election integrity measures critics warn will disenfranchise voters.
A raft of new restrictions in GOP-led states has sparked passionate debate across the country about voting rights, with President Joe Biden issuing a plea for legislation in Congress to protect the right to vote.
Biden pledged that June will be a "month of action" on Capitol Hill as Congress considers the legislation, and tasked Vice President Kamala Harris with leading the administration's efforts to defend voting rights.
But months before, Iowa Republicans had moved swiftly in the legislative season to place new hurdles to casting ballots before Election Day, limiting a voting method that has had growing appeal for both Democrats and Republicans.
Nearly six out of 10 Iowa voters cast ballots before Election Day 2020.
The proposal sped through the legislative process, being introduced and passed by the Iowa Legislature in less than a week.
Republicans say the goal is to prevent voter fraud and reassure voters that Iowa's elections are secure.
"These reforms continue to make it easy to vote, and hard to cheat," said Davenport Republican state Sen. Roby Smith.
The new law shortens the state's early voting period, shortens the period to request mail-in ballots, and bars elections officials from proactively sending ballot request forms to voters, among other provisions. Voting rights experts, county election officials and Democrats argue the changes will make it harder for minority, elderly and disabled voters to cast ballots.
"Taken as a whole, the bill targets and restricts virtually every aspect of the voting process," according to a lawsuit filed in Polk County District Court by the League of United Latin American Citizens of Iowa, or LULAC, which is represented by Washington-based voting rights lawyer Marc Elias in challenging the new restrictions. A hearing is scheduled for June 25.
The lawsuit claims the new law creates an undue burden on the fundamental right to vote, citing numerous violations of voters' constitutional rights. It claims none of the provisions of the new law will make elections more secure or increase public confidence in the electoral process, but instead imposes "undue and unjustified burdens on a wide range of lawful voters, including some of the state's most vulnerable and underrepresented citizens."
"This is because the bill is an exercise in voter suppression, one disguised as a solution for a problem that exists only in the fertile imaginations of its creators," the lawsuit states.
Elias could not be reached for comment.
"The biggest thing (the new law will mean) is confusion and disenfranchisement" of legal Iowa voters, said Iowa Senate Minority Leader Zach Wahls, D-Coralville. "If this is about trying to restore faith in our elections, the only way to do that is to have bipartisan compromise. ... And there were no efforts for bipartisan compromise."
Only Republicans voted in favor of the legislation, which Republican Gov. Kim Reynolds signed into law on March 8, just more than two weeks after its introduction. The new law made Iowa among the first states to create new hurdles in the voting process in the wake of a 2020 election that saw record turnout.
That has placed Iowa at the head of what has become a national wave of Republican-led states whose leaders have expressed concerns about the integrity of the 2020 elections, echoing persistent and false claims from former President Donald Trump of widespread fraud costing him the 2020 election. Trump handily won Iowa.
While Texas Democrats last month successfully blocked an effort to pass what would have been one of the most stringent new voting measures in the country, at least 14 states have passed new voting restrictions, including limiting early and mail-in voting options, which Trump claimed cost him the election.
A new Stanford University study, however, found record rates of vote-by-mail during the pandemic did not help Democrats or lead to an increase in voting, as voters were already highly motivated to participate in the 2020 contest.
At least 61 more bills with restrictive provisions were moving through 18 state legislatures as of May 14, according to the Brennan Center for Justice research institute. All told, lawmakers have introduced at least 389 restrictive bills in 48 states this year.
Suppression vs. 'integrity'
Gov. Reynolds has said the additional measures are necessary to reassure Iowans that Iowa's elections are secure. That despite Iowa having no history of fraud and none reported in the state in November's general election, which saw record turnout.
Reynolds and other Republicans claim the law provides election officials with consistent parameters for Election Day, absentee voting and database maintenance, as well as a clear appeals process for local county auditors.
"It's our duty and responsibility to protect the integrity of every election," Reynolds said in a statement about signing the new law. "All of these additional steps promote more transparency and accountability, giving Iowans even greater confidence to cast their ballot."
Iowa Secretary of State Paul Pate, who stayed on the sidelines while fellow Republicans cut early voting options, has since said he is "comfortable" that the new law won't suppress voting.
"The most important thing Republicans can do to restore faith in elections across America is to stop lying about the 2020 election," Wahls said. "When Republicans say voters don't trust the elections, it's arsonists asking who started the fire."
While Democrats claim the Iowa law amounts to voter suppression, Smith argues some provisions will increase voter participation.
"Nowhere in this bill do we curb absentee voting," he said. "We actually expand (absentee) voting."
The legislation extends some deadlines to request absentee ballots, which Smith said would allow for more people to vote absentee. The law extends from three days to 10 days the time period in which individuals who are hospitalized or admitted to an assisted living program or health care facility can request an absentee ballot, and it provides more time for individuals who fail to sign the affidavit on the envelope when returning their ballot.
While the new law addresses some concerns raised by county auditors and advocates for vulnerable populations, Democrats and county election officials argue the changes attack the democratic voting process and will make it even harder for thousands of Iowans to have their absentee ballots counted.
"Iowa has a deserved reputation for fair, efficient and smooth elections," Republican Sioux County Auditor Ryan Dokter, current president of the Iowa State Association of County Auditors, wrote in opposition to the changes. "Most of these provisions would threaten rather than help that reputation."
Smith — who argues he has helped expand voting rights, citing a law allowing 17-year-olds to vote in primaries if they will turn 18 before the general election — called Democrats' assertion of voter suppression "a tired, worn-out talking point."
"We went from 40 to 29 days (two years ago) to vote early," he said. "And what did we hear? We heard ... it was going to suppress the vote. And what happened? We got record turnout in 2018 and 2020."
Here's a look at what the law does.
Less time to vote on Election Day
The polls will close on Election Day at 8 p.m. instead of 9 p.m.
Smith said the move to close the polls an hour earlier came from a 2019 request from the Iowa State Association of Counties, and is meant to provide relief to the senior citizens who work the polls and make all elections uniform.
For all elections, polls will close at 8 p.m., which was already the case with some non-partisan elections. The Iowa State Association of Counties, in their 2019 request of lawmakers, argued the propensity for errors increases the later the day gets on Election day, and that the public, political parties and media are calling for quicker results. At the time, only Iowa and two other states had 9 p.m. poll closing times.
The number of days to vote early is reduced from 29 to 20. Until two years ago, Iowa's early voting period had been 40 days.
Smith argued the change brings Iowa's absentee and early vote windows closer to the national average.
"The longer you have elections, the longer we have a cost," Smith said. "You have three weeks to vote in the state of Iowa. That's plenty of time for people to vote."
Dokter, the Republican Sioux County Auditor, argues besides being less convenient for voters, the concentration of early voting over a shortened period requires the use of more county election staff and overtime, increasing workloads and tendency for errors.
Stricter requirements for satellite voting locations
Local elections officials also face stricter requirements before setting up a satellite early voting location. The law requires a petition signed by at least 100 eligible voters to establish a location.
Smith argued "the people should decide where (satellite voting locations) are at, not the county auditors."
Critics contend eliminating auditors' discretion to open convenient early voting locations, based on their expertise, will force voters to drive farther to vote in person at county auditors' offices, further hindering early voting and leading to longer lines and delays at the polls on Election Day.
"Leaving the establishment of satellites to the public only creates unknowns in cost and staffing that would potentially disrupt the careful planning of county auditors," Dokter wrote.
Less time to request and mail a ballot
Absentee ballot requests may begin 70 days before an election, rather than the previous 120 days. And absentee ballots cannot be mailed to voters until 20 days before the election, down from 29 days, with limited exceptions.
The new laws also sets the last day for auditors to mail ballots at 15 days before the election. In practice, that allows only five business days for mailing ballots to every voter who requested one. It also gives staff less time to contact voters who may have omitted information on their absentee ballot request forms, critics argue.
Additionally, early ballots must be received by the county auditor by Election Day. With limited exceptions for some late-arriving ballots cast by military and overseas voters, domestic violence survivors in the "Safe at Home" program or those admitted to hospital or assisted living, early ballots that arrive after Election Day will not be counted, no matter when they were mailed.
Previously, absentee ballots returned by mail were considered timely if they were postmarked by the day before the election and delivered to elections officials by the Monday following the election. As such, voters could mail their ballots any time until the day before the election and trust they would be counted.
Smith called the change a common-sense reform that provides a defined deadline on receipt of absentee ballots.
Democratic state lawmakers argue more than 6,500 absentee ballots cast in Iowa's 2020 general election arrived after Election Day, but could be counted because a postmark or barcode confirmed the voter mailed them on time. Had the new deadline been in place, they argue several thousand Iowans would have had their votes tossed.
No mass mailings of ballot request forms
Local officials can only mail out an absentee ballot request form if the voter requests one.
Smith argued doing so provides uniformity, and that some county auditors had "abused" the practice by using the state's voter registration database to pre-fill absentee ballot requests with voters' personal information.
The Iowa Supreme Court last year upheld a state directive from Republican Secretary of State Pate that all absentee ballot request forms they mailed to voters must be blank in order to ensure uniformity statewide.
Auditors in three counties defied Pate's guidance and mailed forms to thousands of voters with their names, addresses, dates of birth and voter pin numbers already filled in. Voters just had to review, sign and return the forms, which the three auditors said were intended to make voting by mail as easy as possible during the COVID-19 pandemic.
Critics argued that pre-filled forms opened the door to potential voter fraud should the wrong person receive a ballot application with another voter's personal information. In the end, the courts sided with Trump and Republican Party officials who sued to discard the absentee forms.
"Certain counties were mailing out absentee ballot requests forms and we had other counties that were not, so voters were being treated differently," Smith said. "If (political) parties want to send out ballot request forms, they can do that."
Critics, including county election commissioners, argue the restriction serves no purpose other than to inhibit auditors' attempts to expand access to voting.
Harder to return a ballot
Voters must return and submit their own early ballot, with limited exceptions. Only caretakers, immediate family, or household members and designated election officials can deliver an absentee ballot on behalf of someone else.
Supporters say it prevents ballot harvesting, in which volunteers or campaigns collect filled out and sealed absentee ballots from voters' homes and drop them off at a polling place or election office.
"I do not back off ballot harvesting and letting random strangers handle your ballot," Iowa Rep. Bobby Kaufmann, R-Wilton, said during a legislative hearing. "Putting (a completed ballot) into the hands of a complete stranger is unacceptable, and I stand by that."
Democrats and county election officials argue the new restriction unnecessarily jeopardizes vulnerable Iowans -- like the elderly, those lacking reliable transportation, or individuals with disabilities who live alone and have no relatives nearby -- from returning ballots in a timely fashion.
"(T)here has has been no serious indication of the abuse of this option," Dokter wrote on behalf of the Iowa State Association of County Auditors.
Previously, voters could enlist friends, neighbors, colleagues and church members to return their absentee ballot. Now, doing so would make one guilty of a serious misdemeanor.
Additionally, there can be only one drop box per county, under video surveillance -- regardless of its geographic size or population -- for dropping off completed early ballots.
Smith argues Iowa law previously did not allow the use of drop boxes, except under emergency rules. However, the law did not expressly prohibit or limit the number of drop boxes, which some county auditors have said their offices have used for years without incident or objection, offering another method for voters to safely and securely return absentee ballots.
"Limiting the number to one per county disallows auditors from having both a drive-up and a walk-up drop box on courthouse property," Dokter wrote.
That, combined with other restrictions, "restricts county auditors from making important local decisions for the fair and efficient conduct of elections," he wrote.
Easier to be removed from voter rolls
A voter's registration status is changed to inactive if they miss just one election and have not reported a change of address, a process critics argue is accelerated and puts voters at greater risk of having their voter registration canceled.
Previously, voters had to miss two consecutive general elections to be marked "inactive."
The Iowa Secretary of State's Office mailed postcards to more than 294,000 Iowans in April who did not participate in the 2020 general election informing them they had been marked "inactive." That represents more than 13% of the state's 2.2 million registered voters.
While being flagged as inactive does not immediately affect Iowans' ability to vote, it's the first step in a process that could result in their removal from voter rolls after four more years of inactivity.
"Receiving this notice will not affect anyone's ability to vote in any election in 2021, 2022, 2023 or 2024," said Kevin Hall, spokesman for the Iowa Secretary of State's Office. "The voting experience for inactive voters is identical for active voters. After they do vote in any election in any of those years, their status returns to active."
They can also sign and return the postcard, update their voter registration or request an absentee ballot for any election through November 2024 to return to active status.
Republicans argue the change ensures that only those eligible to vote are registered and cleans up outdated, bloated voter rolls that they say invite fraud. Democrats argued the change is too aggressive, could lead to purges of some eligible voters.
Indeed, roughly 400 17-year-olds who legally registered to vote but could not cast ballots in the 2020 election because of their age were among the 294,000 registered Iowa voters recently marked as inactive.
The new law builds on successful Republican-led efforts in recent years to require identification when voting, reduced the state's early voting period and prevented state election officials from mailing absentee ballot request forms to registered voters last fall or make other emergency election changes without approval from legislators.
The latter of which attracted national attention after record-breaking absentee voting in the June primary.
Among those paying attention was Heritage Action, the advocacy arm of the national conservative Heritage Foundation think tank, whose leader bragged in a leaked video about its role in crafting voting restrictions across the country, including in Iowa.
Heritage Action is not registered as a lobbying organization in Iowa.
An attorney for the conservative advocacy organization has since denied lobbying any state lawmakers and aiding in the passage of new elections law, despite the previous claim from Heritage Action Executive Director Jessica Anderson, a former official in the Trump administration.
The Iowa Ethics and Campaign Disclosure Board, which oversees lobbying of the state's executive branch, voted 4-2 last month to approve a formal investigation of possible undisclosed lobbying of Gov. Reynolds' office by the conservative group.
Mike Marshall, executive director of the ethics board, conducted an informal investigation, requesting records from the governor's office and information from Washington, D.C.-based Heritage Action. Marshall informed the board staff found "no evidence that Heritage Action encouraged the governor to sign this bill."
Rather, Heritage Action asked the governor's office to include them in announcing and marketing the bill, according to a recording of the board's May 26 meeting. While the governor's office was cooperative, legal counsel asked the board to authorize a full investigation, which would include subpoena power, if needed, "to track down any other evidence."
Any investigation into potential rule-breaking in the Iowa Legislature would fall to the Legislature's ethics committees, which are chaired by majority Republicans.
Democrats have filed two complaints in the Iowa House for potential violation of Iowa ethics and lobbying laws. GOP leaders have not signaled any intention to investigate Anderson's comments.
Kaufmann and Smith, the Republicans who oversaw the bill's passage, have denied Heritage Action's claims the group was involved in the bill's creation.
"The Heritage Foundation had no part in drafting Senate File 413," Smith said. "I worked with Rep. Kaufmann, other legislators and constituents to draft this election reform proposal. ... In fact a number of policy provisions included in Senate File 413 were also in previous pieces of legislation long before Heritage Foundation even knew to take credit for something they did not do."
Smith and Republican House Speaker Pat Grassley have suggested Anderson may have made the claim to boost fundraising.
"They were caught in a lie," Smith said of Heritage Action.
Progress Iowa has also submitted a series of public records requests related to Heritage Action's alleged involvement in crafting the Iowa election legislation. The advocacy group has requested that the top legislators and state officials involved in crafting Senate File 413 — including Smith — release email communications with people affiliated with Heritage Action, in addition to other lobbyists.