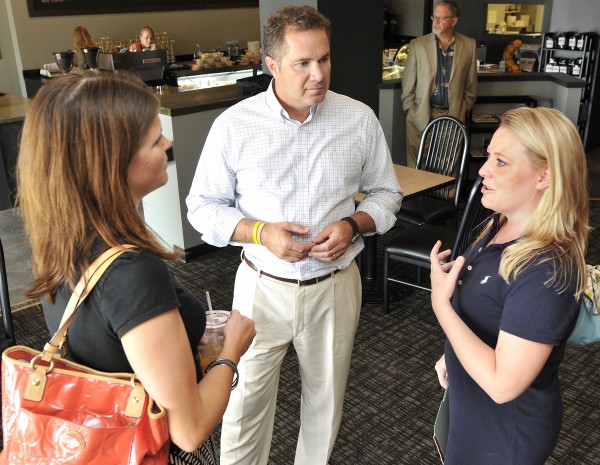 DAVENPORT, Iowa | U.S. Rep. Bruce Braley continues to lead the money race in the campaign to succeed retiring U.S. Sen. Tom Harkin, D-Iowa.
Braley's campaign said Friday he raised more than $900,000 in the third quarter.
Detailed finance reports aren't due to the Federal Election Commission until Oct. 15, but Braley's campaign said he now has more than $2.3 million in the bank and had upped his fundraising for the cycle to more than $3 million.
The 3rd quarter covered the months of June, July and August.
Braley is the only Democrat seeking the party's nomination. There are several Republicans who are vying for the GOP nomination.
State Sen. Joni Ernst, R-Red Oak, said earlier this week she raised $252,067 in the third quarter.
Former Sioux City radio talk show host Sam Clovis, a Morningside College professor, announced he raised $75,000.
Braley's campaign manager pointed to the number of donors for the cycle as a sign of his momentum.
"With more than 4,500 donations from all of Iowa's 99 counties, it's clear Iowans know they can trust Bruce to fight for them when he gets to the Senate, and our strong grassroots support is indicative of our campaign's momentum," Sarah Benzing said.
Ernst said she received donations from more than 500 people in the quarter, her first for raising money. She said 334 donors had given $100 or less.
"Each and every contribution, no matter the amount, helps my campaign to continue to grow in momentum," she said.
Clovis, meanwhile, said his average donation was $150, with more than 450 individual donors.
"I am looking forward to continuing to travel from river to river and everywhere in between to meet face to face with these voters, shake their hands, look them straight in the eyes and personally ask for their vote," he said.
Also seeking the GOP nomination are former U.S. Attorney Matt Whitaker, David Young, the former chief of staff for U.S. Sen. Chuck Grassley, Scott Schaben, a sales manager for an auto dealership from Ames, and Paul Lunde, a lawyer from Ames.
Mark Jacobs, a retired energy company executive from West Des Moines, also is exploring a bid.
Be the first to know
Get local news delivered to your inbox!