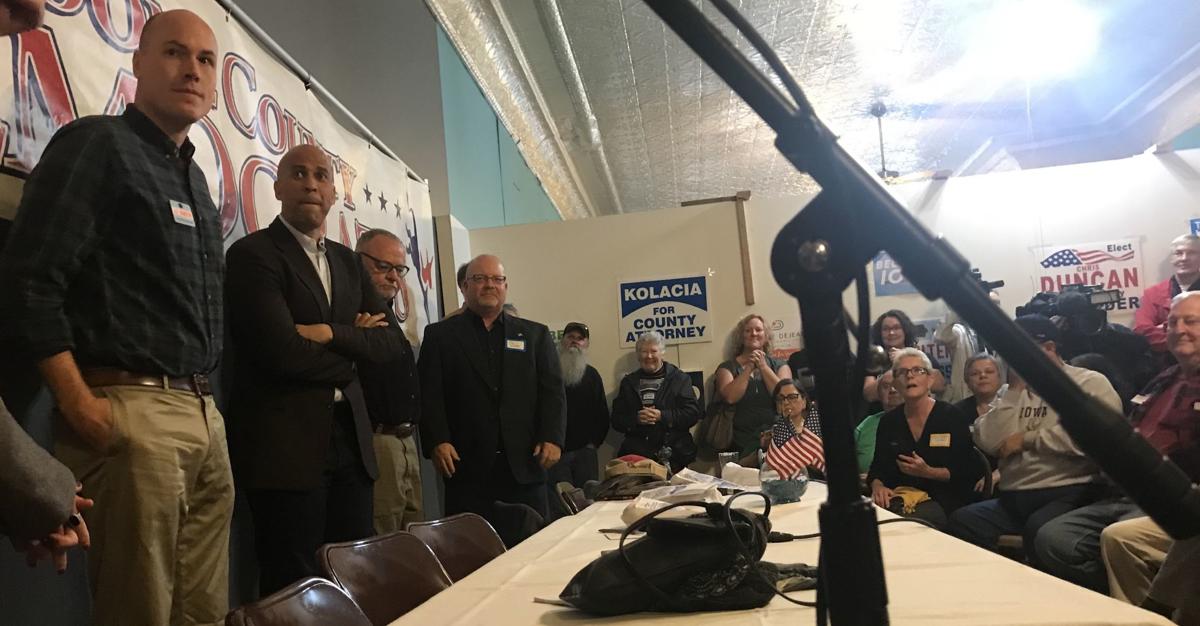 BOONE, Iowa — Cory Booker thinks the blue wave will be big enough to flood conservative western Iowa.
Booker, the Democratic U.S. senator from New Jersey who is widely expected to make a run for president in 2020, on Monday campaigned with J.D. Scholten, the Democrats' candidate in Iowa's 4th Congressional District.
The event, held at the Boone County Democrats' office, was billed as a discussion on agricultural issues. There was some of that, but the event felt more like a campaign rally with Booker stoking the passion of the roughly 150 people who crammed into the office on a rainy weekday afternoon.
"The one thing we have to do is stand up and vote," Booker instructed a captivated audience. "Stand up together. Fight together. And if Iowa wins, America wins."
Booker was in Iowa for a third consecutive day. Just hours after casting a 'no' vote on the confirmation of U.S. Supreme Court justice Brett Kavanaugh, Booker on Saturday evening spoke in Des Moines at the Iowa Democratic Party's annual fall fundraiser.
At Monday's event in Boone, the packed-in crowd responded with applause to Booker's calls to action, and attendees said they enjoyed his remarks and his positive message.
Booker said that enthusiasm is why he thinks Scholten can win in Iowa's deeply conservative 4th District.
Scholten is facing Steve King, the Republican congressman who is running for a ninth two-year term in Congress. Only once has King been re-elected by fewer than 20 percentage points.
A poll released by the Scholten campaign in September showed King with a 6-point lead.
"I have the benefit of traveling around to two dozen states or more, watching the energy around this country. And I've been in a lot of Congressional districts. What I'm seeing here in this district is really energetic and really exciting," Booker told reporters. "(Scholten) is getting folks to feel him and understand him. I think that this is going to be one of the great upsets that we have in our nation."
A King campaign spokesman told the bureau, "The only reason to vote for a Democrat is if you are tired of winning."
Booker also talked about large business agricultural business mergers that have concentrated the market, the impact that has on farmers and his legislation that would place a moratorium on those mergers and acquisitions.
"Excuse my language, sir, but they are screwing Iowa farmers," Booker told one of the farmers in attendance.
Booker told reporters that trade negotiations, initiated by President Donald Trump's administration and at least partially responsible for high commodity costs, are "the insult to (farmers') real injury," and noted farmers' increasingly tight profit margins, the falling number of small, independent, family farms, and high suicide rates for farmers.
"This is a crisis in our country, and everybody's invested in it. Whether you're from the Northeast or the west, everybody should be concerned about what's happening to Iowa farmers and Midwest farmers," Booker said. "And Donald Trump is not coming forward with any kind of aggressive plan to do something about it. So what we need in Washington (D.C.) is people who represent this district to stand up for the issues."
Trump is scheduled to be in Iowa on Tuesday to announce the expansion to year-round availability of E-15, a high-ethanol blend that has not been available for sale during the summer months.
Be the first to know
Get local news delivered to your inbox!