Rita Hart says her family knows what to expect when she tells them: "'Oh, come on! It'll be fun."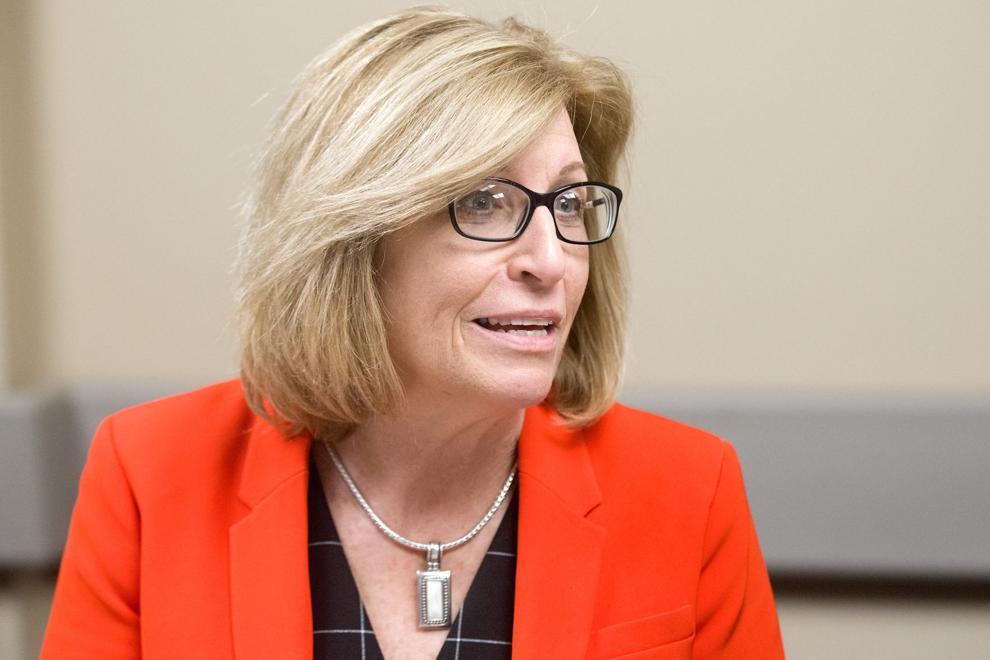 The phrase usually means that Hart, a former state senator from Wheatland, is about to embark on a challenging new journey. And it's one she's using again as she begins a campaign to replace outgoing Democratic U.S. Rep. Dave Loebsack in Congress.
"I think that's what we'll start (Tuesday)," Hart said during a phone interview with the Quad-City Times. "We'll start the fun of this campaign, which is getting out there and engaging with as many people as we can and listening to see what they have to say."
Loebsack, the representative of Iowa's 2nd Congressional District since 2006, announced in April that he would retire at the end of his current two-year term. His decision has set off high interest from members of both major political parties to become the district's next representative in 2020.
Hart is walking into the campaign as the best-known of any of the prospective Democrats, which include Scott County Supervisor Ken Croken, Iowa Sen. Zach Wahls and Quad-Cities attorney Ian Russell. Following her stint in the state senate, Hart was the running mate of unsuccessful Democratic candidate for governor Fred Hubbell, a venture that's given her statewide name recognition.
As Hart seeks the office to represent the 24-county district that covers the southeastern quarter of the state, she pointed to her longtime community involvement, 20-plus years of teaching, and six years as a state senator among her qualifications. And she says her background as farmer and educator raised in a divided political household makes her a good fit for the district.
"This is who I am," Hart said. "This is where I live and these are the people that I've spent time with and worked with to try to make every day better. And that's what I'll continue to do. That's what I want: to do that for them in this congressional seat."
Meanwhile, the absence of Loebsack from the ballot is likely to trigger a highly competitive push from Republicans eager to wrestle the district away from Democratic control in the November 2020 election.
The National Republican Congressional Committee, the main campaign arm of congressional Republicans, already had listed Loebsack's seat among its 55 offensive targets for 2020 well before Loebsack made his retirement plans known. The mayor of small-town Osceola Thomas Kedley, a Republican, said he intends to seek the seat, making him the lone GOP player on the field for now.
As of Monday, Hart had yet to officially kick off her campaign. In an interview with the Quad-City Times ahead of her formal announcement, she named health care, agricultural economy and rural development as key issues she'll focus on if elected.
Hart also pointed to the growing sense of divisiveness as a negative aspect of American politics, recalling her childhood growing up with parents who took opposite political allegiances. She says arguments about policy used to end with people setting aside differences and moving along with their lives "in concert."
"I'm taking that experience that I learned at that kitchen table, having a caucus with my brothers and sisters and my mom and dad," she said. "That's the spirit that I like to take into everything that I do and that's certainly the spirit that I would like to take into this campaign and really make a difference in the national discourse. We have to get to a less divisive way of talking about the issues that really matter to us."
Hart said Loebsack's impending absence from the Congress leaves "big shoes to fill." If she's elected to replace him, Hart said one of the practices she would like to keep up is a commitment to be present in the district, saying Loebsack has "always shown up."
"It's really important that you're there, that you listen, that you really take what people say to heart and then go try and do something about it," Hart said.