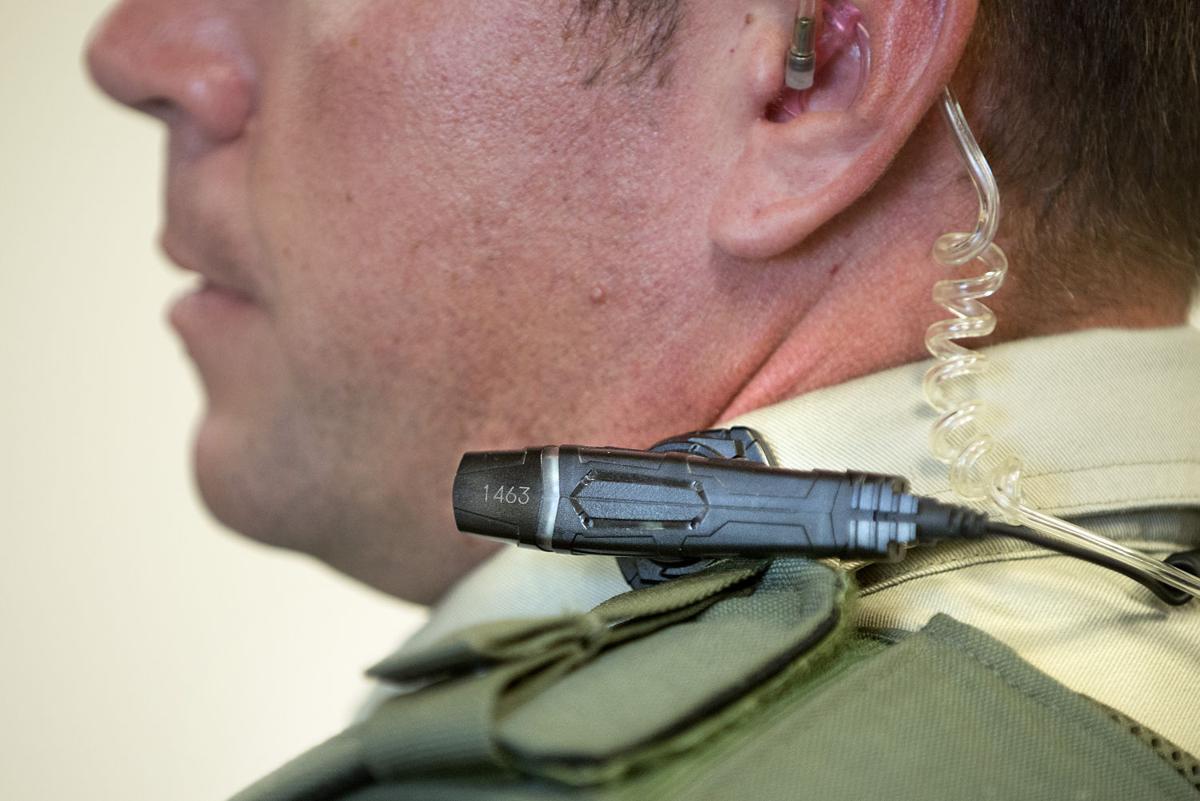 DES MOINES — When police cameras roll, they can capture captivating and informative images.
But not all of those videos are being released for public consumption.
In part because of haziness in Iowa law, disputes have arisen over when police dashboard and body camera footage should be made public and when it can be withheld by law enforcement.
"I don't think there's any uniform view," said Margaret Johnson, the acting interim executive director for the Iowa Public Information Board, which manages information regarding and disputes concerning the state's open records and open meetings laws.
Police dashboard and body camera footage is included in Iowa's open records law, which says all such records should be accessible to the public.
The law also says, however, that records can be kept confidential if their public release would jeopardize an investigation or pose danger to an individual's safety.
In one high-profile case the state Department of Criminal Investigation says it can forever keep confidential some records in a January 2015 police shooting death in Burlington, Iowa, because the records were part of an investigation.
In that case, Burlington Police officer Jesse Hill was responding to a domestic argument at the home of Autumn Steele when, according to police, Hill was attacked by the family's dog and accidentally shot Steele, killing her.
Steele's family has requested all body camera footage and other investigative records regarding the incident; law enforcement agencies released only 12 seconds of wobbly body camera footage.
The Public Information Board has moved to take legal action against the state and local law enforcement agencies for what it deems a violation of the state open records law. The case is pending.
Randy Evans, a former Des Moines Register editor and executive secretary of the Iowa Freedom of Information Council, said law enforcement's interpretation of the open records law in the Steele case is too broad and defeats the law's purpose. The council is a group of journalists, educators, attorneys and others that provides education on and advocates for government transparency.
"The Freedom of Information Council just finds that very troubling, that we are relying on law enforcement to protect the people, and when an unarmed person's life is taken, the public ought to be able to judge for themselves how the officer acted," Evans said. "This is not the position that the Burlington Police Department of the Department of Criminal Investigations are taking."
The case has magnified debate between law enforcement, media, civil liberties groups and victims' rights groups over when police camera footage should be made public and when it should be kept confidential.
While perspectives vary, one thing upon which most agree is state law needs clarification as police dashboard and body camera video becomes more prevalent.
Iowa Gov. Terry Branstad acknowledged as much last week during his weekly visit with reporters.
You have free articles remaining.
"I think it would be appropriate for us to carefully review our laws," Branstad said. "If there is ambiguity, or if there are areas that need to be clarified, then it may require legislative action. So that's something I think we need to carefully look at and determine what would be appropriate to protect the public safety but do it in a way that's fair and even-handed."
Branstad said he thinks any addition to Iowa's open records law should balance the public's need to know with law enforcement's ability to conduct investigations.
"Generally, we want these things to be released," Branstad said. "But when it comes to criminal investigations, that's a different subject, and we don't want to jeopardize the ability to get a conviction by prematurely releasing video."
Parties on all sides of the debate acknowledge privacy concerns also should factor into whether police camera footage should be made public. For example, if an officer is investigating a domestic dispute and enters a home, that footage may not meet the public's need to know. And making it public could violate the privacy rights of the individuals approached by law enforcement.
"I think there are certain times when the rights of an individual, for example within their own home, that's where the law has not kept up pace with the technology," said Sam Hargadine, retired Iowa City police chief and executive director of the Iowa Police Chiefs Association.
Evans said he agrees — "I don't know of anybody who's making the case that all of that video needs to be public," he said — but he also expressed concern that some law enforcement agencies are taking excessive steps to prevent video from being made public.
He cited a case in northwest Iowa in which a suspect reportedly suffered injuries while being handcuffed and video of the incident is being withheld by the Iowa State Patrol, which has argued the video can be kept confidential because court action is pending and should remain confidential because the video will go into the trooper's personnel file.
"I certainly understand why law enforcement may not want to release it, but law enforcement can't have it both ways where, when the footage shows law officers in a very favorable light, that that's something they're going to release, but when the footage calls into question the actions of the officer, that's something we keep confidential," Evans said. "That kind of approach is only going to invite public skepticism about the actions of an officer."
Evans and Hargadine both said state lawmakers should take steps to amend the state's open records law to specifically address police camera video footage.
Few states have passed legislation specifically addressing police body camera footage, and the laws that have been adopted vary greatly, according to the Urban Institute, a national public policy research organization.
Thirteen states have passed laws dictating public access to body camera footage, according to the Urban Institute. Illinois exempts footage from public disclosure, while Maryland requires footage to be released under its Public Information Act.
"I think that the best thing that could occur would be if the (Iowa) Legislature would help bring some clarity to the statute, finding ways to balance the privacy expectations of people and the concerns of law officers, as well as balancing the public's interest in being able to see the video evidence of officers in action," Evans said.
Hargadine said lawmakers also should consider how long footage must be stored and the relative costs law enforcement agencies incur.
Eight states have passed laws requiring storage over a varied periods of time, ranging from two weeks to three months, according to the Urban Institute. Some states permitted local agencies to set their own storage standards.
"The camera, itself, that's really the easiest. ... The hard part, though, is storing it and finding it five years later," Hargadine said. "You're talking about multiple gigabytes of just digital storage. Finding it is another issue as well. There has to be software that manages retrieval of those images, and that's costly. Programmers don't give that away."
Evans' hope is for state lawmakers to clarify the open records law and reduce law enforcement's flexibility to withhold video footage.
"The bottom line is that in Iowa we need to lay this to rest that it is up to law enforcement whether they want to release it at all," Evans said. "If you look at some of the assurances that have been offered by law enforcement agencies when they're asking for money to purchase body cameras, one of the reasons they cite is it gives the public the means to monitor and evaluate the actions of officers. That isn't the way it is being done now."