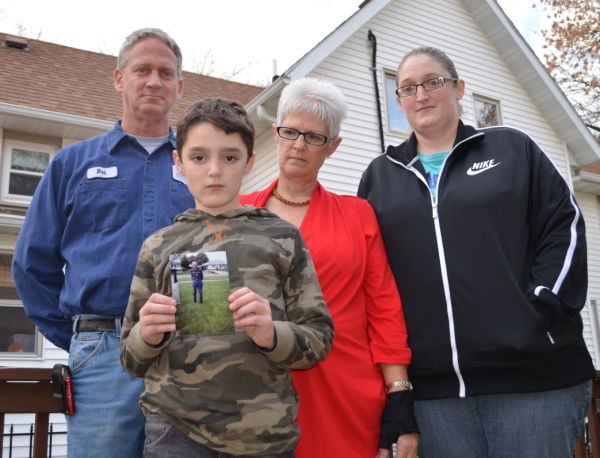 MOVILLE, Iowa | Almost every weekend for the past three months, Robert Robinson has grabbed a plat book and driven off into the county in search of his father.
He scours abandoned farmsteads and fields for any sign of Dale Robinson or the dark maroon truck the 84-year-old was driving when he went missing on Aug. 3.
"I do a page out of the book, and I cover every single road on that page," said Robert Robinson, of Moville, Iowa. 
Dale Robinson has Alzheimer's. The family fears he may be lost or drove off because he felt the disease made him a burden. They want to bring him home.
"Just so that he can be back around family and friends and we can help him deal with it," Robert Robinson said. "He doesn't have to go through this alone. If he's deceased or if he's still traveling, we want him back home."
The last verified sighting of Dale Robinson was on Aug. 3. Surveillance footage showed him at the Argosy Casino on Sioux City's riverfront. Though not a gambler, Dale Robinson often would pick up his wife, Betty, from the riverboat.
Possible sightings have been at museums in Council Bluffs and Missouri Valley, Iowa, on Aug. 3. Family members and police investigated the claims, but aren't sure if it was the missing man.
Additional sightings in Sioux City and Sioux Center, Iowa, were proven false.
The Woodbury County Sheriff's Office continues to investigate.
Family members struggle not knowing what happened to the kind, quiet, generous man who liked to keep busy. A welder, Robinson would scour roadside ditches for abandoned hay rakes to fashion into peacock yard ornaments. He made dozens, some sold to admirers and others placed unannounced in the yards of family and friends.
"You'd look out your window and there'd be some peacocks there. Dale would have come over, dug the hole, put the peacocks in and walked away," said Robert's wife, Patti, who has one in her backyard. "He was kind of that kind of guy."
Not knowing what happened is a helpless feeling.
"I have troubles with the emotions thinking that he's out there somewhere by himself and that he's passed, alone and scared, (with) no family around him, no nothing," Robert Robinson said. "That's the hardest part for me. Yes, it's difficult to lose somebody but the majority of time they have family around them when they do pass."
The family is grateful for the community support, which has helped the family get through the toughest times, Patti Robinson said.
The family wants her father-in-law to know it's time to come home.
"We love him," she said. "We miss him very much and we would just like him to contact somebody and let them know that he's OK, and that it's time to come home."
Be the first to know
Get local news delivered to your inbox!