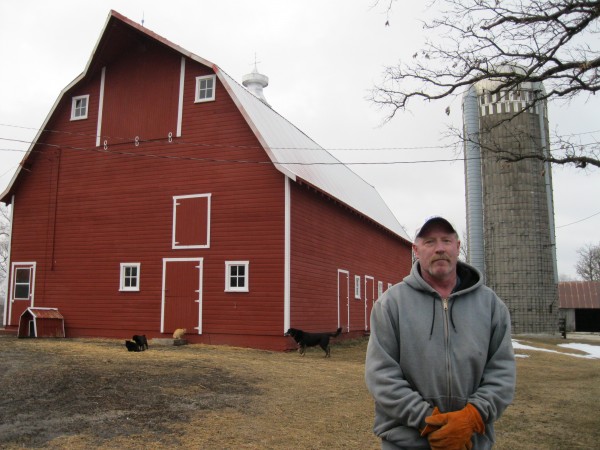 GARNER, Iowa — It's a piece of family history that Tom Chizek wanted to preserve for his two children and generations of the Chizek family to come.
The family finished extensive renovations this fall to the 1942 barn built by his grandfather Albert Chizek on his farm north of Garner.
Tom and his wife, Michelle, bought the place on 250th Street about 10 years ago. They have two children, Ryan, 10, and Jenna, 6.
"It was pretty bad," Tom said walking around the bright red barn. "We replaced a lot of boards. There were a lot of bad boards."
All the doors were replaced with new wood but using the old hinges.
They had new windows installed. But the biggest part of the project was the new metal roof.
The barn measures 60 by 100 feet.
It took about 18 months to complete the entire project.
The project cost about $27,000. The Iowa Barn Foundation awarded the project a grant for $10,000.
"We used to walk up here and we'd fall through the floor. Now we don't fall through the floor," said Ryan, 10. "I did a little bit of scraping the paint and painting."
Jenna, 6, helped paint the exterior white trim.
The kids love to play basketball in the haymow.
"I thought it was a pretty neat," said Michelle Chizek. "I didn't think it should be torn down."
The red barn stands out in the winter landscape.
"When you're coming down the lane, it makes a huge difference," Michelle said.
"It should be good to go now that we put the steel (roof) on it. Unless we get a tornado or a fire, it should be good to go," Tom said.
Tom remembered playing in the haymow as a child and stacking the hay as he got older. It was a piece of his heritage that he didn't want to part with.
When asked about whether Jenna or Ryan might be running the family farm some day, Tom hesitates.
"I don't know. Kids nowadays, when they grow up and go off to college they don't stick around as much anymore. Hopefully maybe one of them will. Otherwise, I don't know who will take over."
Be the first to know
Get local news delivered to your inbox!