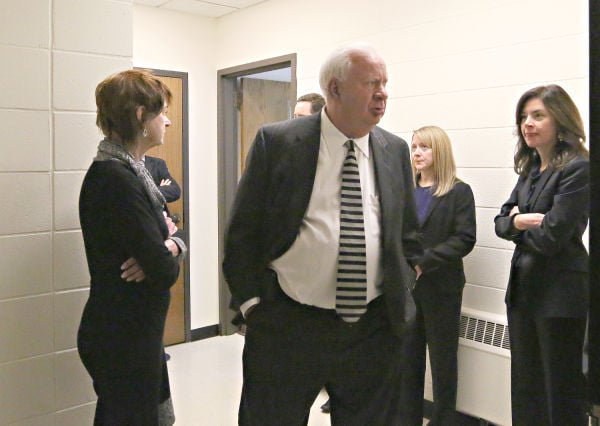 SIOUX CITY | Since settling a billion-dollar defamation lawsuit against ABC, Beef Products Inc. is ramping up development of new products and also looking into helping workers the company had to lay off when sales of its signature product slumped in the wake of the unflattering national news reports five years ago.
Regina Roth, who with her husband, Eldon, co-founded and owns the company, told members of the Sioux City Rotary Club Monday that BPI is looking toward the future now that it no longer has to worry about the lawsuit.
"Most everybody's happy, but we just want to get back to doing what we do and put this behind us," Roth told Rotary members at their weekly meeting at the Sioux City Convention Center.
BPI reached a confidential settlement with ABC on June 28 after 17 days of trial in Union County Circuit Court in Elk Point, S.D. The Dakota Dunes-based meat processor had claimed that a series of stories by ABC and correspondent Jim Avila in March and April 2012 used false information about its Lean Finely Textured Beef product. Particularly damaging, the company said, was the repeated use of the term "pink slime" to describe LFTB.
BPI sued ABC and Avila, seeking $1.9 billion, an amount that could have been tripled to $5.7 billion under a South Dakota law designed to protect agricultural interests. Terms of the settlement and the amount are confidential, though Roth told the audience, "there were a lot of zeroes, so it was a serious decision."
"ABC made us an offer that we just could not refuse," she said. "They had been making offers, but they were nowhere where they needed to be. It was enough money for us that we felt vindication."
When BPI filed the lawsuit in September 2012, Roth said her family was told their chances of winning were slim. But they had to try, she said, because they wanted to clear BPI's name. Trial testimony up to the settlement had focused on making the case the LFTB was a safe and nutritious product, and Roth said that, according to the legal team's jury consultants, that message was reaching the jurors.
You have free articles remaining.
"The data we got back suggested that the jurors were kind of with us," Roth said.
Roth said sales of LFTB have climbed to 3 million pounds per week. Sales before the ABC reports were at 5 million pounds per week, a total that dropped to 1.3 million pounds two weeks after ABC's reports began to air. That drop led BPI to close plants in Waterloo, Iowa; Garden City, Kansas; and Amarillo, Texas, leaving its South Sioux City plant as the only one in operation. More than 700 workers were laid off.
The Waterloo plant has been shuttered permanently, Roth said, but BPI hopes to reopen the Kansas and Texas plants. The company also is considering using money from the settlement to establish a fund to provide financial assistance to laid-off BPI workers who need it.
"Eldon wanted to do it. He thought it was the right thing to do," Roth said.
With the lawsuit now in the past, Roth said BPI is gearing up its research and development, which had been on hold since the lawsuit was filed. BPI has developed a new line of taco meet and is developing a line of primal cuts such as roasts and steaks. LFTB, made from lean beef trimmings and blended with ground beef to reduce fat content, will remain a chief product, Roth said.
"It's one of many products now, but still our core product," she said.
Construction of a new cold-storage facility in South Sioux City is about half finished, Roth said, and the company now works with a public relations firm to streamline its message to the public.
Looking around the room, Roth said she appreciated the support that her family and BPI received during the past five years from business leaders and others in Siouxland.
"I personally could not have gotten through it without the help of this community," she said.