DES MOINES --- Steve King defended his record in Congress and his recent overseas visit with a right-wing Austrian group as he removed from the grounds a questioner who compared King to the alleged shooter who this week killed 11 Jewish people at a Pittsburgh synagogue.
It was a momentous 45 minutes on Thursday morning for King, the embattled Republican Congressman from Iowa's 4th District who was making his first public appearance since criticism of him and his often inflammatory comments on immigration extended to the head of the Congressional Republicans' campaign organization.
King was speaking in downtown Des Moines to the Greater Des Moines Partnership, an organization of central Iowa business and economic development leaders. The group holds a series of events with candidates for statewide and federal offices each election year.
Des Moines is not part of Iowa's 4th District, which covers 39 counties in Northwest and North Central Iowa.
King, who is running for a ninth two-year term in Congress, gave opening remarks in which he talked about some of the things he says he has accomplished in the nation's capital. One common criticism of King's opponents is that he has done little despite serving in the majority for much of his time in the U.S. House.
Then, during the question-and-answer portion of the event, King fielded the usual business-interest questions from the organization's members --- Would he approve funding to help the Des Moines airport? Does he support funding for research and development at public universities? --- but also was asked about some of his controversial statements.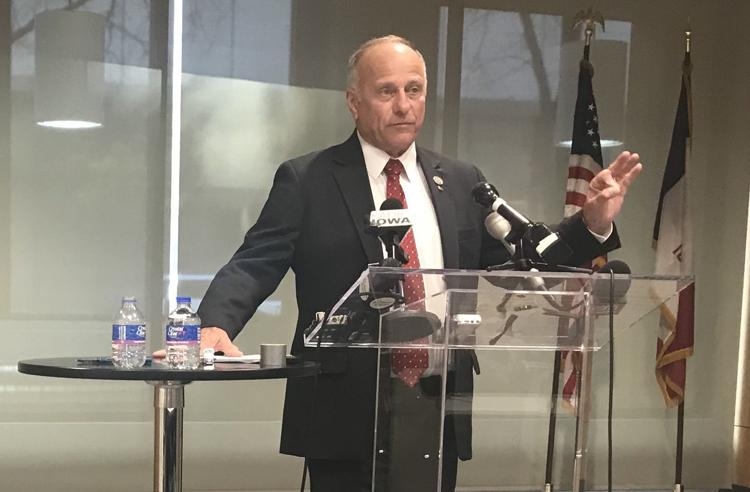 King became upset when one questioner suggested King shares "ideology" with the man accused of shooting and killing 11 Jewish people in a Pittsburgh synagogue earlier this week. King interrupted and chastised the individual, and asked security personnel to have the person removed from the building.
"No, don't you do that," King told the questioner. "Do not associate me with that shooter. ... There's no basis for that and you get no question and you get no answer. ... It's not tolerable to accuse me to be associated with a guy that shot 11 people in Pittsburgh."
The advocacy group Citizens for Community Improvement, which protested outside the event, said afterward that the questioner was Kaleb VanFossen, an Iowa State University student.
You have free articles remaining.
King was then asked about the possibility of his shrinking influence in Congress given the growing list of his critics, including Rep. Steve Stivers, chairman of the National Republican Congressional Committee. Stivers on Tuesday tweeted, "Congressman Steve King's recent comments, actions, and retweets are completely inappropriate. We must stand up against white supremacy and hate in all forms, and I strongly condemn this behavior."
King responded on Twitter by blaming "these attacks" on "nasty, desperate, and dishonest fake news." On Thursday he said he would have more to say about Stivers' criticism but not until after the election.
But King also, unprompted, offered a long defense of his recent trip to Austria to discuss American politics with Austrian business leaders. The group included a member of the Freedom Party, which was founded by a former SS officer in 1956, although King said the party over time has made every effort to sever its ties to the Nazis.
King said the latest round of criticism aimed at him can be linked back to an Oct. 25 article on the Washington Post website that details King's trip to Poland to view holocaust sites and then to Austria, at one point waving a copy of the daily newspaper. The trip to Poland was funded by a nonprofit organization that hosts such trips to educate lawmakers about the holocaust; King said he paid for the side trip to Austria himself.
King said the tour of holocaust sites, including the Auschwitz-Birkenau death camp, included a holocaust survivor.
"To walk through that place and hear from that man all of the things that he experienced and the stories that he knew, to see the grief on his face, to look at that vast expanse in Birkenau of the industrialized slaughter of a people that I do not understand why anyone would dislike any of them, is a stunning experience. And it would bring anybody back. It would jerk you up short," King said. "You can read this in the books, you can read it in newspapers, you can watch the movies. But when you stand on that ground, and you walk up to the crematoriums, and you listen to that with (survivors and their families), you understand what really happened over there."
As to the meeting in Austria, King said he was invited by a known associate to talk to business leaders. One of the people was a Freedom Party member.
"There was no meeting there with the people they allege have Nazi ties," King said, adding that the Freedom Party has "lined themselves up to be against anti-Semites there. There's no party that's stronger pushing back against anti-Semites in Austria than the Freedom Party."
In asking for support for another term in Congress, King said under President Donald Trump some of the policies he has been calling for throughout his 16 years are on the precipice of being achieved. He included on that list the elimination of citizenship for babies born to immigrants who entered the country illegally, something Trump has said he is exploring through executive order or legislation.
"A lot of this legislation that I've laid down more than 10 years ago is now poised to move forward and become law because we're out of that desert, as I would call it, and into this time of opportunity. I've worked a lifetime to get into this position," King said. "My relationships with the president are as good as they can possibly be. He listens to me and I listen to him and we work together."
King's opponent in Iowa's 4th District is Democrat J.D. Scholten. Some polling has showed a race that is closer than usual in the conservative western Iowa district.
Libertarian Charles Aldrich also is on the 4th District ballot.
Copyright 2018 The Sioux City Journal. All rights reserved. This material may not be published, broadcast, rewritten or redistributed.