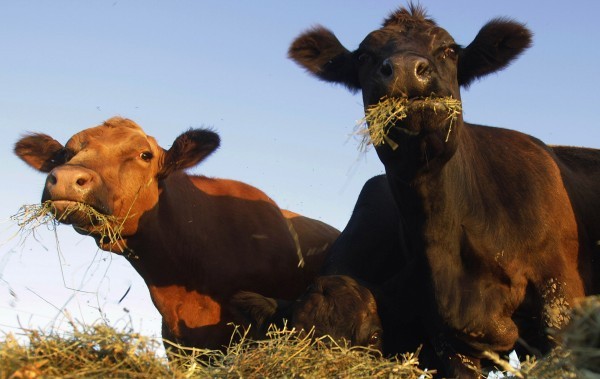 LINCOLN | Gerald Timmerman, one of Nebraska's most prominent cattle feeders, and Harvey Dietrich, his longtime business partner from Arizona, have launched a national campaign called Beef Additive Alert to raise concerns about use of the feed additive Zilmax and similar products in beef production.
As the campaign takes on visibility, part of their focus is on 4-H and FFA competitors at the Nebraska State Fair relying on performance-enhancing Zilmax to bulk up their beef entries.
"We in this United States have got the highest quality, the most consistent and the most integrity in the world in our product," Springfield-based Timmerman said last week. "But we've felt that the usage of some of these chemicals and compounds was causing some animal welfare problems and some consistency problems."
Timmerman spoke out a day after officials at the University of Nebraska-Lincoln announced a research project that would explore the possibility that Zilmax, used to put weight on feedlot animals just prior to shipment to meatpackers, might be causing ambulatory problems at the same time.
On Wednesday, University of Nebraska feedlot veterinarian Dee Griffin said questions are also being raised about Zilmax negatively affecting marbling and tenderness of beef and adding to heat stress in feedlots in the summer months.
Earlier this month, in a rapidly unfolding story, related concerns were aired at a meeting called by the National Cattlemen's Beef Association in Denver. The next day, Tyson, one of the nation's leading meatpackers, announced it would quit buying cattle with Zilmax in their ration in September.
Competitor Cargill intends to implement a similar plan at the end of September.
Drugmaker Merck & Co. has suspended selling the product. Company officials are investigating the claims but say the product the safe. 
Meanwhile, Timmerman, 73, whose father, Leo, was recently inducted into the national Cattle Feeders Hall of Fame, also called attention to the start of the Nebraska State Fair in Grand Island on Friday and to his suspicions about use of Zilmax by teen-age competitors in livestock shows.
"I was a 4-H member," he said. "I think 4-H and FFA are the finest organizations there is. But there are always a few individuals that will tilt to doing anything to win. And there's one of those products out there that says basically, 'If you want to win, you've got to use this.'"
Timmerman does not use Zilmax, which became commercially available in 2007 after more than a decade of USDA-supervised study. But he's been watching its rapid proliferation throughout the United States, and is worried both about use and over-use.
"We're talking about a pharmaceutical industry that has done a lot for animal agriculture in the animal health field, etc., etc., etc. But my question is do we need to use any more chemicals and compounds that include more performance drugs, more aggressive performance-enhancing drugs?"
Bill Angell, livestock superintendent at the Nebraska State Fair, said competitors in 4-H and FFA livestock shows have a variety of rules to follow in showing animals.
Drug testing is also conducted at the fair, he said.
"Now Zilmax, even though it's a controversial additive, is approved for use in feeding beef cattle by the USDA."
While fair officials are big backers of getting meat into the food chain that's free of banned and illegal substances, Angell said, "we can't pass judgment if something is approved by USDA to say we do not accept that. That would be stepping beyond the bounds of what we, as a fair industry, can do."
Apart from that, because of their 4-H and FFA education, "these kids know what's right."
That's not to say he believes every fair entrant is immune to temptation.
"There's always people – and kids – trying to get an advantage over somebody."
In a prepared statement, Beef Additive Alert spokeswoman Susan Stern amplified Timmerman's remarks.
"In this day and age of athlete doping scandals, we are greatly alarmed at the lesson this teaches our nation's youth. Basically, we are telling kids that it IS acceptable to cheat to win. We disagree!"
In a follow-up interview, Stern said Beef Additive Alert had not taken up the subject with fair officials, as of Thursday.
"We've been really busy since the March meeting with the industry nationally," she said.
Stern said the campaign had been operating behind the scenes since then.
A group of performance-enhancing products called beta agonists are creating "an unlevel playing field" for youthful cattle exhibitors at fairs, she said.
Timmerman and Dietrich, who do business together in multiple states, are paying for it out of their pockets.
Among his claims to fame, Dietrich is reputed to be the owner of the largest ranch in Arizona.
"It's really altruism – to maintain, preserve USDA beef quality, integrity and consistency," said Stern. "That's what this campaign is about. It's doing the right thing for America."
Be the first to know
Get local news delivered to your inbox!