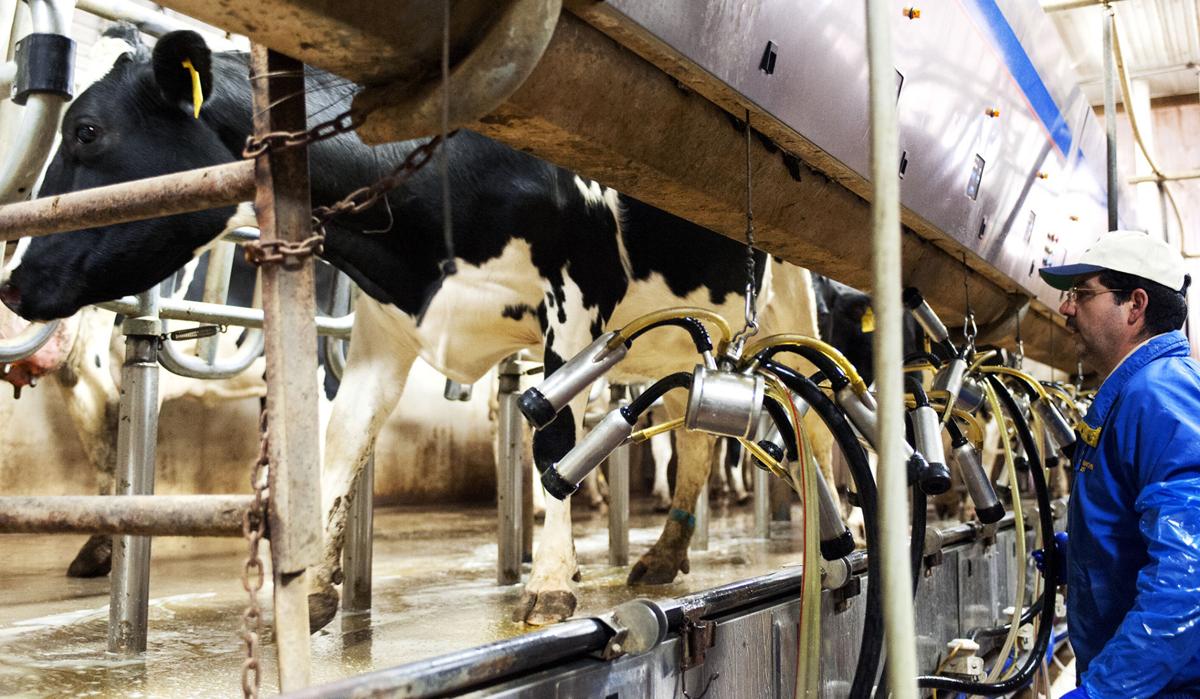 LINCOLN -- Nebraska's wide grasslands, fields of golden corn and gushing aquifers make the state a nearly perfect home for cows content to live a quiet life of chewing cud and being milked.
That was the sales pitch the past several years as Nebraska sought to woo dairy farms from states like Texas and California, where the Holsteins were being squeezed out by drought, development and environmental regulations.
Last year, it seemed to be working. After decades of decline, the number of registered dairies in Nebraska bumped from 181 in 2014 to 184 in 2015, according to the state Department of Agriculture.
But it turned out to be more of a blip than a renaissance. The state lost 20 registered dairies as of September, dropping the total to 164.
It's not because of a lack of interest in the state. Nebraska has a list of dairy farmers who have said in writing they'd be happy to move here, state Ag Director Greg Ibach said during a recent interview.
The problem is that they can't find anyone to buy their milk.
"All of the sudden the plants that were begging for more milk, the cows caught up with the amount of processing capacity," said Rod Johnson, executive director of the Nebraska Dairy Association.
It's an issue up and down the Interstate 29 corridor, the dairy belt of the Midwest, Johnson said.
Dairy Farmers of America, the main cooperative force in Southeast Nebraska, confirmed it doesn't need any more milk from the state.
"Due to a number of factors, including the export market, supply is currently outpacing demand in the Nebraska area," spokeswoman Kim O'Brien said in an email.
This summer, dairy farmers were losing on every gallon because of overproduction, although prices have rebounded slightly since. The National Milk Producers Federation recently reported prices in the region ranging from $14.20 to $15.70 per 100 pounds.
In August, the U.S. Department of Agriculture announced it would buy 11 million pounds of cheese to help reduce a 30-year-high national surplus. The cheese is to be distributed to schools and food banks across the nation.
U.S. butter and cheese has been expensive on the world market for much of the past couple years compared with dairy from other places like Europe and Australia, causing U.S. suppliers to lose market share, although price disparities have narrowed in September, according to the .
Dairy is an economic development cash cow. A study done last year by the state Ag Department at the direction of the Legislature found a single cow has a $5,000 local economic impact.
"Taken a step further, Nebraska's 55,000 dairy cows generate $275 million annually in local economic activity," the study said. That doesn't include the value added by Nebraska's 10 milk processing plants.
You have free articles remaining.
In two other studies, economists at Iowa State University and the University of Minnesota estimated a dairy cow's statewide economic impact with in-state processing at $23,000 and $25,000, respectively.
Hoping to tap into the rich dairy bounty, a coalition of state commodity groups has been sinking time and effort into attracting new processors to Nebraska.
"We call ourselves ," said Johnson.
The issue, he said, is that processors want to know there are enough cows and milk to meet their needs, but to get those farmers, the state needs a processor.
"It's kind of the chicken or the egg, which comes first? Our challenge is to bring everybody together at one time," Johnson said.
Half of the state's 10 processors, including Prairieland Dairy near Firth, process milk produced by their own cows.
Dwaine Junck gets up each morning at about 5 to check the cows and get his kids ready for school.
His family has run a dairy near Carroll since the 1940s.
For him, Nebraska's full milk pipeline means less competition and lower prices for his milk. And the declining number of dairies in the state means fewer local businesses catering to dairy's unique needs.
"If we had more dairies in the area ... there would be more support industries, the equipment dealers, the repair people," he said. "Well, we can't get more dairies in the area if there is no place to sell the milk."
His milk went to a string cheese processing plant in Ravenna until Leprino Foods closed it in 2013 citing, among other reasons, difficulty in getting enough milk.
Now, like 60 percent of the milk produced in Nebraska, Junck ships his out of the state.
Nebraska's dairy herd peaked in 1934 with 820,000 cows producing 2.9 billion pounds of milk annually. Today, the number of cows is closer to 55,000, but each of them produces more milk.
In 1934, each cow produced an average of 3,500 pounds of milk; today, an individual cow produces an average of more than 21,000 pounds, thanks to improved nutrition and genetics.
Nebraska's dairy farms have also gone through consolidation. The state lost 553 dairy farms over the past 15 years, a 75 percent decrease. The average number of cows per dairy farm went from 98 in 1999 to 214 in 2010, according to USDA statistics.
Last year, 52 percent of the dairy cows in the state were housed on just 14 farms.
Still, the amount of milk produced in the state has remained relatively stable at just over 1.1 billion pounds a year, according to USDA statistics.
The vast majority of Nebraska's remaining dairy farms are in the eastern portion of the state, where they are closer to processors, highways and population bases like Lincoln and Omaha that have plenty of mouths to gobble up ice cream and cheese.