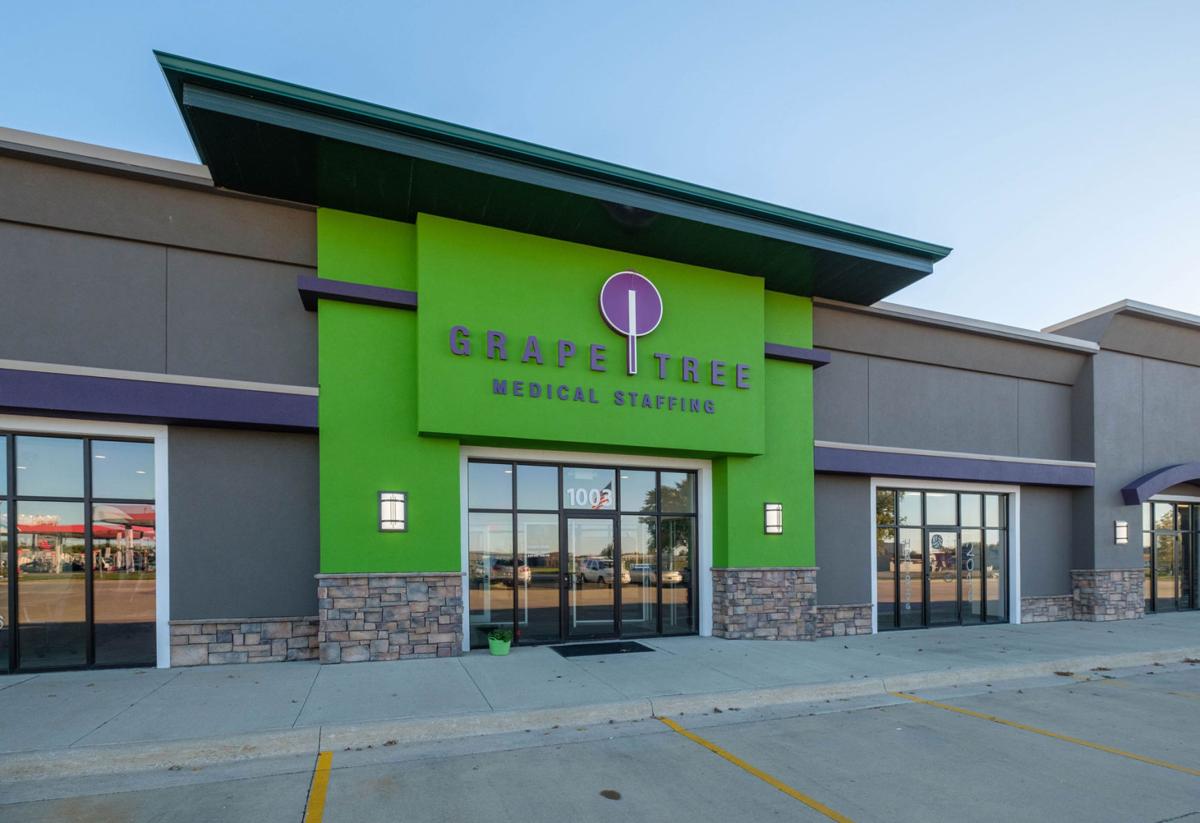 MILFORD, Iowa — GrapeTree Medical Staffing plans to add 200 to 300 jobs as part of a $20 million expansion of its Milford headquarters.
Gov. Kim Reynolds joined company officials Tuesday night for the announcement, which comes a week after GrapeTree was named one of the fastest growing private companies in America by Inc. magazine.
In a release,  said the company is excited to expand in Milford, the Dickinson County community of a little more than 3,000 and where it was founded in 1999.
"We are proud of the strong commitment we are making to our local community by bringing new jobs to the Iowa Lakes Corridor, and by helping to drive economic development in Northwest Iowa," GrapeTree CEO Tim Kinnetz said.
GrapeTree, founded in 1999 in Milford, a Dickinson County city of about 3,000, plans to break ground on its new headquarters in spring 2018 and complete the 72,000-square-foot structure by summer 2019. The state-of-the-art, two-story structure will create 200-300 new office jobs in Milford, up from the current workforce of around 90.
"To see an Iowa company invest so much right here in Northwest Iowa, and plan to nearly triple its local employment, is encouraging," Reynolds said."The future of our state depends on companies like GrapeTree that allow Iowans to put down roots right here at home, rather than looking beyond the state's borders for opportunities."
The expansion will support field staff growth in Iowa and surrounding states. The Milford site manages nearly 3,000 health care employees working in about 1,000 location in an eight-state area in Iowa, Minnesota, South Dakota, Nebraska, Missouri, Illinois, Wisconsin and Kansas.
GrapeTree contributes a total economic impact of $51 million to Dickinson County, according to an economic impact analysis recently completed by The Institute for Decision-Making at the University of Northern Iowa. The study also showed that GrapeTree supports 40 jobs in the area, in addition to its own staff. Company officials predict this number will likely grow with the announced expansion.
Creating this many additional jobs in Milford should offset some of the losses the community has recently experienced.
In April, Polaris Industries, one of the town's largest employers announced it was cutting up to 300 jobs at its Milford manufacturing facility.
Reynolds also made stops in Arnolds Park, Estherville and Emmetsburg as part of her Building a Better Iowa Initiative.