DES MOINES — Gov. Kim Reynolds' update to Iowans on the COVID-19 pandemic on Thursday included more calls for Iowans to get vaccinated and recommendations for other steps Iowans can take to limit the spread of the deadly virus.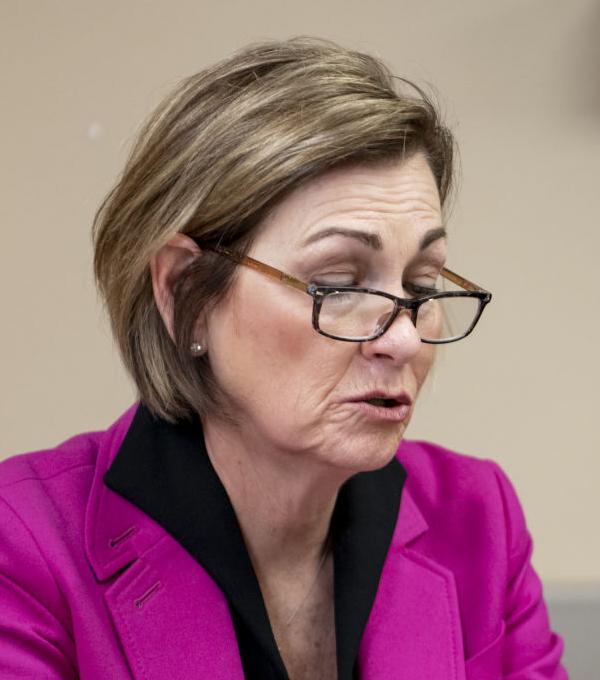 But Reynolds did not announce any new policy changes, and she defended a new state law that prevents schools from requiring students to wear face masks.
"It's obvious that vaccines are our best tool against countering COVID-19," Reynolds said during a news conference at the Iowa Capitol. "So we want to reiterate to Iowans to get the information that you need, to research, (and) get a vaccine. It's the best thing that you can do to protect yourself and your loved ones. We see that the data we're collecting actually proves that out."
After months of decline following the winter spike, COVID-19 cases and hospitalizations are once again surging in Iowa, and many other areas of the country. Both numbers are higher than they have been since January, which was the tail end of the pandemic's worst and deadliest stretch.
Iowa is averaging nearly 1,500 new COVID-19 cases per day — 15 times the rate just two months ago. And 524 people are hospitalized for COVID-19, more than seven times as many as two months ago.
Two main factors are driving this latest surge: the Delta variant, which spreads faster than the virus' original strain; and the number of Iowans who have not been vaccinated.
The Delta variant is accounting for 99% of all new cases, Reynolds said Thursday.
"(With the availability of vaccines) the rise we're currently experiencing isn't cause for panic. Far from it. But it is a good reason to consider what you can do to help," Reynolds said.
And what Iowans can do to help, first and foremost, Reynolds said, is to get the vaccine.
According to state data, four out of every five current COVID-19 patients in the hospital are unvaccinated, as are nine out of 10 COVID-19 patients in intensive care.
Nearly 64% of Iowans ages 18 and older are fully vaccinated, and 66.4% of Iowans ages 12 and older — those who are eligible to get the vaccines — have received at least one shot, according to state data.
"The data reflects, as you've heard for months now, that COVID-19 vaccines are highly effective at preventing serious illness, hospitalizations and deaths, which ensures that more beds are available for other purposes," Reynolds said.
But aside from continuing her call for Iowans to get vaccinated, Reynolds on Thursday announced no new policy changes regarding COVID-19 mitigation strategies. She said the virus likely is here to stay and that the pandemic will become an endemic, one that must be constantly managed in "a responsible and balanced way."
Reynolds, a Republican, defended the new state law — which she approved after it was passed by Republicans in the Iowa Legislature — that prohibits schools from requiring students or staff to wear face masks.
The federal Centers for Disease Control and Prevention recommends all school staff and students wear face masks.
On Monday, the U.S. Education Department announced it's investigating Iowa and four other states with prohibitions on mask mandates on grounds the bans discriminate against students with health conditions and disabilities.
Most Iowa school districts started the 2021-2022 school year the week of August 23.
"I believe the government's role in a public health crisis is to provide the public reliable information so that they can make their own informed decisions," Reynolds said. "I also believe this approach is more effective than mandates that attempt to dictate other people's behavior."
Meanwhile, the highest share of new cases over the past week came from Iowa children under the age of 18, according to a Gazette analysis of state figures. Children accounted for 22% of new cases, the highest of any age group and up from 13% two weeks ago.
Among those currently hospitalized for COVID-19 in Iowa, 5% are younger than 18, according to state public health data.
When asked by reporters, interim state public health director Kelly Garcia said her children wear face masks to school for family reasons.
"I'm not going to disclose our own family's reasons as to why, but we have some reasons as to why. And I don't want my kids to be sick. And I can't afford them to bring that home," said Garcia, who is vaccinated.
Iowa Sen. Zach Wahls, a Democrat from Coralville and leader of the Senate Democrats, issued a statement Thursday saying Reynolds and her fellow statehouse Republicans own the most recent COVID surge because of their inaction.
"COVID isn't going away because Kim Reynolds and Iowa Republicans aren't doing anything to make it go away," Wahls said in the statement. "Our return to normal continues to be pushed further and further into the future because Republicans continue to fail to do anything to stop the spread of the Delta variant."
Garcia announced the public health department will begin updating some COVID-19 data three times per week, on Mondays, Wednesdays and Fridays. In July, the department transitioned from updating the data multiple times daily to just once per week. A public health department official said the reduction in updates was necessary to give staff time to analyze and ensure the data's accuracy.
Cedar Rapids Gazette reporter John McGlothlen contributed to this report.