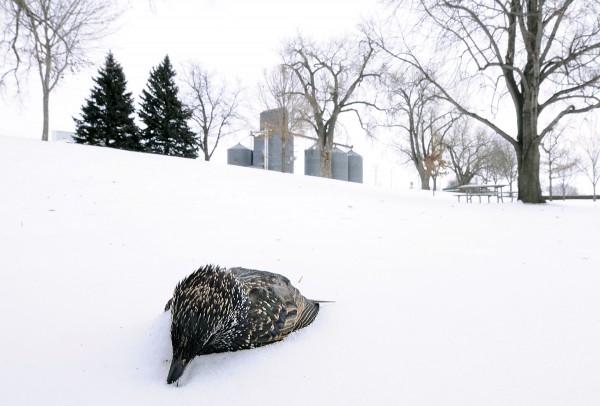 SIOUX FALLS - The South Dakota Game, Fish & Parks Department is investigating about 100 suspicious deaths in downtown Rapid City - and the victims are all pigeons.
John Kanta, regional wildlife manager for the department, said Friday that dozens of bird corpses have been recovered since Thursday afternoon. The deaths are mysterious enough that biological samples - translation: dead birds - have been flown to a lab in Madison, Wis., in hopes of determining the cause.
"We're hoping to have an answer early next week," he told The Associated Press.
Sudden and widespread bird deaths have made headlines already this year when hundreds of blackbirds dropped from the sky in Arkansas on New Year's Eve. Officials believe those birds had been so panicked by celebratory fireworks that they collided with objects and died.
Kanta said the pigeon deaths aren't as wide scale - yet, anyway.
"If we don't see many more deaths, it won't be a huge hit to the pigeon population," he said.
The birds might have been sickened by moldy grain or bacterial infection, but Kanta suspects they may have been poisoned.
You have free articles remaining.
Officials have collected suspicious corn pellets they believe might be tainted with Avitrol. The poison can legally be used to kill birds if the user has a permit. But even if someone did have a permit, he or she wasn't following the instructions on the label.
"There's a stipulation that if you put it out, you have to clean it up at the end of the day," he said. "And if you end up with dead birds, you must clean those up."
By not following the rules, the possible poisoner might be putting other creatures at risk - most notably peregrine falcons, Kanta said. The falcons are being reestablished in the area.
Stacy Banyai, who owns Altered Art & Scrap Playground, said that pigeons regularly hang out downtown.
"They're kind of fun to listen to," she said, but acknowledged that not all business owners are as pigeon-friendly.
"Some would say it wouldn't hurt if we saw a reduction. They do a lot of damage in terms of the unsightliness of their droppings," Kanta said.
Still, he said, unauthorized poisoning is going too far.
"We're quite worried about the incidental loss we might see with other wildlife," he said. "We certainly don't want to see the pigeons wiped out."