YANKTON, S.D. | An infestation of zebra mussels at Lewis and Clark Lake is causing maintenance headaches at Gavins Point Dam.
The invasive species, first found in Lewis and Clark Lake behind the dam in fall 2014, attaches to grates over the two water intakes for the system that cools the dam's power-generating turbines. Those grates frequently become covered and clogged with mussels, and maintenance workers must now clean the 24 coolers every year, rather than the previous three-year cycle in which eight coolers were cleaned each year. The increased cleaning has led to a significant increase in maintenance costs, power plant superintendent Mike Welch said.
"We have zebra mussels 3-4 inches deep on the intake grates," he said.
The turbines themselves are not affected by the mussels, Welch said, but they must be shut down periodically when the coolers must be cleaned, cutting down on hydroelectric power production.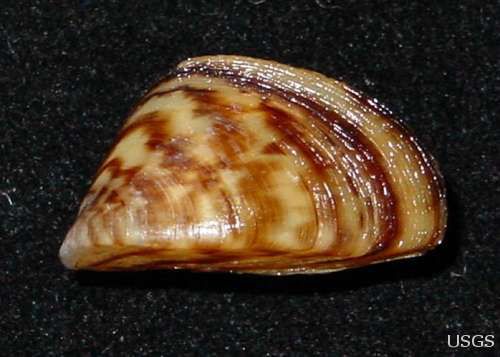 The pesky zebra mussels, which are about the size of a thumbnail, were found this summer in Lake Yankton, which sits north of the Missouri River below the dam. They've also been found in McCook Lake near North Sioux City and in the Iowa Great Lakes region at Okoboji. The zebra mussel, often transported on boats and in water that has not been drained from boats, competes with native fish and mussels, clogs pipes, cuts swimmers' feet and will pile up on rocks, docks, swimming platforms and anything else in the water.
Karla Zeutenhorst, a U.S. Army Corps of Engineers park ranger at Gavins Point, said the zebra mussel was first spotted on the dam's spillway gates. Mussels also have been found inside and outside the power plant. The mussels have not caused any damage to the plant, she said.
The mussel spreads rapidly, with a female capable of laying up to 1 million eggs a year, so they can multiply quickly.
Zeutenhorst said the corps is evaluating potential options to combat the zebra mussel at the power plant. One possible solution is placing an ultraviolet lighting system where the raw water enters the power plant. The ultraviolet light is believed to kill zebra mussel larvae, though Welch said results at other dams with similar problems haven't been conclusive.
Another option is replacing the two iron water intakes with copper, which adult zebra mussels won't attach to. Again, that's not a guaranteed fix. Welch said mussels have been found attached to copper pipes inside the coolers.
For now, workers will continue the costly cleaning of mussels from the intake grates and coolers. Welch said boaters need to follow recommendations of various state natural resources agencies to rinse boats and drain their wet wells so that the pest isn't transported to other bodies of water not yet infested.