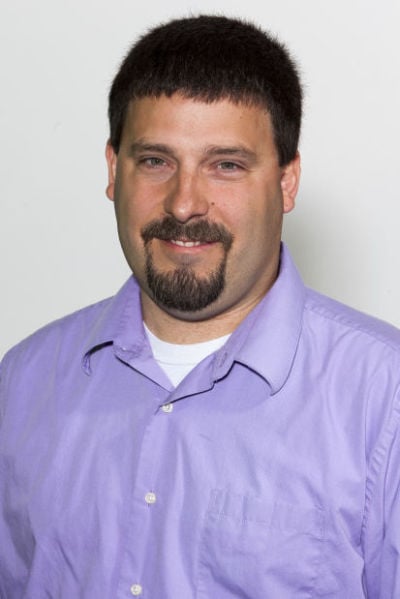 Two law enforcement leaders in Iowa recently engaged in a thoughtful discussion on the state of policing and racial justice.
It's not a discussion that alone will douse the blazing fire that has engulfed our country over the past year-plus (or decades, really). But taken for what it is, it's undoubtedly a conversation Iowans should hear.
Judy Bradshaw, director of the Iowa Law Enforcement Academy, and Tony Thompson, Black Hawk County Sheriff and president of the Iowa State Sheriffs' and Deputies' Association, discussed policing issues for this weekend's episode of "Iowa Press" on Iowa PBS.
Bradshaw and Thompson talked about the challenges of policing, including at a time when police tactics are under intense scrutiny as Black Americans die while in police custody.
They also talked about steps law enforcement agencies are taking to ensure those kinds of deaths stop occurring.
"Both from retention and hiring, we are seeing more challenges than we've ever seen before," Thompson said. "The challenge that is around law enforcement today makes it tougher. What used to be for us a profession has become more of a job."
Thompson said it is becoming more common for officers to leave the force after roughly seven to 10 years on the job.
"It is not uncommon to see someone at that seven-year mark say, 'Enough is enough,' and they move onto something else less stressful, less challenging, and certainly in some ways a little more rewarding," Thompson said.
But neither Thompson nor Bradshaw shied away from changes to police practices that are being challenged and in some cases changed. Both applauded legislation passed in 2020 in Iowa — shortly after George Floyd, of Minneapolis, was killed while being detained by a police officer. That new law, among other provisions, banned the use of police choke holds in most cases, barred the hiring of officers who have been disciplined by other agencies for using excessive force, and allows the state attorney general to investigate when an individual dies while in police custody.
"It didn't change our methodology one way or the other," Thompson said. "In my agency or statewide, I didn't hear any sheriffs standing up and saying, 'Oh my gosh, this is a crisis,' because 90% of what was contained in that bill was already being implemented and was already standard practice across the board."
During the 2021 session, the Republican-controlled Legislature did not advance any more legislation designed to improve racial and social justice, despite proposals from a task force established and legislation proposed by Gov. Kim Reynolds, and from the state's human rights department. The two packages had myriad proposals, but one they had in common was a recommendation the state take steps to reduce racial profiling by police.
While those proposals did not find support in the Republican-controlled Legislature, lawmakers did advance extra protections for law enforcement officers. That package of policies was dubbed "back the blue."
"The blue" that appeared on "Iowa Press" said they supported the legislation, but also expressed hope that the racial and social justice measures get more consideration next year. Bradshaw and Thompson both, for example, said they support a proposed requirement that all law enforcement agencies record and store data on traffic stops, which is one proposed method for addressing racial profiling.
"A lot of the social justice language that was not part of the 'back the blue' we hope to continue with the committee and to take another run at that," said Bradshaw, who served on the governor's task force. "Obviously the governor is supportive of the social justice piece, so I know she wants to see that. The conversation isn't over. Like the sheriff (Thompson) said, I think (the 'back the blue' bill is) a starting point and I believe that there is going to be continued conversation on the social justice piece of it."
The discussion featuring Bradshaw and Thompson is not, by any means, all-encompassing. There are so many other issues to be addressed and so many other voices to be heard in our collective effort to become a more perfect union.
But it's a good piece of that greater debate. And Iowans would benefit from listening with open minds and hearts.
"Iowa Press" airs on Iowa PBS at 7 p.m. Friday and noon Sunday, and is available online at IowaPBS.org.
Erin Murphy covers Iowa politics and government at Lee Enterprises. His email address is erin.murphy@lee.net. Follow him on Twitter at @ErinDMurphy.