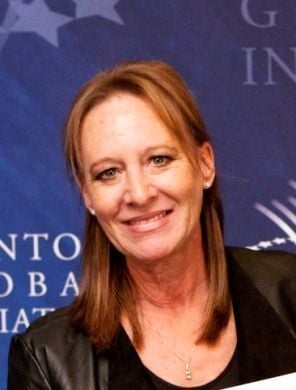 As the scourge of COVID-19 ravages the country and the world, I've watched our Iowa cases spike drastically. We have over 20,000 new cases in 30 days, campuses are blowing up, 250 more Iowans have died, schools are reopening, and our poor numbers are making national news.
I've watched carefully for signs that show that the governor's office is being, open, transparent, willing to change if wrong, willing to take responsibility for mistakes and, most importantly, if they show care and concern for the lives of citizens.
I've seen them ignore the opinions of experts, such as guidance from the White House task force and our own epidemiologists and doctors, regarding additional closures and a much-needed mask mandate and the pleas of citizens, doctors, city leaders, faith leaders and educators.
Iowa, we've got a problem. In my opinion, the citizens of Iowa are experiencing a form of bullying.
That may seem a strong statement, but in my years of anti-bullying work I've come to learn that adult bullies in positions of power don't always follow the pattern of the traditional schoolyard bully, who beats up another kid and takes his lunch money.
The type of bullying we are now seeing from the governor's office is not as overt. It's subtle. It's dangerous. And it's real.
About 15 years ago, the Waitt Institute for Violence Prevention partnered with Doctors Garie and Ruth Namie of the Workplace Bullying Institute to sponsor the first workplace bullying study in America. Our work, in addition to supporting domestic violence prevention programs, had focused, and still focuses, on school bullying and cyber bullying. We sponsored the Emmy-nominated 2012 film "Bully," as well as others, to shed more light on the problem.
But early on, I wanted to take the work further and to see what more we could find out about adult bullies in the workplace or bullying from those in positions of power.
A CEO of an organization can create either a healthy workplace or a workplace filled with fear, confusion and anxiety. Our governor is the state's CEO and what I've been seeing recently concerns me deeply for all Iowans.
Many of the decisions made early in the spring by the state of Iowa in response to the coronavirus were good ones. I still do not agree with not ordering a stay-at-home, nor do I agree with the tragic lack of monitoring of meat packing plants. But something was being done. Something.
But then came late spring. The door was flung wide open within a two-week period, despite not following CDC guidelines of safe reopening. Cases spiked as they did in many places, but they didn't have to. Citizens were to blame as well, by not wearing masks, crowding into packed bars and ignoring the pandemic. The governor said there was no need for a mask mandate, despite the huge majority of states who imposed them, as she trusted Iowans.
That didn't work out well. In the last month, as campuses reopened, a mask mandate and more closures were desperately needed.
Cities then attempted to mandate face coverings in their own communities, only to be told that the power was in the governor's hands and that their actions were illegal. I repeat, they were told, while trying to save lives, that their actions were illegal.
The citizens were then chastised for their behavior, with no further action - with the exception of the closures of bars in six counties - taken by the governor to slow the spread of this silent killer.
The action done to our local school districts by the state was the most disturbing. School districts were asked to submit three plans to the governor and the Department of Education. They worked tirelessly for months, only to be told that their efforts were in vain. The about face by the Office of the Governor was ill-advised. Many communities were well above the percent of infections set by the CDC and other health organizations to safely reopen schools.
Why do I think the state is bullying the citizens of Iowa? As I learned over the years, some forms of bullying are overt, some more covert.
As Dr. Namie has said, "Bullying's common theme is a need to control." It can be aggressive or passive aggressive.
Passive-aggressive bullying is called "Gatekeeping," one of the four main types recognized by the WBI:
- The Gatekeeper blames others.
- The Gatekeeper withholds information.
- The Gatekeeper demands deadlines, then changes the rules.
- The Gatekeeper creates stress and horrendous anxiety on those affected.
- The Gatekeeper threatens to withhold vital resources necessary.
- The Gatekeeper strikes when others are feeling the most vulnerable and then blames others if things go terribly wrong.
As the Des Moines Register beautifully editorialized on Aug. 7: "Iowans need comprehensive, detailed information as we try to safely navigate our daily lives and make decisions. We are too frequently not getting that information from the governor. Questions are ignored. Public information requests are not fulfilled. Interviews are refused."
In short, my friends and colleagues in my beloved Iowa, there is a pattern here. And it is costing lives.
Cindy Waitt is executive director of the Waitt Institute for Violence Prevention. She is also the executive producer of three documentaries - the Emmy-nominated "Bully," the Emmy-nominated HBO film "Private Violence" and the Netflix film and Peabody-award winning "Audrie and Daisy."
Editor's note: Thursday Topic is a weekly Opinion page feature. Each Thursday in this space, local, regional and state writers will discuss issues in the news. If you have an idea for a Thursday Topic, please contact Editorial Page Editor Michael Gors at 712-293-4223 or mike.gors@lee.net.
Catch the latest in Opinion
Get opinion pieces, letters and editorials sent directly to your inbox weekly!