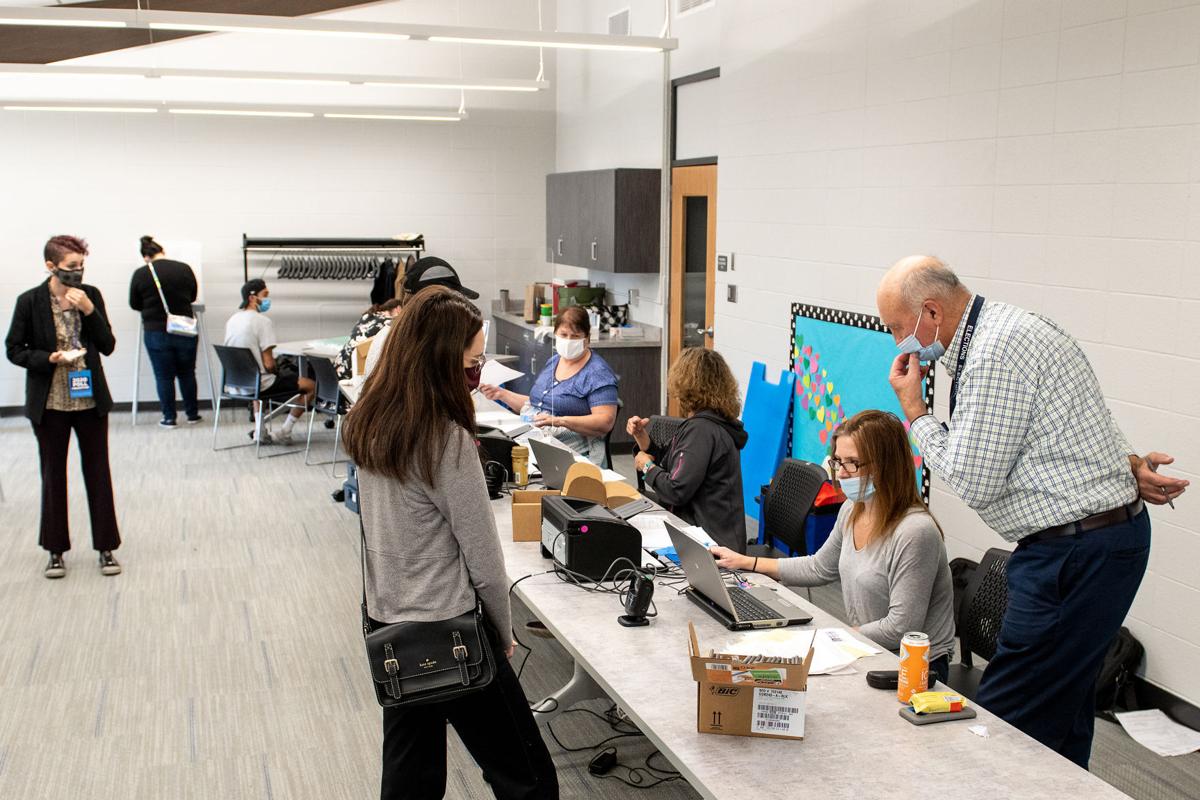 In May, Tom Ridge, a former Republican governor of Pennsylvania and former secretary of Homeland Security, cautioned that President Donald Trump's early attacks on mail-in voting were sowing "doubts about the legitimacy of the forthcoming election."
Shortly after the election, as Trump's resistance to an orderly transfer of power became clear, Rep. Don Bacon, the Republican who had just won Nebraska's 2nd District despite Joe Biden besting Trump here, foreshadowed this month's frightening turn of events.
"We don't want to delegitimize the elections at all, and so I ask the president to take a higher road on it," Bacon told The World-Herald. "Because in the end we've been doing these elections since 1788 and we don't want to pull apart at the seams."
On Dec. 1, Georgia election official Gabriel Sterling said, "Someone's going to get hurt. Someone's going to get shot. Someone's going to get killed."
Wednesday's assault on the U.S. Capitol — the first large-scale violent intrusion on our seat of government since the British ransacked the building in 1814 — showed that none of this was alarmist. It showed the danger and power of a big lie amplified and repeated until, by sheer volume, it takes on a patina of fact.
And now, with the desecrated halls of the Capitol cleared, Americans face a grave, lasting danger that Congress must address.
Assertions of improper voting and nefarious counting schemes, rejected by courts across the land but nurtured by partisan media and shouted from the bully pulpit of the U.S. presidency, have indeed eroded confidence in our elections. Polls show that two-thirds or more of Republicans and more than a third of all Americans question the integrity of the November election.
This is despite Trump-appointed cybersecurity chief Christopher Krebs saying the election was the most secure ever, despite former Attorney General William Barr saying fraud sufficient to overturn the election was not found, despite repeated point-by-point refutations of groundless assertions, including by Georgia Republican officials pressured by Trump to change their certified vote tally.
Republicans, who in the service of Donald Trump's fantasy that he won an election that, as Mitch McConnell said Wednesday, was not especially close, repeated the unsubstantiated claims until many followers believed them. Now these politicians say people have doubts that they themselves instilled without factual basis. It is cynical, disingenuous and infuriating.
Still, good can come from this. The country desperately needs a bipartisan commission, akin to the Kerner Commission that studied race relations in the 1960s, to vet all the allegations of fraud and examine security of states' various election and counting procedures.
The Constitution establishes that the states run elections and make their own rules, but a commission can recommend best practices and Congress can provide money for equipment and security measures.
A common refrain now among the rumormongers working to stoke doubt about election integrity is that some states did not follow rules established by their legislatures. None of those claims has been upheld in state or federal appeals courts, and all are dubious in that secretaries of state generally are given broad powers to administer elections. Critics point to Michigan and Pennsylvania, but turn a blind eye to non-legislative pandemic adaptations in Texas, Kentucky and Nebraska, among other red states.
They have attacked mail voting, yet five states have long conducted their elections almost entirely by mail with no more indication of fraud than anywhere else.
Allegations of voter fraud have been studied and studied, particularly since the razor-thin Florida presidential vote in 2000.
What we can expect to find, and all that's actually been found so far from November's vote, are isolated instances of individuals breaking the law, a vote or two at a time. Republicans do it as much as Democrats. Occasionally, an operative will work to cheat more broadly, as was the case with a Republican contractor in a North Carolina congressional race in 2018. Nothing has ever been found even close to the same galaxy of scale that Trump alleges.
Since 2000, illegal voting has been heavily studied. Arizona State University, Dartmouth College, Columbia University, Harvard, the Republican National Lawyers Association and others have conducted analyses that find few instances of fraud. With all this attention, if widespread fraud were actually occurring, it would have been detected by now.
But let's study it all. Let's determine once and for all the full extent of election cheating. Let's identify weak spots and best practices, to achieve as much broad consensus as possible.
Republicans have called for an investigation of this election. Democrats also should demand it just as vigorously. Congress absolutely must take the lead in a thorough, bipartisan examination of our elections. This a national crisis that threatens the very core of our democratic republic.