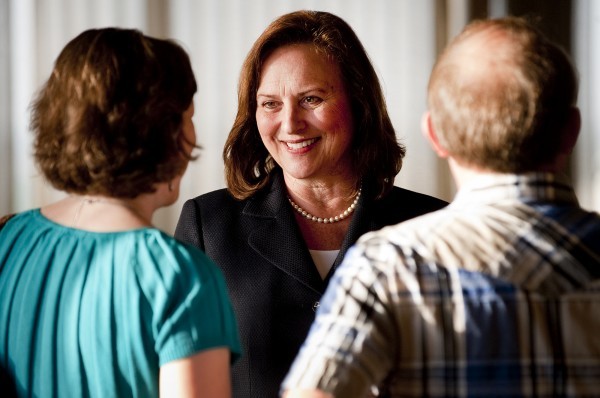 Elected with the support of Sarah Palin and the Koch Brothers super-PAC, Sen. Deb Fischer appears to be doing a fine job representing the tea party during her first three months in office. That, however, doesn't translate to doing a fine job of representing Nebraska.
After voting twice to filibuster the nomination of fellow Nebraskan Chuck Hagel to be secretary of defense, in part over the deaths of Americans in Benghazi, a right-wing obsession that had nothing to do with Hagel, Fischer last week voted against the bill that provided funding for the federal government for the remainder of the fiscal year.
She was the only Nebraskan to do so.
Fischer opposed the bill as "another massive $1.1 trillion spending bill that includes more pork barrel spending." Her Republican Senate colleague Mike Johanns responsibly disagreed, saying the bill maintained previously mandated federal spending cuts.
It also guaranteed that USDA meat inspectors wouldn't be furloughed because of budget cuts, a provision important to Nebraska's farmers, ranchers and meatpackers, whom Fischer didn't mention in her statement.
Instead she assailed the bill because it "funds the implementation of the controversial health care law."
Three years ago, Obamacare was the flashpoint for the tea party movement, which built its membership and influence with the debate over the proposal. Despite its vocal opposition, the health care law passed and is the law of the land.
A continuing funding measure isn't the place to fight the seemingly endless battle to repeal Obamacare. If it is, to be consistent, Fischer will vote against the federal budget for the next four years. Obamacare won't be going anywhere as long as President Barack Obama is in the Oval Office.
The GOP-controlled House of Representatives approved the funding bill on a 318-109 vote, with Nebraska Republican Reps. Jeff Fortenberry, Lee Terry and Adrian Smith all voting yes. Johanns, Fortenberry, Terry and Smith are far from wild-eyed, free-spending liberals.
But they're not ideologues.
Nebraskans have long been proudly conservative. But that conservatism has never been extreme. The tea party, which according to a January survey by conservative pollster Rasmussen Reports now counts just 8 percent of Americans in its ranks, is nothing if not extreme.
Fischer would be well served to remember that, as would the Nebraskans she was elected to represent.