SIOUX CITY -- After a 7-3 season, the Bishop Heelan football team graduated a 1,000-yard rusher, most of its receiving core, some of its offensive and defensive line and some of the Crusaders' best players on defense.
However, tradition doesn't change. 
The last time the Crusaders had a .500 record was in 1994 and that's the only .500 season in the last 30 years. Heelan has only lost four games in a season five times in that 30-year span and had three losses five more times.
So in the last 30 years, Bishop Heelan has only had 10 seasons with more than two losses.
"Our guys understand that and we are happy with how hard they are working," Jansen said. "We just want to get in pads and then eventually they can go against someone besides themselves."
Jansen is in his 18th season coaching the Crusaders. He rejoined the program last season after stepping away from the program for three seasons, which he spent with Morningside. Jansen is the winningest head coach in metro football history.
Though the Crusaders are without a 1,000-yard rusher and most of its receiving group from last year, they do return their leader on offense - Hogue. Last season Hogue threw for 1,207 yards, nine touchdowns and seven interceptions. He completed 44.9 percent of his passes.
Since football season, Hogue has continued to grow athletically. He went on to lead the Crusaders in scoring during the basketball season and was a key reason why Heelan advanced to the state baseball tournament again.
Jansen feels Hogue has matured a good amount since last season.
"He's improved a whole lot. Last year he was just learning the offense. Now he has that year under his belt and he's got a good grasp of it this year," Jansen said. "He's really been a leader out on the field and also in the huddle."
Heelan graduated Tommy Schlitz, who rushed for 1,089 yards and nine touchdowns on 224 carries. Plus Deonte Walker graduated; he rushed for 373 yards on 59 carries and Drew Olson had 254 yards on 39 carries.
You have free articles remaining.
However, Schlitz may not have been on everyone's radar coming into last season. Heelan had to replace Saybein Clark, who rushed for 1,262 yards in 2017 and is now at North Dakota State. In 2017, Schlitz only rushed six times for 21 yards. The next season he rushed for more than 1,000 yards than he had as a junior.
Senior R.J. Breen is Heelan's top rusher back with 49 yards on 13 carries. He could have a crack at the lead spot but currently, Jansen said the position will be filled by a committee.
"We got Benton Schaefer back there along with R.J. and we have Jake Kuntz back there. We are in the process of evaluating," Jansen said. "But I think you are going to see all three of those guys and kind of see who is hot and you stay with them."
Schaefer is Heelan's top receiver back as he caught 13 passes for 121 yards. He was part of a group of six players that caught at least 13 passes and he is the only one back from that group.
Jansen said it is going to be the same situation as last season. While there aren't many returning receivers back with experience, there will be plenty of players to throw the ball to.
"We would love in one game to play eight to 10 guys out there. That's what we are working at," Jansen said. "We got depth at the skill positions. A lot of it depends on who is hot."
Defensively, Clayborne returns on the defensive line after racking up 51 tackles, seven for loss, and three sacks. Clayborne went to a number of camps in the offseason and just received an offer to play football at Army.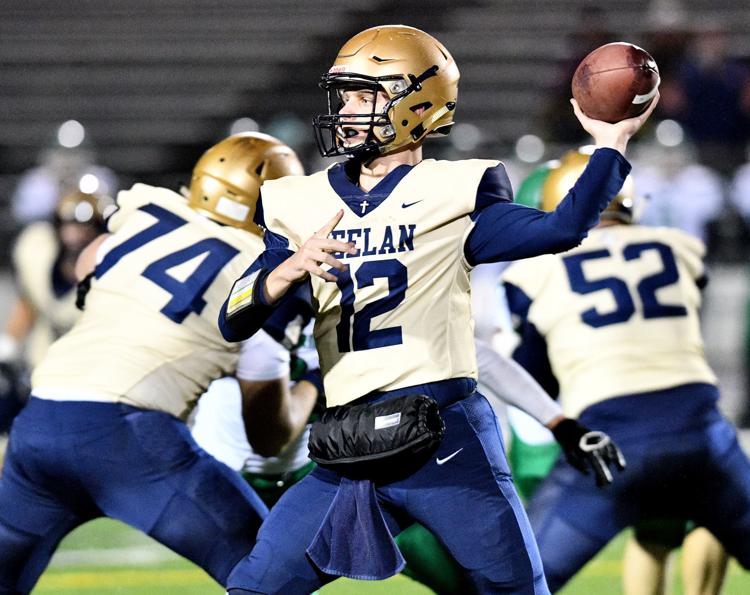 "There's no doubt he's going to be anchoring us on both sides of the ball. He's worked really hard," Jansen said. "The opportunities that he has are a perfect example of what we tell these guys. If you dedicate and commit yourself and work hard, good things will happen. He's such a hard-working kid, a good kid. He knows and understands that he is going to be the focal point of whatever team we play."
Clayborne and senior Cade Block, who had 30.5 tackles, are the top two defenders back as the Crusaders need to fill some holes on defense.
"(The defense) is a work in progress. These guys know and understand that every day they are going to be evaluated," Jansen said. "Where you are on the depth chart one day, you may be somewhere else the next day. The competition is a positive. It's going to take awhile for us to put all of the pieces together."